9 Campuses in One Day By L (2011)
By Claude Walker and Ryan Hart (Ryan Hart, a junior at Tampa Catholic High School in Tampa, Florida, is a part-time bagger at Publix and newly-licensed driver. Claude Walker is former spokesperson for the Illinois Student Assistance Commission and a Chicago-based writer.)
Part 1-2: Why do a Campus Tour? And why do it by Mass Transit?...Part 3: The trip in real time...
Part 4: List of Schools we visited...
Part 5:Tips & Checklist for a "Campus Tour by Mass Transit"...
Part 6: Favorites & Highlights...
Part 7: Mileage & cost comparison: 9 campuses by L versus Big Ten road-trip...
Part 8: Links...
Part 9: Do-It-Yourself "Campus Tours by Mass Transit" in other cities.
 

Part 1. Intro 

 

RYAN: "As a high school junior, it's time to start looking at colleges. Big city dreams lead me out of Tampa, Florida, to the concrete jungle known as Chicago. It would be easy to spend my week-long stay doing campus tours, maybe one or two a day. I want time to experience Chicago itself. School is important, but the city is fun! So, from the wild mind of my Uncle Claude, an impossible mission is conceived: visit all of the schools in one day. By mass transit only!"

 

CLAUDE: "When my Florida nephew announced his plan to visit Chicago, and that he'd like to see some campuses AND ride the subway, a light bulb went on. A glance at the CTA transit map revealed a dozen campuses within blocks of an L stop. Why not attempt a multi-campus tour in one day using the CTA's All-Day pass?"

 

Part 2. Why do a Campus Tour? And why do it by Mass Transit?

 

            Before we ask "Why do a campus tour by mass transit?", let's ask, "Why do a campus tour at all?"  A campus tour may be seen as a quaint - but pointless - effort. After all, there are countless "virtual tours" of most campuses and if a student is certain about the school of his/her choice, is there really a need for a hands-on visit?

 

 - The cost of college is the largest single expense (next to a home mortgage) most people ever have. Most students will graduate with $20,000 in student loan debt. College is a four- (or five-, or six-) year commitment. You wouldn't buy a car without researching it thoroughly...why slack off on a college selection?

- And while a virtual on-line tour is terrific, one cannot really get the feel of a campus until one sees it, smells it, tests the water fountain, walks the 'hood.

- Many high schoolers may want to attend a big city college, but aren't sure of their major or expectations in a campus. In Chicago, for example, there are some campuses with Gothic towers and ivy-covered walls, and others concealed in skyscrapers. There are campuses with dreamy views of Lake Michigan and some in gritty neighborhoods. Big and small, public and private.

 

 - Why embark on a campus tour by mass transit instead of driving? First, carbon footprint: this is a GREEN way to see colleges. Then there's cost: $5.75 for an all-day CTA pass. If you had driven to each of these same Chicago schools, you'd pay twice that in gas plus $50 for parking. And if you road-tripped to all of the original Big Ten schools, you'd spend about $250 in gas alone!  3rd, most students in urban colleges won't have a car, so they better get used to walking to the transit station. This hike from the dorm will be a link to the outside world. Finally, what better way to get acquainted with what might be your future home than to dash all over town by mass transit?

 

 - To see so many schools in one day is like speed-dating or an all-you-can-eat-in-10-minutes buffet. Quantity over quality! Such a high-speed trip requires us to grasp the meaning - the gestalt - of each campus quickly: draw in the sights, sounds and feel as fast as you can since the clock is running. 

The co-authors recommend that each student spend quality time on the campus of his/her top college choices before making a final decision. Enjoy our trip and please share yours!

 

TIO CLAUDE:  I have a love-hate relationship with the CTA. I've ridden about 80,000 miles on the CTA since 1972. It's the city's circulatory system, pulsing with people and energy, reaching all parts of the organism.  I have a romantic vision of the tracks and sounds and old stations. But then, I hate the declining civility of passengers (2nd-hand yak, eating stinky stuff, toenail-clipping) and slower service. Still, CTA's all-day "Fun Pass" is a great deal.

 

RYAN:  Coming from Tampa, I'd never been on a subway. In Tampa, cars are a necessity and mass transit consists of basically one bus line. To prepare for this adventure, Tio & I examine maps of the CTA and each campus. Then he makes me watch "The Warriors".

TIO CLAUDE: Yeah, this'll be like "Baseball Furies Go to College".

 

 

Part 3.  The trip in real time

7:33 a.m.  Depart Tio's house on Chicago's North Side (71 degrees, blue sky)

Drive to CTA Howard Station, where Red, Yellow and Purple lines converge (and park in CW's least-favorite CTA parking garage in town).  We test our new 24-hour CTA Fun-Passes...they work!  We're off!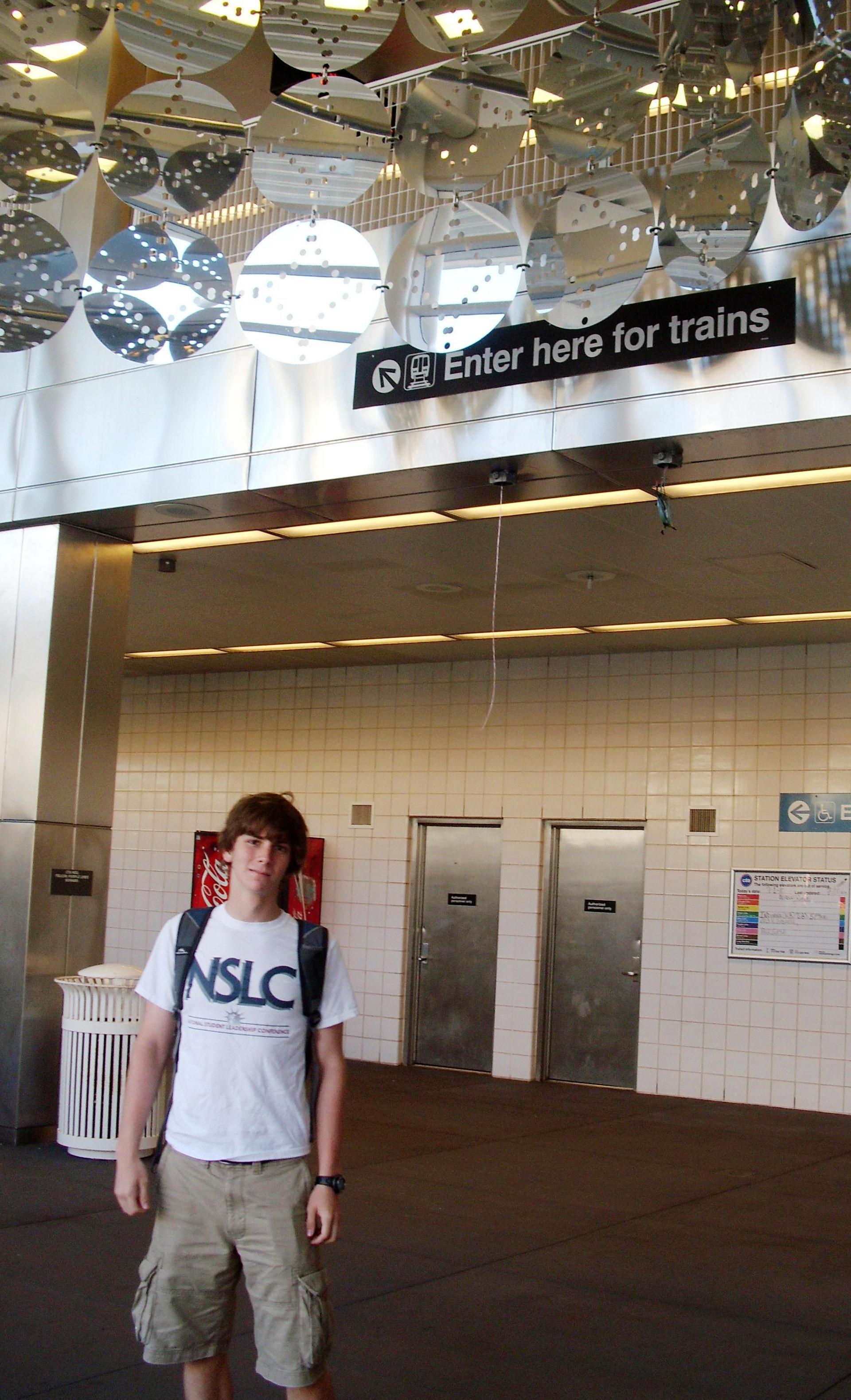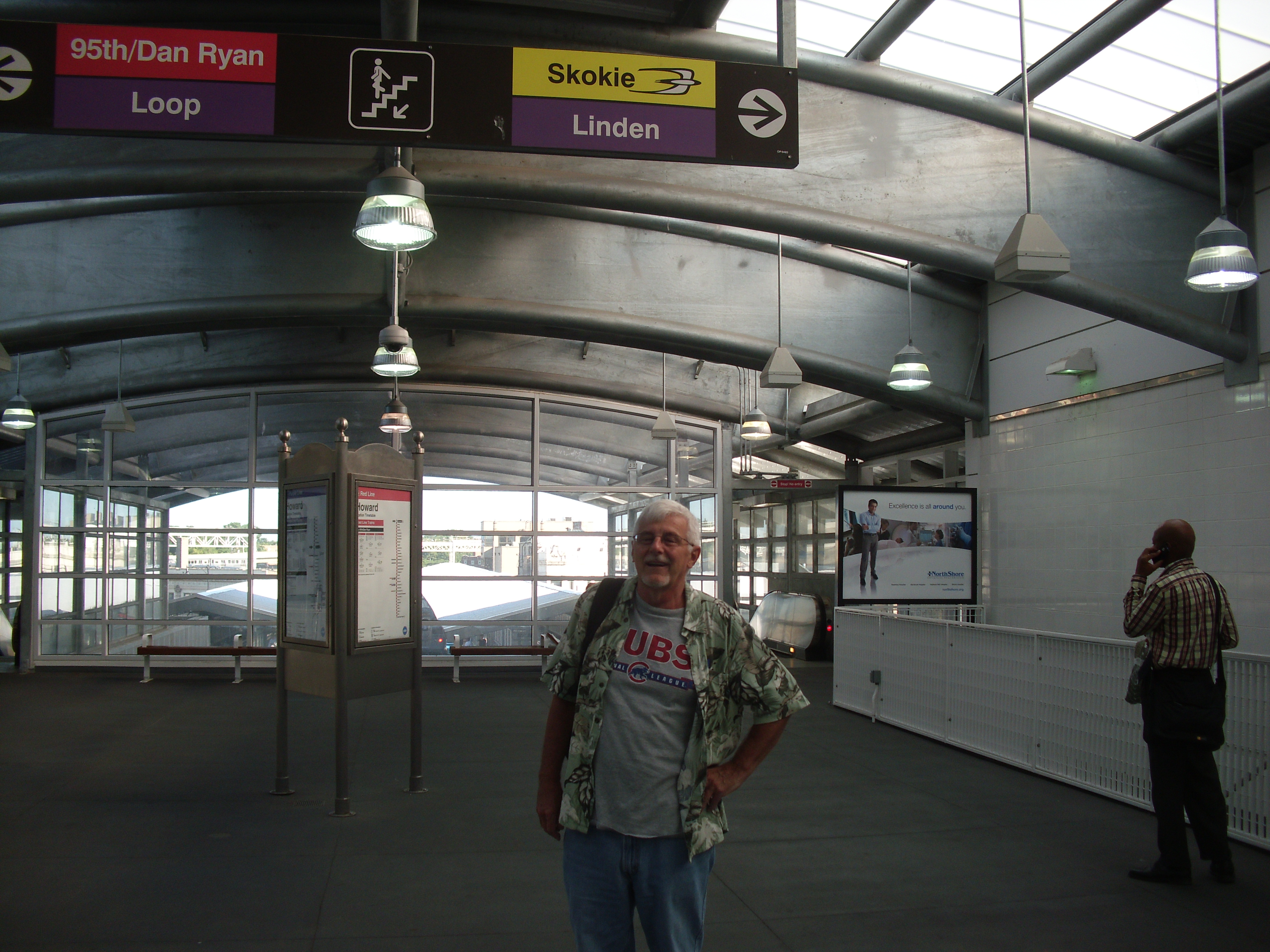 7:49 a.m.  Board Purple Line north past the Howard CTA Yard to Evanston's Foster Street Station (10 minutes); station isn't too impressive. Walk east six blocks through pleasant tree-tunneled residential neighborhood to Northwestern Campus.

RH: This hike to the campus is pretty chill.
CW: I need coffee. 

 
8:10 a.m.  Northwestern University (Evanston Campus) 1881 Sheridan, Evanston, IL
Gothic spires, ivy-covered walls, sense of history. Personal history, too, as CW's mom - RH's Nana - attended NU in 1950. The guys split up. Ryan checks out the expansive, green Quad and colossal man-made lake with the geyser fountain. We see the Library, Kellogg Biz School. Rendezvous at Norris Center, where they're promoting Study Abroad programs.
CW: What a great view of Lake Michigan. How could anyone concentrate, especially in Springtime?

 
RH: The scale here is stunning.
CW: Tuition, too.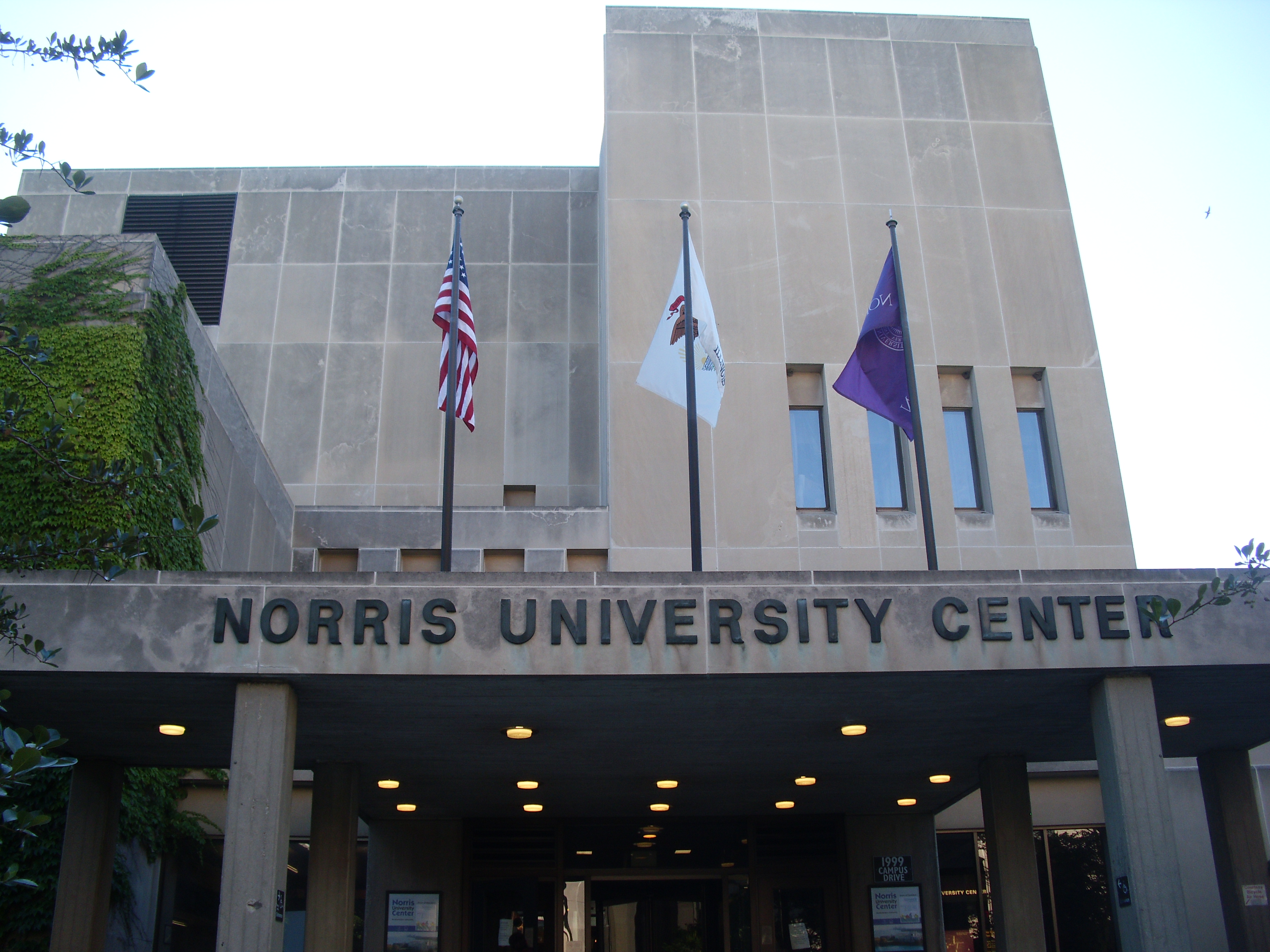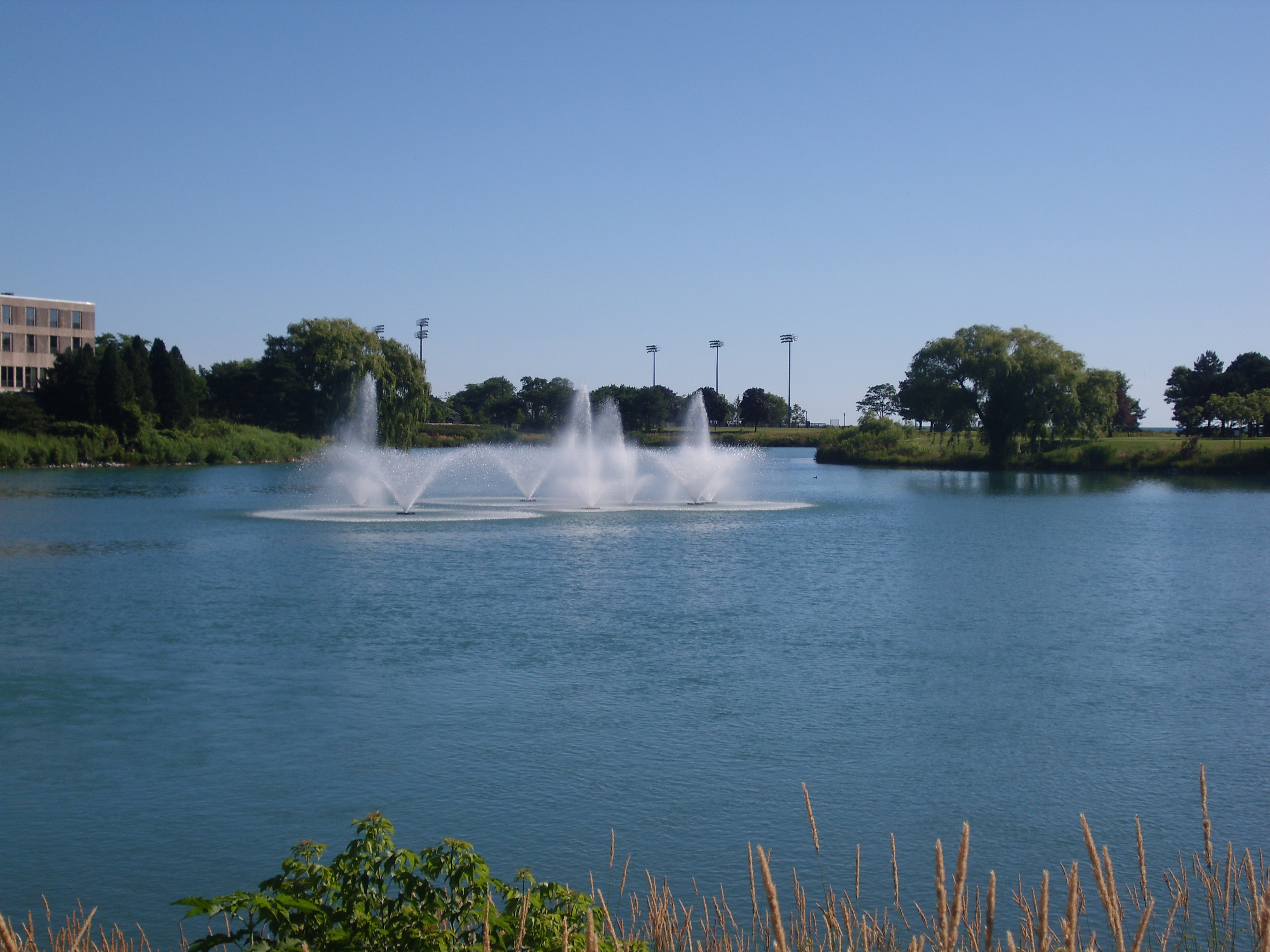 Walk 10 minutes back to Purple Line Foster Station.
8:40 a.m. Take Purple south to Howard Street hub. CW gripes about how CTA riders never know the ETA of the next train, but riders in other cities do. Transfer to Red line; take it south (past CW's first apartment) to Loyola Station (10 min), home of one of the longest L platforms anywhere.
8:57 a.m.  Loyola University of Chicago (Lake Shore Campus), 1032 W. Sheridan, Chicago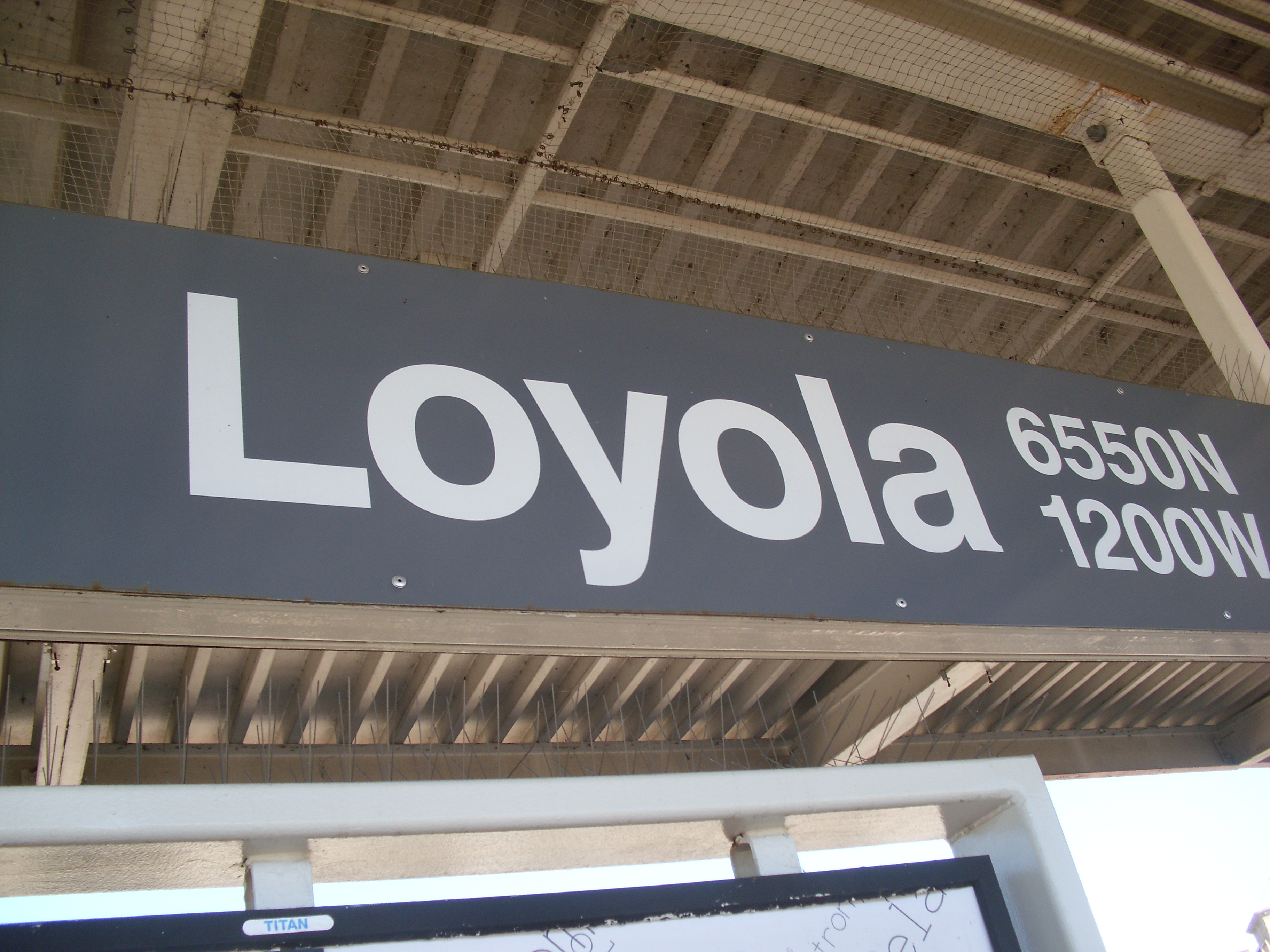 L stop is just across busy Sheridan Avenue from campus (1 min). Loyola University (CW's alma mater as well as RH's mom's) is in the middle of the bustling, diverse Rogers Park community. Loyola doesn't really have a Quad, but does have a crosswalk near the main entrance with a helpful map and clock.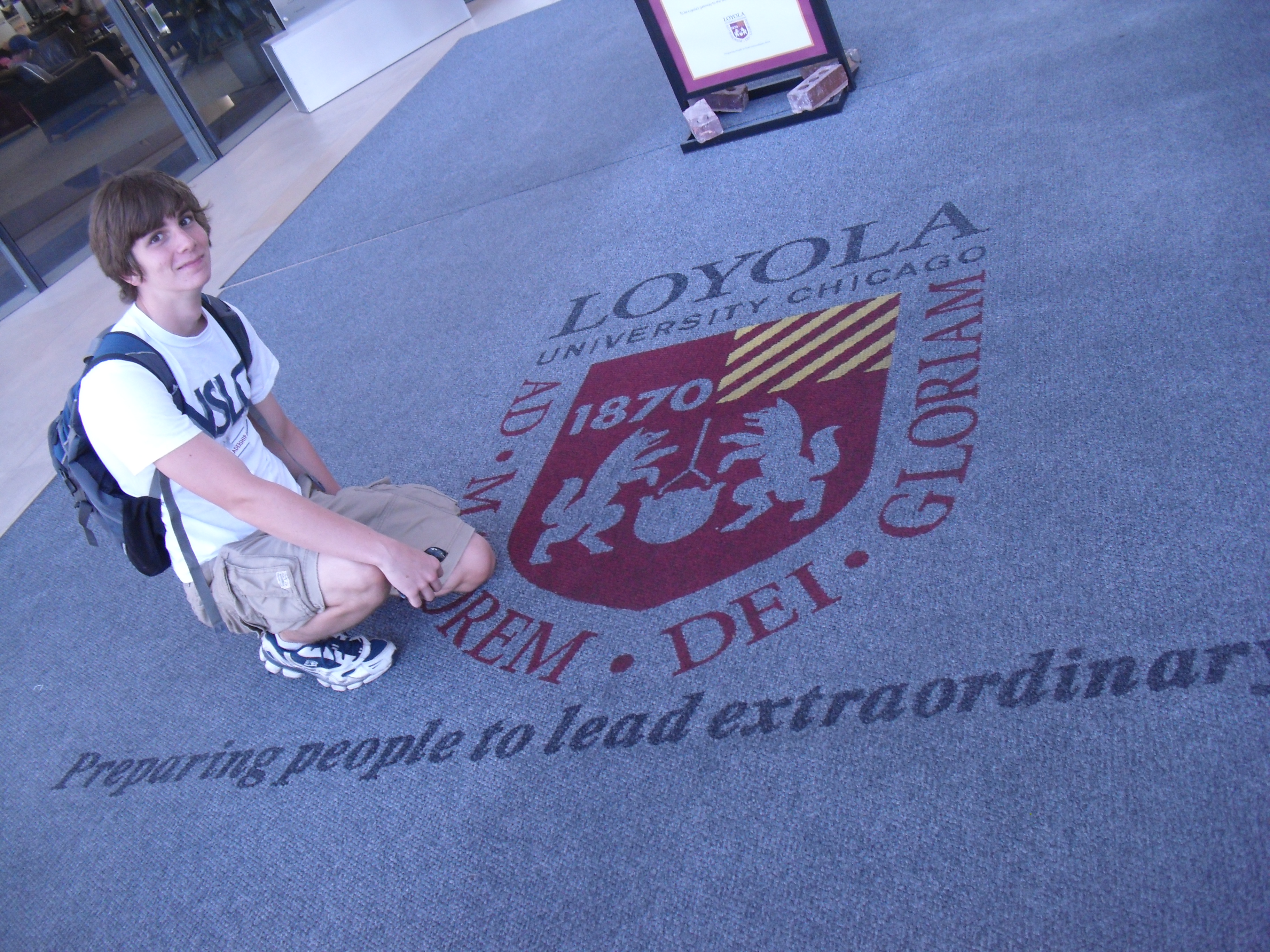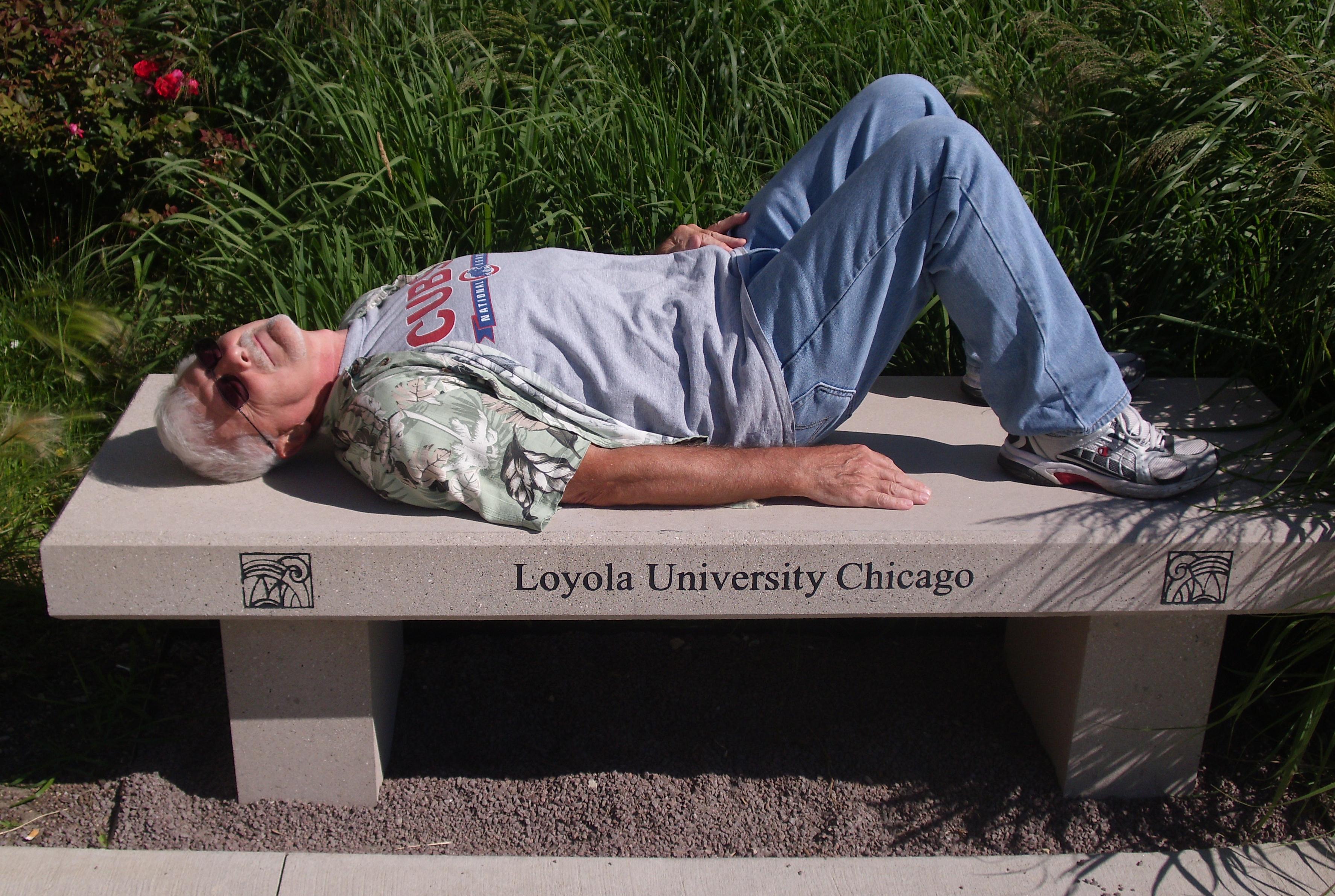 We check out towering Mertz Residence Hall and Centennial Forum student center; CW shows his nephew the dining hall where he was slugged from behind by a deranged classmate. There's the classic Alumni Hall (which has a date with the wrecking ball), where the Ramblers won the 1963 NCAA hoops crown (and where CW satisfied a P.E. requirement by taking ballet...the only guy in a class of 15, he recalls fondly...).

 

We stroll past Gentile Center Gym (lots of summer campers), the extensive construction (which is why CW hears often from the Alumni Association), to the Cudahy Library. The old library entrance is boarded up and the "pop-top" metal sculpture that guarded the entrance is long-gone. The library is now part of the Information Center (where - overlooking the Lake - it seems as impossible to concentrate as at Northwestern).

We head to the shoreline and ornate, inspiring Madonna della Strada (Our Lady of the Way") chapel, an ideal spot for meditating, studying philosophy or day-dreaming. With its sun dial, Latin inscriptions and soaring Art Deco steeple, it's a must-see for any campus visit. Over to Halas Hall with its modern work-out center, pool, squash courts. CW wonders about a crucifix above the elevator. RH declares this a "really beautiful campus".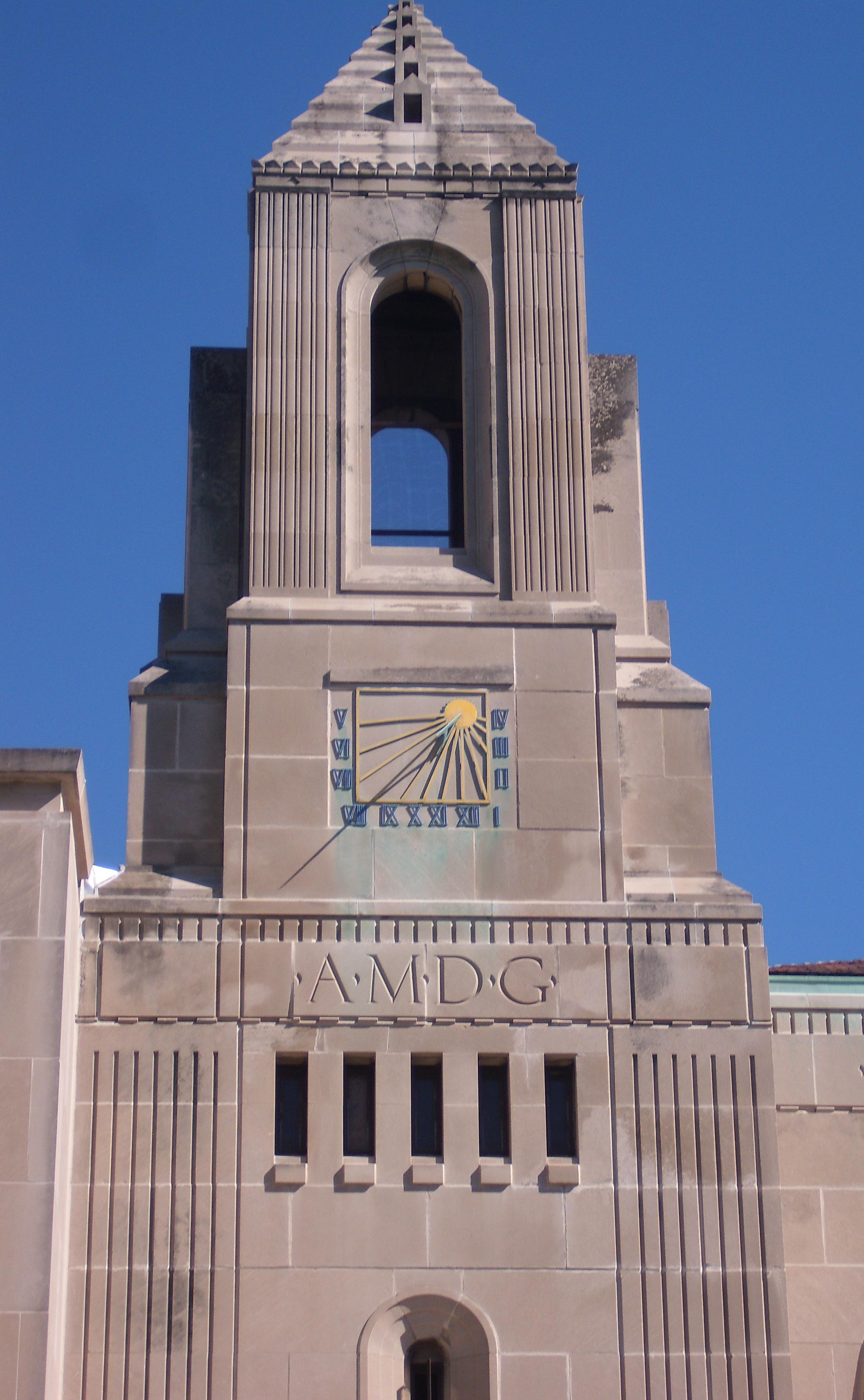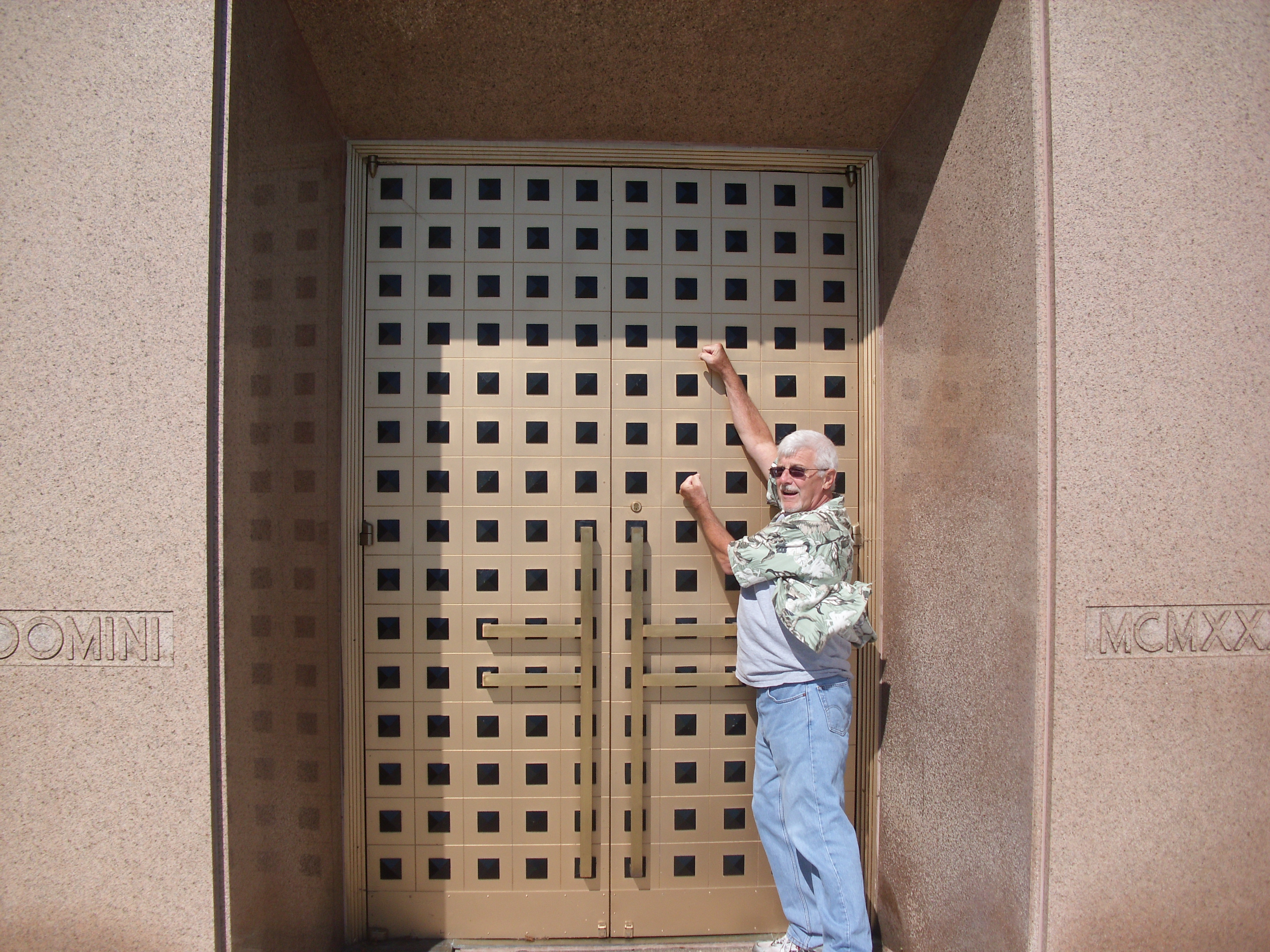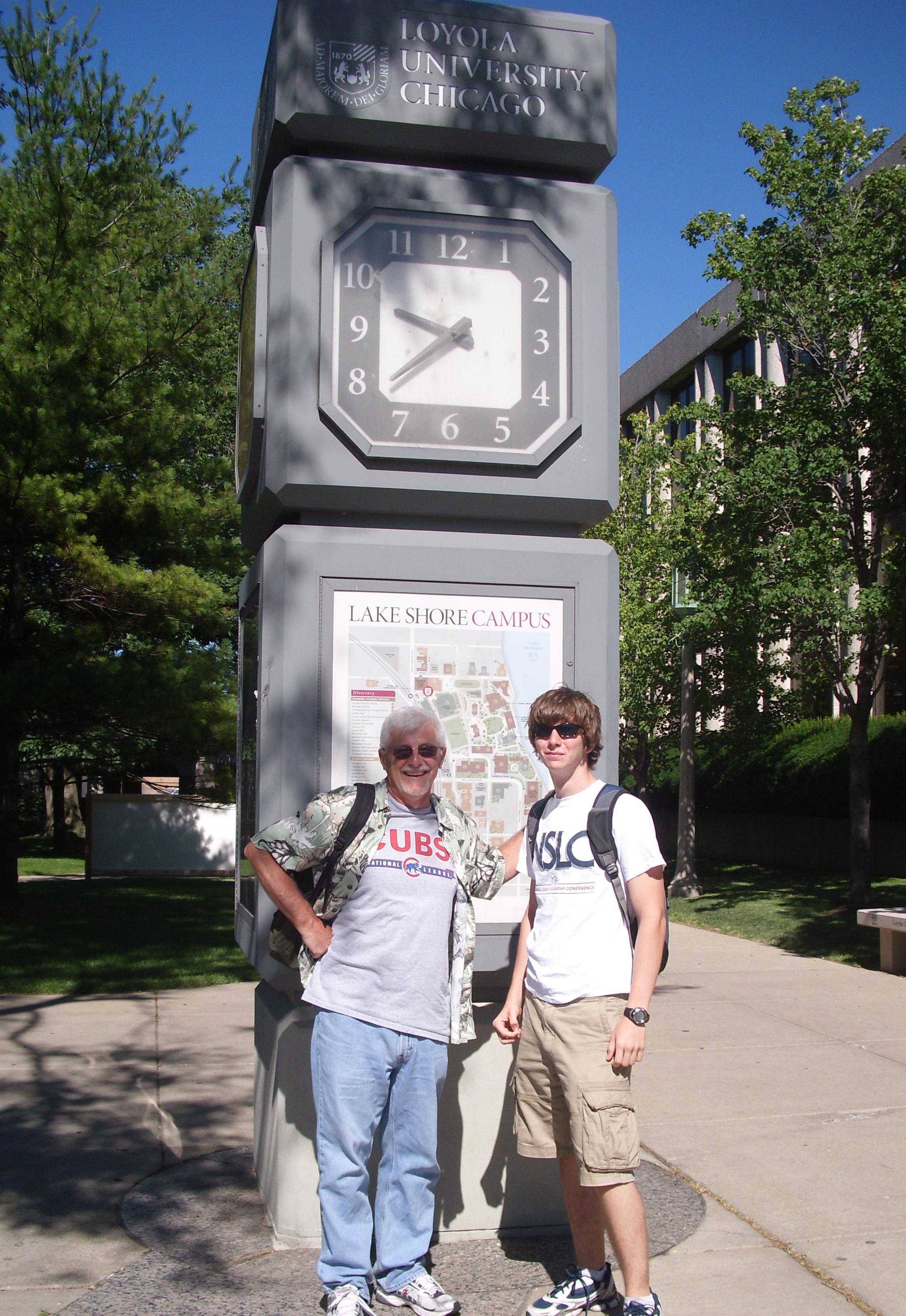 CW: Sometimes on rainy days, I'd sit on the beach by the Chapel and stare at the horizon. You couldn't tell where the Lake ended and the storm began.

 
RH:  So people go to college to stare at the horizon?
CW: Yeah, pretty much.

 
9:44 a.m. Take Red line south to Wilson Avenue Station (15 min); cool mural of the Wilson Avenue Station. Truman College is half-block away.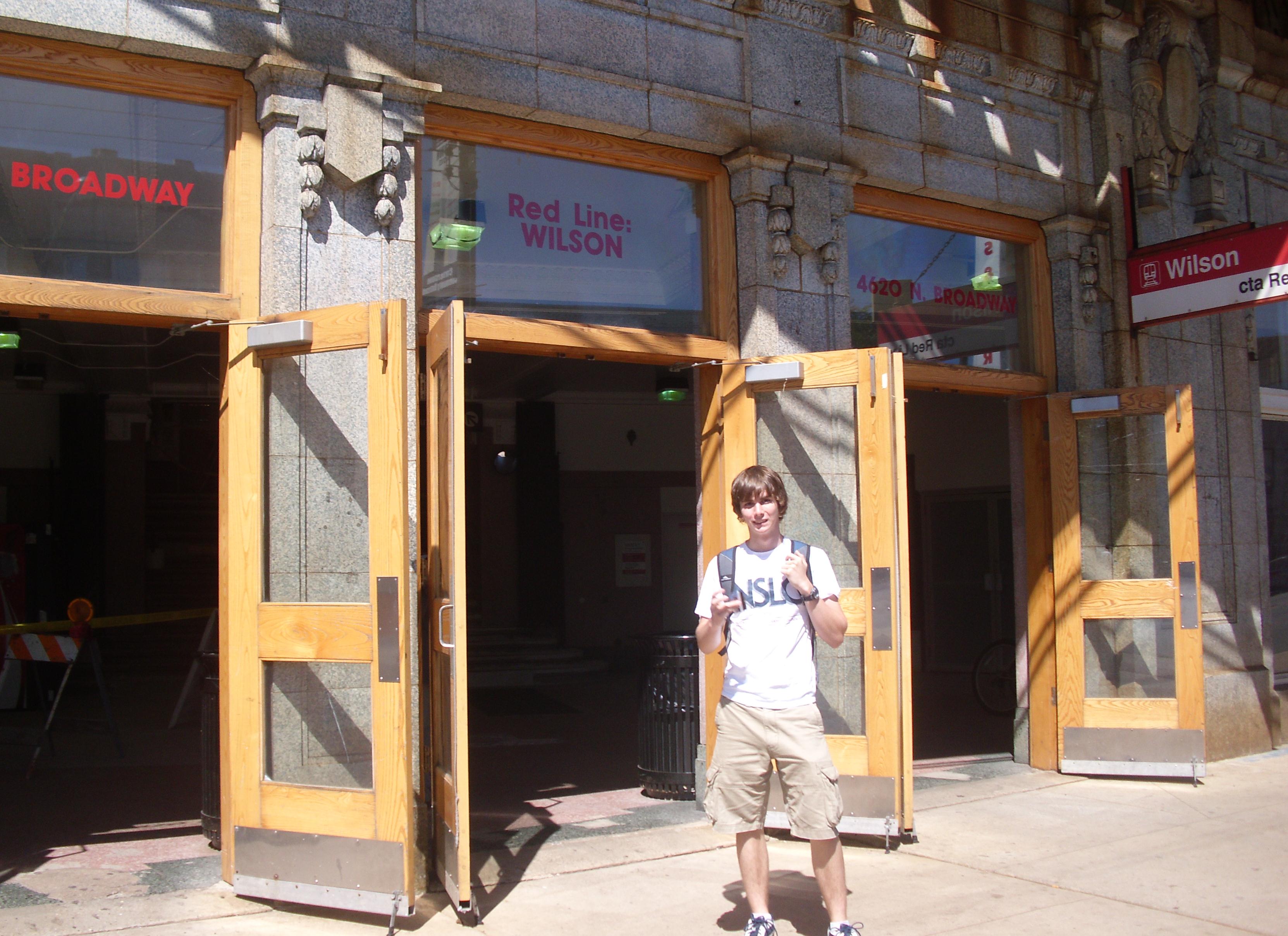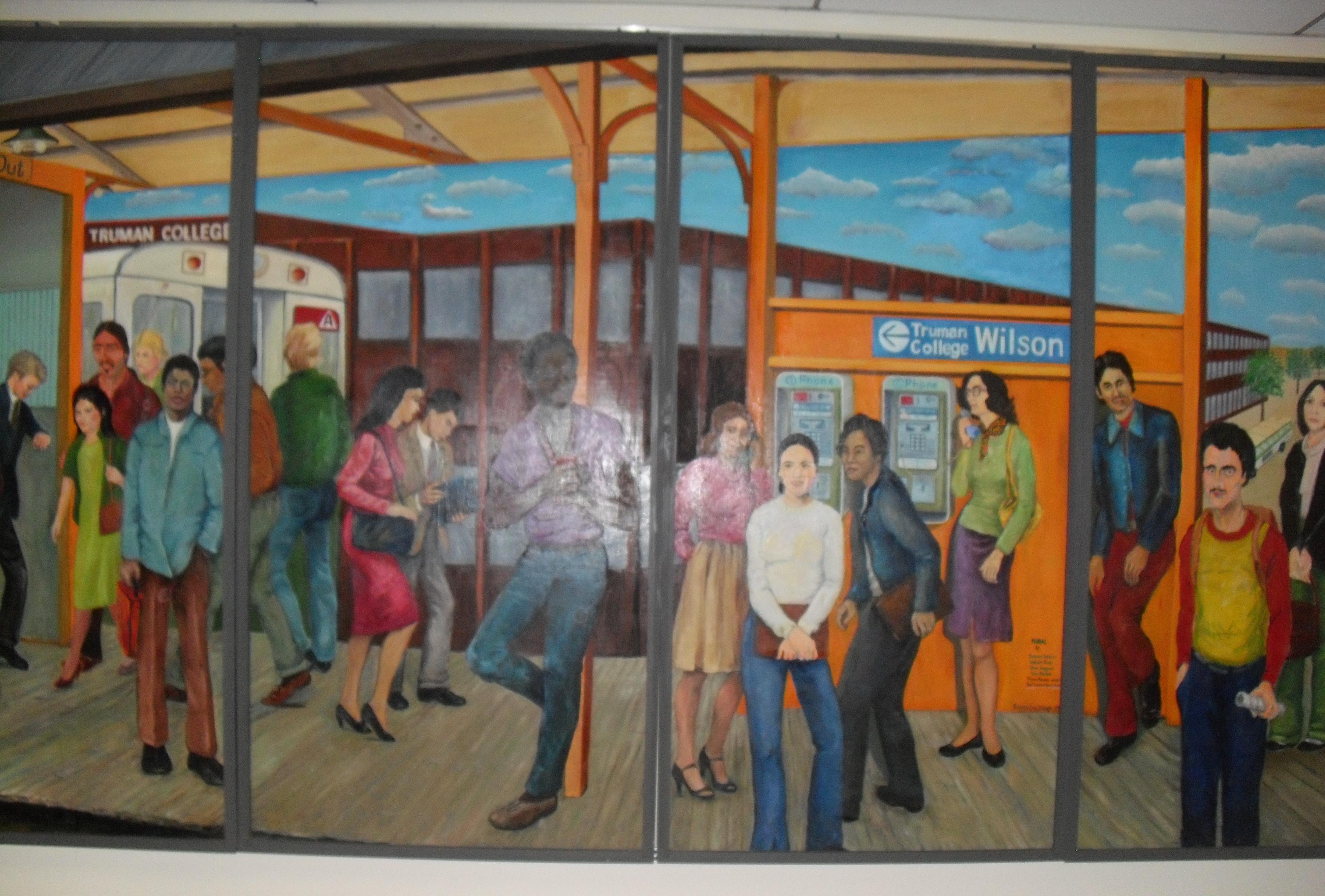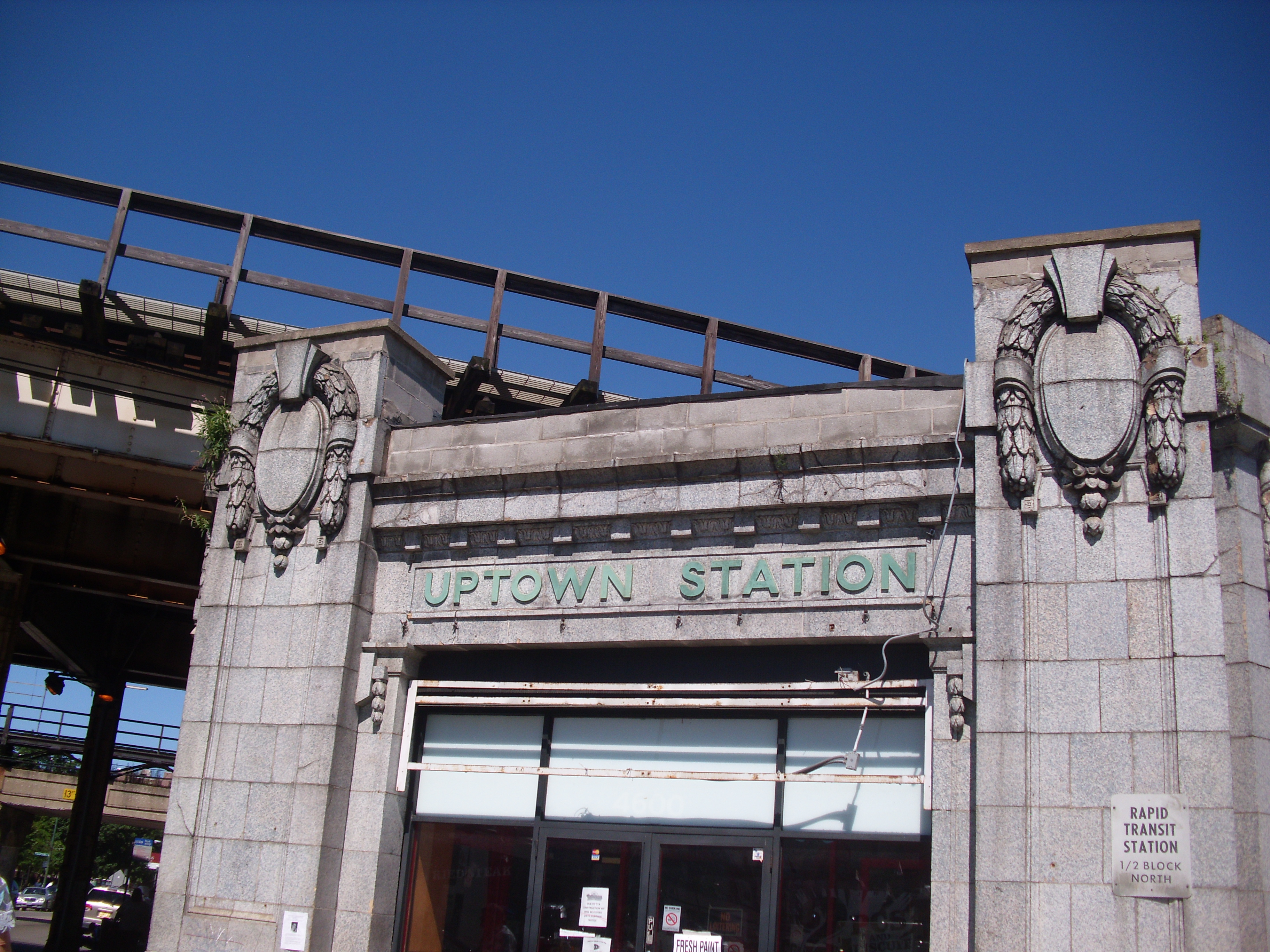 10:01 a.m.  Harry S. Truman Community College of Chicago, 1145 W. Wilson, Chicago
Urban, gritty. Boxy building, very little vegetation. New campus construction underway. Named for President Harry Truman ("The Buck Stops Here"). In the lobby, we see Muslim students watching Obama on TV giving immigration speech. Hallways remind RH of Hillsborough Community College near his Tampa home. Lecture Hall is intimate. We chat with an art instructor who's very gracious.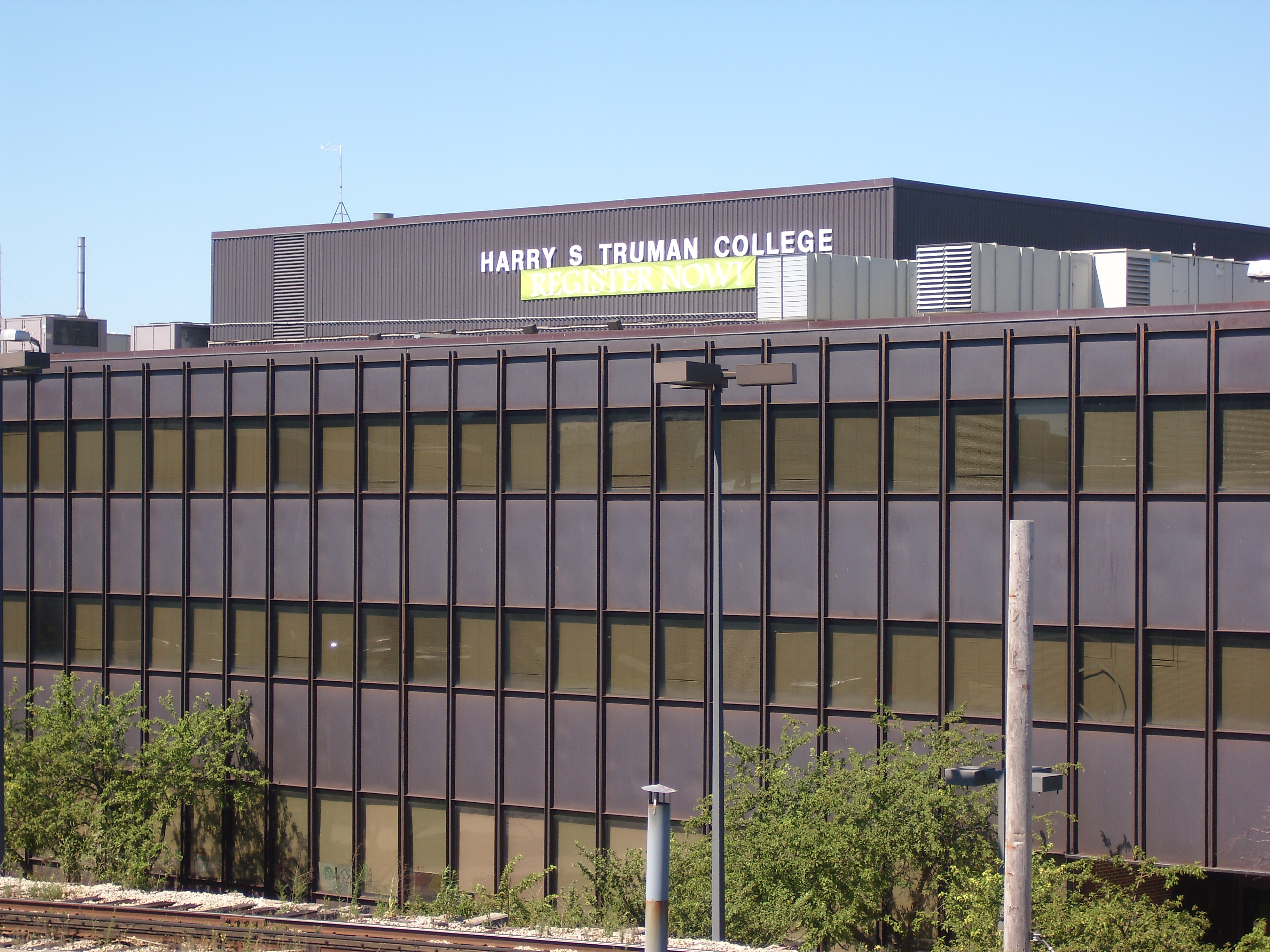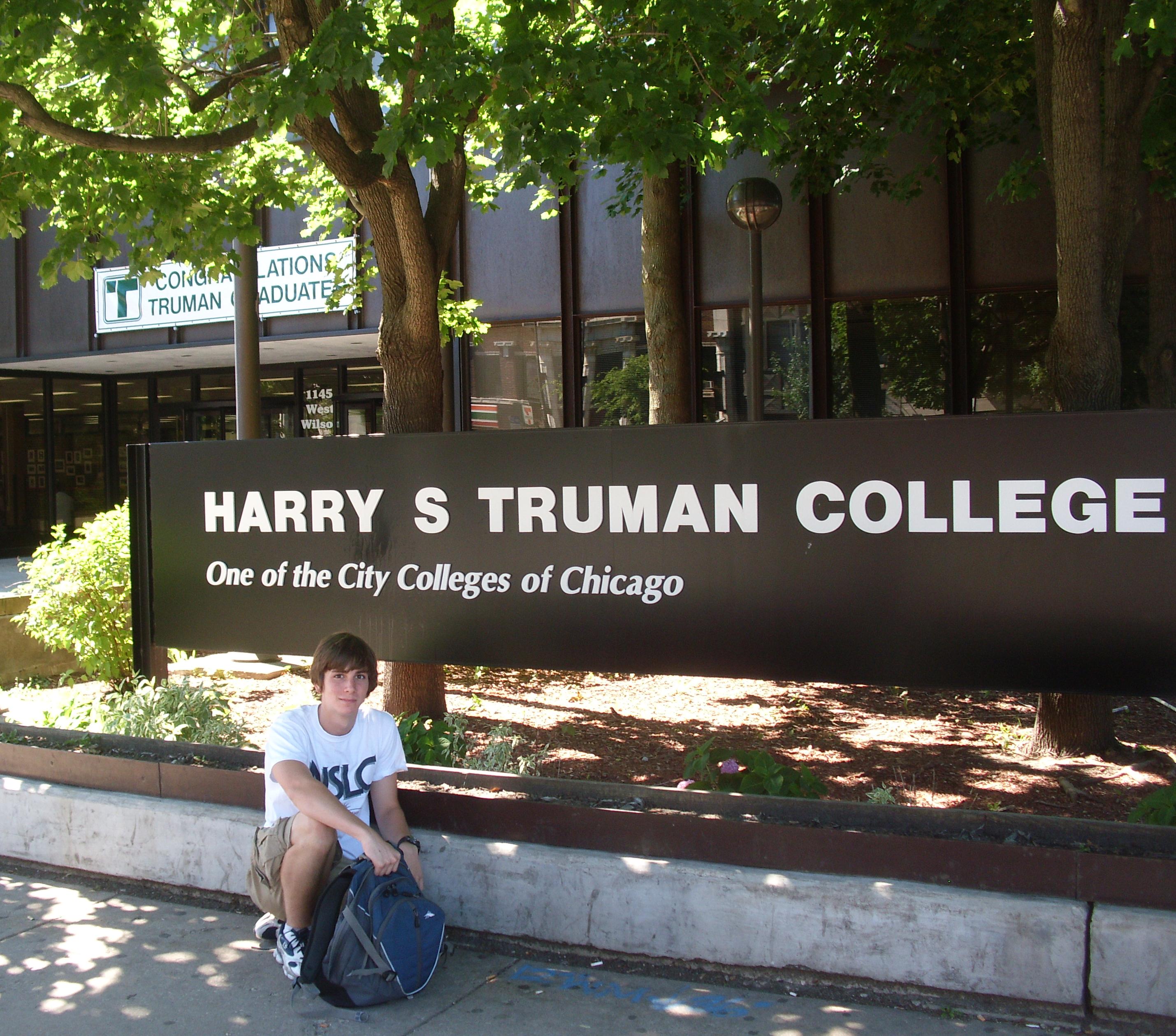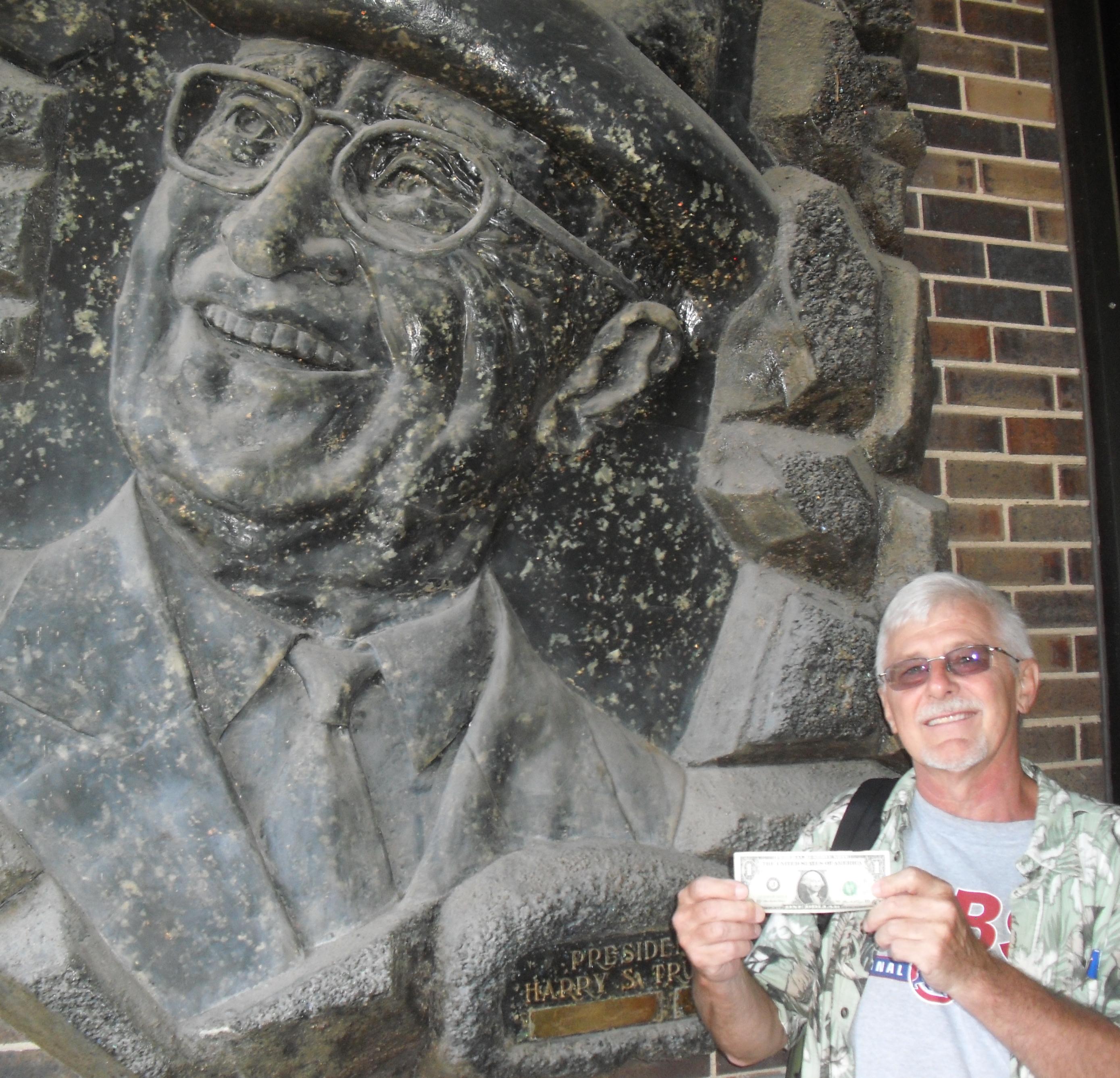 After the tour, we cruise the neighborhood, checking out the Wilson Men's Hotel, a reminder of Wilson's old skid row. 86 degrees, sunny. Uptown has always been a gateway for immigrants, evident today. Viet Bowl restaurant faces Truman aside Mexican taquerías. CW craves a slice of thin crust at legendary Gigio's Pizza on Broadway, but it's too early for lunch. Back to the L station, with its classic terra cotta façade (1 min).  
10:29 a.m. Take Red line south (bow our heads as we pass Wrigley Field) to Fullerton Avenue Station (10 min). Walk 2 blocks to DePaul.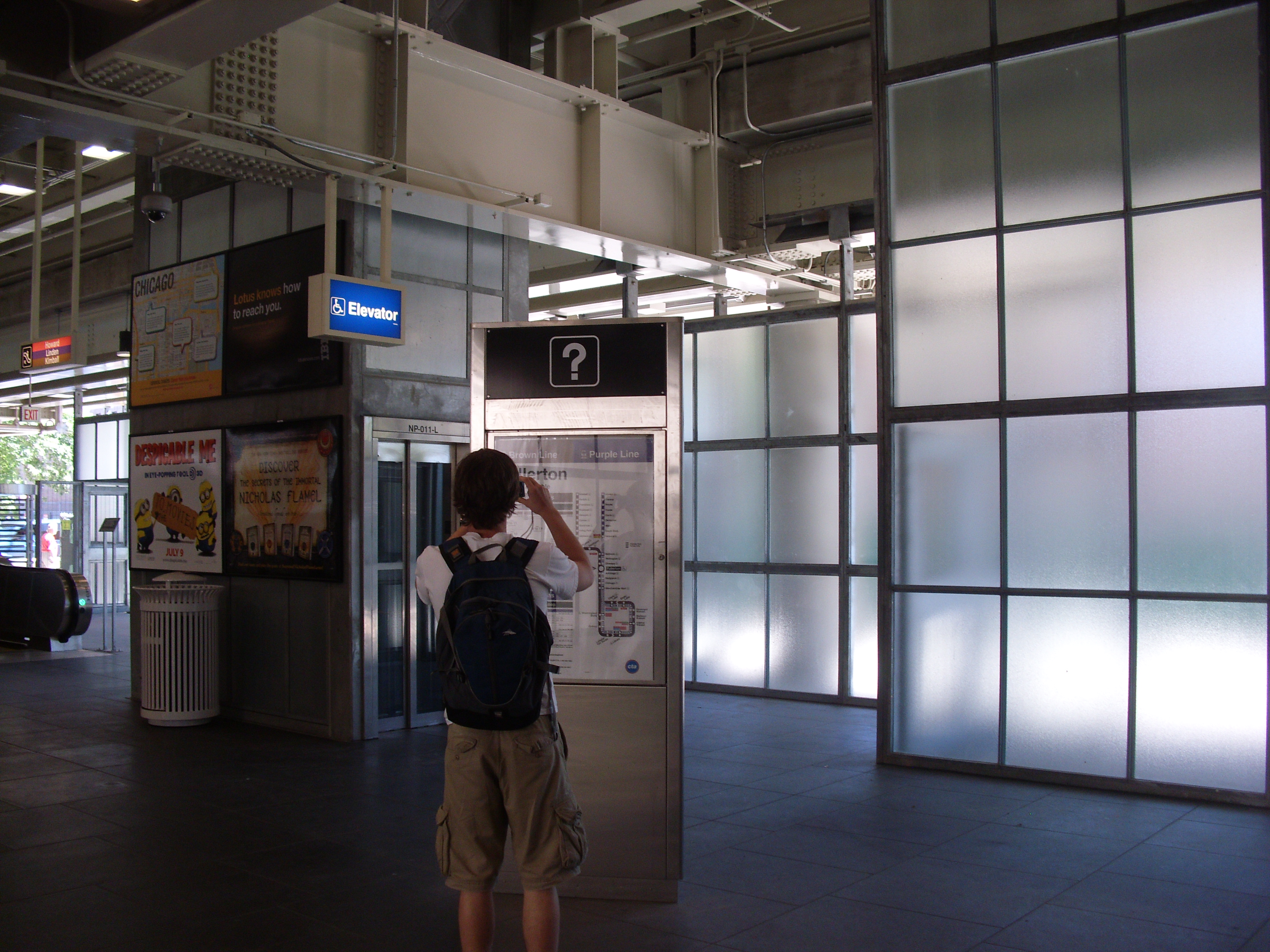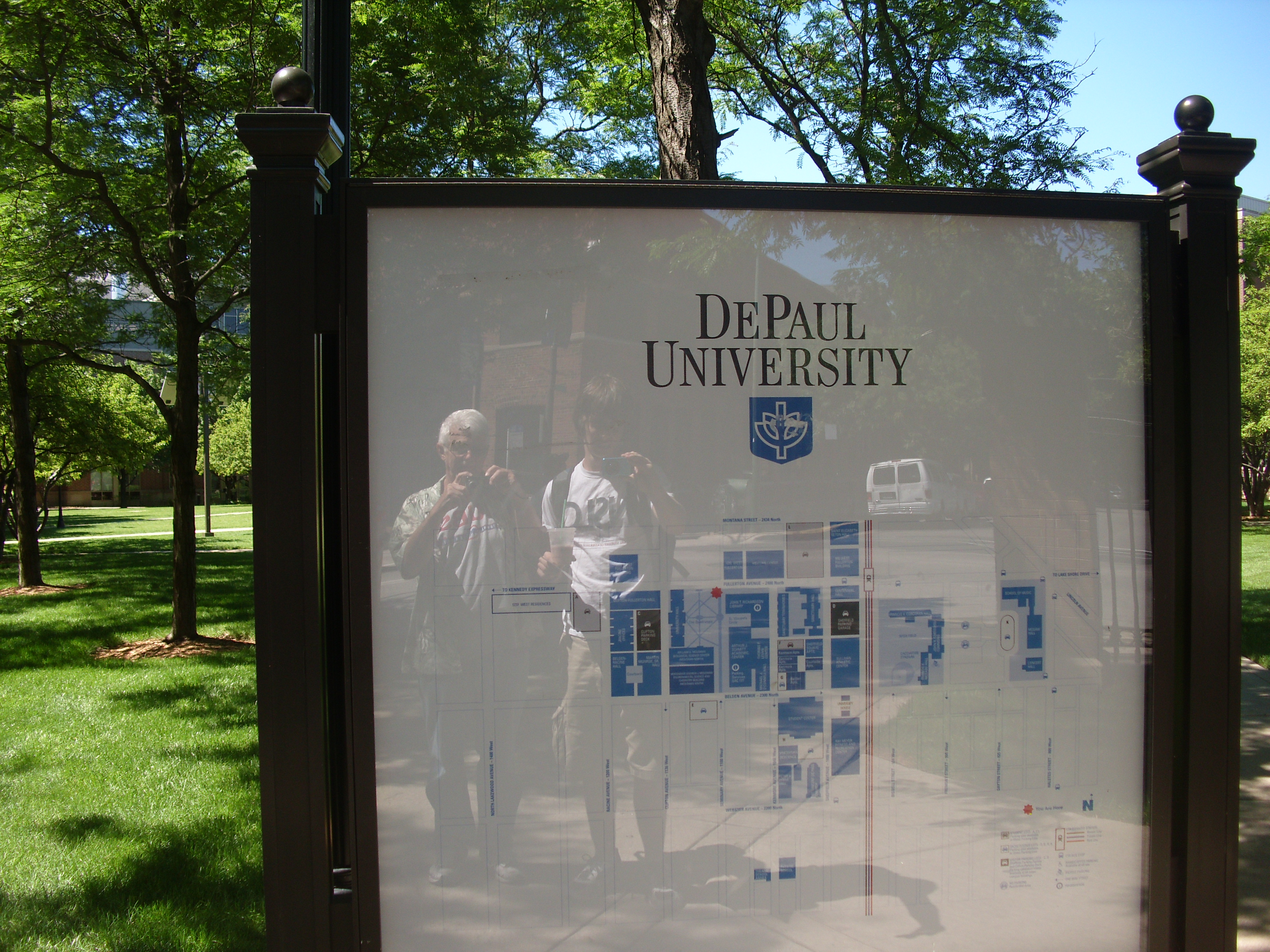 10:38 a.m.  DePaul University, 1000 W. Fullerton, Chicago
Mexican pushcart selling elotes y chicharones outside of CTA station. DePaul has best on-line map. Urban feel, but not as gritty as Truman. RH observes a nice mix of nature and downtown. No coffee at Starbucks (!!!), lousy coffee at Student Center. Very pleasant Quad: a metaphor for college life (many paths intersecting). See high school kids & parents at Welcome Center awaiting formal tour. We look scruffy compared to them. (Ha! We dare you to do 9 campuses by CTA!!) RH explores Library (excellent stained glass windows) while CW reads about St. Vincent DePaul ("Friendliness...Charity in the Heart"). We stop by a Student Organization Fair, and chat with an ROTC recruiter, some Future Librarians and the DePaul Student Government President; all are impressive. After the tour, we cruise up Lincoln Avenue and see the historic Biograph Theater (where the FBI's Most Wanted Man - John Dillinger - was fatally betrayed by the "Lady in Red").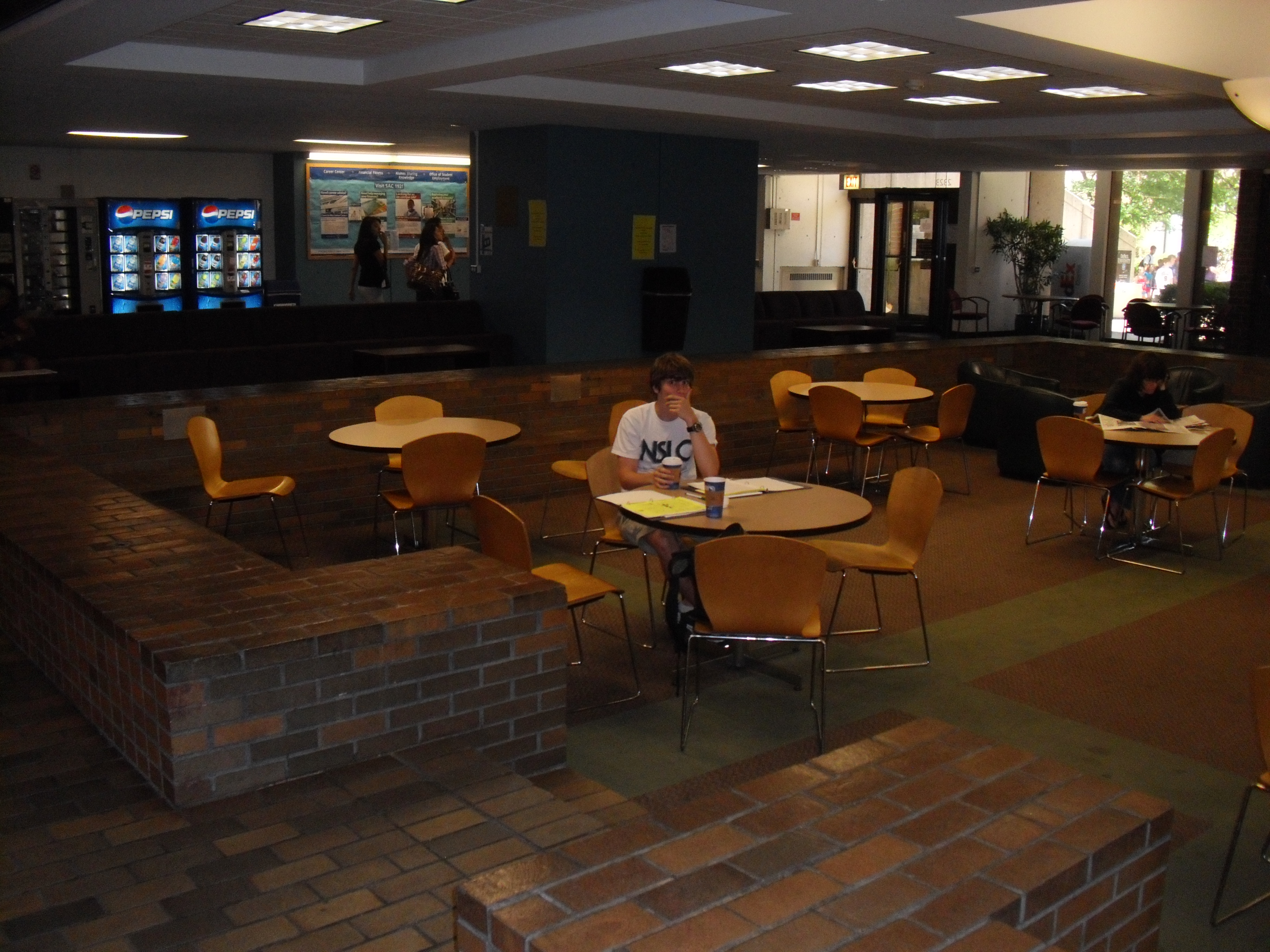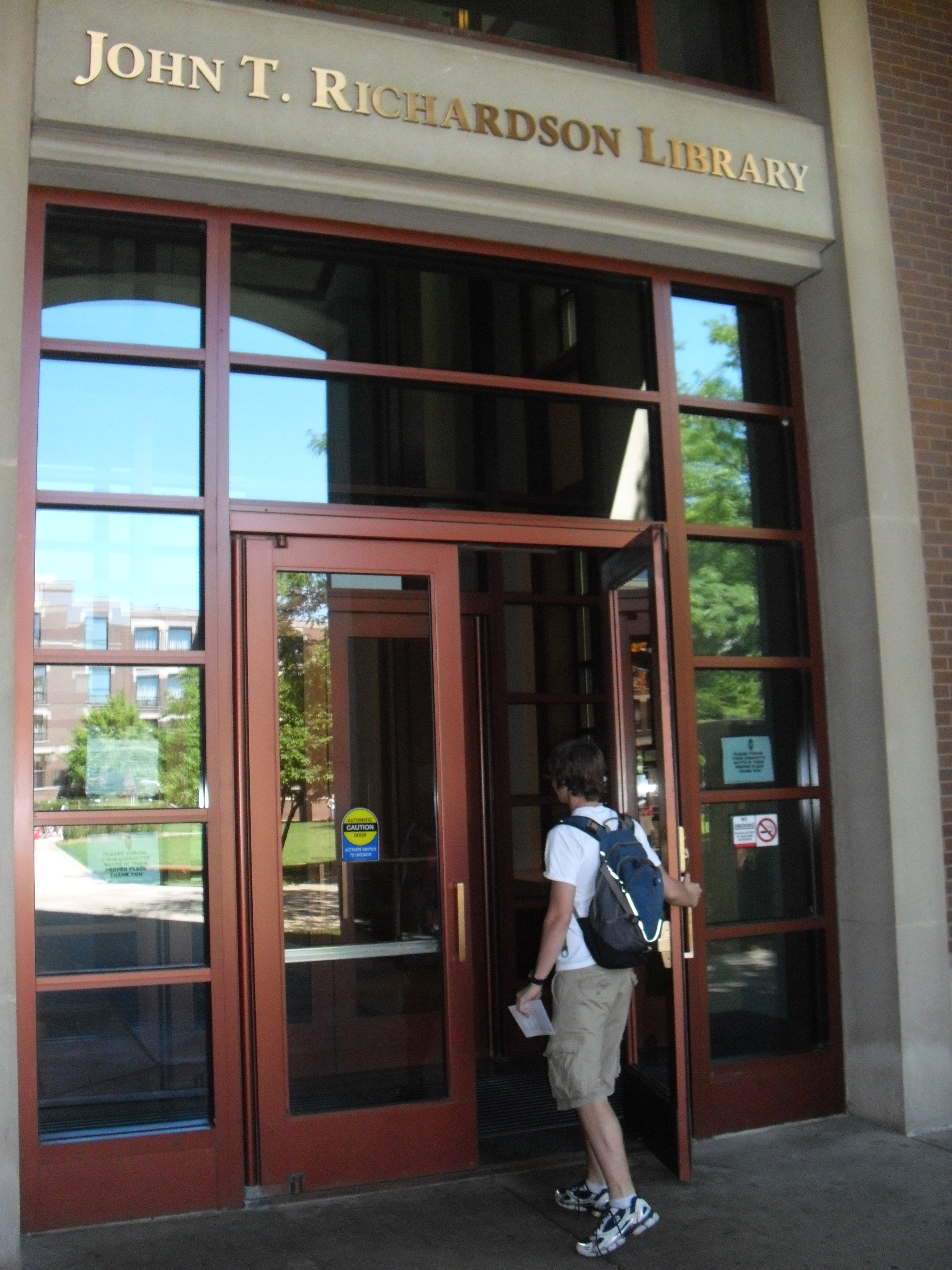 CW: Did you know that the DePaul Blue Demons got their name from the blue "D" on their jerseys? D-Men? Get it?

 
RH: Thanks, Tio. I knew I would learn something valuable on this trip.
CW: I need a Frappucino.

 
11:27 a.m.  Back to L. Take Red south (the L turns into a subway; try to see the transformation from the front seats of the L) to Chicago Avenue Station (15 min). This is one of three "Art Moderne" stations on our tour along with LaSalle & Adams) with tiled arches and tile lettering indicating which stop it is ("L" for LaSalle, etc). Walk a block to Loyola Water Tower campus. 
 12:02 p.m.   Loyola University of Chicago (Water Tower Campus), 820 N. Michigan, Chicago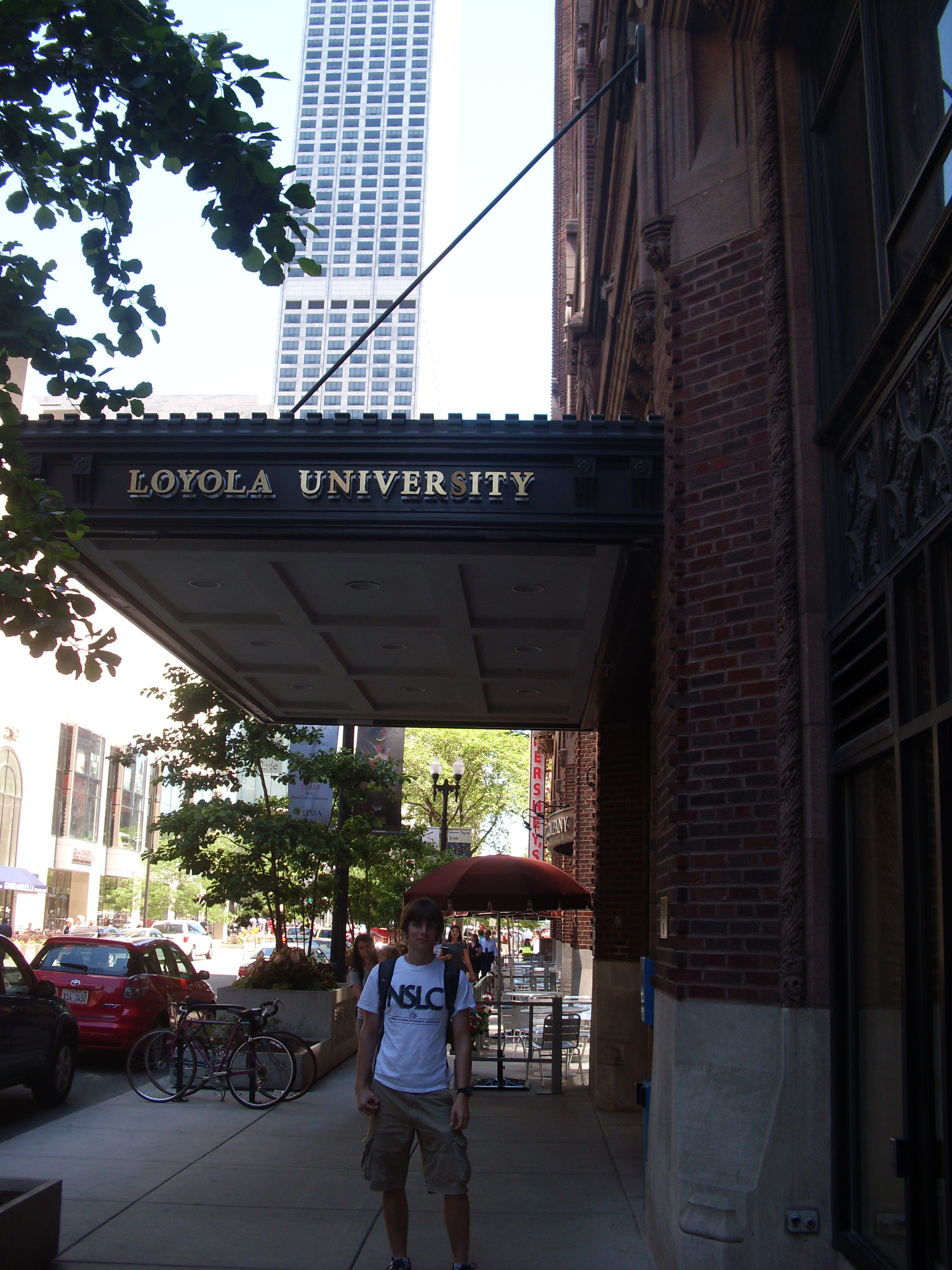 Library isn't atop Lewis Towers anymore. Much new construction. Can't really get in. CW recalls many hours spent as an undergrad in the Library on the top floor, staring to the horizon. And many more hours at neighboring Downtown Dogs & Pippin's Tavern. After threading our way through a few Loyola skyscrapers, we sit by historic Water Tower (it survived the Great Chicago Fire, but can it survive the heavy traffic on Michigan Avenue?) We ponder the juxtaposition of a gothic-looking Cathedral/Seminary next to a Bentley dealership. We walk down Boul Mich to Billy Goat's (15 min) for cheezboorgers and to see 2 photos of CW's dad in the Goat's VIP Room ("Very Insignificant People"). CW explains the Cubs hex to RH. We try to pronounce Bill's name for a free drink.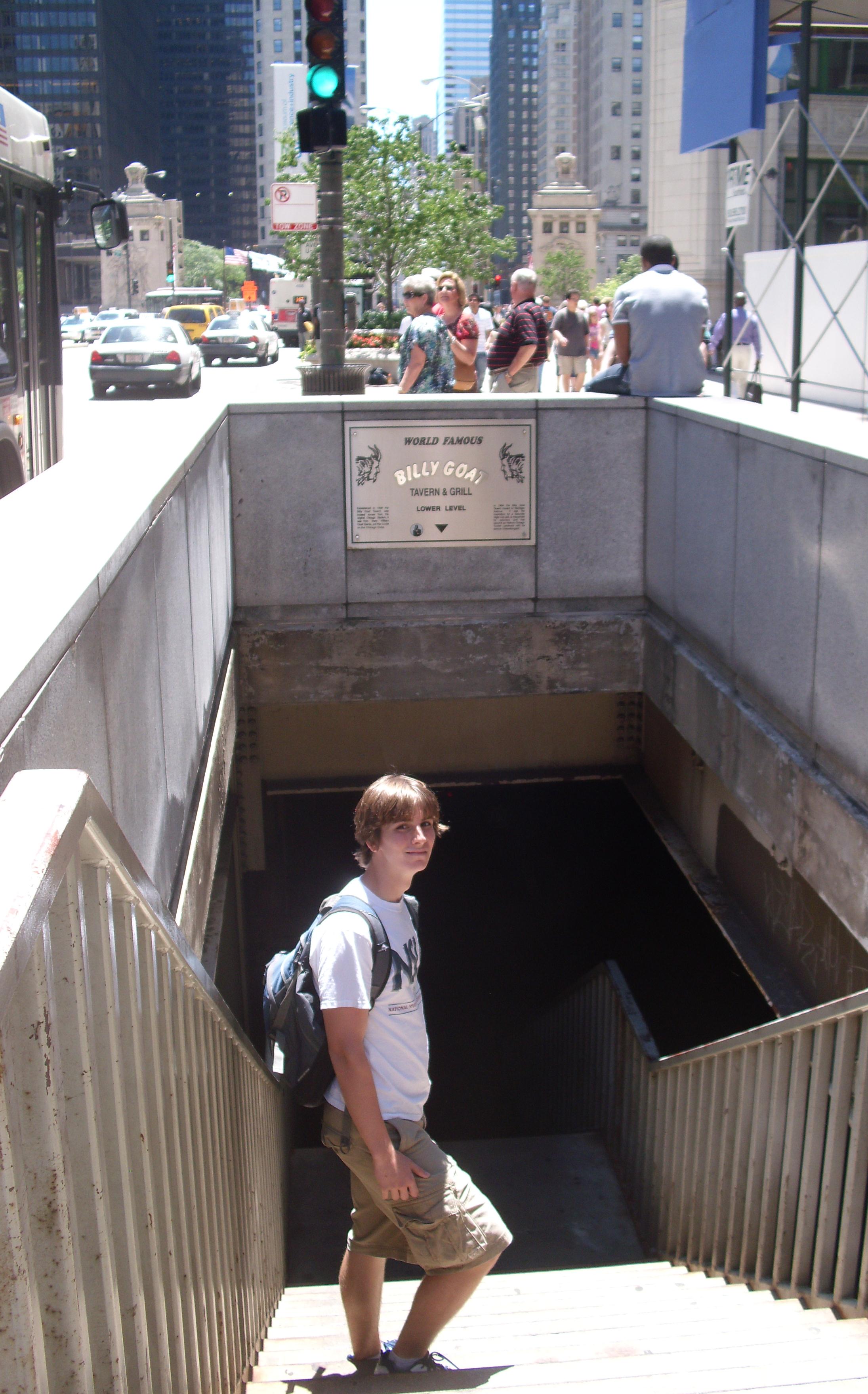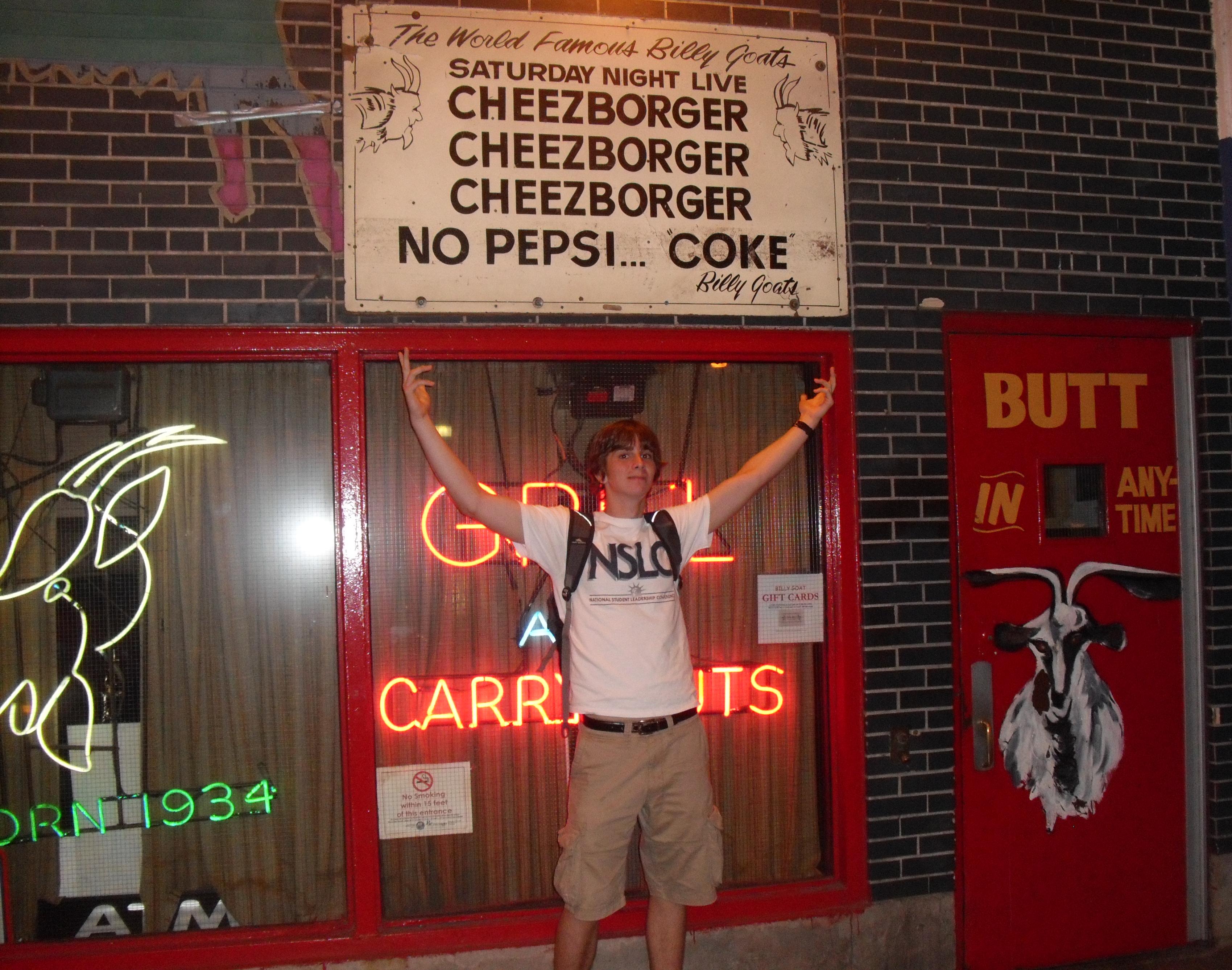 RH: Uh, let me get this straight, Tio. You root for a baseball team that hasn't won in a century, and won't ever win because of a billy-goat and a hex.

 
CW: Yeah, but I've got a good feeling about next year. How's that cheezeborger?

 
Walk across the Chicago River (wave to kayakers) to busy State & Lake Station.
1:43 p.m.  Take Red south to 35st Street (20 min). The station's in the middle of the Dan Ryan Expressway which is already flowing like crazy. CW expresses his feelings about the South Side baseball team & their nasty stadium. 90 degrees, steamy. Walk 2 blocks to IIT.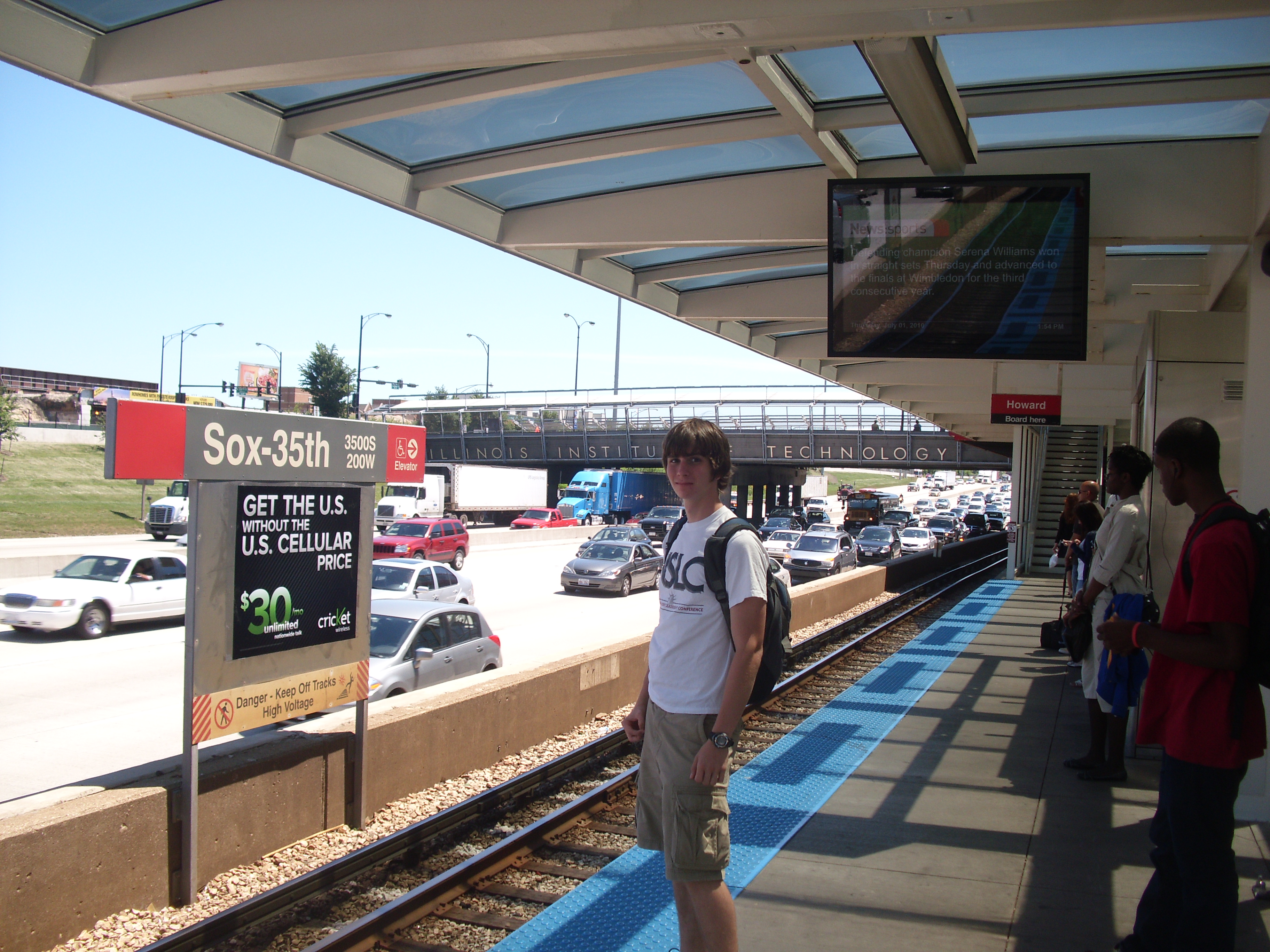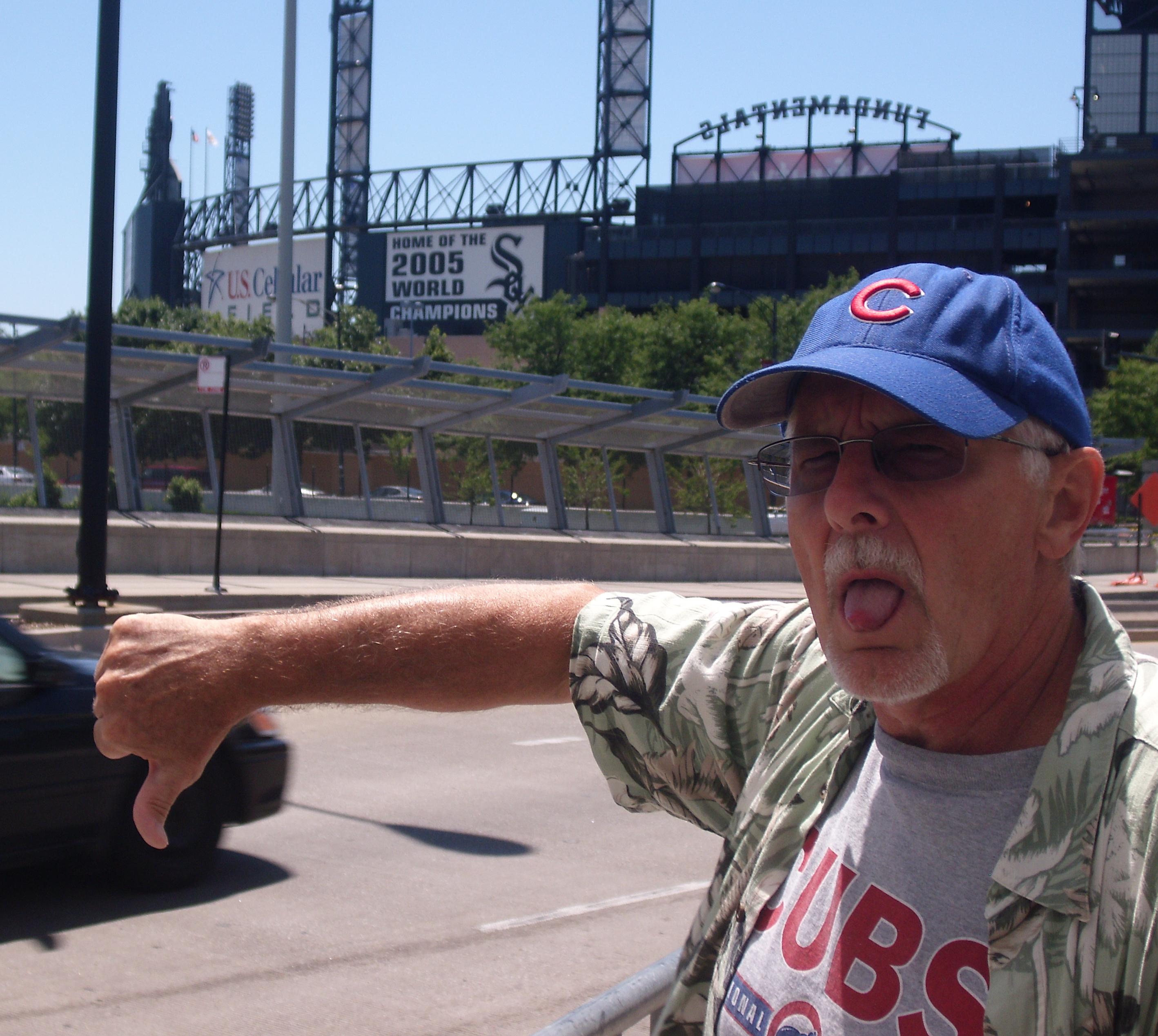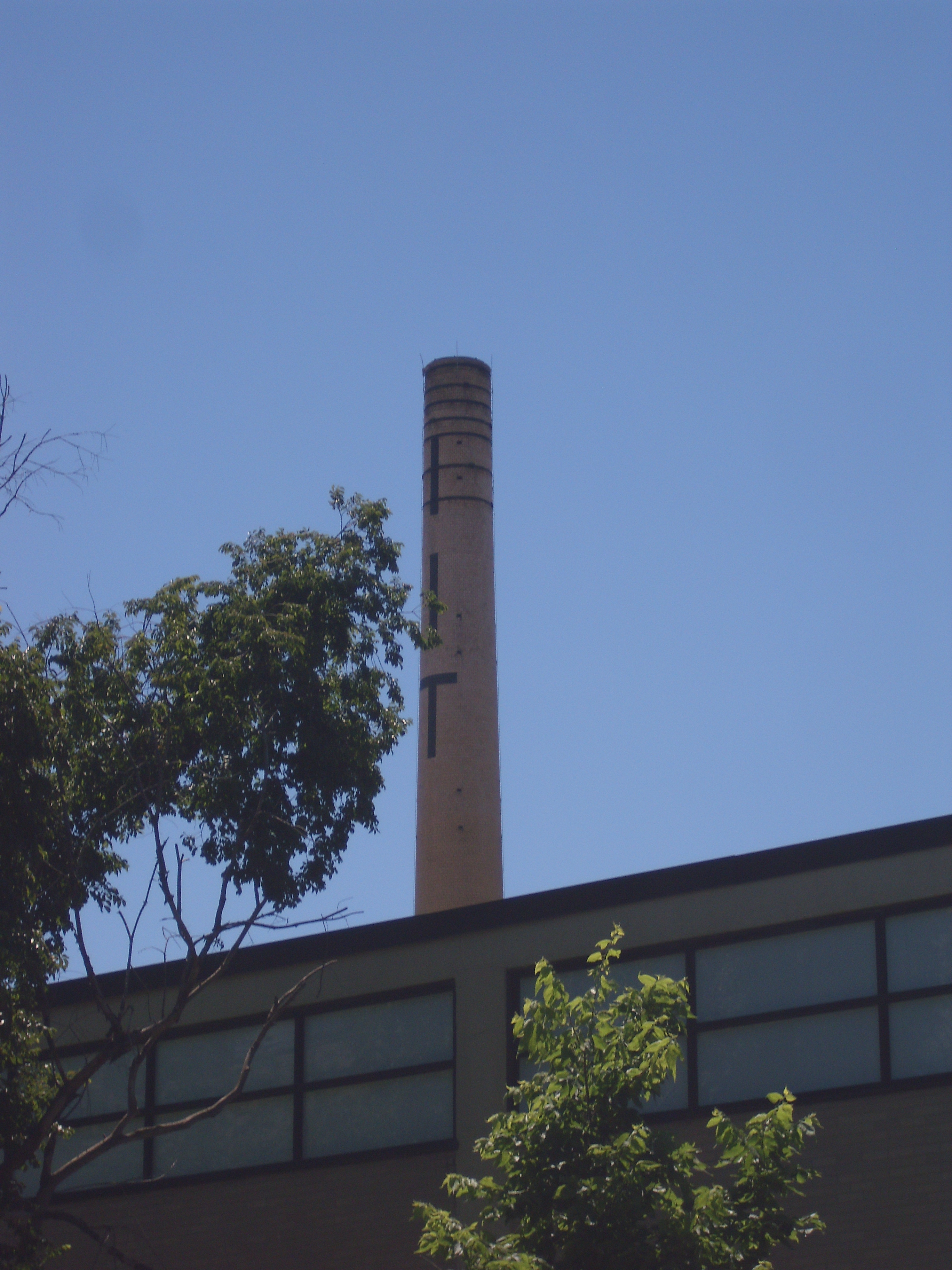 2:03 p.m.   Illinois Institute of Technology, 3300 S. Federal, Chicago
Mies van der Rohe architecture and Bauhaus design: boxy, geometric, black steel & glass. Quad is surrounded by sleek buildings, peppered by physicist graffiti on rocks. Disk Golf. The Galvin Library is open to everyone so we explore. Airy, bright. A cool sculpture out-front. We stop by a Grad School building, chat with nice lady who works there. She suggests we go across the street to the Student Center. En route, we see bike cops busting some ranting street guy in a Knicks jersey. 
The tube for the Green Line L station above the Tribune Student Center is excellent. There was a wicked chess/checkers board outside and furious game of ping-pong going on inside. Not busy today, but this place probably hops in the Fall. Check out the automatic doors with photo montage of Mies van der Rohe.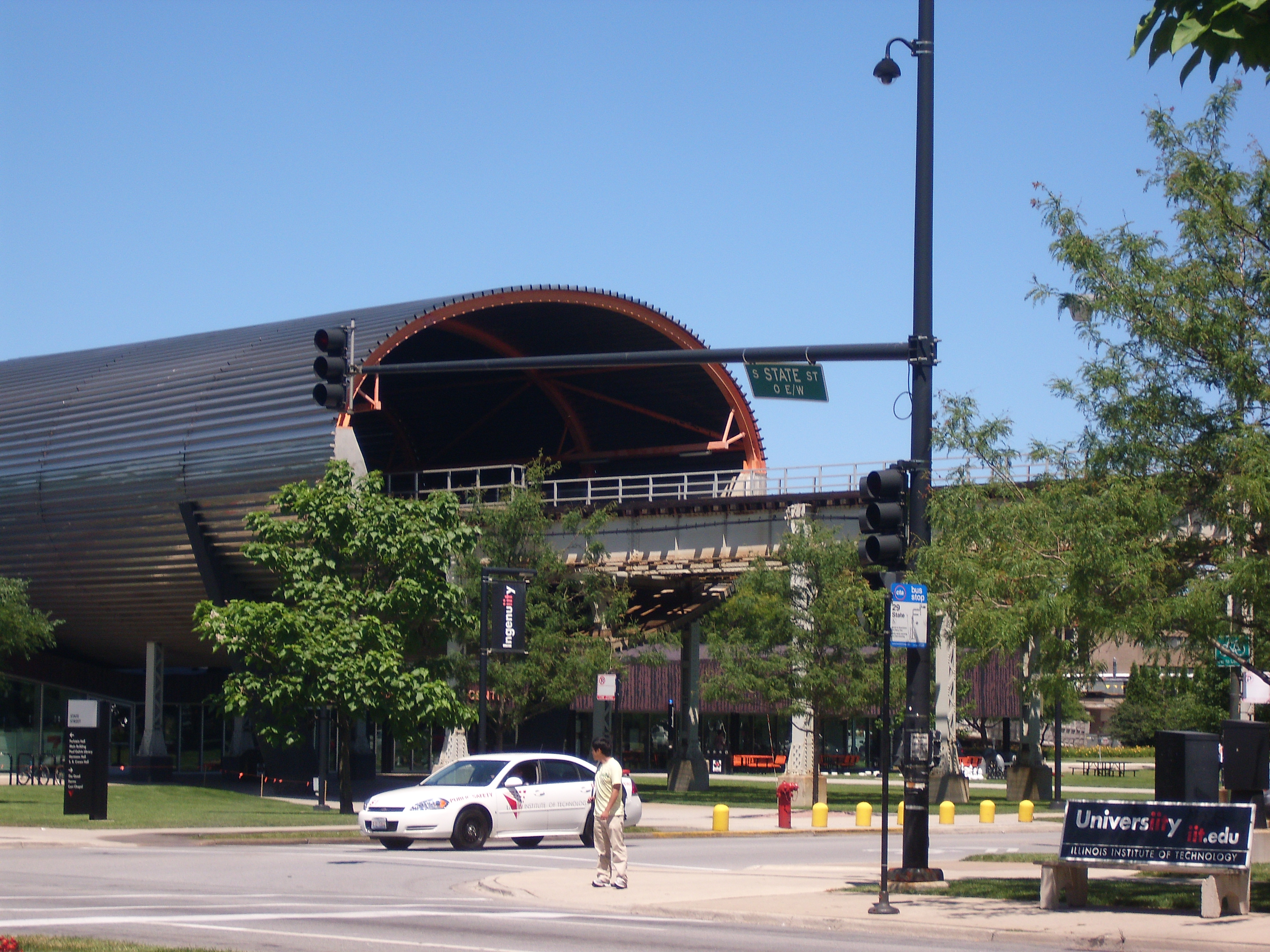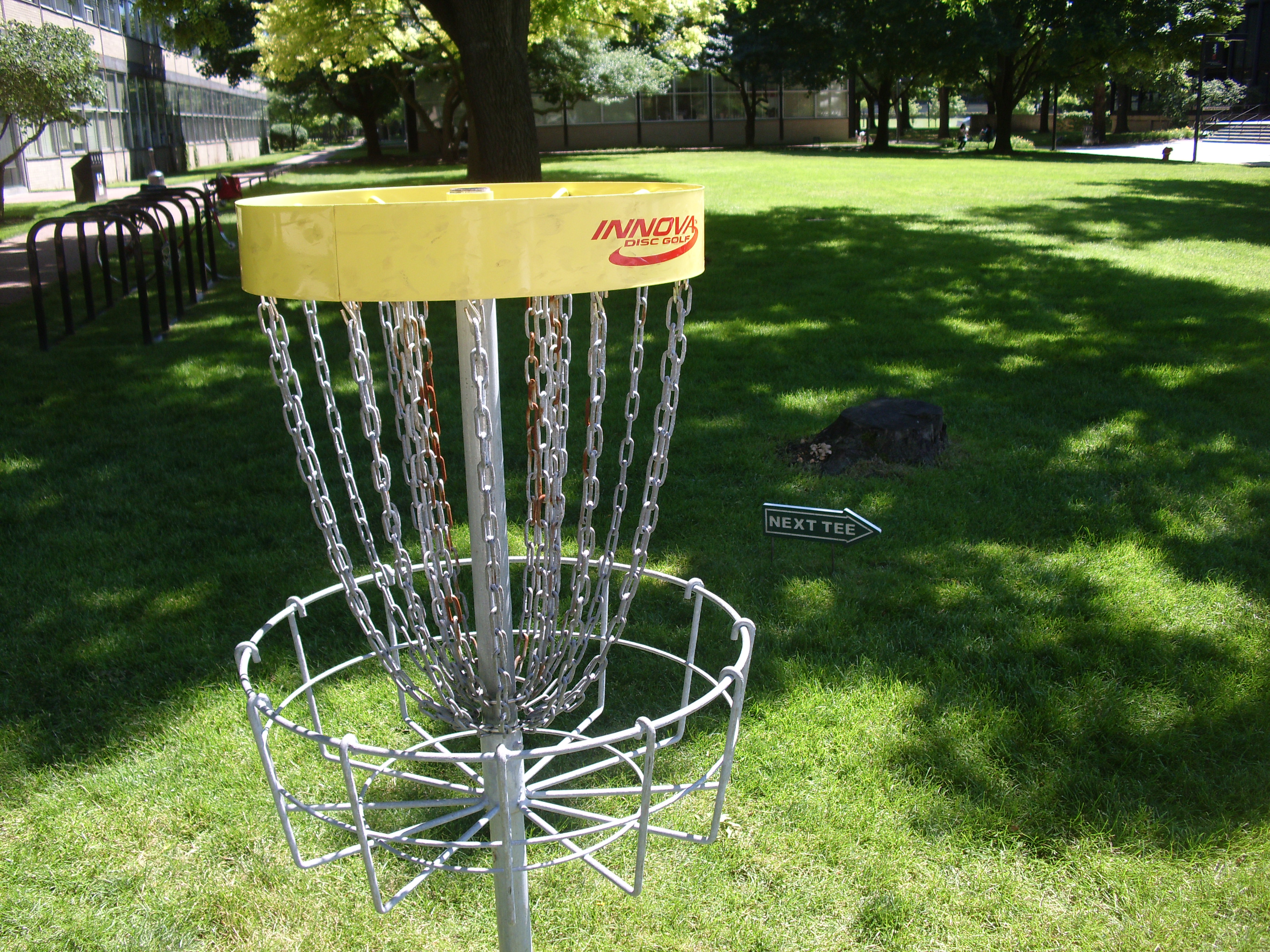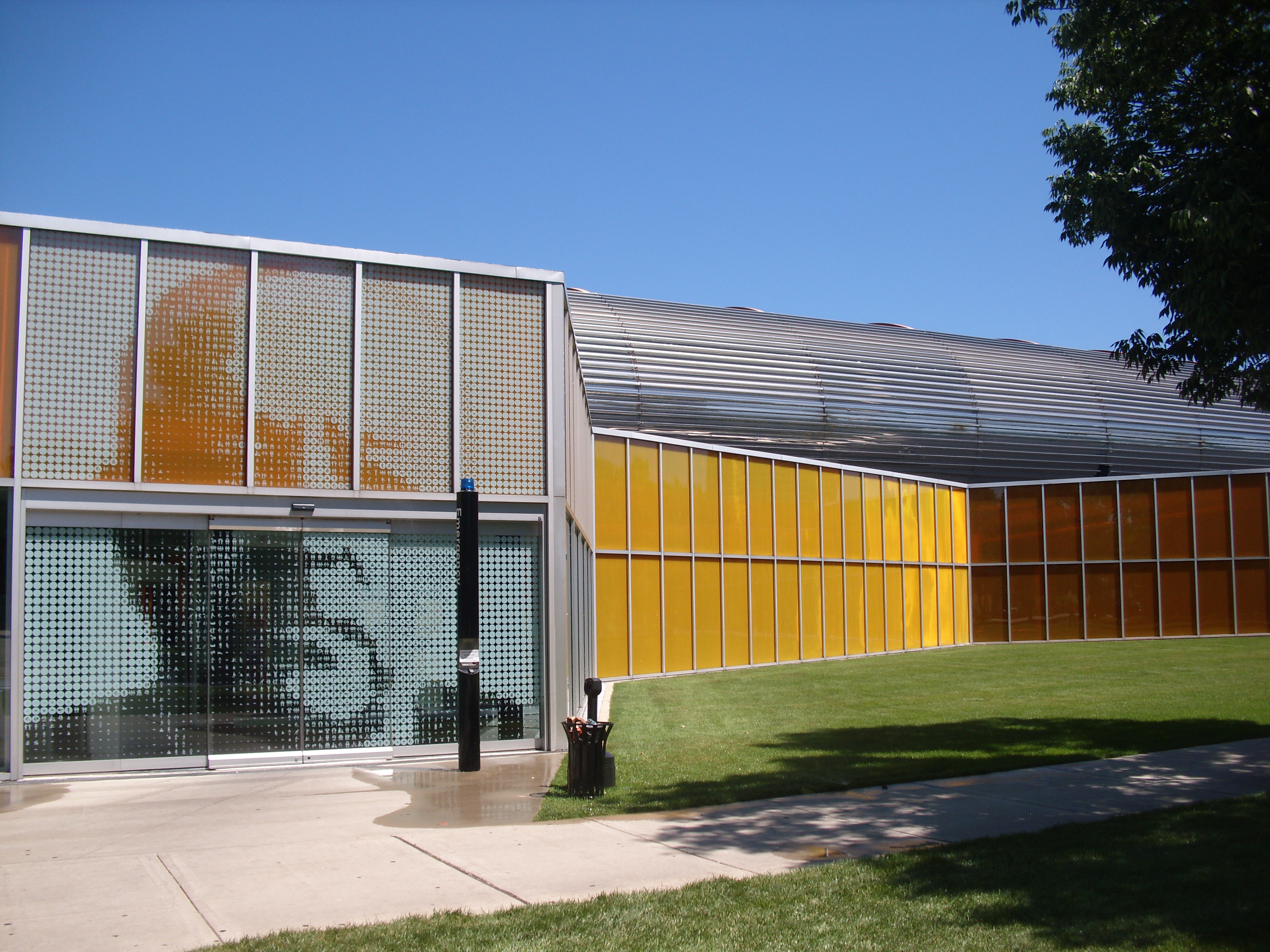 Road-trips are filled with unexpected treats. As we pass Mies's minimalist Crown Center, we spot metal pillows floating inside. We had stumbled into Andy Warhol's legendary Silver Clouds. Dozens of silver helium-filled "clouds" silently and randomly moved throughout the 2-story space, some propelled by floor fans, some caught in the ceiling.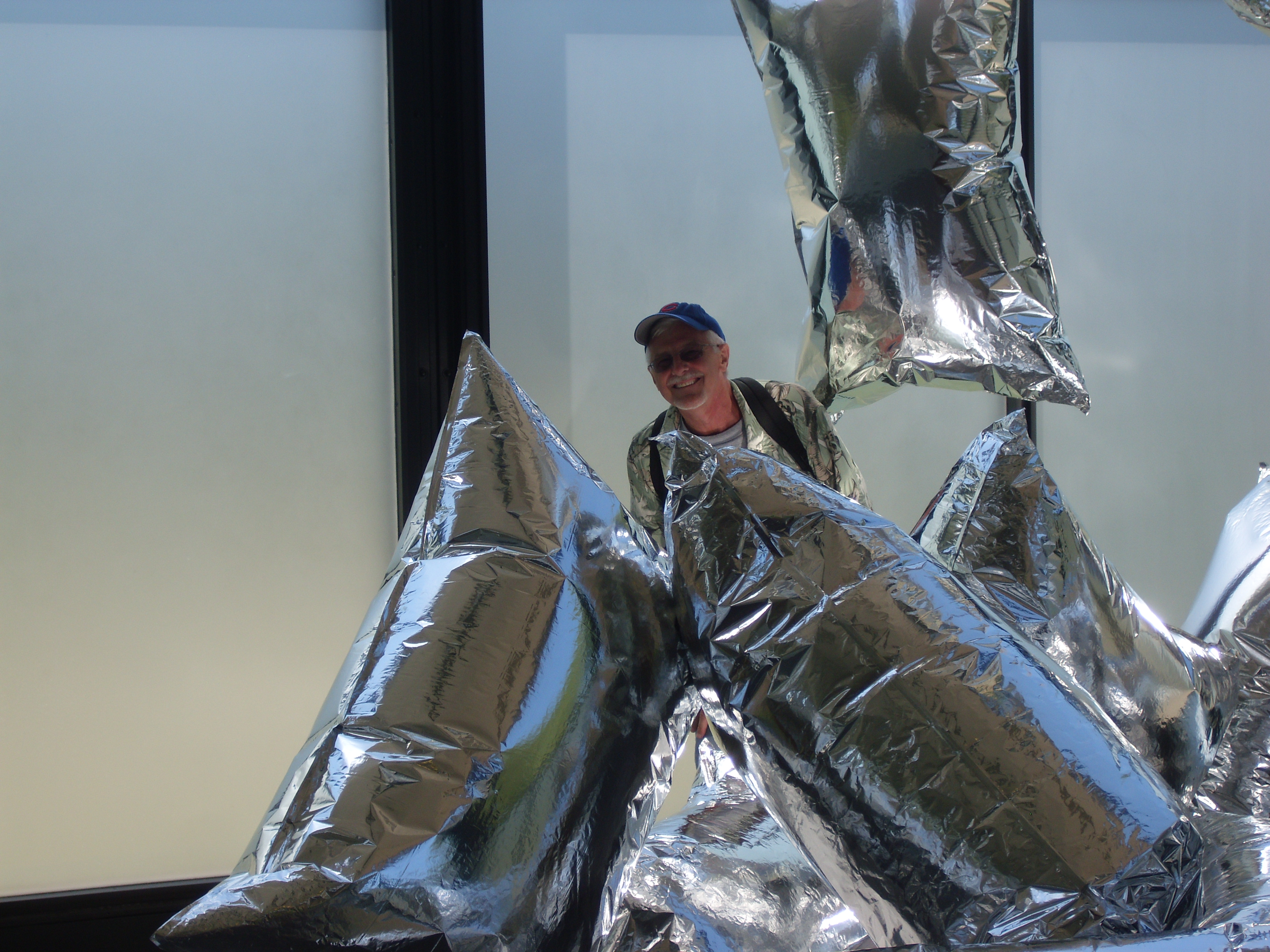 RH: Another metaphor for campus life, Tio?  Silver floating clouds?

 
CW: Hmm, yeah, random, beautiful...hey, lay off my helium!

 
IIT banners tout "IngenuIITy", "curiosIITy" (clever).  We walk back to 35st Street Station. Great view of Downtown.  
2:44 p.m. Take Red north to Harrison Street Station (10 min). Poetry on subway pillars:"I feel his sweat running down my face."  Walk 2 blocks through South Loop to Columbia College.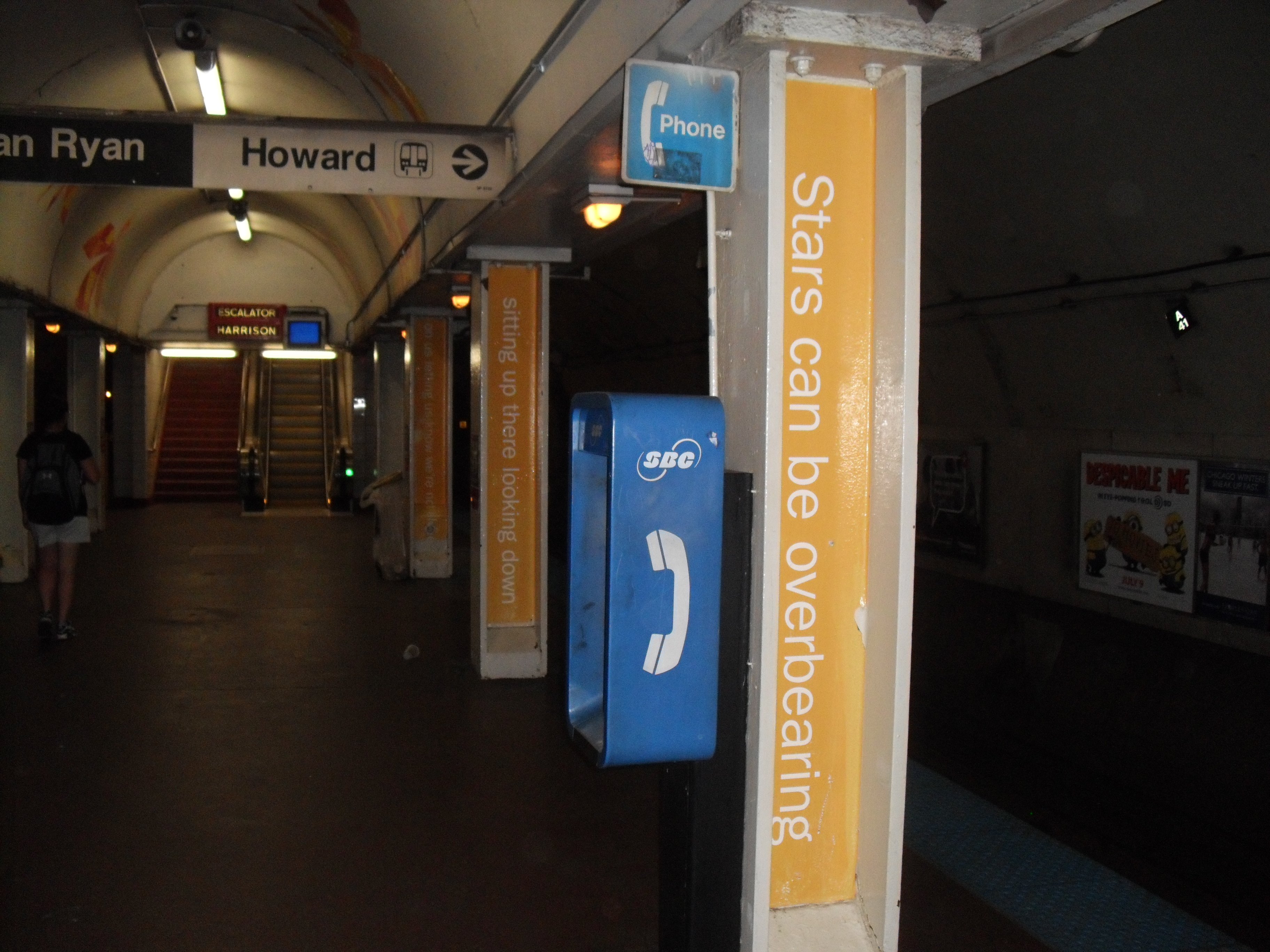 3:02 p.m.  Columbia College, 600 S. Michigan 
Campus is spread out across Chicago's downtown. We enter main building - high-rise overlooking Grant Park with a retro lobby - but it's hard to find anything. We act like we belong and stroll around the Library; great views & lots of art. We visit the old TV Arts department, see a 1950s TV camera/dolly. The student employees there are chatty, helpful and look like art students. They say we really need to visit the new Media Production Center at 16th & State. CW wants to see the building since it was designed by a cool-cool Chicago architecture firm - Studio Gang - but it would add an hour to the trip; another time. We elbow through growing Taste of Chicago festival crowds two blocks north to Roosevelt University.  
3:36 p.m.  Roosevelt University, 430 S. Michigan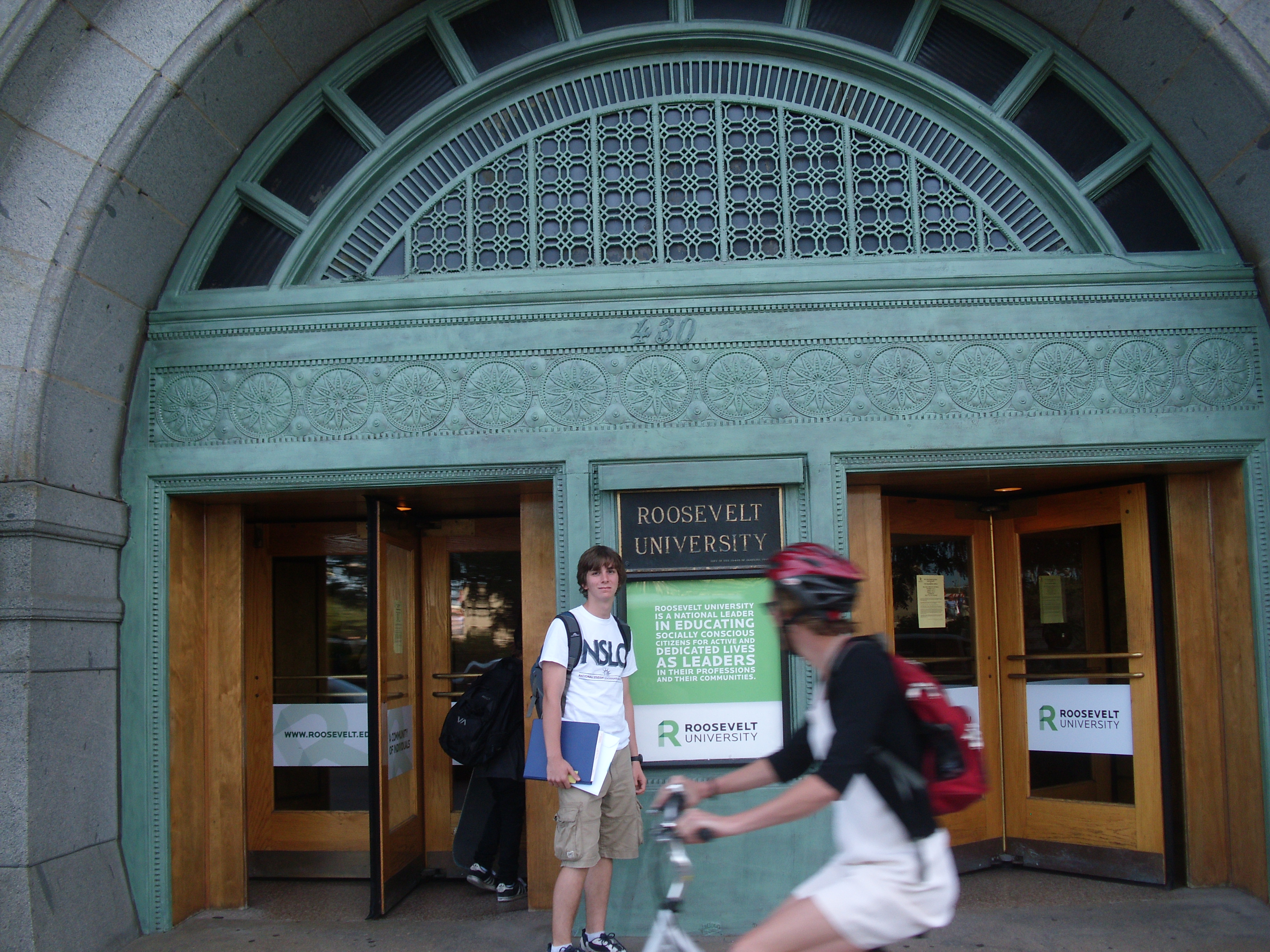 The University is contained within a block-wide building designed by Chicago architecture icon Louis Sullivan. His architecture everywhere: stairways, ceilings, even a room once used by troops for basketball. We must appear lost or like trespassers, and are offered an impromptu tour by the Associate Vice-President (on his coffee break). We chat about Sullivan, Roosevelt's social justice mission, RH's plans. He's a great tour guide, and shows us the student theater stage and several classrooms.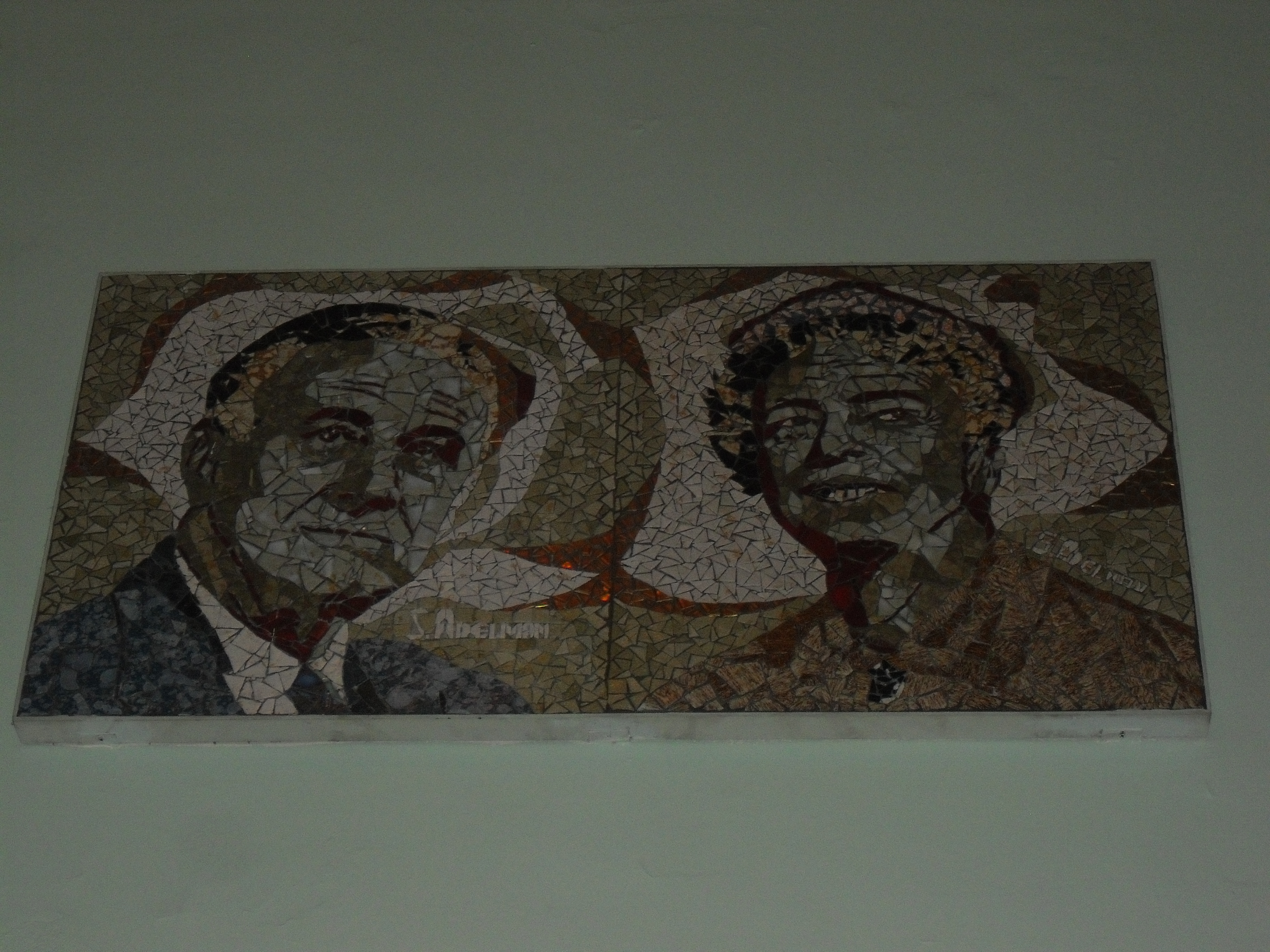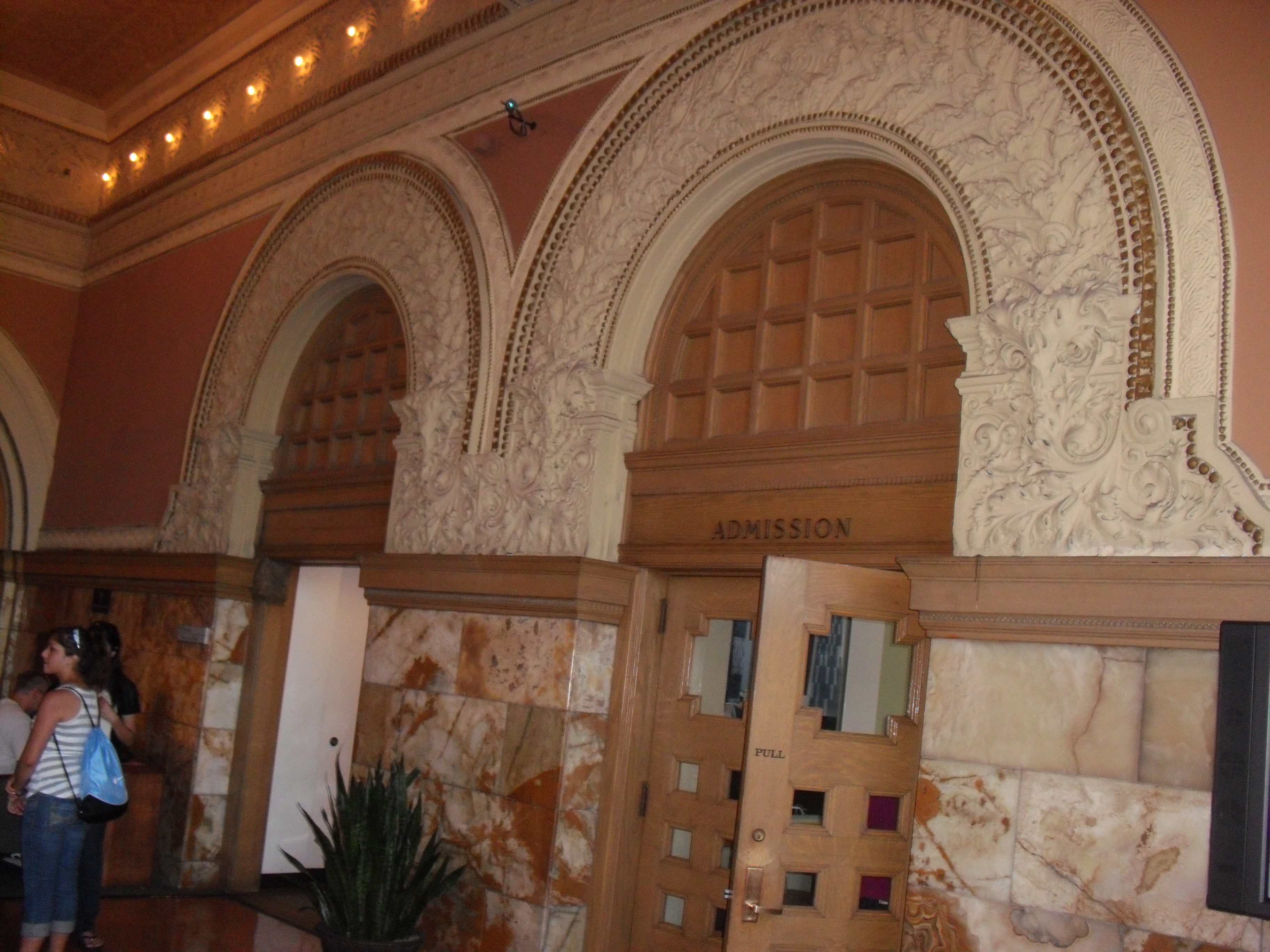 There's a 2nd-floor study-room/perch with a splendid vista of the Taste of Chicago, Grant Park and the deep blue Lake Michigan. The Veep drops us off at the Admissions Office (with a Sullivan-designed doorway!) where we chat with a helpful Admissions staffer and obtain lots of materials. In the lobby is a model of school and the planned new "vertical campus", a soaring 32-story glass skyscraper with dorm rooms in the clouds. When completed in 2012, it will be the 2nd-tallest university building in the USA. We grab a sharp poster of the Roosevelt Tower.
RH: That new Tower is going to be epic.

 
CW: Yeah, what a view. There'd be more distractions there than at the beaches by Northwestern or Loyola. And I know how easily your generation gets distracted.

 
RH (texting the girlfriend): Huh?

 
4:22 p.m. Walk 5 blocks to Blue Line LaSalle Street Station (10 min). Take Blue west to UIC Halsted Station (10 min).  
Retro CTA Station with triangular 1950s/Art Deco sign. Long hike up an endless ramp in the middle of the expressway. Near Greektown; CW craves flaming saganaki. Walk 2 blocks to UIC campus.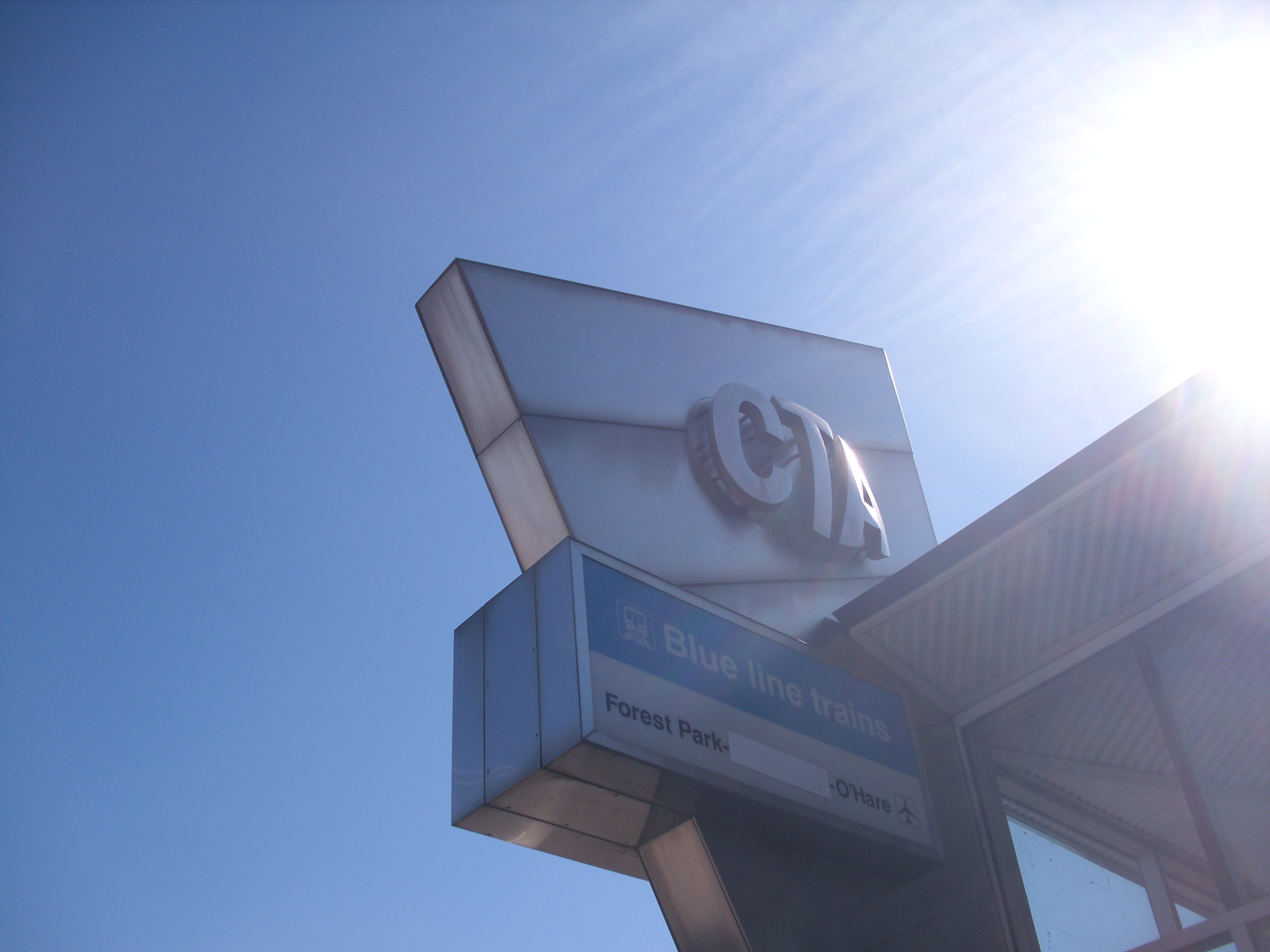 4:41 p.m.  University of Illinois at Chicago, 700 S. Halsted
First stop is Hull House. CW describes the old Italian neighborhood here, Jane Addams, settlement houses, the concept of social services. Bulldozers, Florence Scala, Urban Renewal or Urban Removal?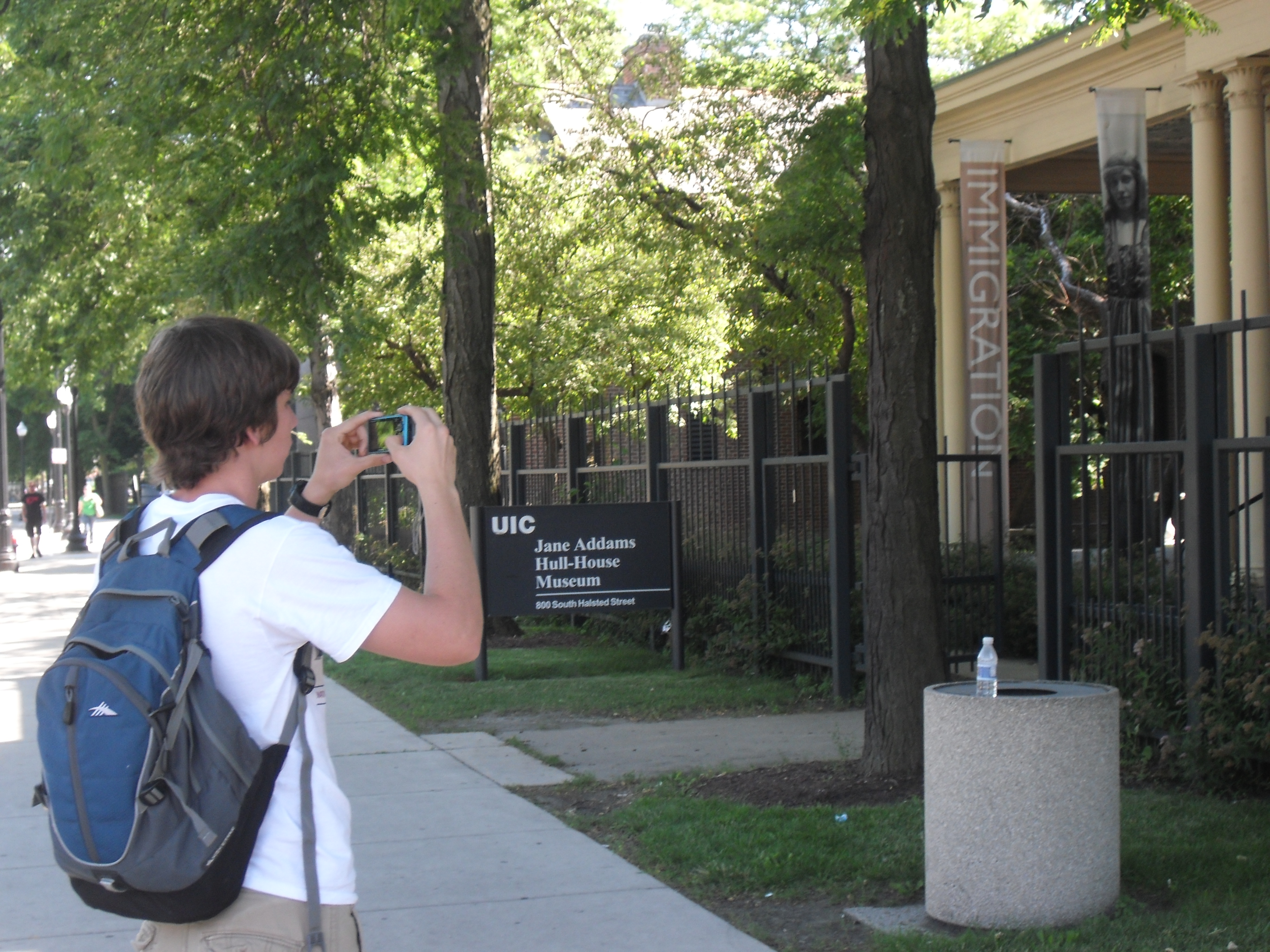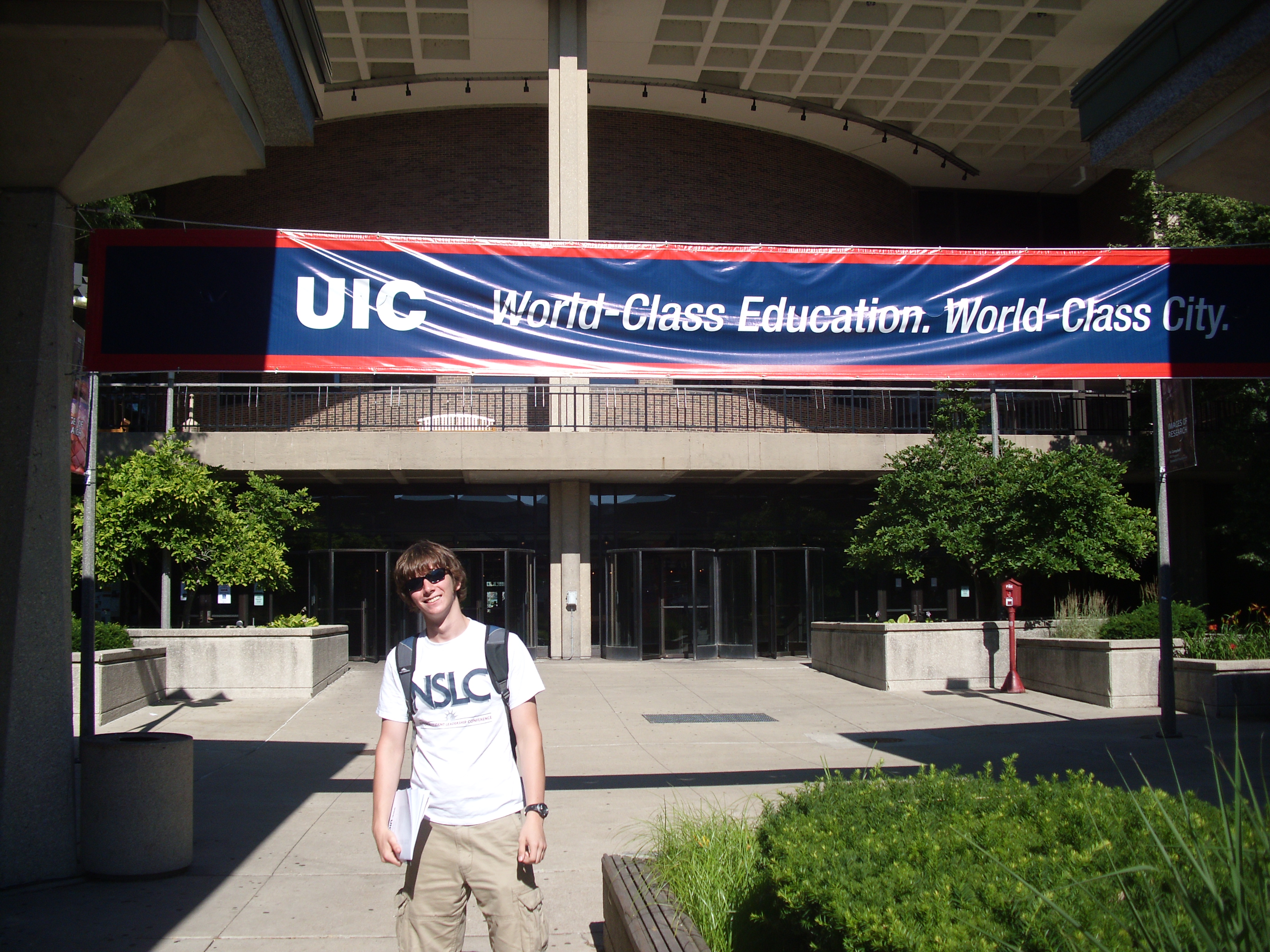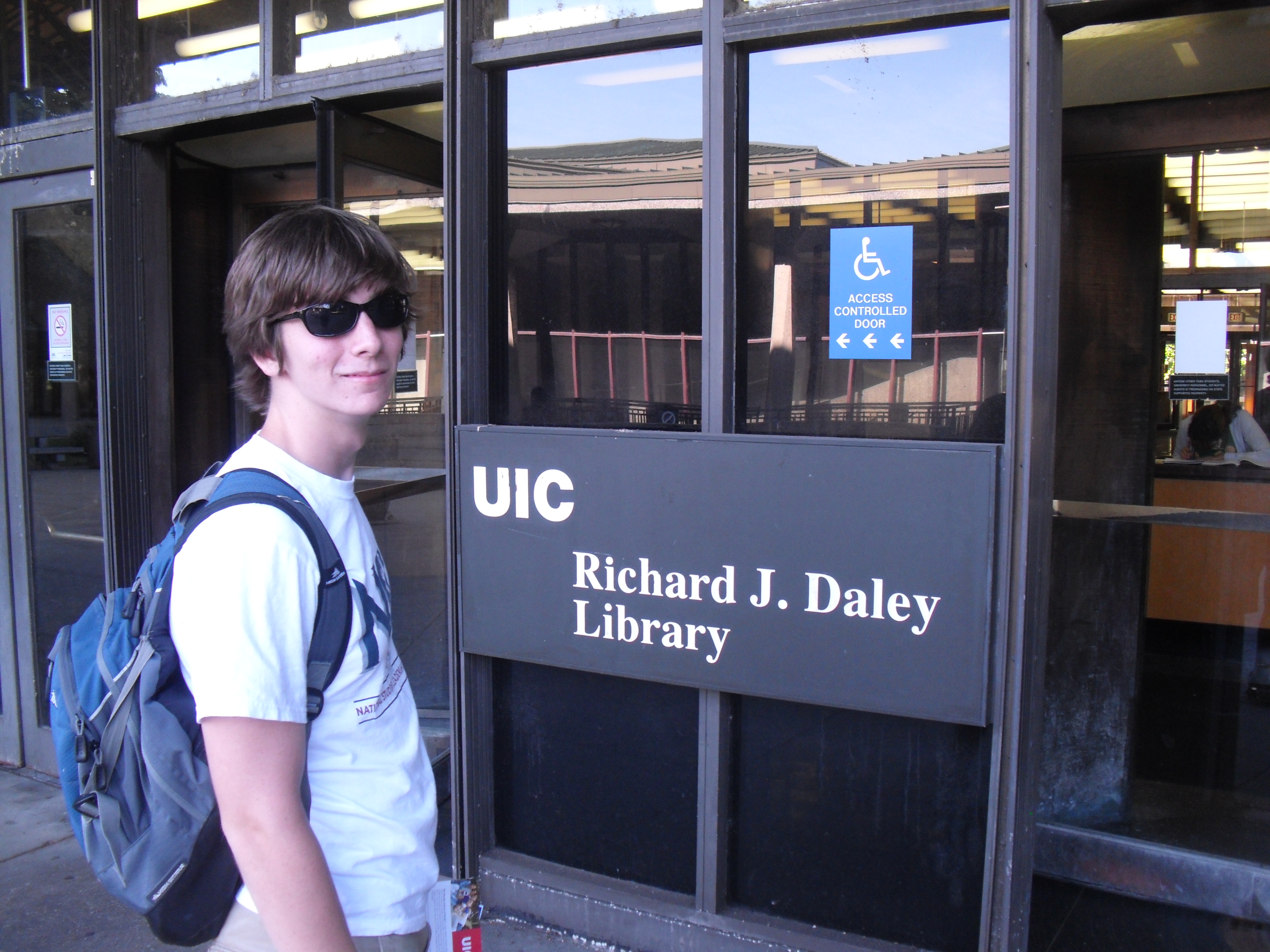 The Student Center East is the busiest student center of the day, and offers a bowling alley & barber (where Ryan resists the urge for his quarterly haircut). RH finds the Walter Netsch-designed campus to be cold, industrial. Richard J. Daley Library looks like a concrete fortress, but turns out to be decent inside (plus it has the coldest, iciest water fountains of the whole sweaty trip.). A cold, gray desolate Quad; reminds RH of a ghost town on a summer day. We scoot into the Behavioral Sciences Building (BSB) just before they close for the holiday. What if we got lost in this maze?  RH hatches a plan to live off of vending machines until we're rescued. The place reminds CW of the Smashing Pumpkins ("Despite all my rage, I am still just a rat in a cage.") Huge lecture hall, a sea of red seats.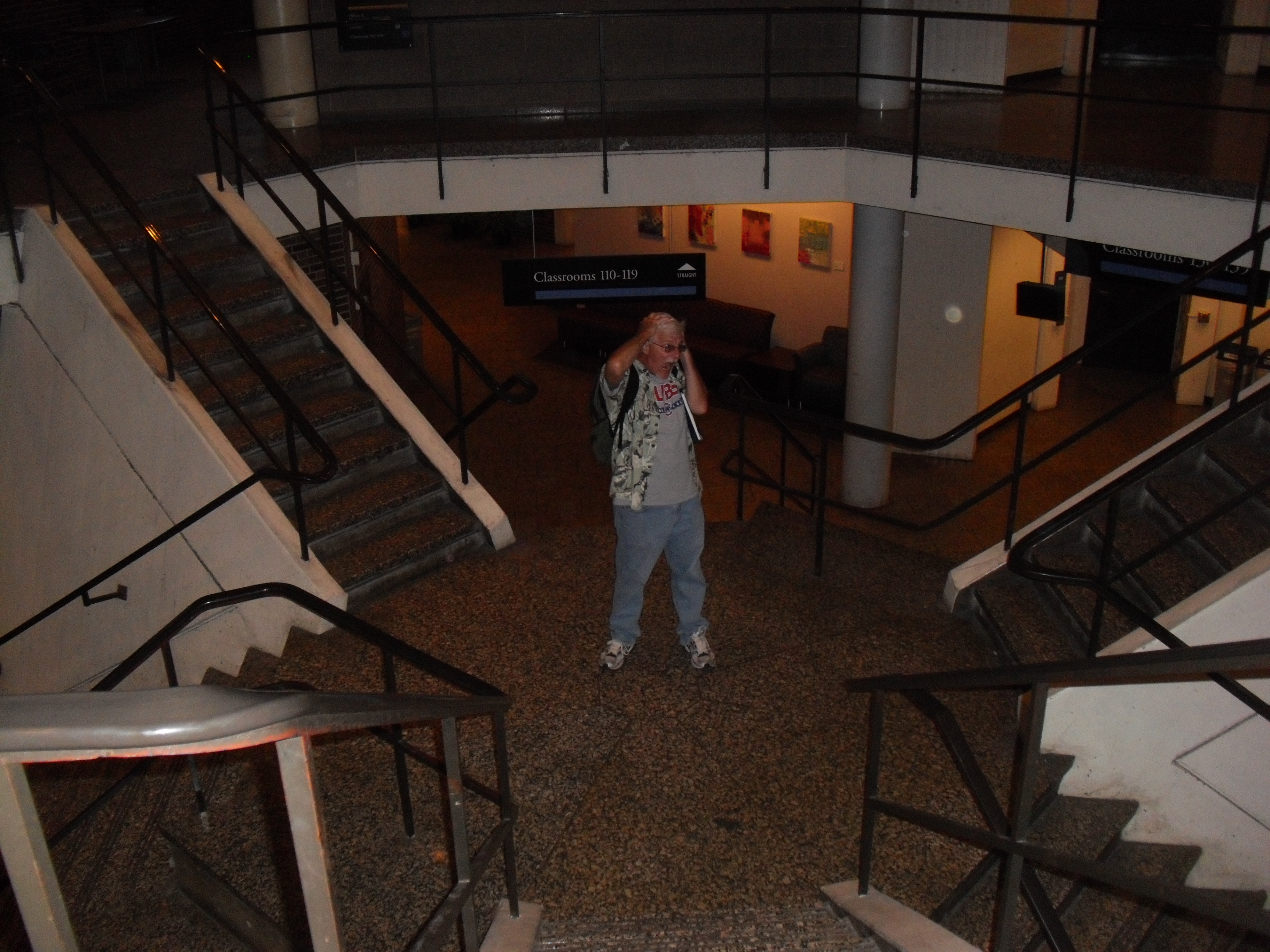 We walk west on Polk to what's left of Little Italy, past two oldsters on a stoop mumbling Italian who zip it and glare as we saunter by. We see our old Carpenter Street apartment by Red Fontano's Subs. CW, RH's mom & Tia Robyn once sun-bathed on the scalding tar roof with a vista of Downtown. Back to campus; University Hall looks like it was hit by a hurricane, but it's still a dizzyingly-delightful spot to look straight up. 

RH: This place makes me feel like a grain of sand at the beach.

 

CW: Yet another metaphor for campus life.

 

Walk to Blue Line Morgan Street Station (10 min). Another half-block on-ramp in the middle of the expressway.

 

5:37 p.m. Take Blue east to Jackson Street Station (10 min). Walk five blocks to School of the Art Institute. Massive Taste of Chicago crowds, mobs actually, with a slightly surly edge.

 

6:02 p.m.  The School of the Art Institute of Chicago, 280 S. Columbus


First, we see a chain-link fence separating Taste of Chicago booths from the School. Then despite seeing art students sliding down a railing, the SAIC is closed at this location today. And actually, we needed to go to the new building on Wabash. Shoot, bad research. CW points out where his old office was (during an SAIC stint in 1977); we admire the building's design and marble Noguchi sculpture as the scents of BBQd turkey, gyros & other Taste of Chicago treats waft over us. Mission foiled. Nine - not ten - campuses in one day. But since Thursday is free night at the Art Institute, we do a mad-cap one-hour sprint through one of the world's greatest art collections. We're parched. CW smells bad. 

No matter. Zoom. To the Impressionists: Monet's haystacks, Van Gogh's bedroom. CW notes the pointillism & weird monkey in Sunday on La Grande Jatte. OK, keep moving. Eastern Art: serene Buddhas, sly Hindu goddesses. Bam! Decorative Arts. Quickly!  Maces & axes. Dash to the Modern Wing. CW's searching for Abstract Expressionists (to share Jackson Pollack with the kid), but we get lost in Post-1960 Contemporary. Crazy installations, white paintings on white canvasses on white walls. Go-Go!  Breathtaking view of Millennium Park. We want to take the Renzo Piano-designed sky bridge to the Park (it's like zip-lining through the tree-tops), but need to zip to the L.

RH: So, that all-white painting is art?

 

CW: We saw Blue Man Group the other night; is catching marshmallows in your mouth and spitting the colored paint inside valid art? More than Monet doing ten versions of the same haystack? And the architects we've seen today- Mies, Sullivan, Netsch - do they create art? Warhol's 'Silver Clouds', the 'tube L stop' at IIT, the terra cotta station entrance at Wilson. The busts of Truman, the Roosevelts' mosaic. Subway poetry pillars? All art?

 

RH:  Just because someone calls something 'art' doesn't mean it's art, right, O Wise Tio?


CW:  Art is everywhere. Fear No Art, Wise Sobrino.

 

We jog back three blocks to the Purple line elevated at Adams & Wabash, salmon fighting upstream against Taste crowds. We sprint up the stairs of the aging station and breathlessly ask the CTA attendant if we can make the last Purple northbound express. After an endless fingering of his Blackberry, he finally says, Yep, any minute now.

 

7:05 p.m.  We catch the last outbound Purple. The ride is entirely above-ground. CW points out the notorious Lake Street curve  where a train plunged off the tracks in '77 killing 11 (CW heard the crash from his nearby office and was among the first on the scene). We travel high over the Chicago River, weaving through neighborhoods and seeing campuses we visited so long before (DePaul, Truman, Loyola). Our backpacks and logbooks are full. 

CW: So, today we learned that each campus is unique, mass transit is cheap and fun, art is everywhere and quantity beats quality.

RH: Yep, and if you pee on electrified L tracks, the voltage can conduct back to you.

7:39 p.m.  Arrive at Howard. Take time to exhale and admire the hanging aluminum sculpture in station. Crawl to car, then drive home to collapse. Almost 12 hours to the minute. 41 miles by mass transit, 8 miles on foot.

RH: Chicago's subway system was a pleasant surprise, much more convenient than I imagined. The trains were gritty in that nostalgic, city kind of way. The poetry on the walls was great ("I feel his sweat rolling down my face.")

 

CW: I need an icy cold beverage.

  

Part 4.  List of Schools we visited

Northwestern University

Private, not-for-profit. 16,337 students. $39,840.

Newspaper: Daily Northwestern; Team: Wildcats

 

Loyola University of Chicago (Lake Shore and Water Tower Campuses)

Catholic (Jesuit). 15,879 students. $31,040

Phoenix/Ramblers

Harry S. Truman Community College

Community college. 23,487 students. $6,475 (non-resident)

Uptown Exchange/?

 

DePaul University

Catholic (Vincentians). 25.072 students. $26,765

DePaulia/Blue Demons

Illinois Institute of Technology

Private, not-for-profit. 7,707 students. $28,512

Tech News/Scarlett Hawks

Columbia College

Private, not-for-profit. 12,500 students. $19,860

Chronicle/ none

 

Roosevelt University

Private, not-for-profit. 7,692 students. $23,000

Torch/Lakers

University of Illinois at Chicago

State-run. 26,245 students. $27,754 (non-resident)

UIC News &The Flame/Flames

The School of the Art Institute of Chicago

Private, not-for-profit. 3,098 students. $28,280

F Newsmagazine/ none

Part 5. Tips & Checklist for a Campus Tour by Mass Transit

Research

·         Visit the website of the mass transit agency. Check "Fares" to see if an all-day pass is available.

·         Download their mass transit map, then figure out what campuses are within walking distance of a train station or bus route. Decide which schools to visit and if it can be done in one day (Yes, it can!)

·         Gather basic data about each school (emphasis, # of students, tuition, history, etc.)

·         Download a map of each campus.

·         Map your walking route from each mass transit station to the student center of each campus. 

·         Figure out location of other sites to see (library, dorm, lecture hall, gym) and neighborhood points-of-interest.

Check-list

ü  mass transit all-day pass (if available)

ü  maps (mass transit, each campus)

ü  bottled water, protein bars/snacks

ü  camera (with charged battery) or cell

ü  pens/paper

ü  sun screen, sunglasses

ü  umbrella (if needed), cap, good walking shoes

ü  binoculars?

ü  thumbnail profile of each school

ü  backpack for stuff you pick up at each school

 

Things to look for at each campus

·         How's the vibe, feel, ambience?

·         Can you envision yourself studying at the library, hanging at the student center, sleeping in the dorm?

·         Do the classrooms inspire or intimidate?

·         How's the student body? Can you envision these folks as classmates, roommates, lovers?

·         Is the campus a self-contained community or part of a larger neighborhood?

·         How readily-available is such info as admissions/financial aid materials, student newspaper, course catalogs?

·         Is the water ICY COLD in the water fountains?

Part 6. Favorites & Highlights

Readily-available student newspapers, admission packages, etc. We grabbed fresh copies of the Summer Northwestern, DePaulia, UIC News, Chicago Flame & Columbia Chronicle, all impressive. Roosevelt & Columbia had admissions kits readily-available. Want to see the world? We were able to get info about Study Abroad programs at Northwestern, Loyola-Lake Shore & DePaul. UIC & Truman only places with handy Class Schedules. Other goodies: a DePaul Student Government bumper sticker, ROTC ballpoint pen with encrusted "diamonds", sharp poster of Roosevelt's planned Tower.

Views RH: Stunning lake-view from the Information Center at Loyola Lake Shore. The sea of people from when we were suddenly in the middle of Taste of Chicago. CW: Lake Michigan from Northwestern and from Loyola's Madonna della Strada Chapel; looking out to Grant Park & the Lake from Roosevelt's 2nd floor study area; looking Downtown from the 35th Street Station; taking the elevated Purple Line through the Loop.

Campus Architecture  CW: A feast for the eyes: Louis Sullivan at Roosevelt, Mies van der Rohe at IIT, Walter Netsch at UIC; ivy-covered Gothic spires at Northwestern, Loyola & DePaul.  RH:  Loyola Lake Shore's church/observatory were ornately decorated, a beautiful campus overall. DePaul had a nice mix of nature and downtown. Impressive Water Tower at Loyola's downtown campus. School of the Art Institute had, well, artsy architecture. Columbia/Roosevelt/Loyola Downtown were all skyscrapers, so we can't say much about that.

Quads RH:  Northwestern had an expansive, green quad featuring a colossal manmade lake with a geyser of a fountain at the end. Scale was stunning. UIC quad: cold, dark, desolate. Reminded me of a ghost town, especially during the summer. CW:  DePaul's Quad has a pleasant green feel with intersecting paths (metaphor for campus life) and places to sit. A welcoming oasis. No shade at the UIC Quad. IIT Quad is framed by sleek Mies buildings, offers Disk Golf. Loyola Lake Shore doesn't really have a Quad, but has a crosswalk with a public clock (one of the few we saw; Loyola also has a sundial which was working!)

Student Centers                              

CW:  UIC's Student Center East (with a bowling alley & barber) was busiest. NU's Norris Center & Loyola Lake Shore's Centennial Forum were quiet when we visited, but must get lots of action once school starts. There was a student organization fair at DePaul when we visited which was fun (but bad coffee in Student Center). RH: IIT had a pretty wicked chess/checkers board outside. Furious game of ping-pong going on within, too. Almost got my hair cut at UIC.

Lecture Halls, libraries, dorms

RH: UIC made me feel like a grain of sand at the beach. Behavioral Sciences was frightening. Thought we would have to live off of vending machines until we could find our way out. Library at Columbia was impressive, several stories. I bet there was a great view of the city. Not sure about how the student housing at Roosevelt currently is, but that 32-story skyscraper is going to be epic. CW:  UIC's Behavioral Sciences Building Lecture Hall is a vast sea of red seats. Truman's Lecture Hall is more intimate. IIT's Galvin Library was open to everyone and they let us wander around. Cool sculpture out front & lots of natural light inside.  It could be hard to concentrate in the Loyola Lake Shore Library ("Information Center"): the view of the Lake is great. UIC's Daley Library is a fortress from the outside, but OK inside (plus has the coldest water fountains).

Subway & L Stations

CW:  terra cotta entrances to Howard & Wilson Stations; the unending L platform at Loyola; the mural of Wilson Station at the Wilson Station; "Art Moderne" stations with tiled arches (Chicago, LaSalle, Adams Stations) with tile lettering indicating which stop it is ("L" for LaSalle, etc);); stations in middle of highways (35th Street, Halsted, Morgan); the "tube" L station at IIT; the Art Deco-ish Halsted Station sign; poetry by Columbia faculty/students on CTA station columns & viaducts; the hanging sculpture at Howard L. 

RH: Exotic poetry in the subway.

"I feel his sweat running down my face." Perhaps a real-life experience on the subway during rush hour?

Neighborhoods

CW:  By Truman: Wilson Men's Hotel & Gigio's Pizza. By UIC: Hull House; 2 cigar-chompers perched on a stoop speaking Italian, seeing my old apt at Polk & Carpenter. By IIT: Street guy getting arrested. By DePaul: historic Biograph Theater. By Columbia & Roosevelt: Michigan Avenue, Grant Park. By Loyola Water Tower: the Water Tower! 

RH: Northwestern: quiet neighborhood lost in a system of tree tunnels. Not quite as interesting as the above, but I thought it was pretty chill...

Surprises

RH: Disk golf/ physicist graffiti at IIT. Getting locked out of the Art Institute. I, the ignorant Floridian, learn the origin of the Chicago Cubs Curse at Billy Goats. 

CW: The Andy Warhol Silver Cloud exhibit at IIT's Crown Hall. Running smack into a massive Taste of Chicago crowd en route to School of the Art Institute.

Best places to look straight up

Loyola Lake Shore's Madonna della Strada Chapel Art Deco spire, UIC's University Hall, the old brick smokestack at IIT. And it's always inspiring to stand under the L tracks and look up as a train passes over (try it at Wilson, Fullerton).

Part 7.  Mileage & cost comparison: 10 campuses by L versus Big Ten road-trip

Road-trip to the original Big Ten campuses:

University of Minnesota in Minneapolis to University of Wisconsin in Madison (269 miles)

to University of Iowa in Iowa City (176 miles)

to Northwestern in Evanston, IL (229 miles)

to University of Illinois in Champaign (151 miles)

to Purdue in West Lafayette, IN (94 miles)

to University of Indiana in Bloomington (115 miles)

to Ohio State in Columbus (223 miles)

to University of Michigan in Ann Arbor (192 miles)

to Michigan State in East Lansing (64 miles). 

Total for 10 campuses: 1,513 miles

20 miles per gallon @ $3 gallon = $226.95 (gas only)

9 Campuses...One day...by mass transit:

41 miles by subway & L

8.2 miles on foot

 

Total for 9 campuses using CTA All-Day "Fun Pass":$5.75

Part 8.  Links

Chicago Transit Authority  http://www.transitchicago.com/

METRA  http://metrarail.com/metra/en/home.html

PACE Bus  http://www.pacebus.com/

American Public Transportation Association  http://www.publictransportation.org/

Active Transportation Alliance  http://www.activetrans.org/

Northwestern University  http://www.northwestern.edu/

Loyola University of Chicago  http://luc.edu/

Truman College  http://www.trumancollege.cc/index.php

DePaul University  http://www.depaul.edu/

Illinois Institute of Technology  http://www.iit.edu/

Columbia College  http://www.colum.edu/

Roosevelt University  http://www.roosevelt.edu/

University of Illinois at Chicago  http://www.uic.edu/index.html/

School of the Art Institute of Chicago  http://www.saic.edu/

U.S. Department of Education (for students)  http://www2.ed.gov/students/landing.jhtml

KnowHow2Go (college planning)  http://www.knowhow2go.org/

 

 

Part 9. Potential Do-It-Yourself "Campus Tours by Mass Transit"

(WARNING: These routes have never been tried...check with your local transit agencies and schools before attempting. And let us know how it went!)

Do-it-Yourself "Campus Tour by Mass Transit" in Boston; 9 campuses then chowder

MBTA has an All-Day Pass for $9. Start with Harvard University & Radcliff Institute (Red Line, Harvard Square Station).  Back on Red, 2 stops to Kendall MIT Station, then hike to Massachusetts Institute of Technology. Back on Red, cross the Charles River, go through downtown all the way to University of Massachusetts-Boston (Red Line, JFK/UMass Station). Take Red to South Station, transfer to Silver Line, 2 stops to Tufts University - Boston Campus (Silver & Orange Lines, Tufts Medical Station). Take Silver 1 stop to Boylston Station, transfer to Green E Line (which branches south after Copley Station).  Take it New England Conservatory of Music (Green E Line, Symphony Station). Then one more stop to Northeastern University (Green E Line, Northeastern Station). Back north on Green E to Green B.  Take it to Boston University (Green B Line, BU East, BU Central or BU West Stations) and end at Boston College (Green B Line, Boston College Station).

Do-it-Yourself "Campus Tour by Mass Transit" in Washington DC; 11 campuses

DC Metro does not have an All-Day Pass. Riders pay by distance traveled. Begin at American University (Red Line, Tenleytown-AU Station). Then go one stop to the Red Line's Van Ness-UDC Station, where you can visit both the University of the District of Columbia and Howard University School of Law. Go 3 stops to Red Line DuPont Circle Station then hike to Georgetown University. You can either take a bus to George Washington University or take the Red Line to Metro Center, transfer to either Orange or Blue Line, Foggy Bottom Station. The get back on Orange and take it all the way east to University of Maryland - Landover (Orange Line, Landover Station). Back on Orange to L'Enfant Plaza Station. Transfer to Green Line, go 3 stops to Howard University (Green Line, Shaw-Howard Station).  Back on Green to University of Maryland-College Park (Green Line, College Park Station). Take Green 3 stops to Fort Totten Station. Transfer to Red Line and go one stop to Catholic University (Red Line, Brookland-CUA Station).  Then go 2 stops to Gallaudet College (Red Line, New York & Florida Ave Station). End at Georgetown University Law Center (Red Line, Union Station Station).

Do-it-Yourself "Campus Tour by Mass Transit" in Miami; 4 campuses then Calle Ocho for dinner

Miami-Dade Transit offers an All-Day Pass for $5. Transfer fees not included. There's the Metrorail, Metromover & Metrobus. Start downtown at Miami International University of Art & Design (Metromover Omni Loop, Adriene Arsht Center Station). Back on Metromover again, southbound toMiami Dade Community College Woltson Campus (Metromover Omni Loop, College North Station). Then go 2 stops to the Government Center Station, where you can transfer to the Metrorail. Take the Metrorail south to University of Miami (Metrorail, University Station). Then take Metrobus #57 north to SW 8th St, transfer to Metrobus #8 and head west to Florida International University (end of the line). Return east on Metrobus #8. Stop in Calle Ocho (Little Havana) for dinner (can't go wrong with Versailles at 3555 SW 8th, but there are a bunch of open-air eateries). Back on Metrobus #8 back Downtown.

Do-it-Yourself "Campus Tour by Mass Transit" in New Orleans; 8 campuses, then gumbo

RTA has an All-Day Pass for $5 (both rail & streetcar)  Starting in the French Quarter, take St. Charles Streetcar to the Culinary Institute of New Orleans.  Back on the St. Charles Streetcar to Tulane University andLoyola University of New Orleans. Back on the St. Charles Streetcar to Carrolton stop. Take Bus #39 to Xavier University of Louisiana. Take Bus #27 north to Delgado Community College. Walk west to Canal Boulevard and take Bus #60 north, then east to University of New Orleans, then east some more to Southern University at New Orleans.  Take Bus #57 southbound to Gentilly Boulevard, then catch a #94 Bus southwest to Dillard University. Walk to Elysian Fields Avenue and take Bus #55 back to the French Quarter for gumbo.

 

Do-it-Yourself "Campus Tours by Mass Transit" in Philly; 8 campuses, then cheese steak

 

SEPTA has an all-day "Independence Pass" for $11 ($28 for Family) From Downtown, take Market-Frankford Line west to 34th Street. Walk south to Drexel University and University of Pennsylvania-Philadelphia. Take Market-Frankford Line west to 69th Street (end of the line). Take the Norristown High-Speed Line northbound to Havorford College (Havorford Station), Bryn Mawr College (Bryn Mawr Station) andVillanova University (Villanova Station). Norristown High-Speed Line back to 69th Street Station. TakeBus #65 toSt. Joseph's University.  Get back on Bus #65, go east over the Schuykill River to Germantown. Take Bus #26, go northeast to LaSalle University. Back onBus #26 to Broad Street Line, Olney Station.  Take BSL 8 stops toTemple University (Broad Street Line, Cecil Moore/Temple Station). Take BSL back downtown and have cheese steak.

Do-it-Yourself "Campus Tour by Mass Transit" in Seattle; 5 campuses, plus flying fish and salmon nuggets

King County Metro Transit offers a Weekends-only All-Day Pass for $4.50. Otherwise, standard fares apply. Start near Downtown at the Seattle Central Community College at Pike & Broadway. Then walk a few blocks south to the Jesuit-run Seattle University. Take Bus #12 about a mile to Pike Place Market to see them flinging the fish. It's not a campus in the traditional sense...After Pike Place, hop on the vintage Waterfront Streetcar - though service is spotty - or any 1st Avenue bus or just stroll about 6 blocks to the waterfront between Bell & Battery for the Art Institute of Seattle. Take Bus #13 north to Seattle Pacific University. Then take Bus #31 across Lake Union to University of Washington - Seattle. Check out the classic Quad. From U of W, take Bus #30 to the Frank Gehry-designed Experience Music Project for an icy cold beverage in the Revolution Café (closes at 7:00 pm), then up the Space Needle (open 'til midnight). Several waterfront joints offer salmon nuggets and are open late. Seattle has cool transit stuff: Waterfront Streetcar, bus tunnels, water taxis, ferries. And the Seattle Center Monorail is a fun 1-mile Jetsons' ride ($4, runs 'til 11:00 pm).

Coming soon...

 

New York City, SF, more...