Celebrating the Fury of Chicago's Early Punk Scene
Part of the O'Banion's Remembrance Project  
The annual O'Banion's Reunion peaked around 1:20 a.m, when Homicide fired up.
The tiny, steamy dance-floor at Club Foot suddenly grew dense, violent, joyful. Full-throttle slam-dance psycho-karaoke as 999 raged. Every dancer was shrieking as we pogoed and pummeled under the strobe. Dark, wall-to-wall frenzy. Somehow a willowy woman dancing next to me had her fingers jammed down my throat, unable to extricate. A sweaty leather dude shoved me hard; I shoved him back, grinning. A perfect moment.
Then Identity by X-Ray Spex. Homicide has wasted most dancers, so the floor clears except for hard-core Polly Styrene fans like me and a woman who resembled Polly Styrene 30 years ago at O'Banion's and still does! We have similar snotty moves; X-Ray Spex always brought out the best in us. A quick grin in recognition. Decades of sharing a dance-floor with this woman and I don't know her name, what she does, what she's been doing all these years. She still slams with ferocity; I, too.
This same tribal group had first done this at La Mere Vipere in '77, then O'Banion's (1978-1982), then Lucky Number Club 950, with detours to Exit and Neo's.
Club Foot has been hosting the O'Banion's Reunion for several years. Once the Lizard Lounge, it offers a pool table, postage stamp dance-floor and impressive collection of punk memorabilia. An eclectic crowd: ages range from 20s to 50s, nice ethnic mélange, funky urban mix. Bikers, a ballet dancer, Wicker Park yups, Puerto Rican TVs, UIC students, Ukrainian Village locals. Many middle-aged punkers, some well-groomed, others with salt-and-pepper Mohawks. Lots of tattoos; I show off my new ink.
Spinning platters this night are two of the original O'Banion's DJs. Chi punk royalty. I chat with one who explains that spinning punk is hardest of all since most songs are under two minutes. The crowd goes nuts to the Ramones Lobotomy ("Now I guess I hafta tell'em...that I got no cerebellum!") The hits just keep on comin'. Wire, Siouxsie, Buzzcocks, The Damned. TVOD fills the floor again. I'm amazed I recall so many lyrics, considering how indecipherable most of these songs were (and how buzzed I was).
Amid throbbing bass and strobe, the sweaty slam of the punk floor is my nirvana, my Dionysian getaway. Sensory onslaught, fast-and-loud. Bruising, anthemic. Ever since La Mere, it's been my tribal experience. Having no strong ethnic or religious ties, the most intimate communal bond for me (besides Cubs Nation) has been with these crazy people who revel in the same obscure music and dance with the same dark fury.
The violent chaos of slam dance floors at the trailblazing La Mere Vipere, O'Banion's, 950 and - on this night - Club Foot often led to bloody noses or sprained ankles due to inebriants, aggressive music and decibels. But veterans of these dance wars are comrades-in-arms, sharing the knowledge that the seminal late-'70s Punk Revolution shook up rock forever. And we were the vanguard, baby, the tip of the sword. We were the iconoclasts, the shatterers of bombastic, flabby rock. But soon, we'd be back in the desert again, unknowingly awaiting Nevermind.
To observe the anniversary of mobster Dion O'Banion's infamous slaying, I strolled from the murder scene at his floral shop by Holy Name Cathedral to the site of the O'Banion's bar. Dion O'Banion was a florist, bookie, raconteur, killer. An orchid expert, he was shot while arranging mums by a hit-man named Il Diavolo (The Devil). I walked through the old Skid Row where mass killer Richard Speck spent his last hours on the lam. This was a dicey area when the punks arrived in '78.
A longtime pub that was once Bugsy Moran's hideout then a leather bar, O'Banion's always had an edge, a hint of unsavory menace. The pulsating, elbows-flying dance-floor was not for the meek or sluggish. My finest moment: knocking the shit out of a stoned NBA player who was hitting on mi corazon Laura (he never saw it coming, but it was a clean shot! Welcome to my playground!)
Some of the folks I slammed with at O'Banion's are here this night. With my gray goatee and black t-shirt emblazoned with "La Mere Vipere", I earn Elder Statesman status and am bought shots. I see a guy with the same shirt; we embrace. Wonder what happened to that Filipino guy in the guayabera with the distinctive tai chi moves? I'd seen him at previous reunions. You remember people by their moves.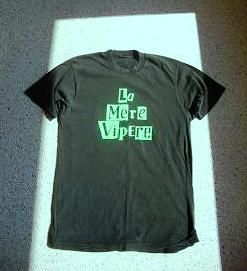 I muse on some of my cherished moments of the era: seeing Chrissie Hynde kiss the UIC Pavillion stage on which Iggy Pop had just played; snatching Devo's yellow jumpsuit; the Ramones, Talking Heads & Elvis Costello at the Arrogant Brawlroom. Co-hosting all-night loft parties with Benham & the Torrespico sisters, like when we rang in 1978 with an orgiastic balloon drop set to Bowie's Moonage Daydream.
I recall the schism (culture wars, really) with conventional rockers, culminating in the attack on Wazmo Nariz & his punky fans at ChicagoFest by drunken WLUP-ers chanting "Disco Sucks". Even among rockers, we were on the fringe. But we knew we were the prophets.
The legacy for me? Blown eardrums, a loathing of pop music and a tendency to slam-dance at weddings. On the plus side, I can cope with frenzy in the workplace better than most (actually, I stoke it), I have a tribal bond with a bunch of crazy people and I can still outdance people 30 years my junior.
2:00 a.m. Iggy Pop's Search and Destroy fills Club Foot's floor again. As Ig describes "Love in the middle of a firefight...", I'm reminded of the perverse attraction I have for this group of aging rebels.
After O'Banion's 1982 closing, the scene scattered to various clubs, with many regulars going to Club 950.  Every day on the subway, I wistfully see remnants of 950's wall murals defiantly boasting you "Can't Stop the Dance".  In 1977, La Mere was torched (allegedly by anti-punk vigilantes), then O'Banion's folded, and now the long-shuttered 950's murals are fading. But thanks to the folks at Club Foot, "You Can't Stop the Dance."
- Claude Walker, Chicago 
Author's Note: Club Foot closed in 2015, a great loss to Chicago's music scene.