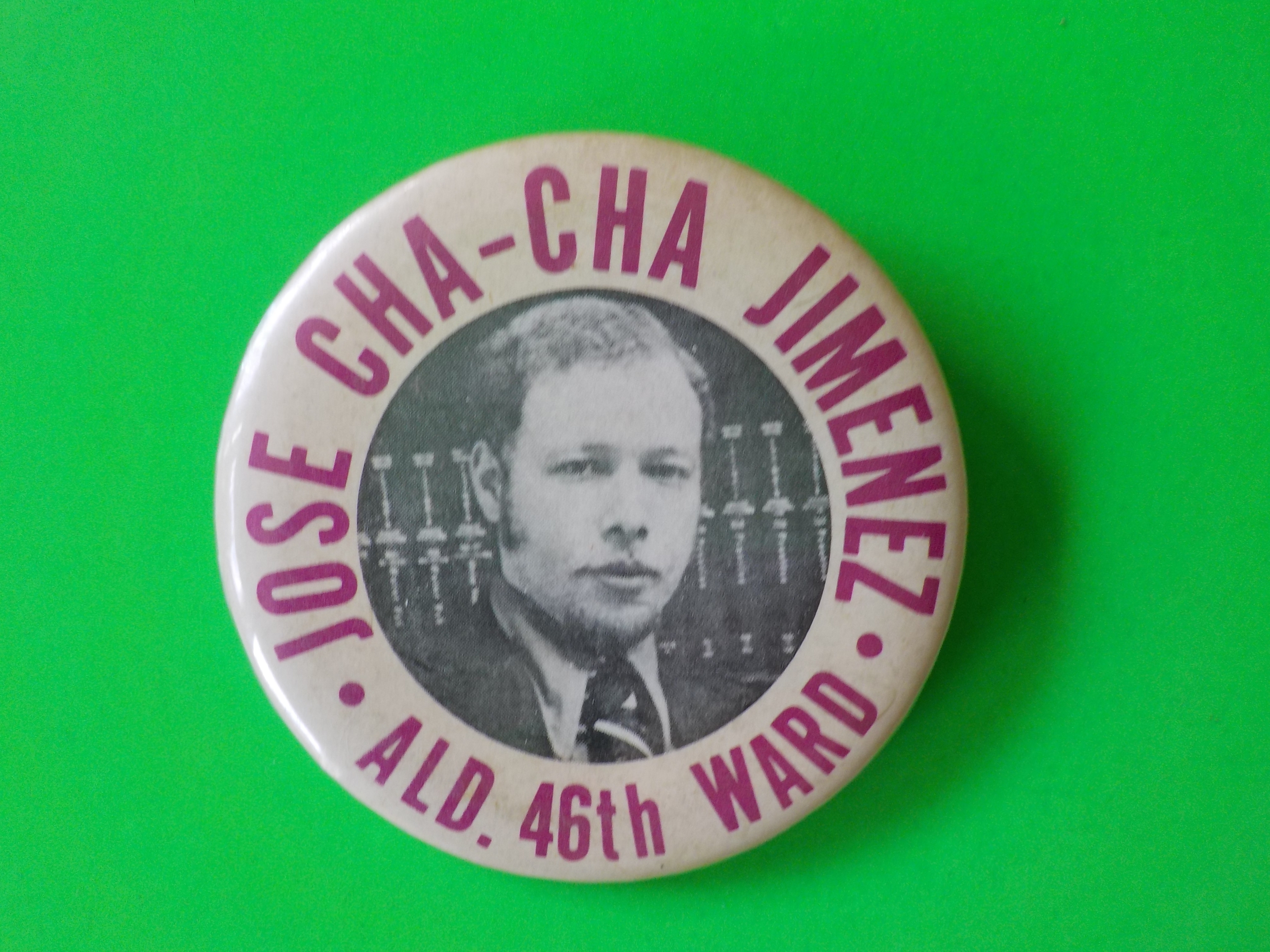 1975 - Cha-Cha Jimenez is first Latinx to make a serious run for Chicago City Council. The Young Lords - founded 50 years ago this September - began as a street crew in Chicago's long-gone Near North Side barrio. After a transformational 1968 prison stint, their Puerto Rican-born leader Jose "Cha-Cha" Jimenez steered the Lords on a political path. Chicago street gangs have long had political ties (Hamburg Club, Blackstone Rangers, "LSD Coalition", etc), but these were different times. Cha-Cha was a clever confrontationalist. After being underground for 2 years, Cha-Cha emerged and challenged incumbent Chris Cohen for 46th Ward Alderman (best known to decades of CTA riders who saw his name emblazoned on a Wilson Men's Hotel ghost sign.) Cha-Cha got 39% of the vote. In '83 he played a role in capturing the Puerto Rican vote for Harold Washington.
The political maturation of the Illinois Latinx community (I'm warming up to "Latinx") surged in the 1980s. In '80, for example, there were only two Latinx elected officials: Irene Hernandez and Art Velasquez. A decade later? Ray Castro, Joe Berrios, Miguel del Valle, Ray Figueroa, Chuy Garcia, Luis Gutierrez, Manny Torres, Ben Martinez, Miguel Santiago, Juan Soliz (todos hombres). Then Consuelo Bedoya-Witt who, 1988, became the first Illinois Latina on the bench.
Why? Decades of undercounting, rotten remaps, old-time Ward Bosses, poor schools & pot-holed streets. Harold accelerated things. Long-standing divisions (Mexican-American or Puerto Rican? Northwest, Southwest or Steel?) were replaced by "Harold or Machine?" Remember Rudy Lozano! This morphed into "Progressive or HDO?" Geographic and ideological divides will exist, but now there are more Latina office-holders, more Latinx running and winning in the 'burbs & Downstate, and more young progressive Latinx on the rise.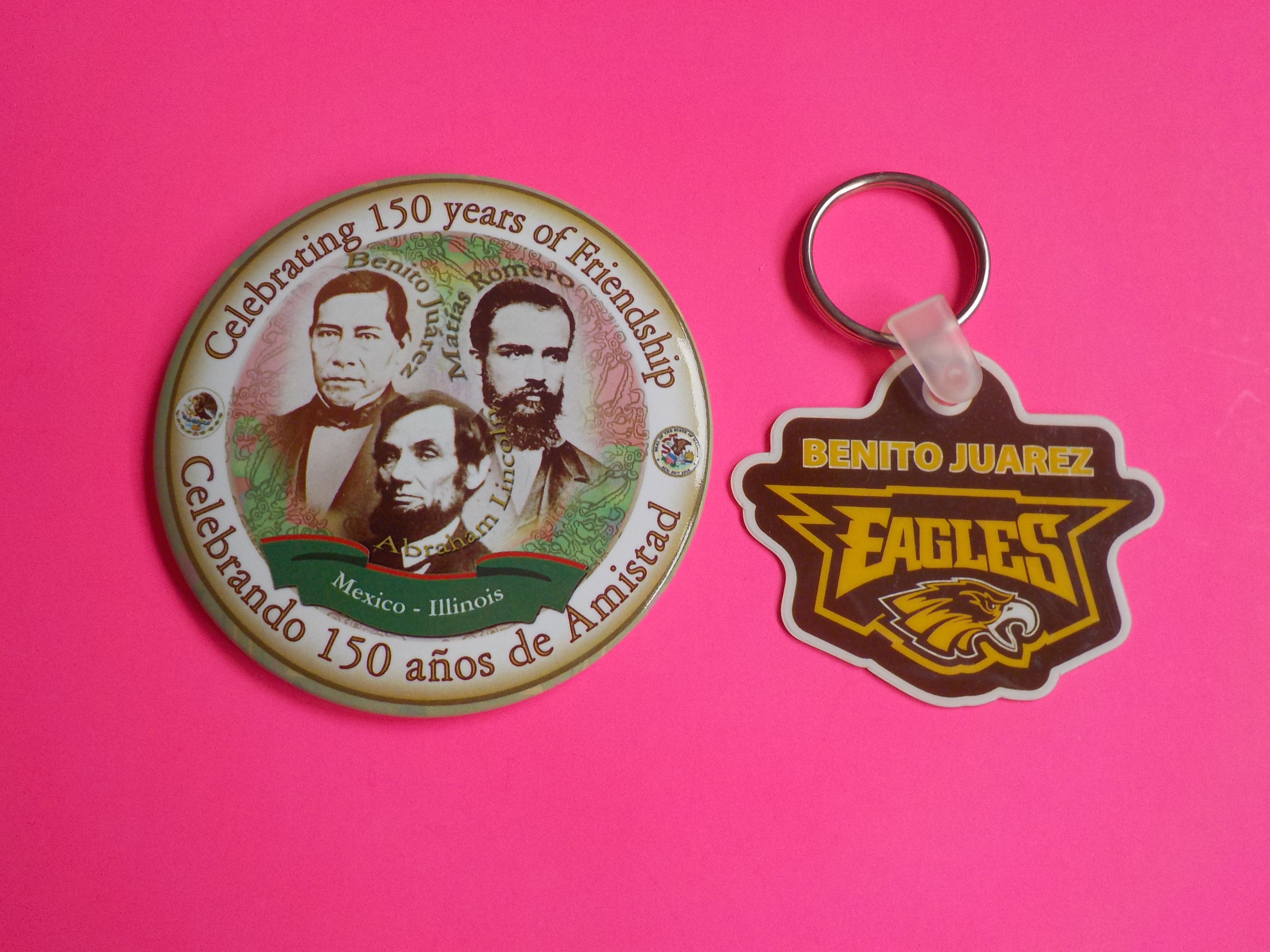 Illinois and Mexico have had a long relationship, dating back to Benito Juarez's congratulatory note to President-elect Lincoln, whose first meeting with a foreign emissary was with Mexico's Matias Romero. This button (designed by this author) celebrates that friendship.
Firsts?
1916 Naperville native William Rodriguez elected as the Chicago City Council's first Latinx. The young lawyer crosses swords with Big Bill Thompson, loses reelection and goes on to help found the Illinois ACLU.
1966 Long dry spell until David Cerda is first Latinx elected to a Circuit Court judge post. Cerda would make history again in '89 as first Latinx Appellate Court Justice.
1974 Irene Hernandez is the first Latinx on the Cook County Board when she's tabbed by Mayor Daley the Elder to fill a vacancy. She then wins re-election four times.
1975 Cha-Cha Jimenez wages the first serious Chicago Aldermanic campaign by a Latinx.
1980 Navy vet and community activist Ray Castro elected first Latinx Dem Ward Committeeman, upsetting the Machine incumbent who was a former City Treasurer.
1982 Joe Berrios is first Latinx in Illinois House. Later, he'd be the first Latinx Cook County Board of Tax Appeals Commissioner and Cook County Dem Chair.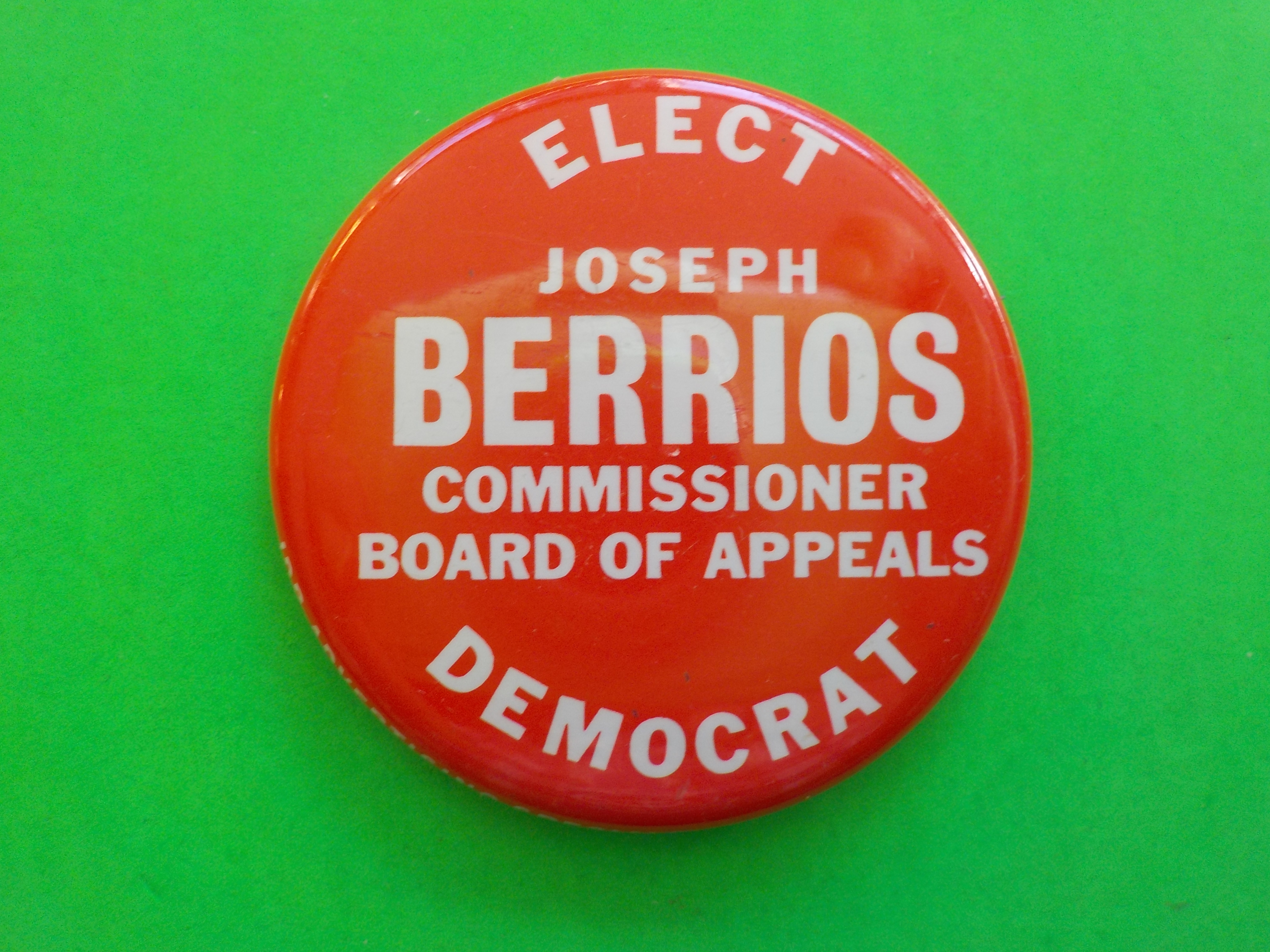 1986 Miguel del Valle elected first Latinx in Illinois Senate; he would make history in 2006 as Chicago's first Latinx City Clerk.
1992 Luis Gutierrez elected first Illinois Latinx Congressman.
1997 Sonia Silva elected first Latina in the Illinois House.
2003 Iris Martinez elected first Latina in Illinois Senate.
2016 Evelyn Sanguinetti elected the first Latinx Lieutenant Governor (on Bruce Rauner's ticket).
2016 Susana Mendoza elected first Latinx State Comptroller; Mendoza had made history in 2011 as Chicago's first female City Clerk.
And of course there are trailblazers who are not elected but toil in the vineyards. Actual vineyards!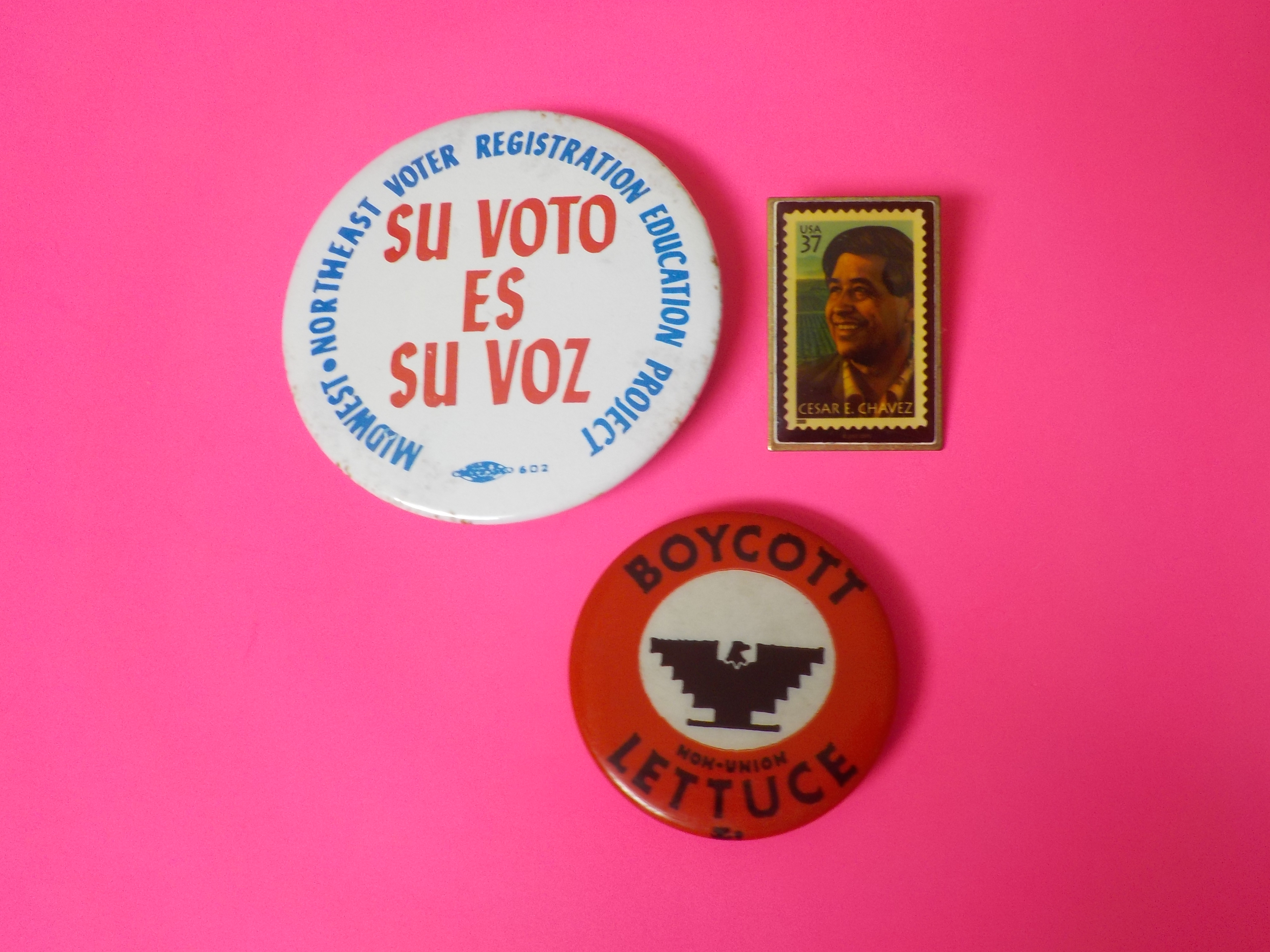 In the 1970s, Onarga (Iroquois County) was the "Nursery Capital of the World". Hundreds of migrant workers faced unsanitary conditions and no drinking water. Cesar Chavez came to Onarga and aided organizers Olgha Sierra Sandman and Maria Elena Lucas to improve things. This led to the "Illinois Field Sanitation Act of 1983".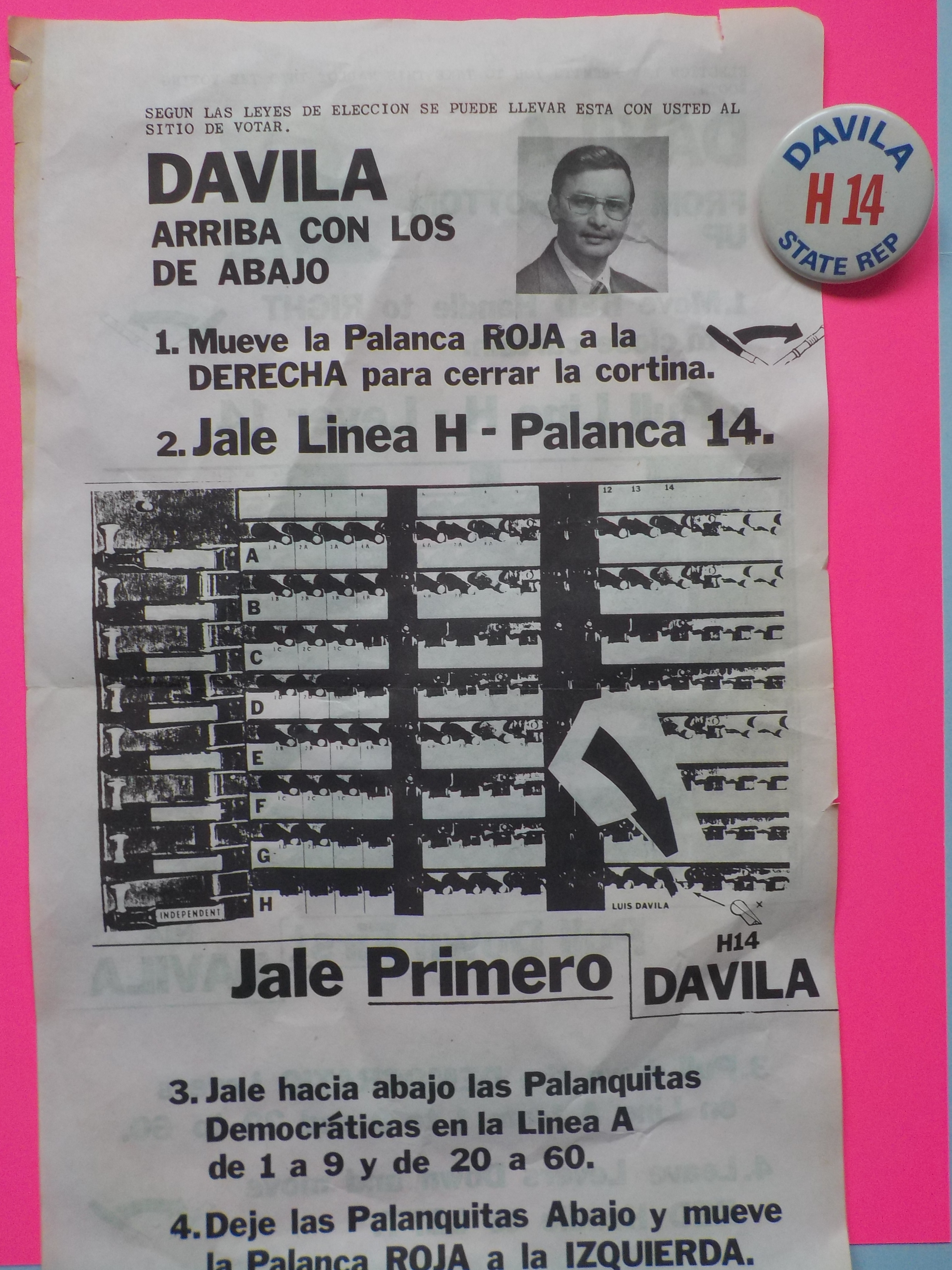 Remember voting machines? This author's first Chicago campaign was Luis Davila for State Rep in 1976, running as Independent in the General against Keane's operation. Union guy, good heart, not a chance. This was just after Adeline Keane said she was for bilingual ed for Latinos by teaching them Latin. Tom E. Keane - who inherited the fiefdom from his dad Tom P. Keane - was in the slammer, but continued to run the 31st through Eddie Nedza.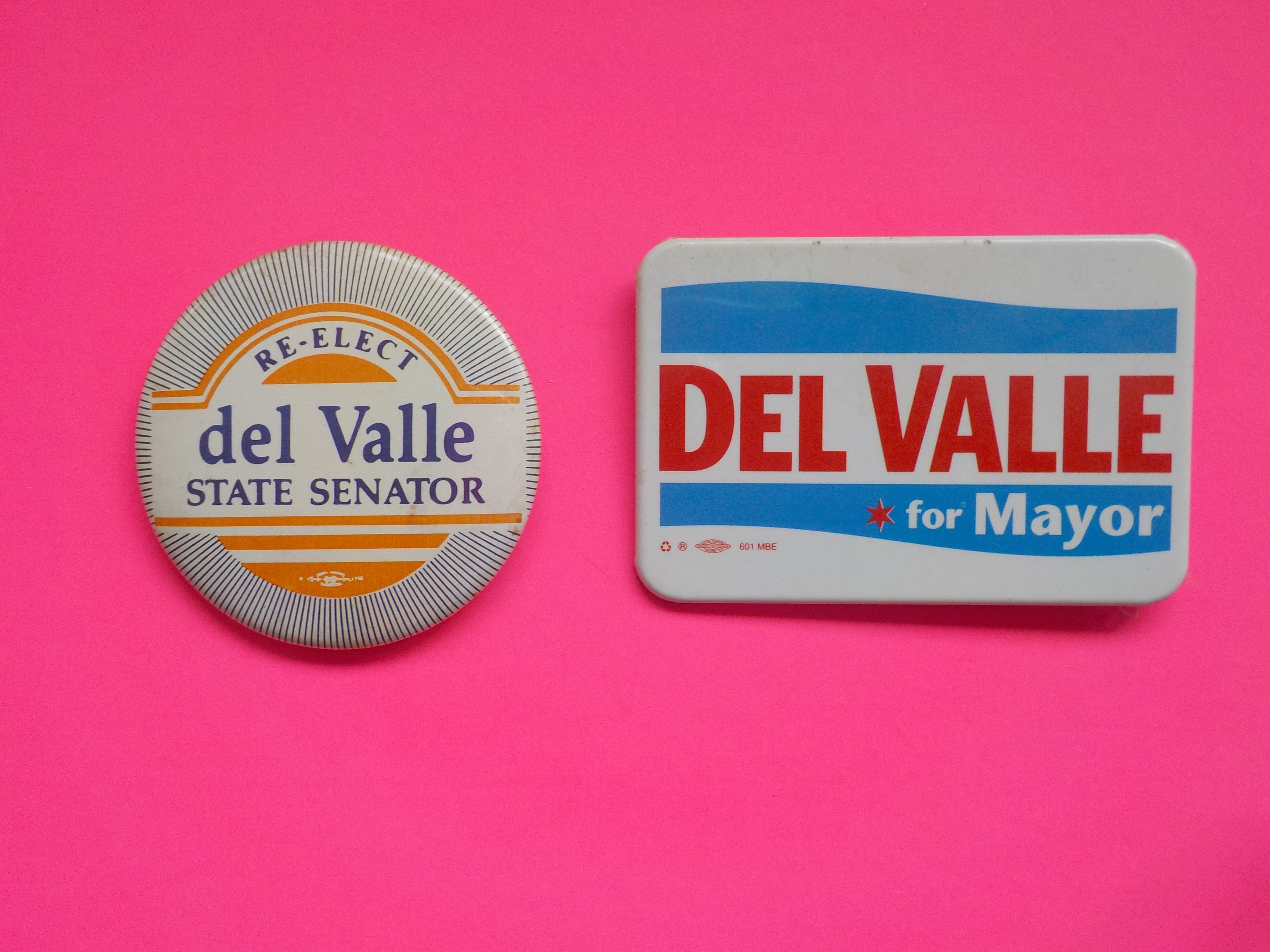 For years, Illinois Latinx resided in Machine Wards under the iron-fist control of a white ethnic Boss. Vito Marzullo (25th), the Rosty-Gabinski-Matt Bieszczat axis in 32 and 26, the merciless Tom Keane and hapless Ed Nedza in 31. Nedza was among the first to recruit Spanish-speaking precinct guys, then, ironically, was ousted by Miguel del Valle. The other Boss who saw it coming was Ald. Dick Mell ("El Gringo Viejo").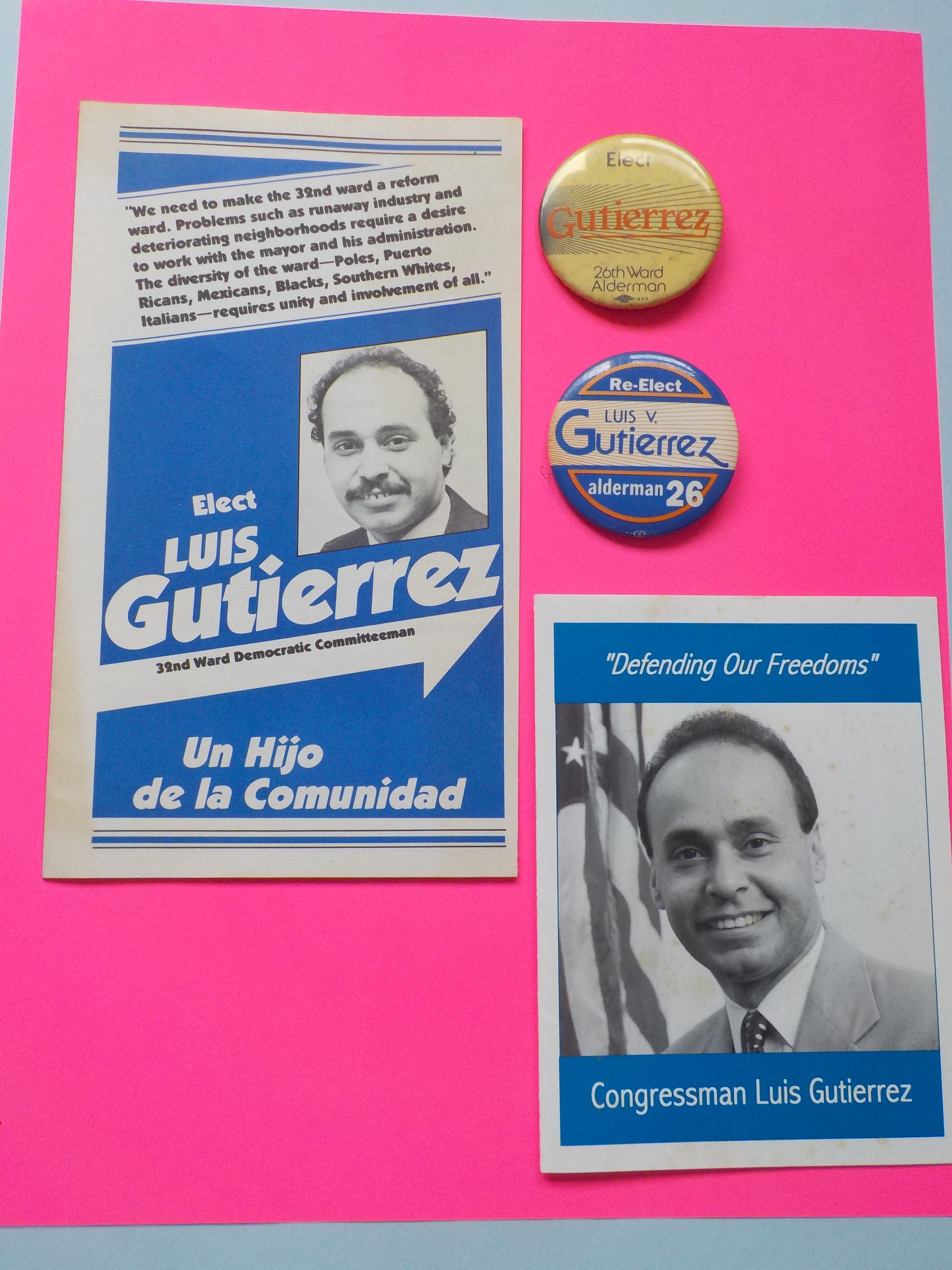 El Gallito
In 1986, Luis Gutierrez was the tip of the Council Wars sword for Harold after a judicial order for Ward remaps. In the new Latino-majority 26th, the Regulars rallied around one Manny Torres, best-remembered for being better at body-building than español. Gutierrez-Washington forces won the run-off and Luis never looked back, serving in the City Council, then Congress.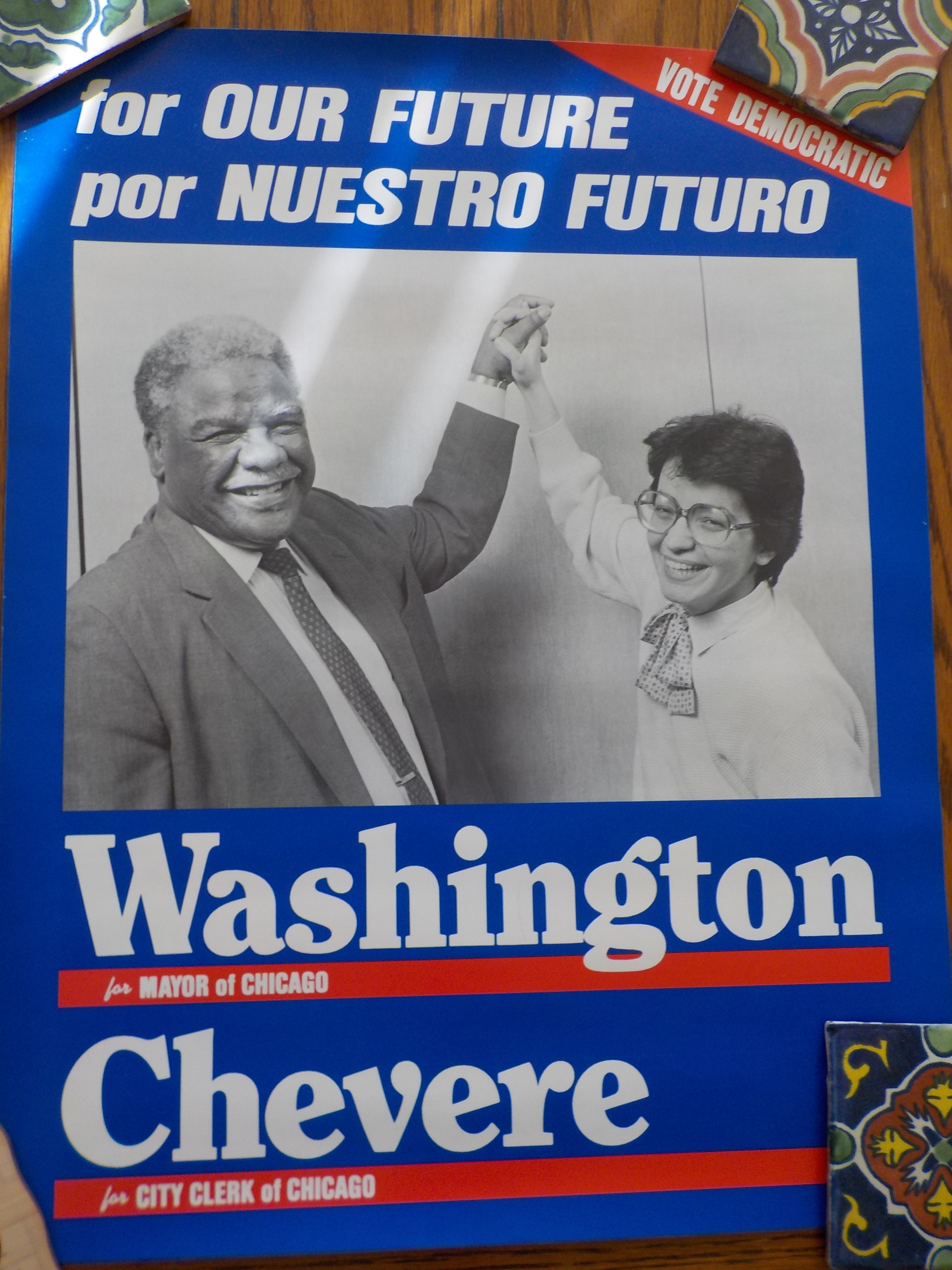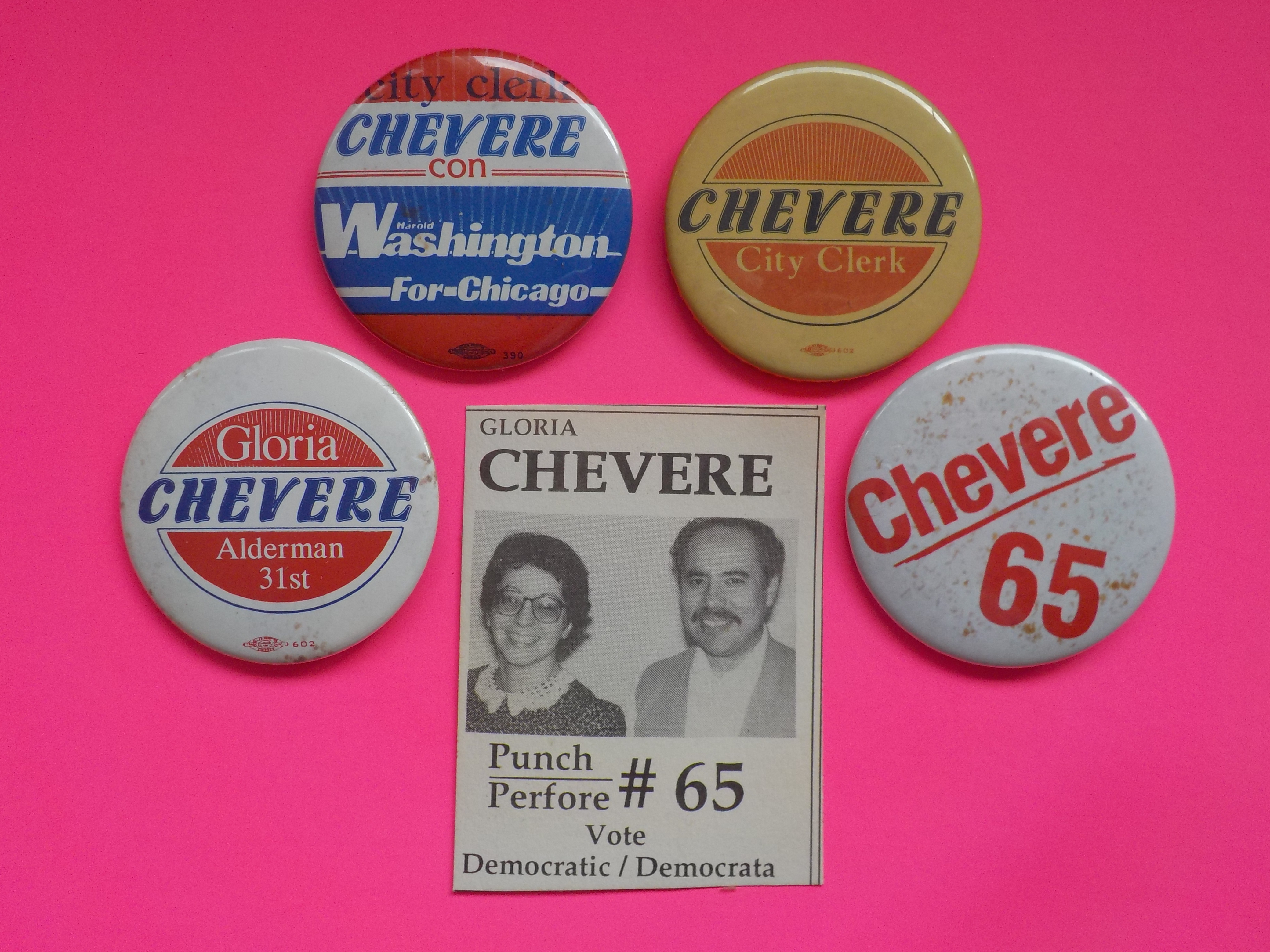 Gloria Chevere worked for Harold, was on his ticket and lost to Ray Suarez in the 1991 31st Ward Aldermanic run-off.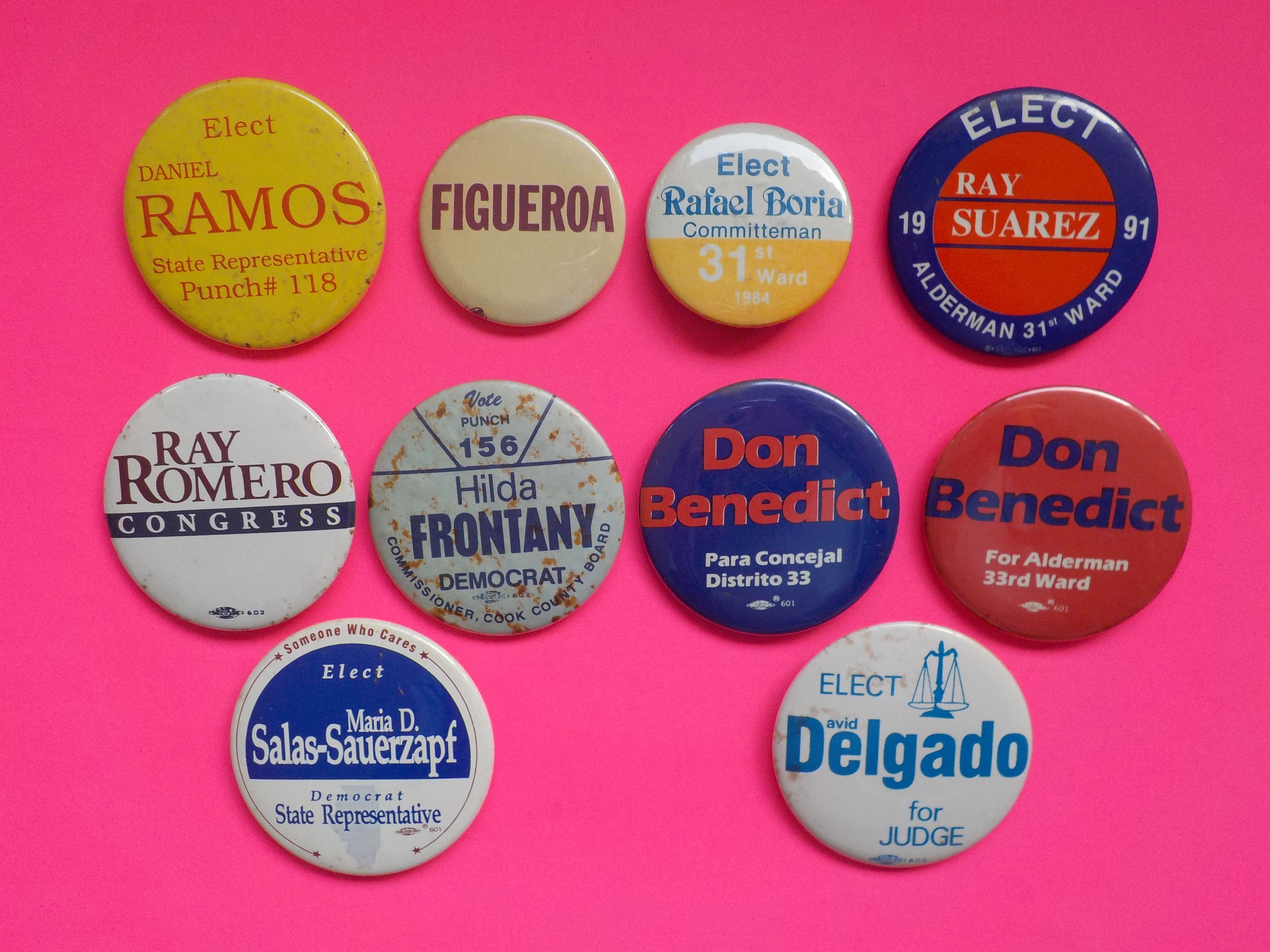 Danny Ramos was Luis Gutierrez's campaign chair. Ary Figueroa was a HS principal. Suarez beat Gloria Chevere in a run-off. Hilda Frontany was on the front-lines of many independent campaigns. Always liked this Don Benedict duo. Maria D. Salas-Sauerzapf: tough ballot name.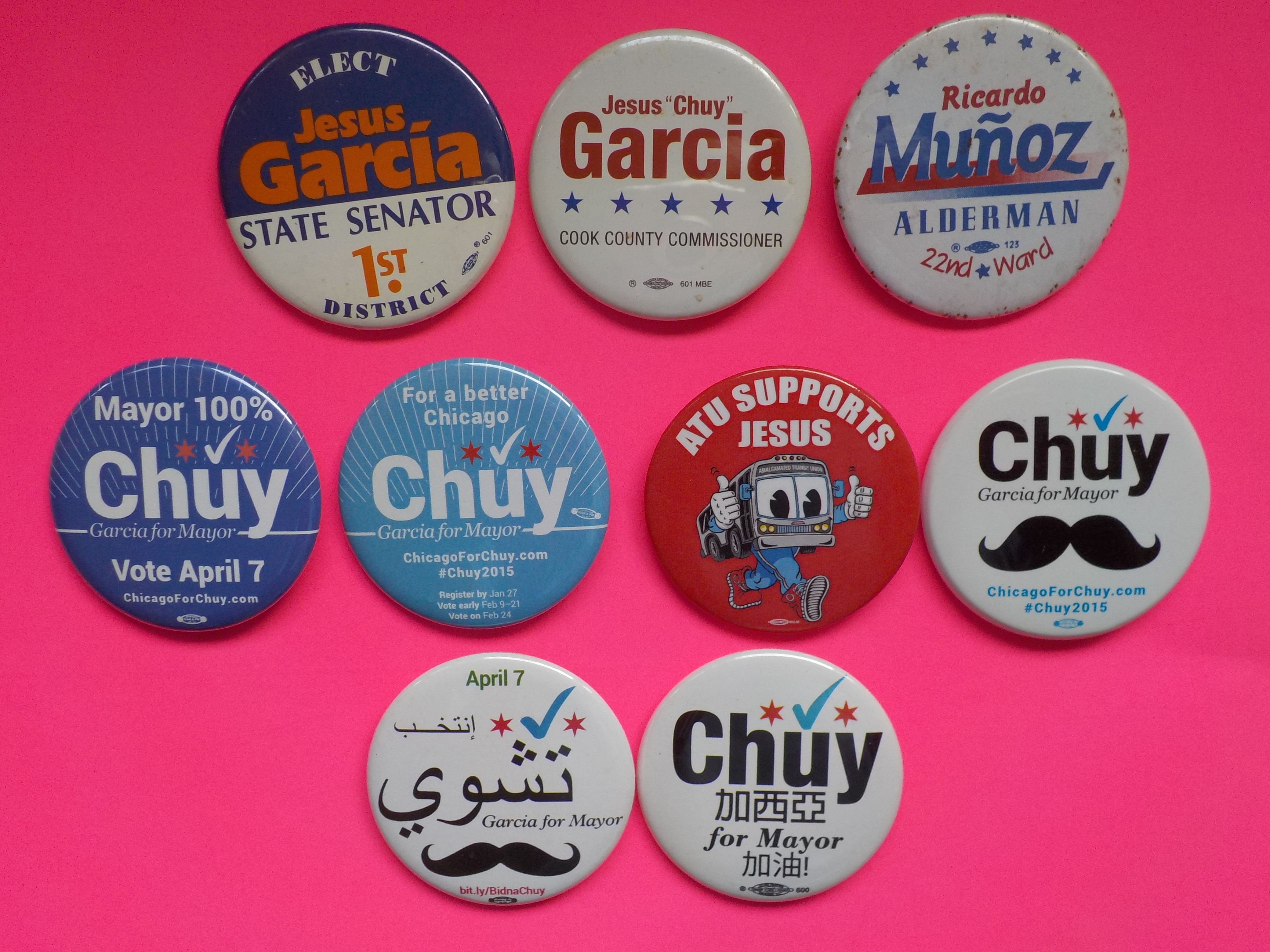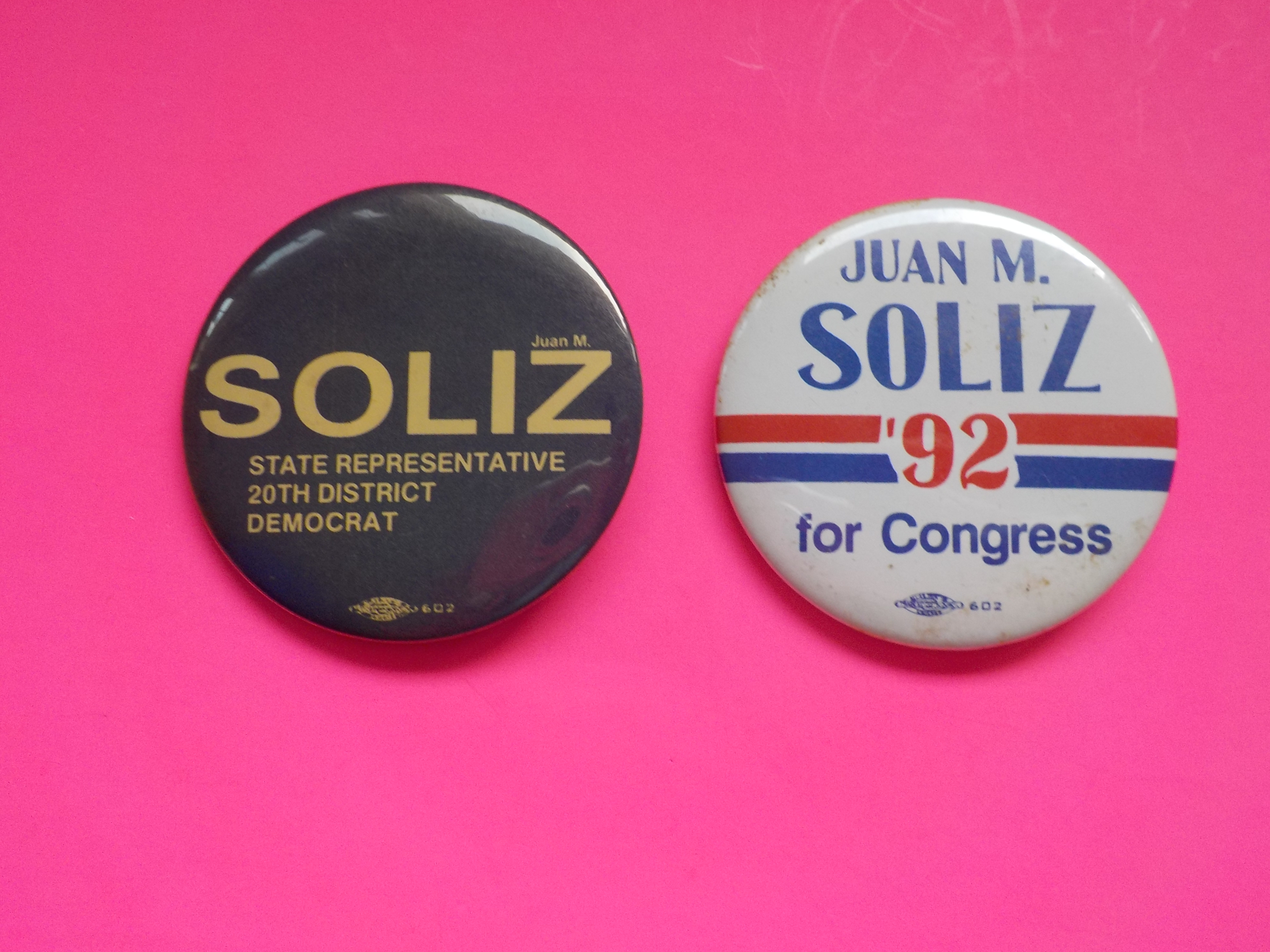 Juan Soliz was both State Rep and Alderman, both Independent and Machine. In 1984, he was the first Mexican-American elected to the General Assembly. His back-to-back nail-biters against Ambrosio Medrano were insane: Soliz won by 3 votes in '87 and Medrano won by 35 votes in '91. Medrano was sentenced to 30 months for corruption (one of three times he ran afoul of the law.)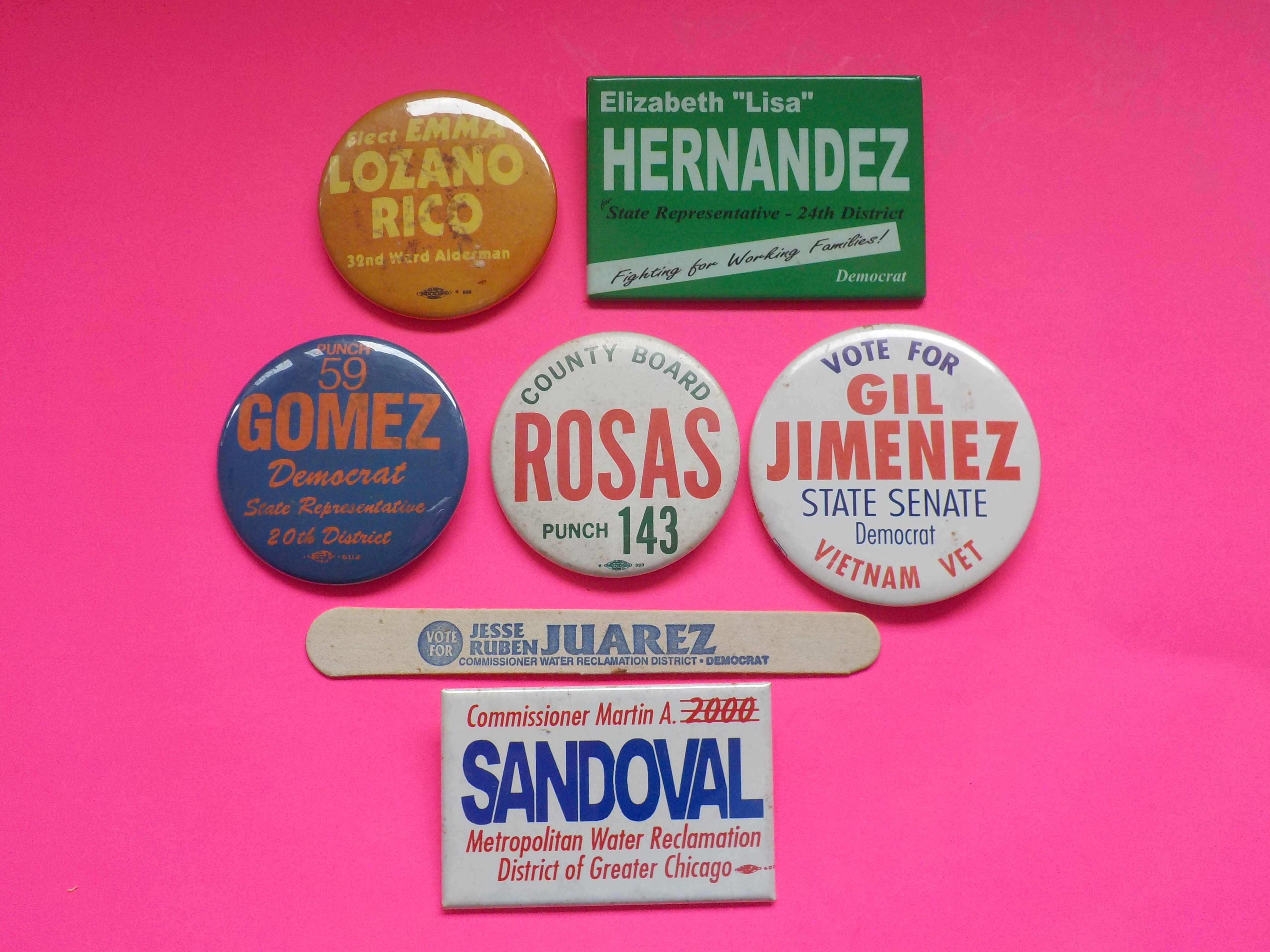 Emma Lozano Rico is the widow of Rudy Lozano, a rising star gunned down by his home in 1983. Lisa Hernandez (with whom this author played 3 seasons of Chicago 16" softball at Chicago's Lakeshore Park) may have been the first Latina elected to the General Assembly from Suburban Cook. Gil Jimenez was an early volunteer for Pat Quinn, dating back to the Coalition for Political Honesty.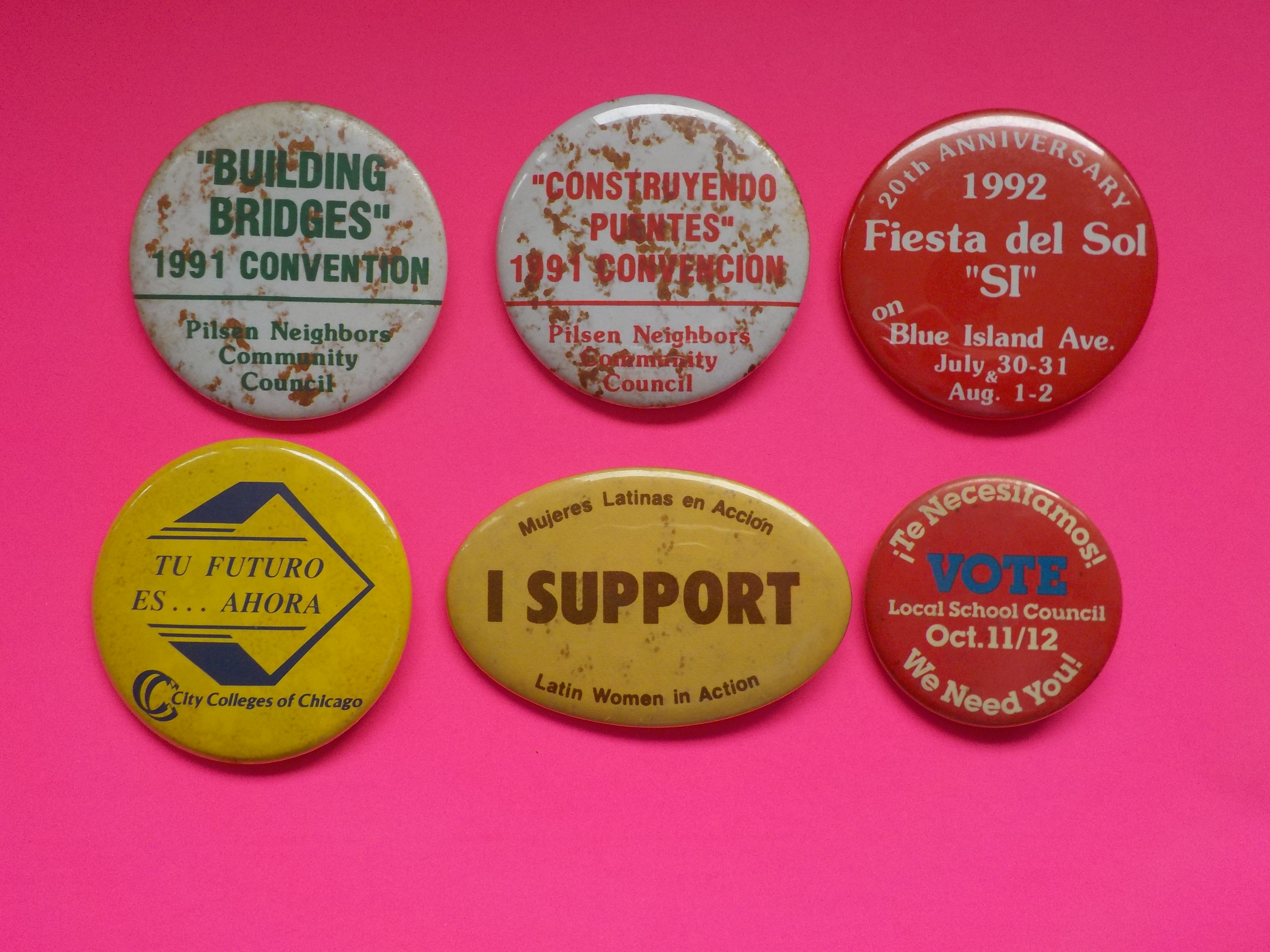 Community organizations have contributed much, such as Pilsen Neighbors, Casa Central, Little Village Chamber, Mujeres Latinas en Accion, the Parade committees, churches, others.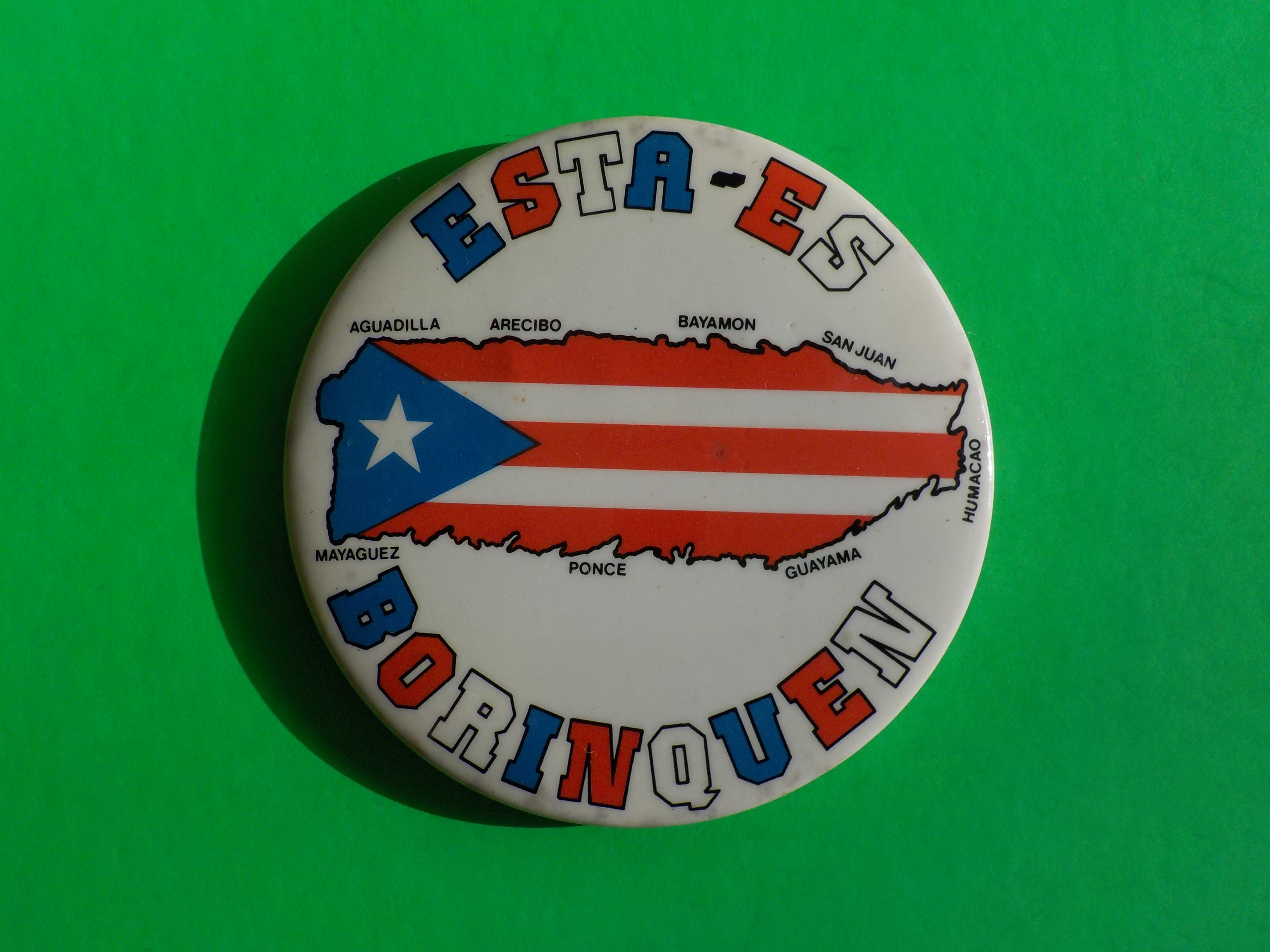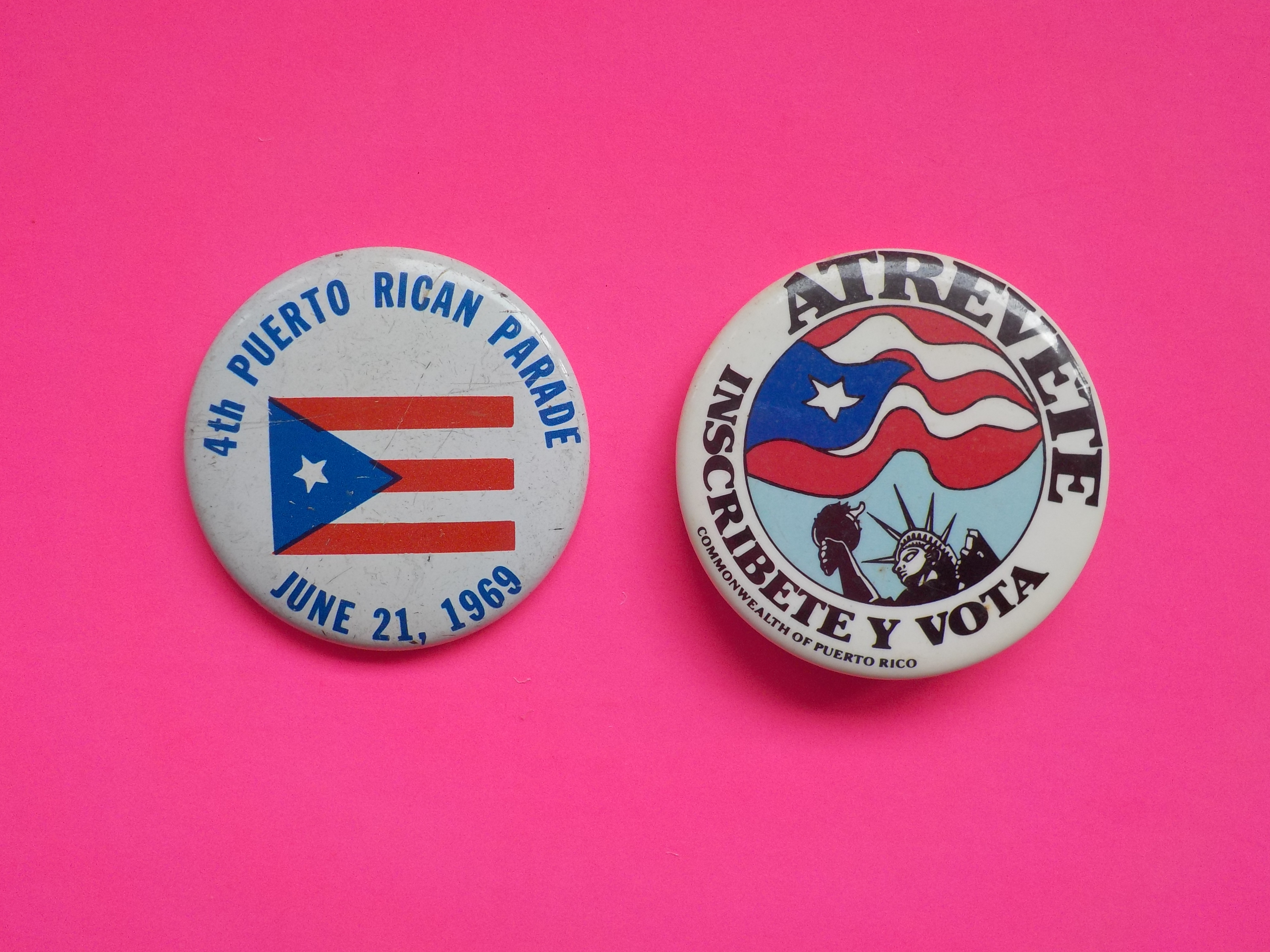 After the 1966 Parade, a Puerto Rican teen was shot by police; two nights of rioting and on Division followed. It was one of the first Puerto Rican riots in U.S. history. This author was in the middle of the '77 Humboldt Park riots, also ignited by a post-Parade police shooting.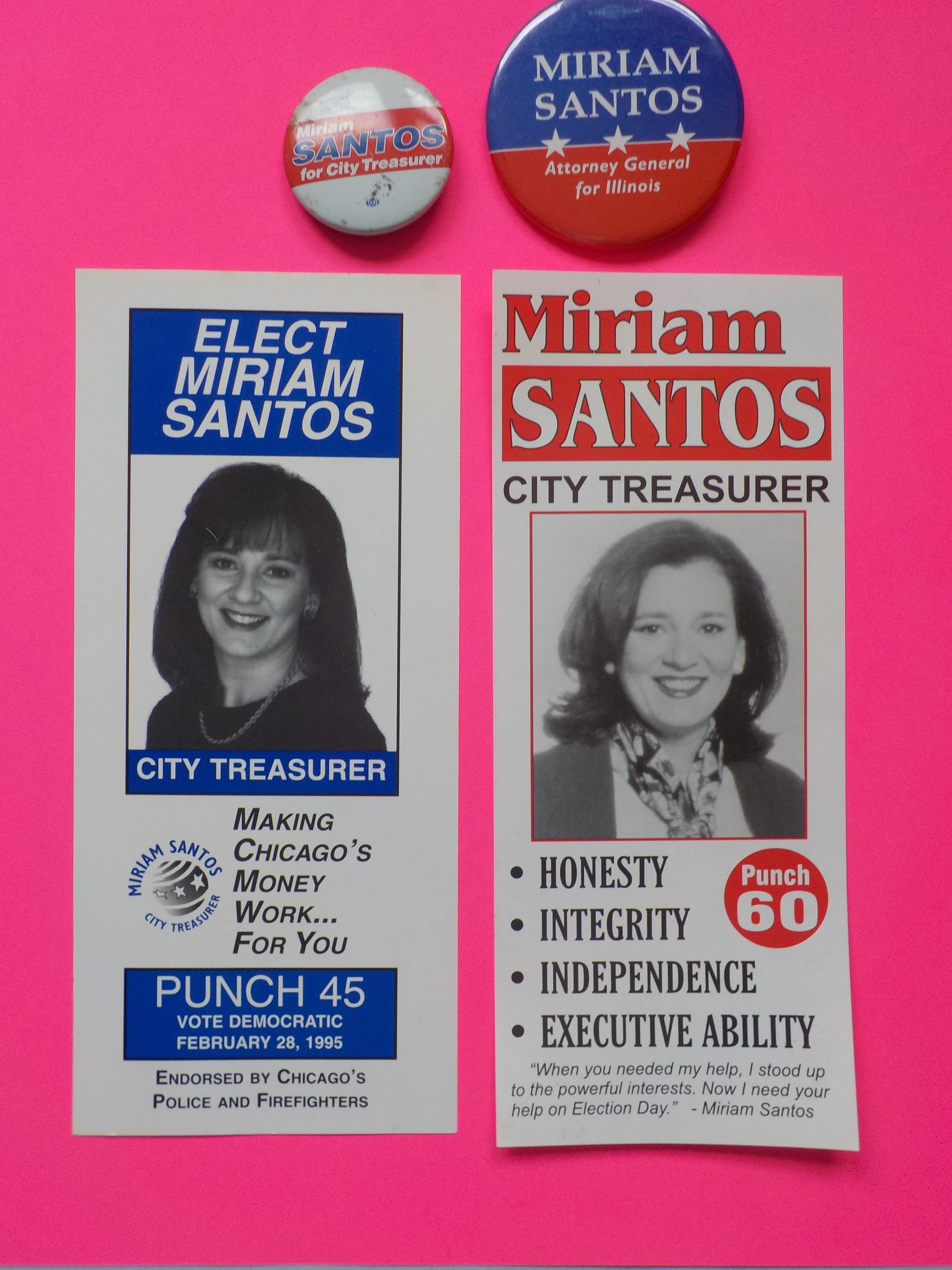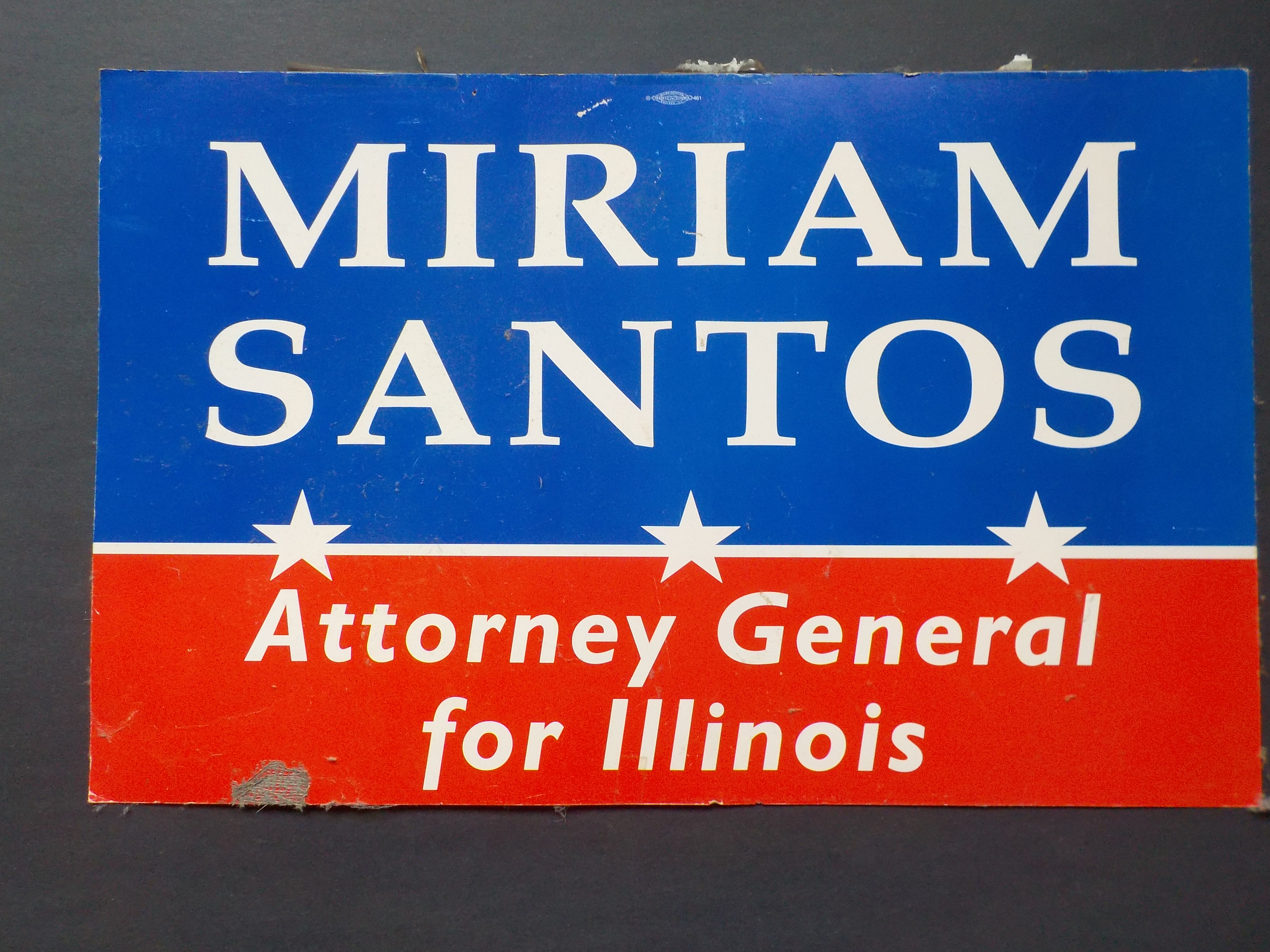 Miriam Santos ("Belly up" - See Gallery #25: BUSTED!)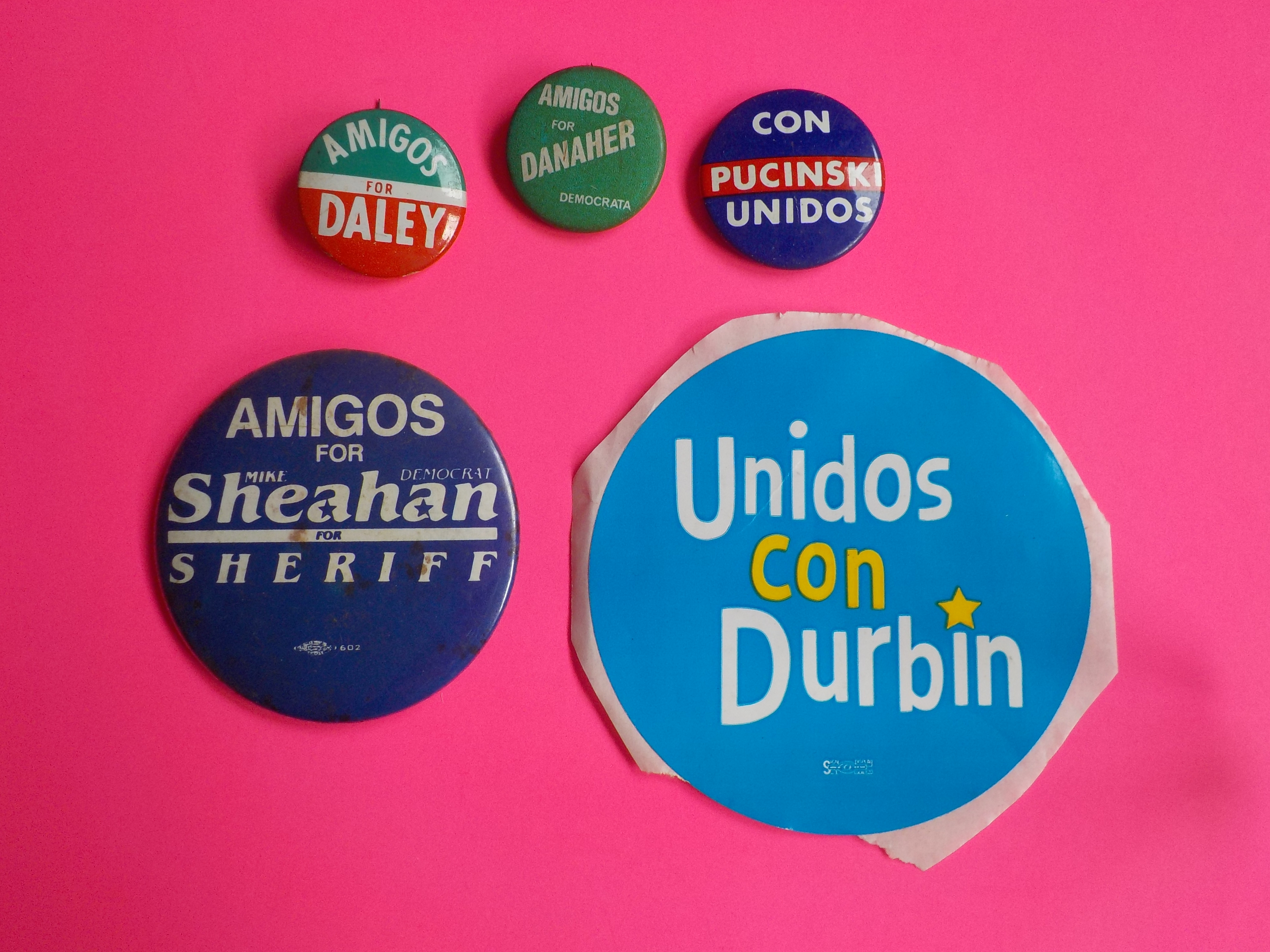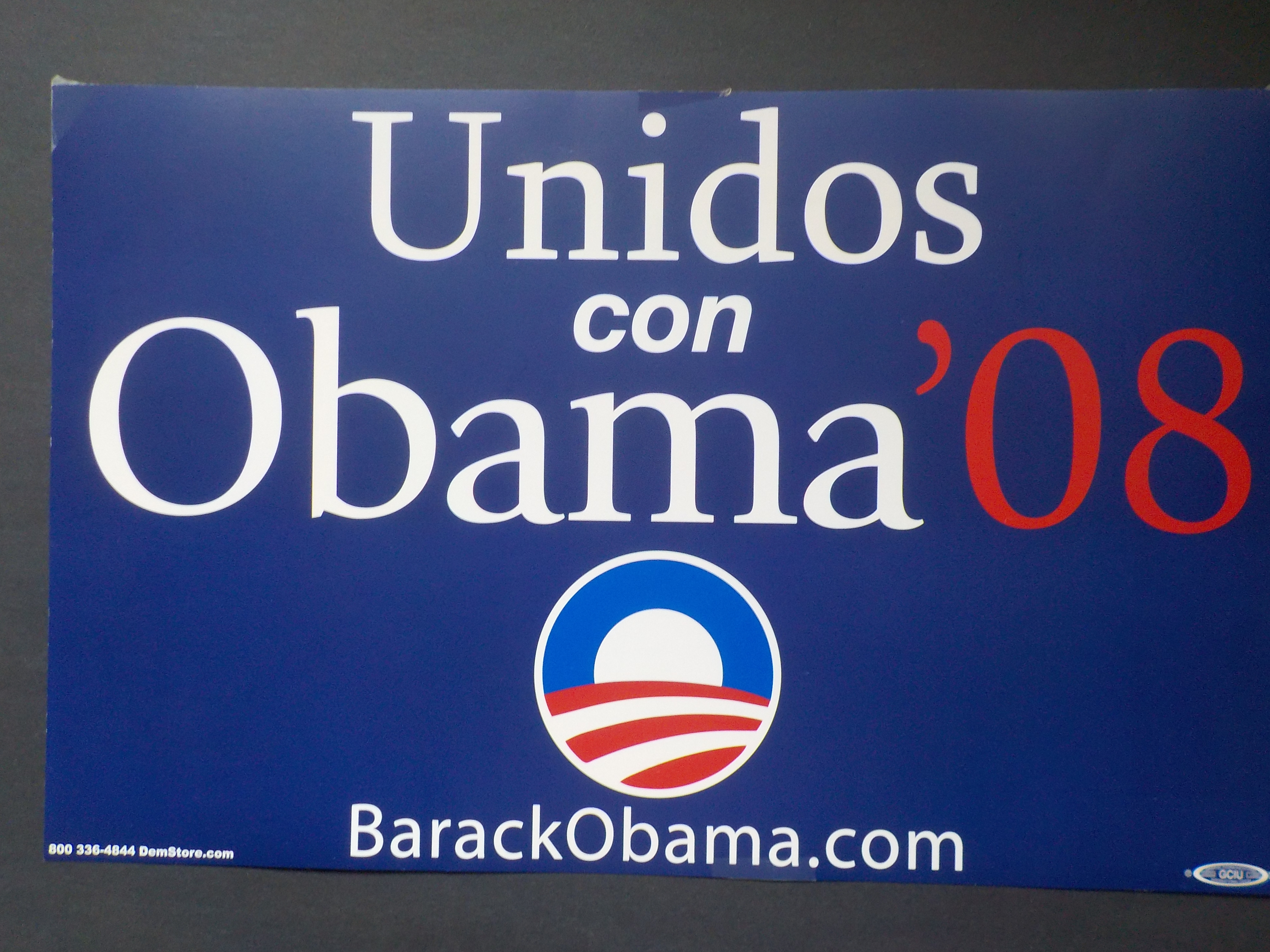 Tenemos amigos.
Both Daleys recognized a fertile untapped bloc. Daley the Elder and his crew trotted out Latinx city workers, precincts workers and buttons proclaiming "Con Pucinski Unidos" "Amigos for Daley '71"; Amigos for Finley, Danaher, Sheahan, Dunne, y mas. Daley the Younger helped create the disgraceful HDO under disgraced Streets & San Czar Al Sanchez.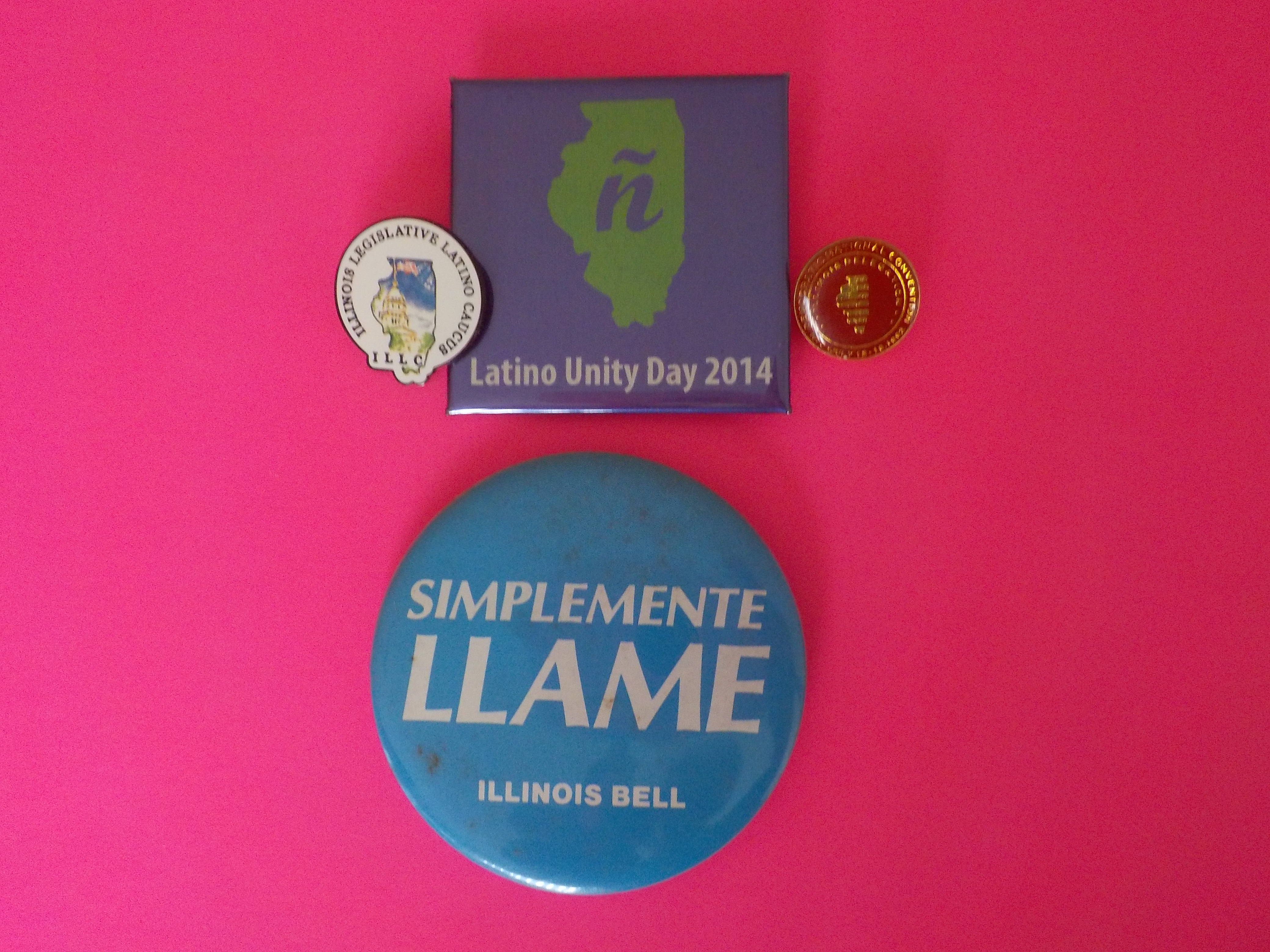 - Claude Walker. Bicentennial-by-Buttons: 200 Years of Trailblazers, Rascals and Felons