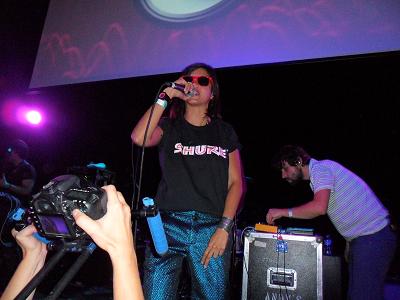 Photos by Claude Walker. Lincoln Hall and Brilliant Corners Fest, Chicago, Sept 2011
(Author's Note: We've seen Bomba Estereo several times since this review, including a kick-ass performance last week at Concord Music Hall, Chicago. They keep getting better!)

We caught Bomba Estereo twice recently, first in a hazy circus tent at the Brilliant Corners Fest, then days later at Chicago's old Lincoln Hall...this is the Band of the Decade.
Their music is a mélange of reggaeton, cumbia, techno, garage, tropical, psychedelic. Traditional Columbian and Peruvian rhythms. Snippets of sirens, birds, frogs. Swirling aural echoes of Jamaican dancehall (hmm, a link between reggae and reggaeton?) punctuated with punk. The Bogota-based band's founder, artist Simon Mejía, calls it "Cumbia Sicodélica" or "Electro Tropicál".
It's fast, loud and lean, and is given high-voltage voice by electrifying singer Liliana Saumet. Fierce, spunky, sweet, menacing, seductive, commanding; she growls, whispers, raps then croons, constant motion on stage in sneakers and t-shirt. Li captivates with the hypnotic dirge of Agua Salá, anthemic "uno-dos-tres-cua" of Feelin', breathy murmurs of Cosita Rica, churning Música Acción. 
This is the music of the world's streets and alleys, evident in Bomba Estereo's engaging video Fuego...check it out.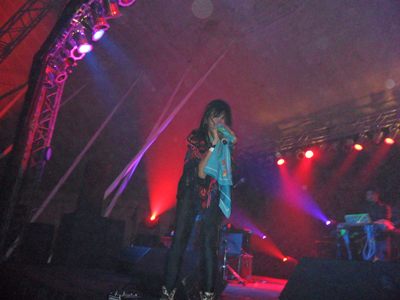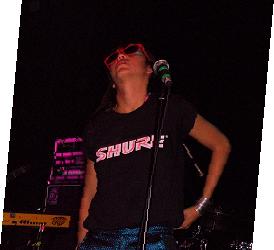 Photos by Claude Walker.  Sept 2011