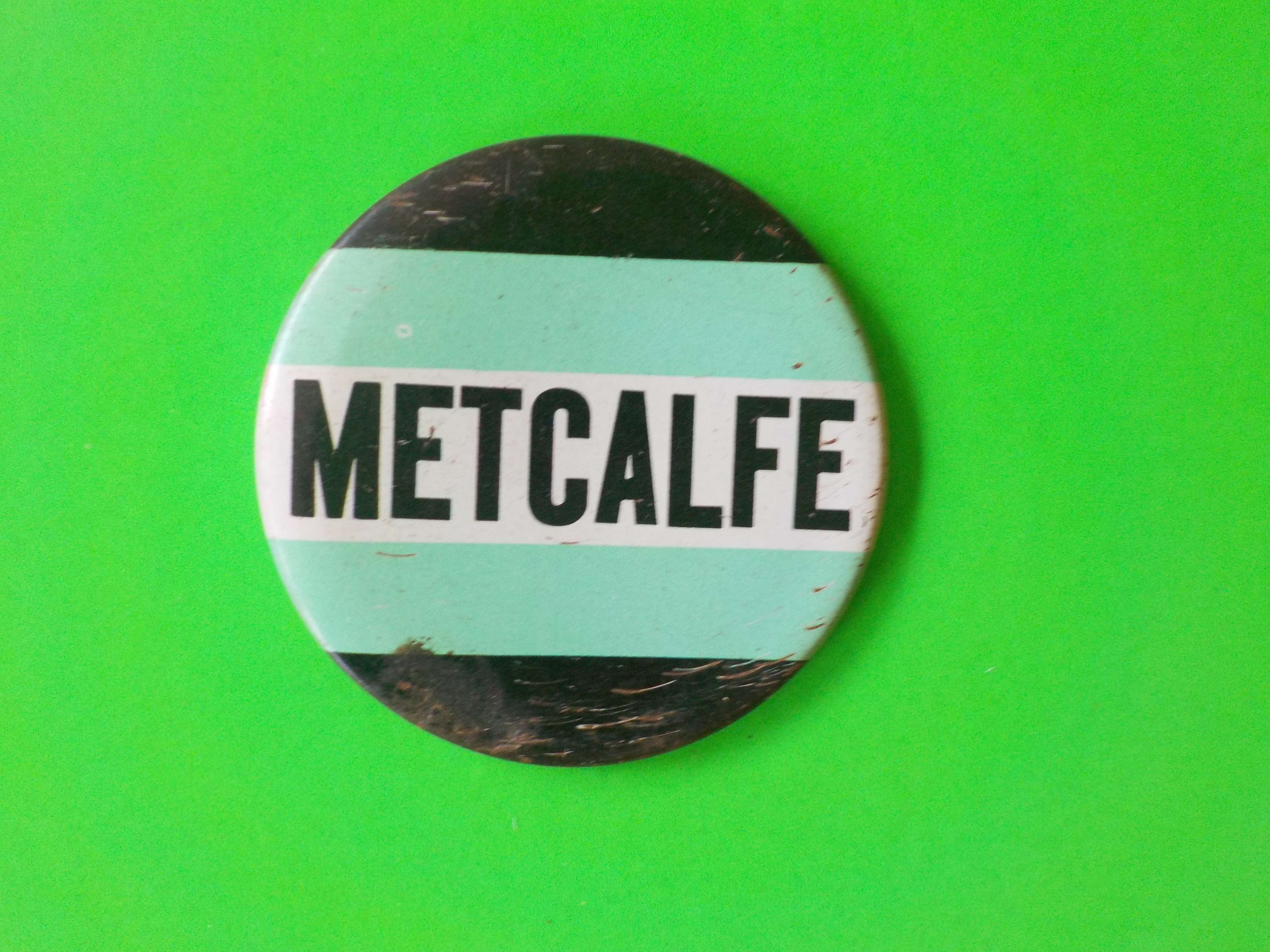 Ralph Metcalfe was an early Congressional advocate for handgun control, and vocal foe of South African apartheid, "redlining" and police brutality. (It was over this last issue that he split with Daley the Elder in 1972.) In 1936, Metcalfe had been the "world's fastest man" after competing at the Berlin Olympics alongside Jesse Owens. He worked his way up through Machine ranks, was elected 3rd Ward Alderman in '55 and was loyal to Bill Dawson, succeeding him in Congress (1971-78).
Mid-19th Century Illinois wasn't hospitable to black folks. In the 1850s, so-called "Illinois Black Laws" restricted freedom of assembly and "Illinois Anti-immigration Statute" curbed migration of blacks from other states. In the 1860s, the "Black Code" made it harder for Illinois blacks to participate in civic affairs. The "Chicago Black Law Ordinance" banned black children from attending white public schools.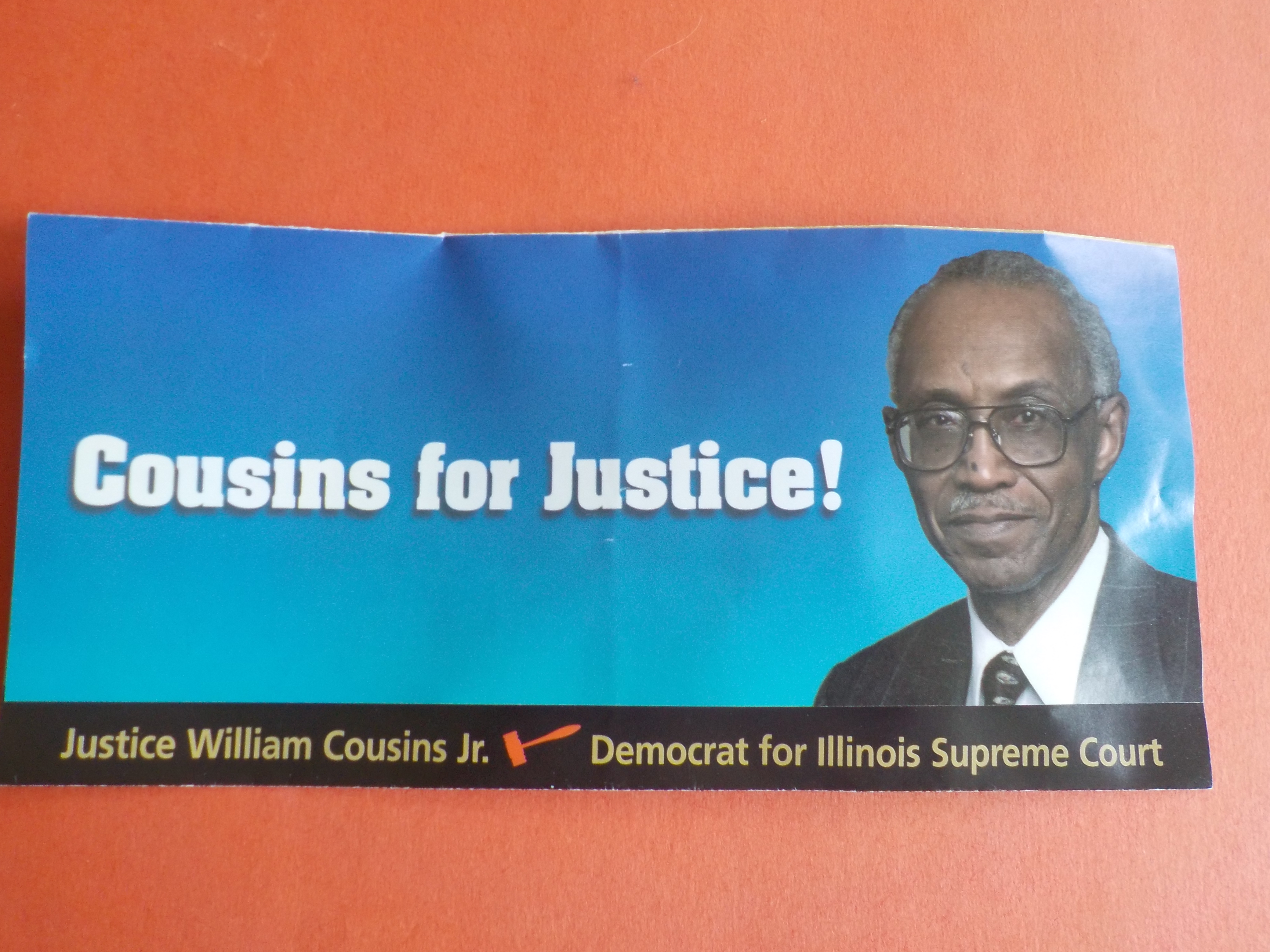 "Unbought and Unbossed" - Judge Bill Cousins's memorable slogan.
As told in "An Autobiography of Black Politics" by Dempsey Travis (put it on your Bicentennial reading list), the first Illinois African-American pol was probably John Jones, a tailor-turned-abolitionist. Arriving penniless in Chicago from Alton in 1845, Jones became a landowner and activist. Son of a black mother from North Carolina and German immigrant father, Jones agitated against "Black Laws" and other oppression for decades. When Illinois repealed Black Laws in 1865, a Springfield cannon-salute was staged to celebrate; Jones was invited to fire the last shot.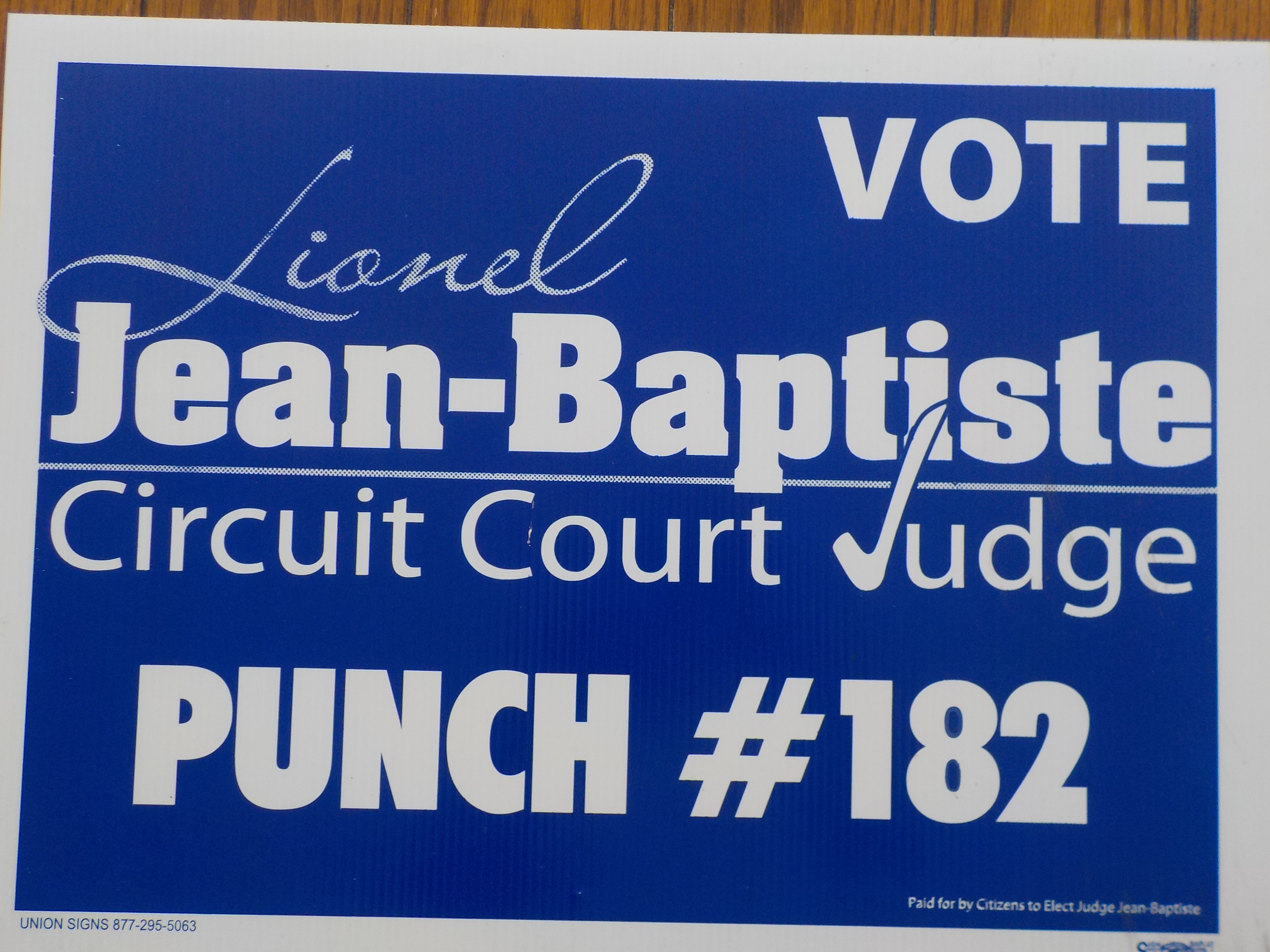 First Haitian-born Evanston Alderman and Cook County Circuit Court Judge.
Firsts (besides, well, besides Jean-Baptiste Pointe DuSable)… 
1869 John Jones pushes for "Negro Suffrage" at Illinois Con-Con, which votes to allow "Negro men" to hold any elected office. Later that year, Jones is named the State's first black notary public and his son-in-law Lloyd Wheeler is the first black to pass the Illinois Bar. In 1871 Jones is slated for Cook County Board on a bipartisan ticket. He wins, becoming the first known black elected to office in Illinois. In 1875, he loses his re-election bid. 
1876 John W.E. Thomas, an educator and so-called "octoroon" (1/8 black), is the first "person-of-color" elected to the State House. Party leaders dump him after one term, but he wins his seat back in 1882, and leads successful fight for landmark "Illinois Civil Rights Bill of 1885". 
1889 The Secretary of State hires Ed Wright as a bookkeeper, the first known African-American to get a white collar job in Illinois government. In 1896, Wright is elected to the first of two terms on the Cook County Board. In 1923, he's named State Public Utilities Commissioner, another first.
1915 Cook County Board Commissioner Oscar DePriest becomes Chicago's first African-American Alderman. An ally of Big Bill Thompson, DePriest becomes the first African-American Congressman outside of the South in 1929. He gets national attention when First Lady Lou Hoover invites Jessie DePriest to a White House tea for Congressional wives. 
1924 Adelbert Roberts - a 3-term House member - is elected first African-American in Illinois Senate. He fought Jim Crow employment practices at the 1933 Century of Progress. Also in '24, Albert George is elected as first African-American municipal judge in Illinois.
1918 Urban League, Quinn Chapel A.M.E. Church, Capt. Dyett. (Walter Dyett was a Bronzeville jazz musician and educator whose influence was vast: Dinah Washington, Nat King Cole, Redd Foxx, Gene Ammons, Eddie Harris, Bo Diddley, Von Freeman, Joseph Jarman...) Courtesy Busy Beaver Museum.
1958 Floy Clements is the first African-American woman elected to the Illinois House. She was among the earliest African-Americans to jump from the GOP to Dems. 
1958 Daley the Elder tabs CTA driver Ben "Big Cat" Lewis as first African-American Alderman in the rapidly-changing 24th Ward (known for giving FDR his biggest margin in the U.S.), and Ward Committeeman in '61. Lewis joins Ald. Claude W.B. Holman & "The Silent Six", a bloc of pro-Daley blacks. He's suddenly living large, fancy suits, Acapulco, a new "insurance" firm (which supposedly horns in on a former Ward Boss's action). In 1962, he's found shot in his Ward office, manacled to his chair, cigarette burns on his arms. The unsolved crime was the last murder of a Chicago Alderman. 
1967/68 Comedian/activist and Chicago transplant Dick Gregory runs for Mayor, then President. (See Gallery #3 - They Ran for POTUS)
Dick Gregory Peace & Freedom button courtesy of Busy Beaver Museum.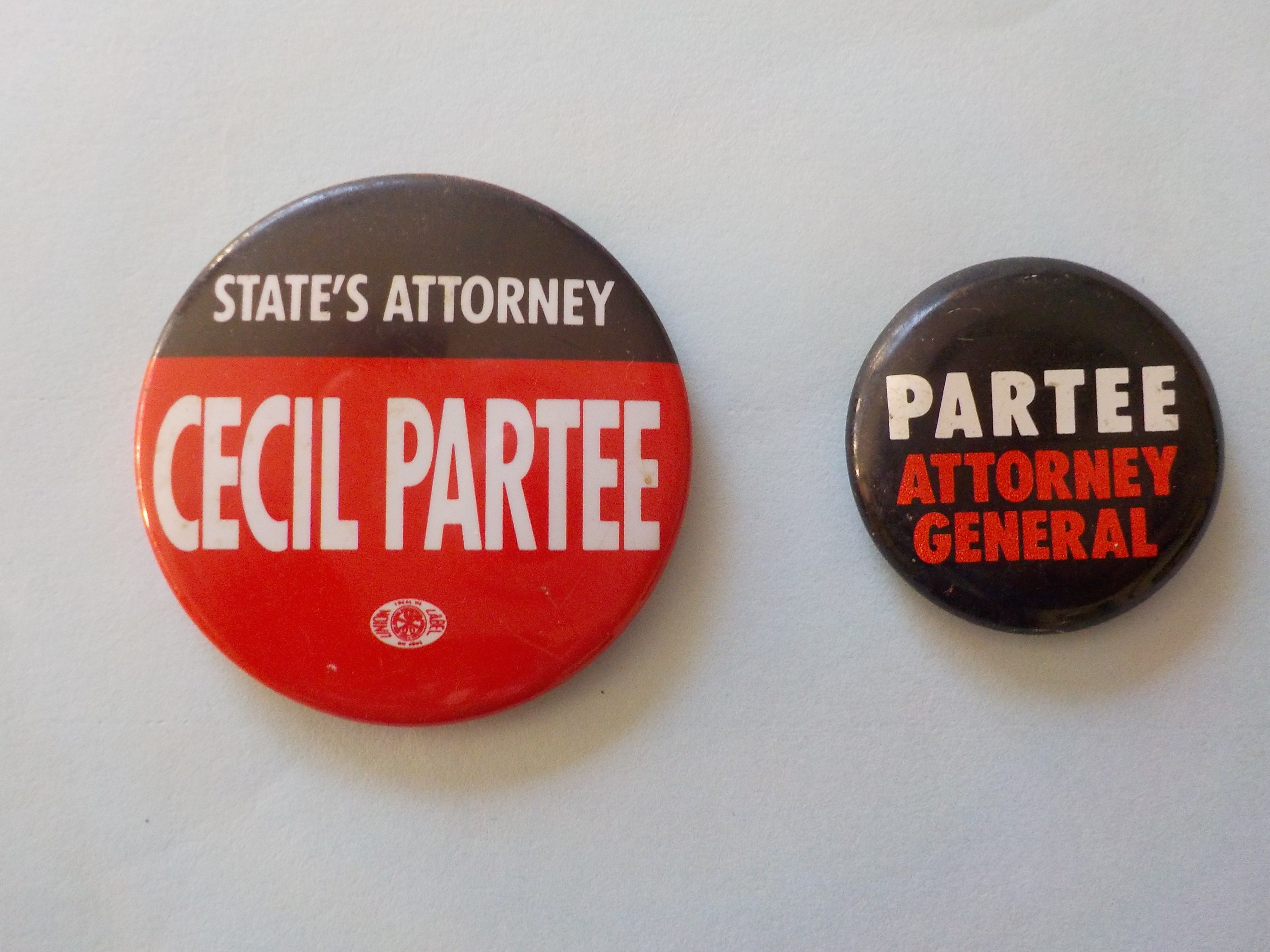 1975 Cecil Partee is first African-American elected as State Senate President. In '76, he's the first African-American nominated by a major party for statewide office (he lost the AG race to Bill Scott…see Gallery #22 - BUSTED State Pols). In '89, Partee was named to replace Daley the Younger as Cook County State's Attorney, also a first.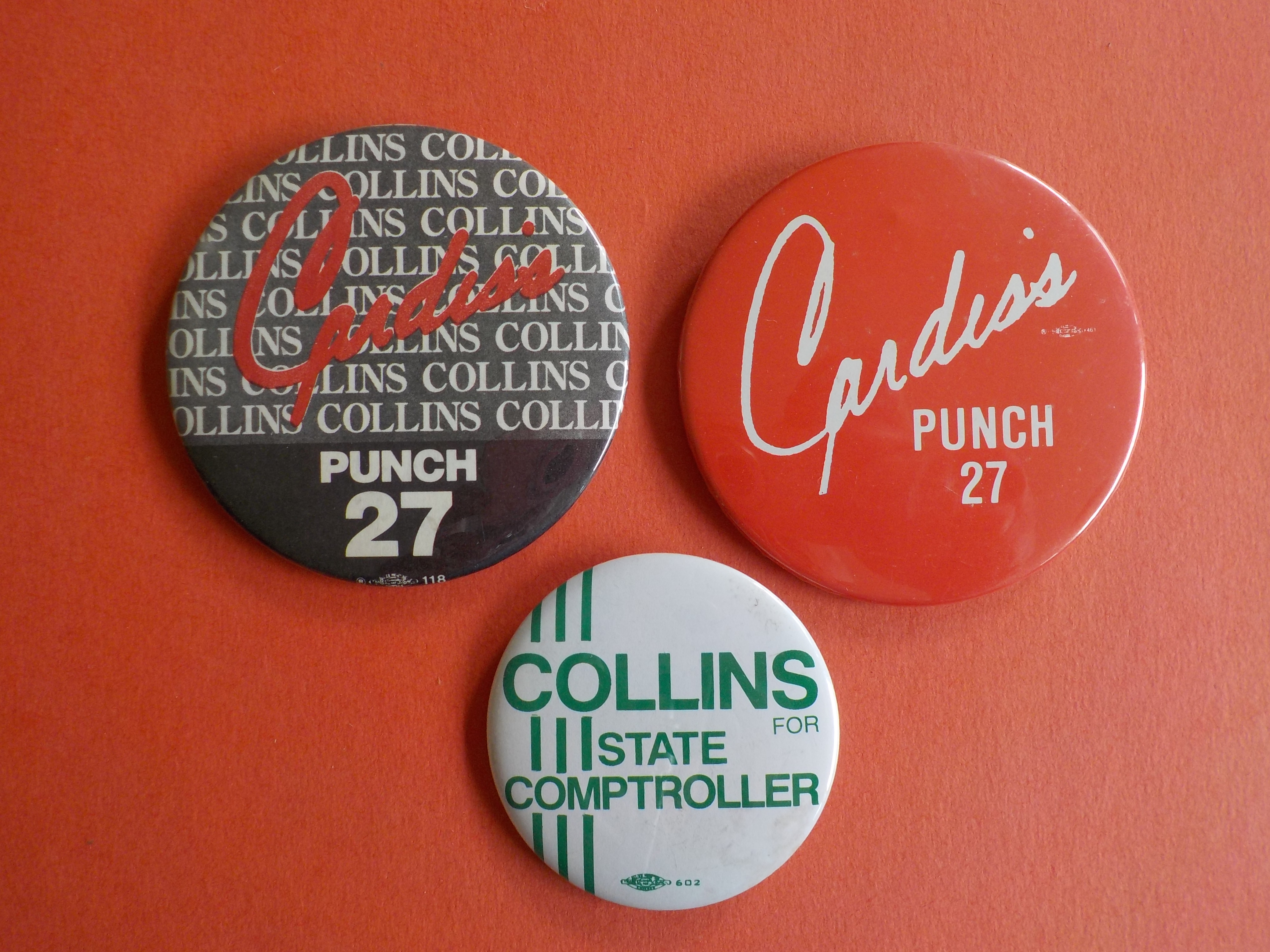 1976 Earlean Collins is elected first African-American woman in the Illinois Senate and soon earns a Leadership post. She runs for State Comptroller in '94 (winning the primary but losing to Loleta Didrickson) and serves four terms on the Cook County Board. (Not to be confused with Cong. Cardiss Collins.)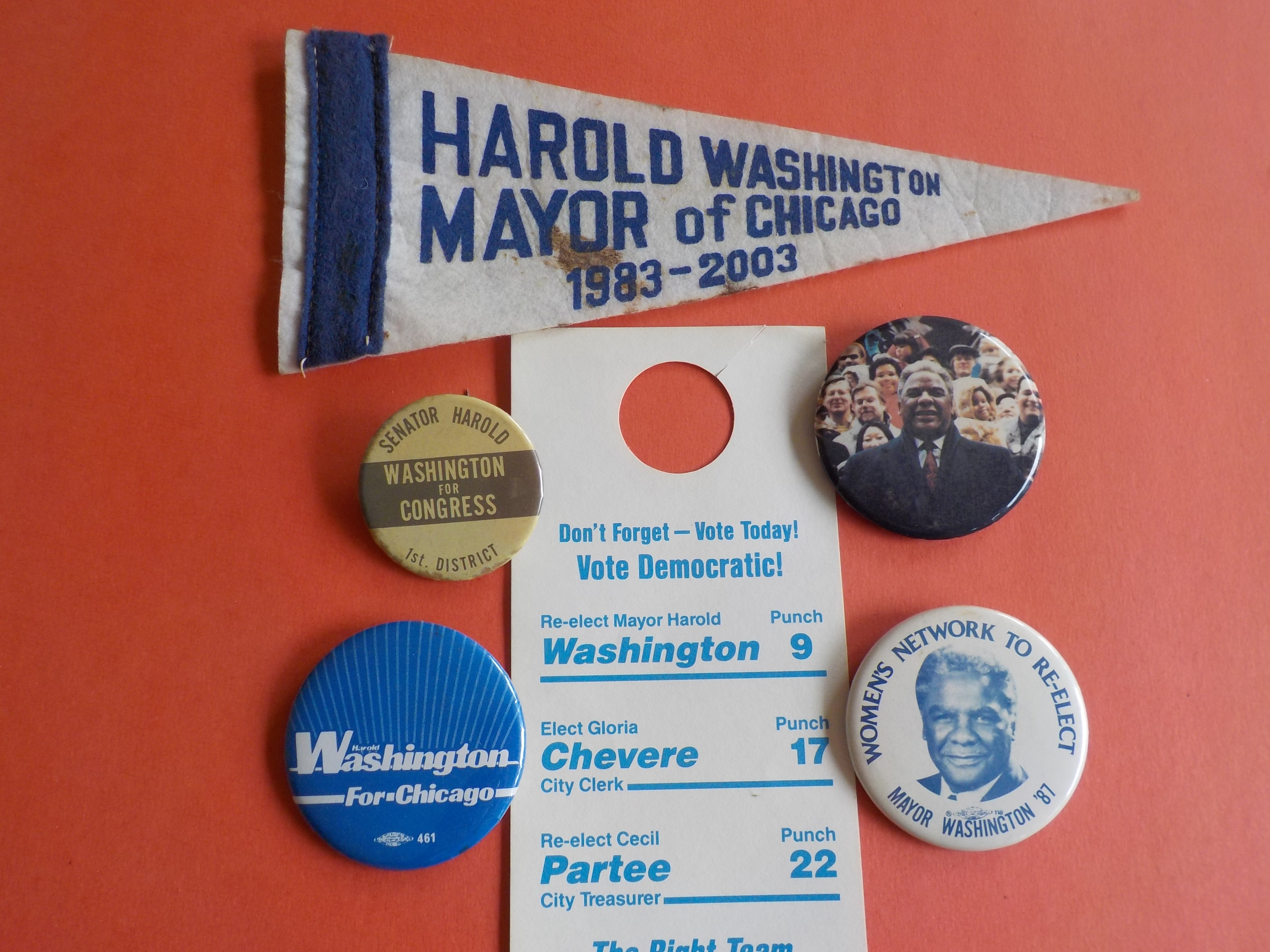 1983 Cong. Harold Washington is elected Chicago's first African-American Mayor. (See Gallery #17 - Council Wars) 
1989 Charles Box is elected first African-American Mayor of Rockford, serving 3 terms. 
1993 Longtime school principal Lorraine Morton is elected first African-American Mayor of Evanston; becomes the city's longest-serving chief executive. She died recently.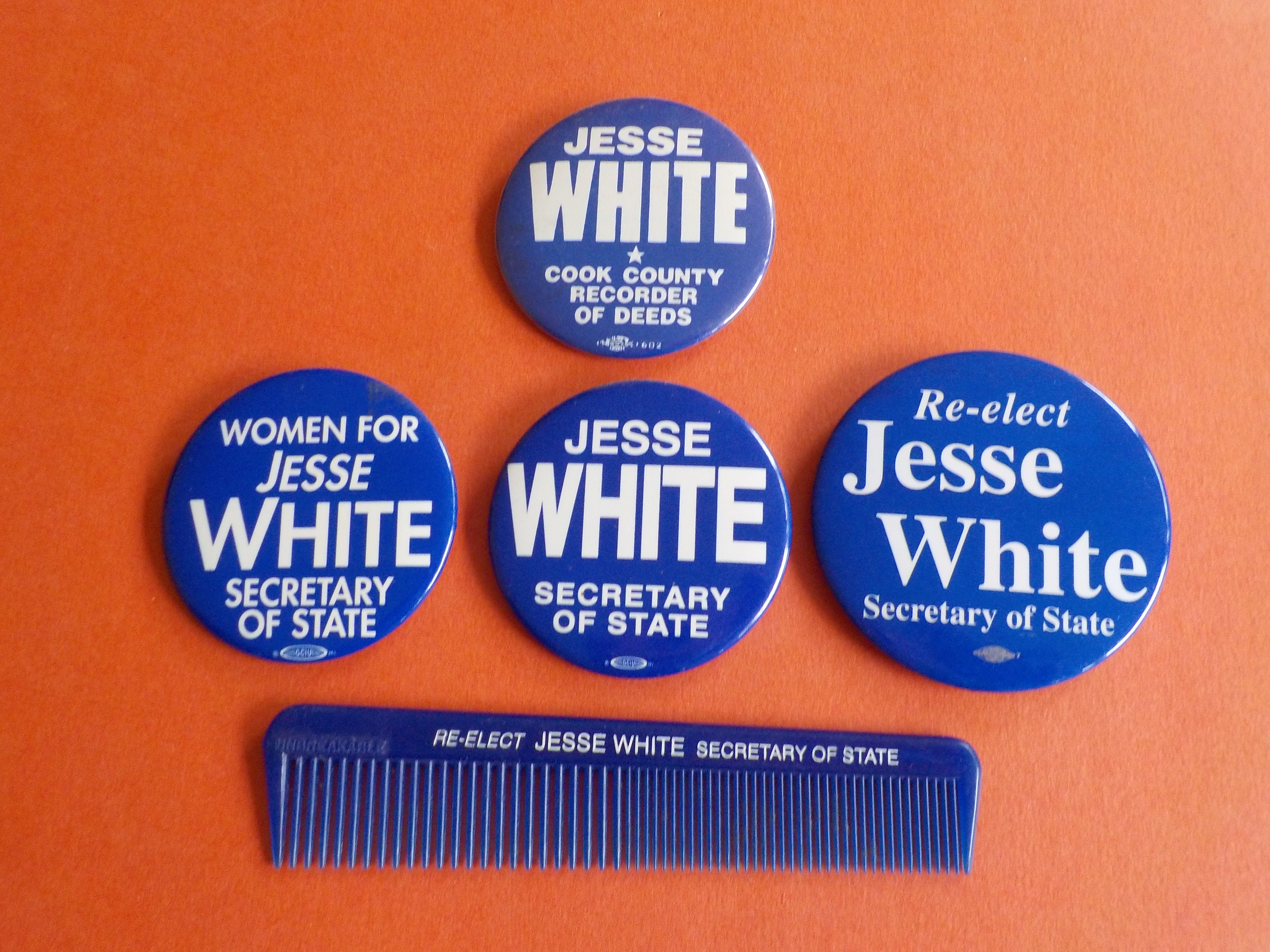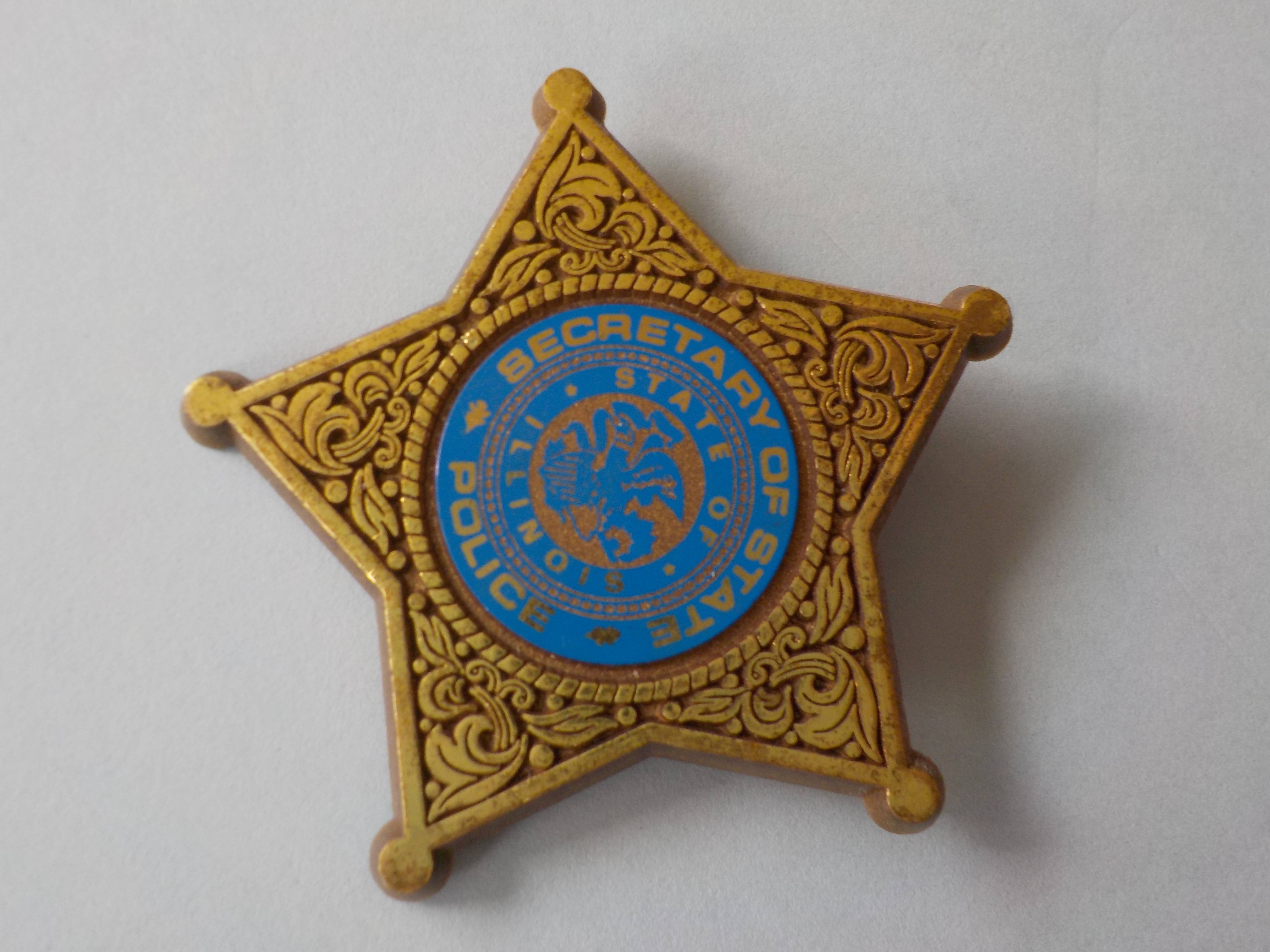 1998 Rep. Jesse White is elected first African-American Secretary of State, now the longest-serving SOS and among the biggest vote-getters in Illinois history. During his career, White succeeded some heavyweights: Jim Houlihan as State Rep, Carol Moseley Braun as Cook County Recorder of Deeds and George Ryan as SOS.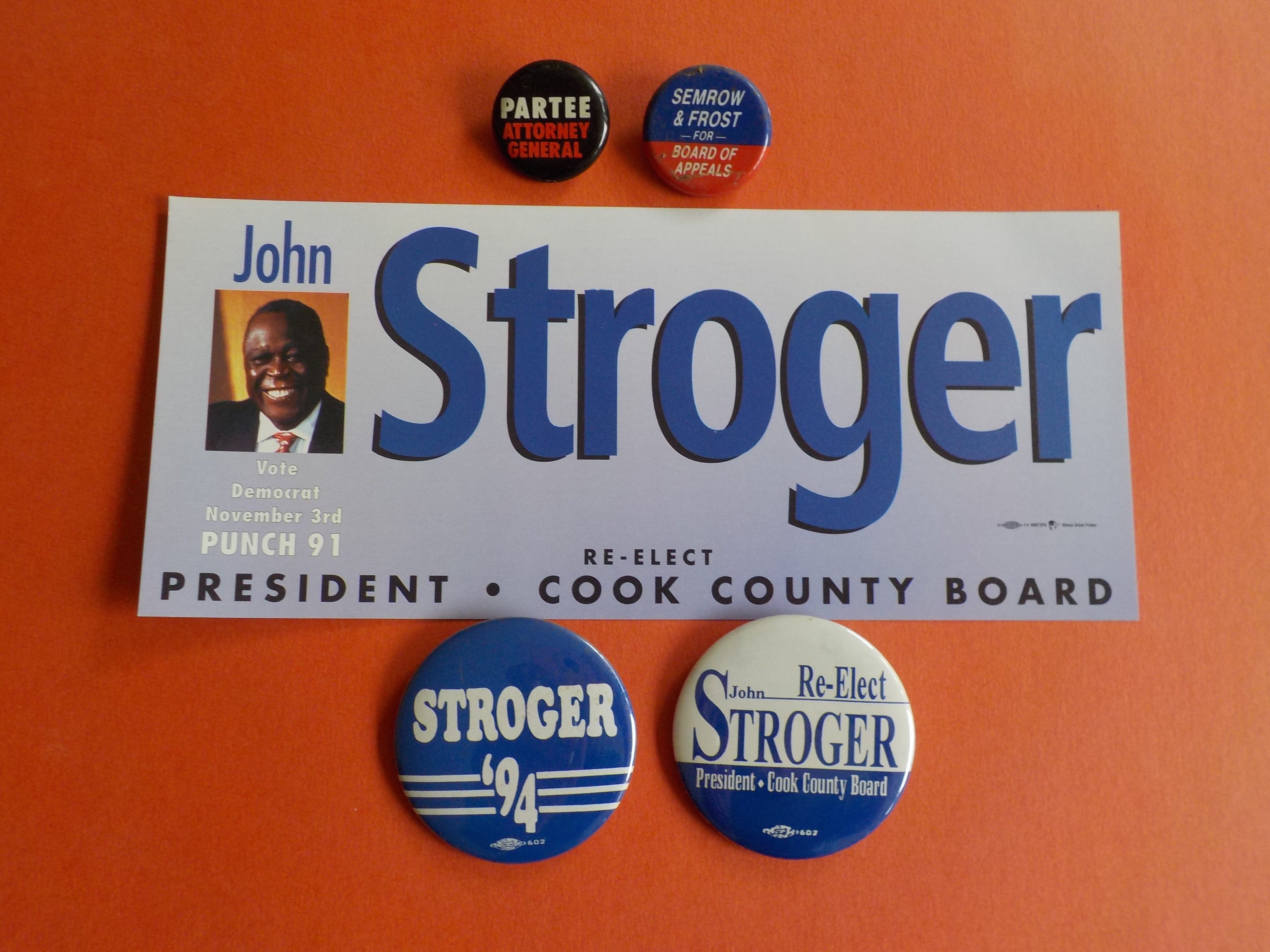 1994 John Stroger is elected first African-American President of the Cook County Board.
1992 Carol Moseley Braun is elected the nation's first female African-American U.S. Senator and blazes other trails, too. (FULL DISCLOSURE: This author served on her 1998 campaign staff. Few pols could light up a room like CMB. Her entourage at '98 Pride Parade was the most euphoric ever; the Election Night War Room was the saddest ever.) See Gallery #30 - Lagniappes.
2008 Barack Obama (see Gallery #1 - Illinois Mt. Rushmore)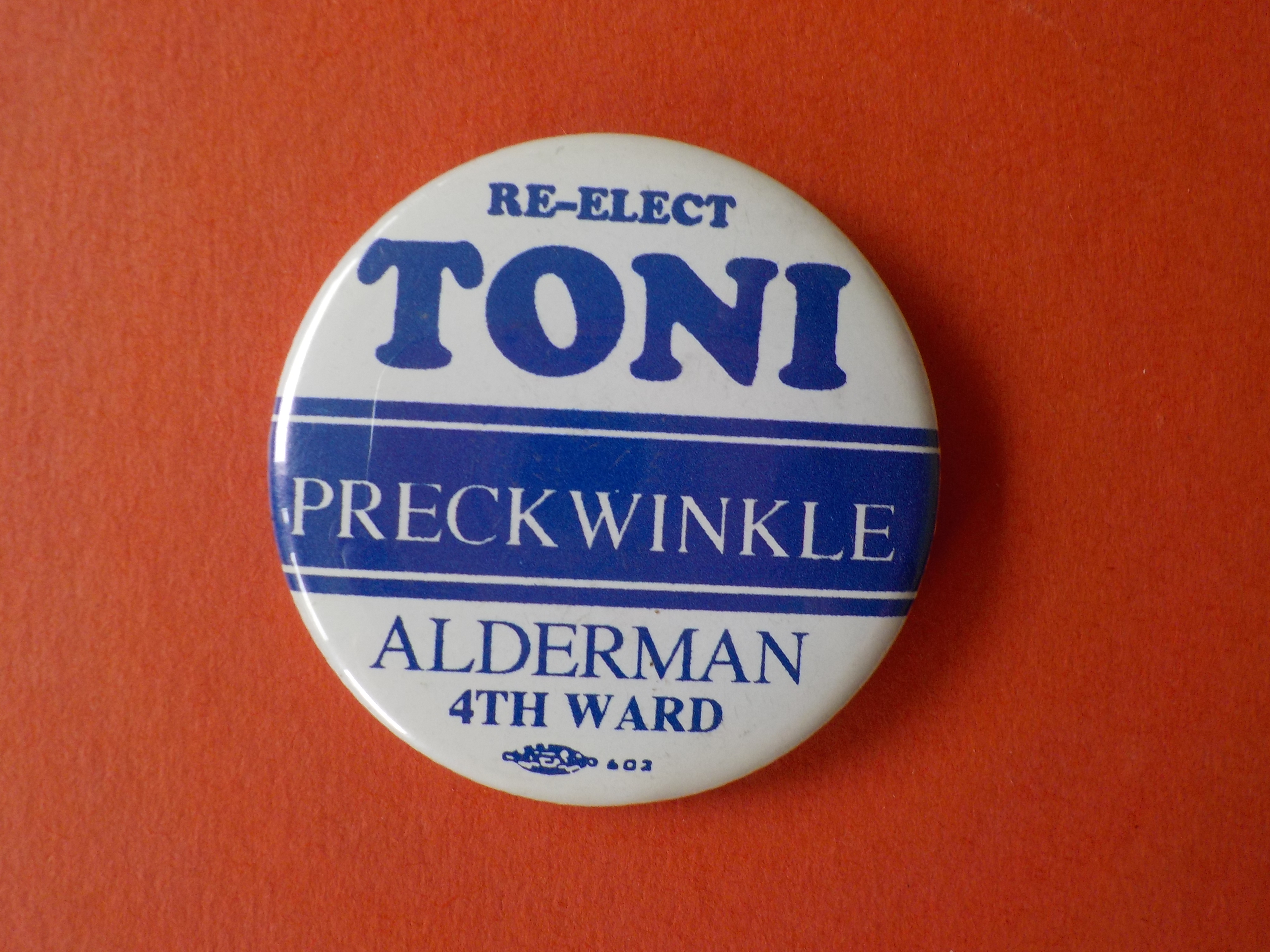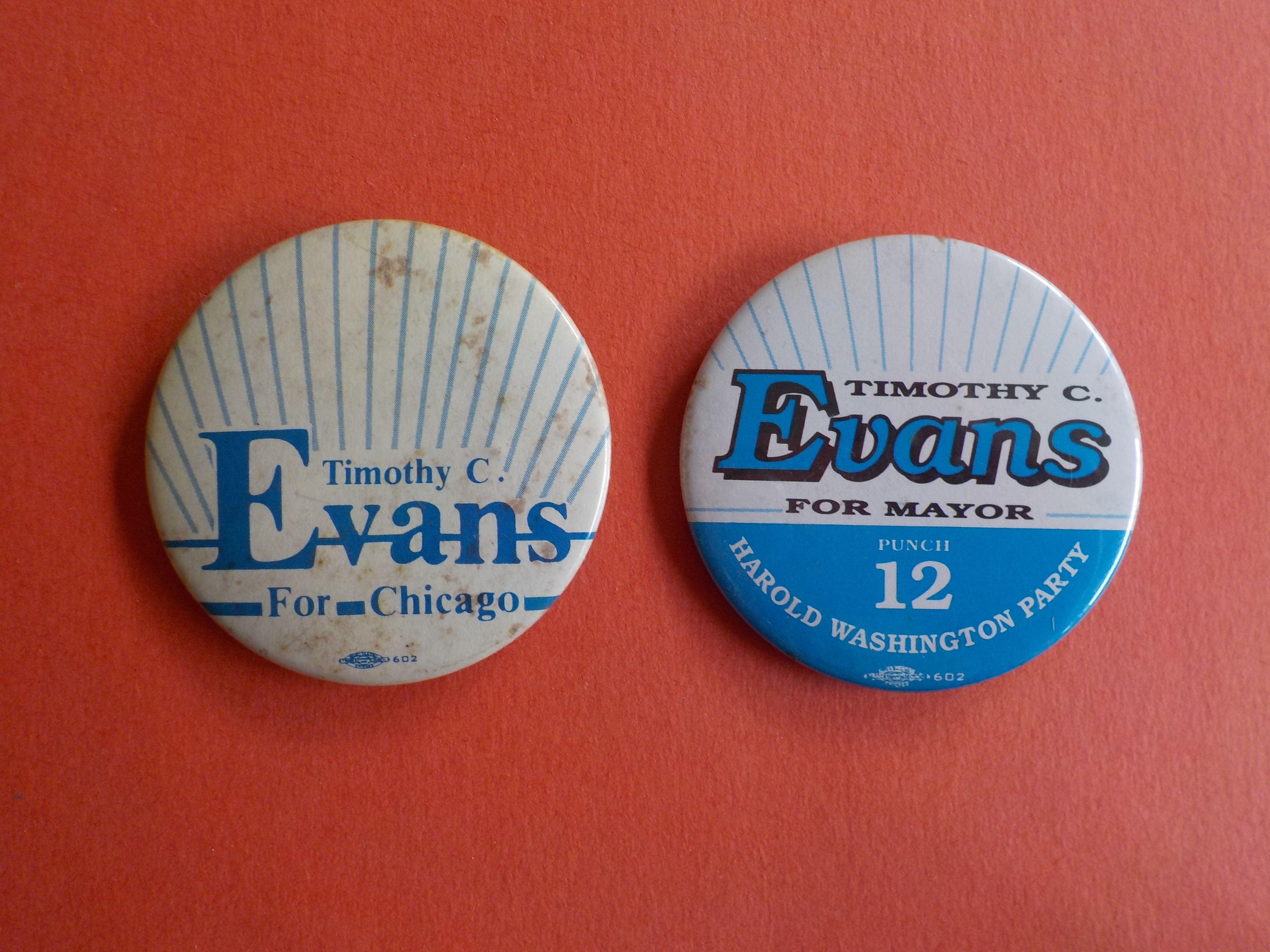 2010 Toni Preckwinkle is elected first African-American woman President of the Cook County Board. Back in 1991, she beat Tim Evans in an Aldermanic run-off by 109 votes.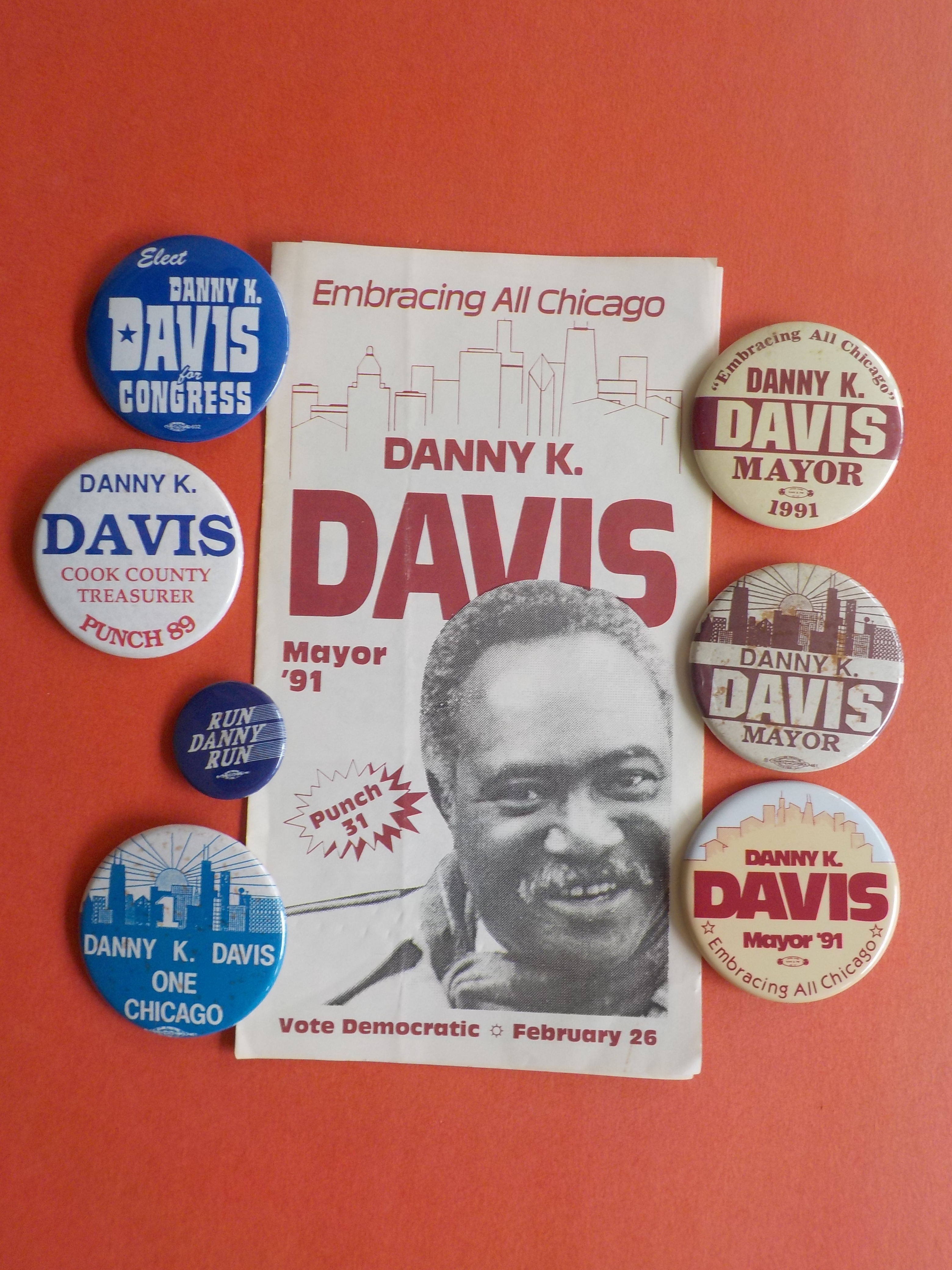 In 1990, Danny Davis (one of this author's favorite people in politics) ran for Cook County Treasurer. Pat Quinn was running for State Treasurer, so they ran on similar pro-consumer platforms and campaigned together. One frigid Sunday morning, this author convened a press conference outside of Peoples' Gas HQ for Davis and Quinn. Coldest presser ever. No TV, No City News, only Ethan Michaeli. Quinn and Davis gamely pressed on with the pop. Danny's words were so eloquent they just hung in the icy air a second, then crashed to the ground like icicles.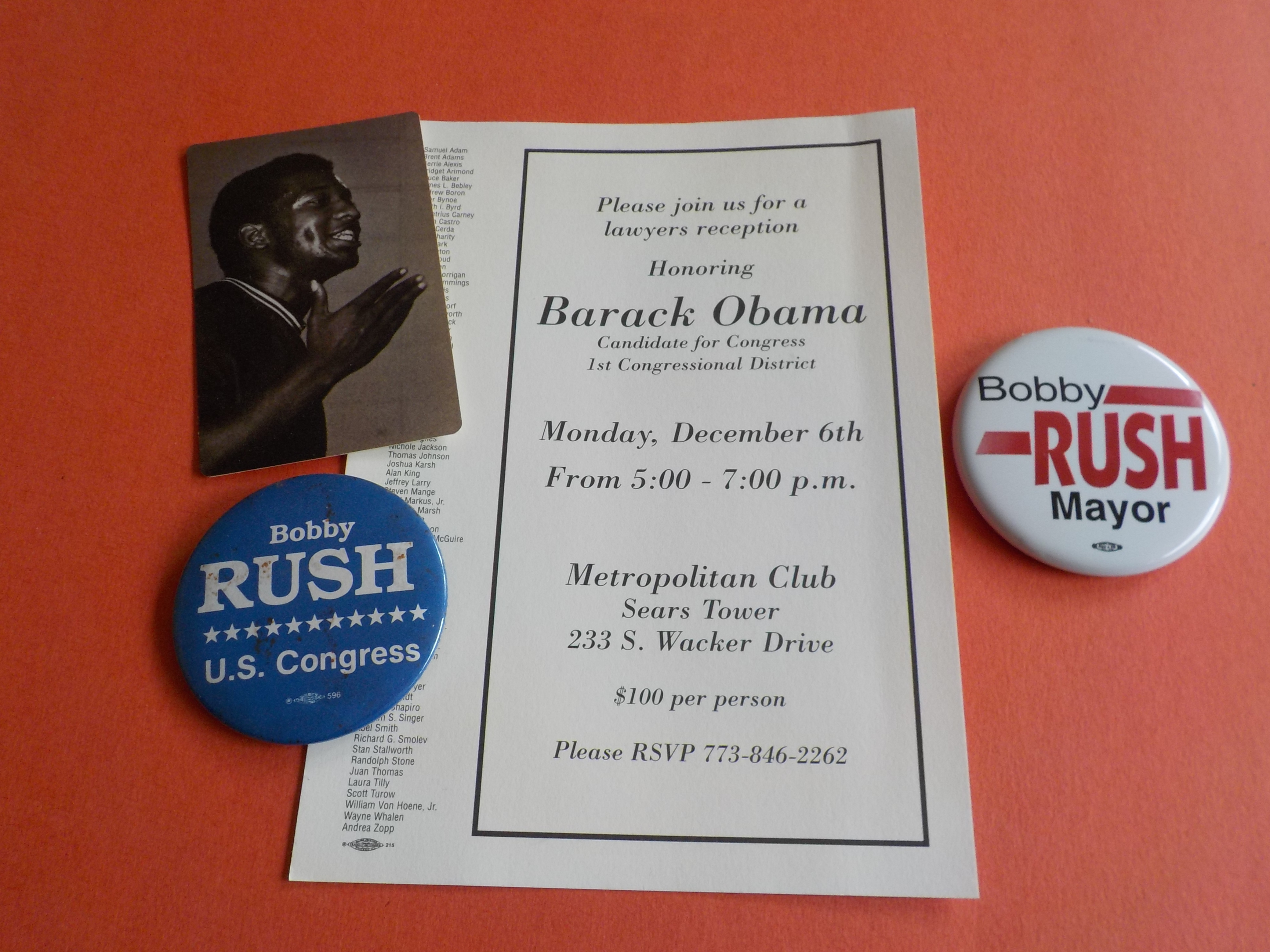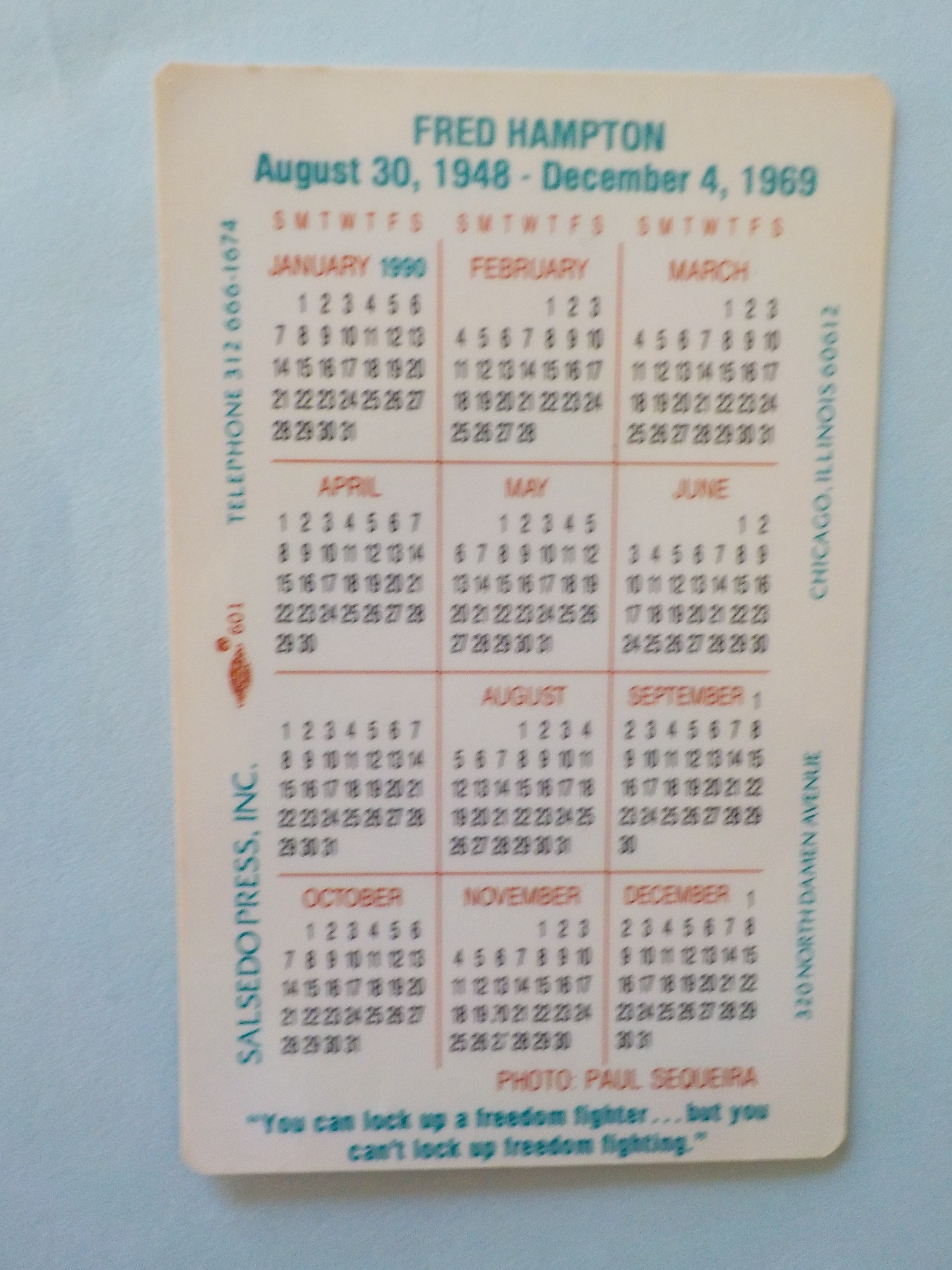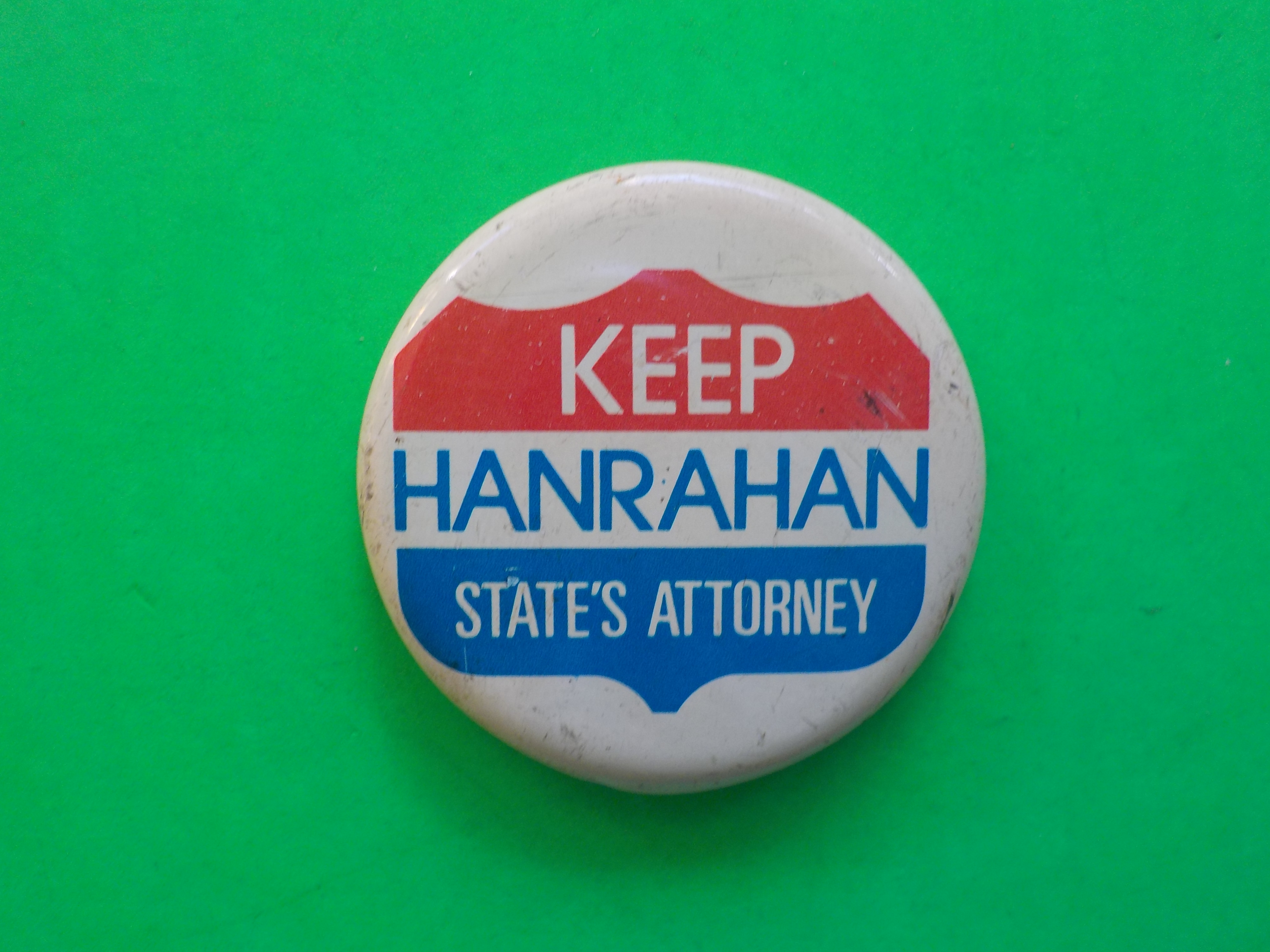 In 1969, the head of the Illinois Black Panther Party - Fred Hampton - was slain in his bed during a pre-dawn raid at his Chicago home. A Peoria Panther - Mark Clark - was also killed. While the West Monroe Street apartment was indeed a well-armed Panther stronghold, police raiders claimed they'd been shot at. The shooting, lie and cover-up led to the defeat of State's Attorney Ed Hanrahan (who some saw as a successor to Daley). This calendar (given to this author by Cong. Bobby Rush) quotes Hampton: "You can lockup a freedom-fighter, but you can't lock up freedom fighting."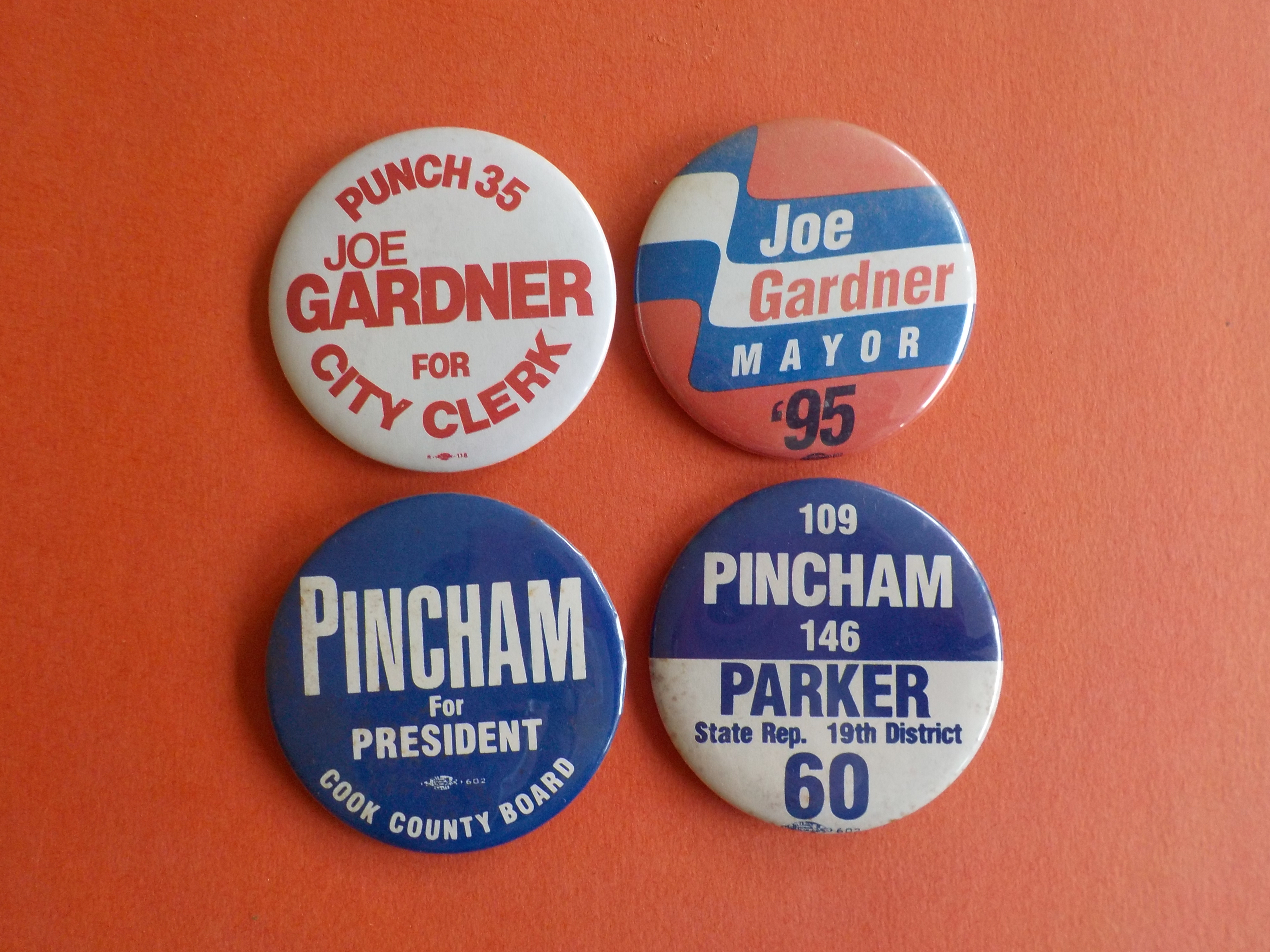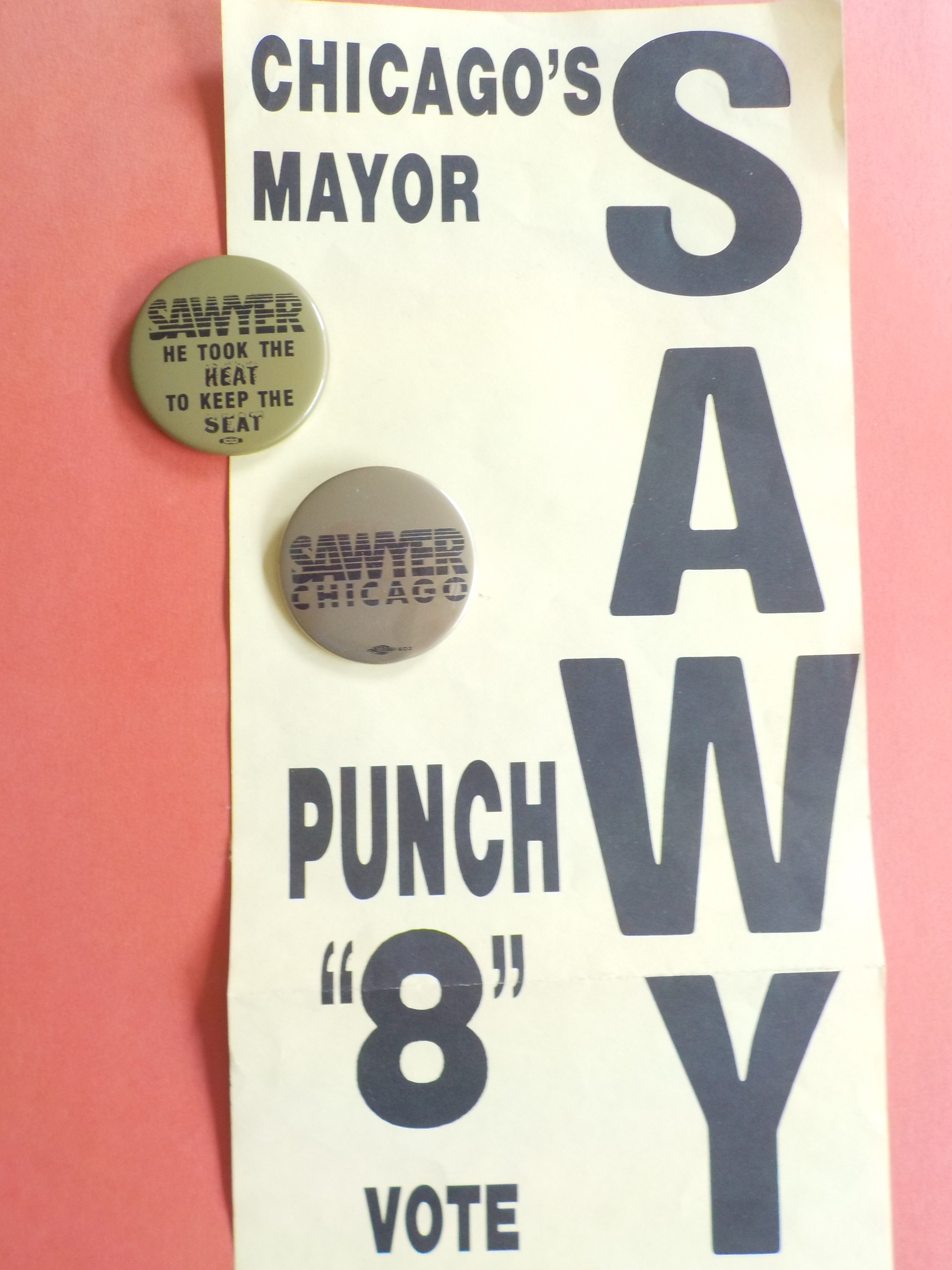 Harold's campaign spawned other campaigns. His death spawned a free-for-all.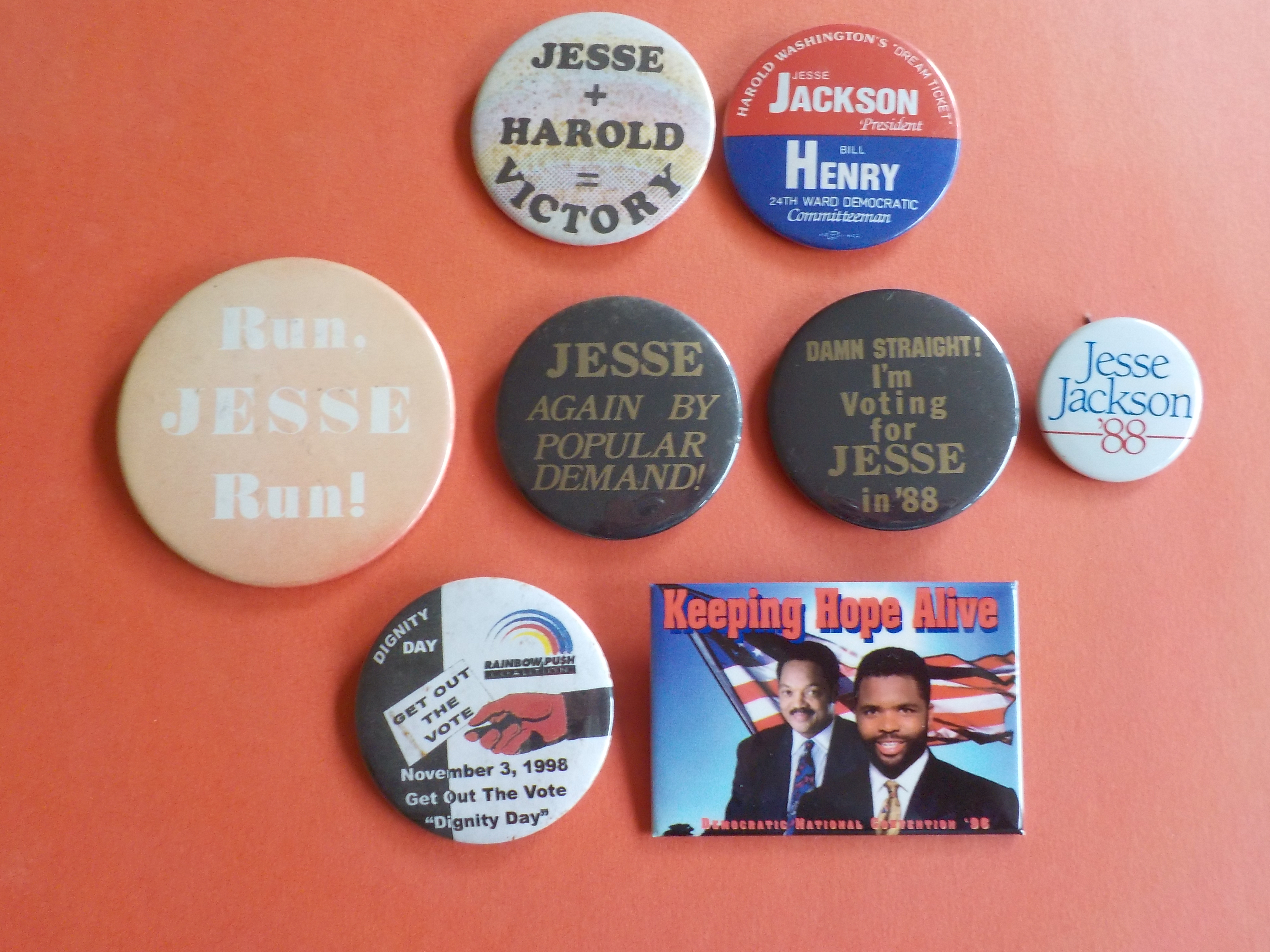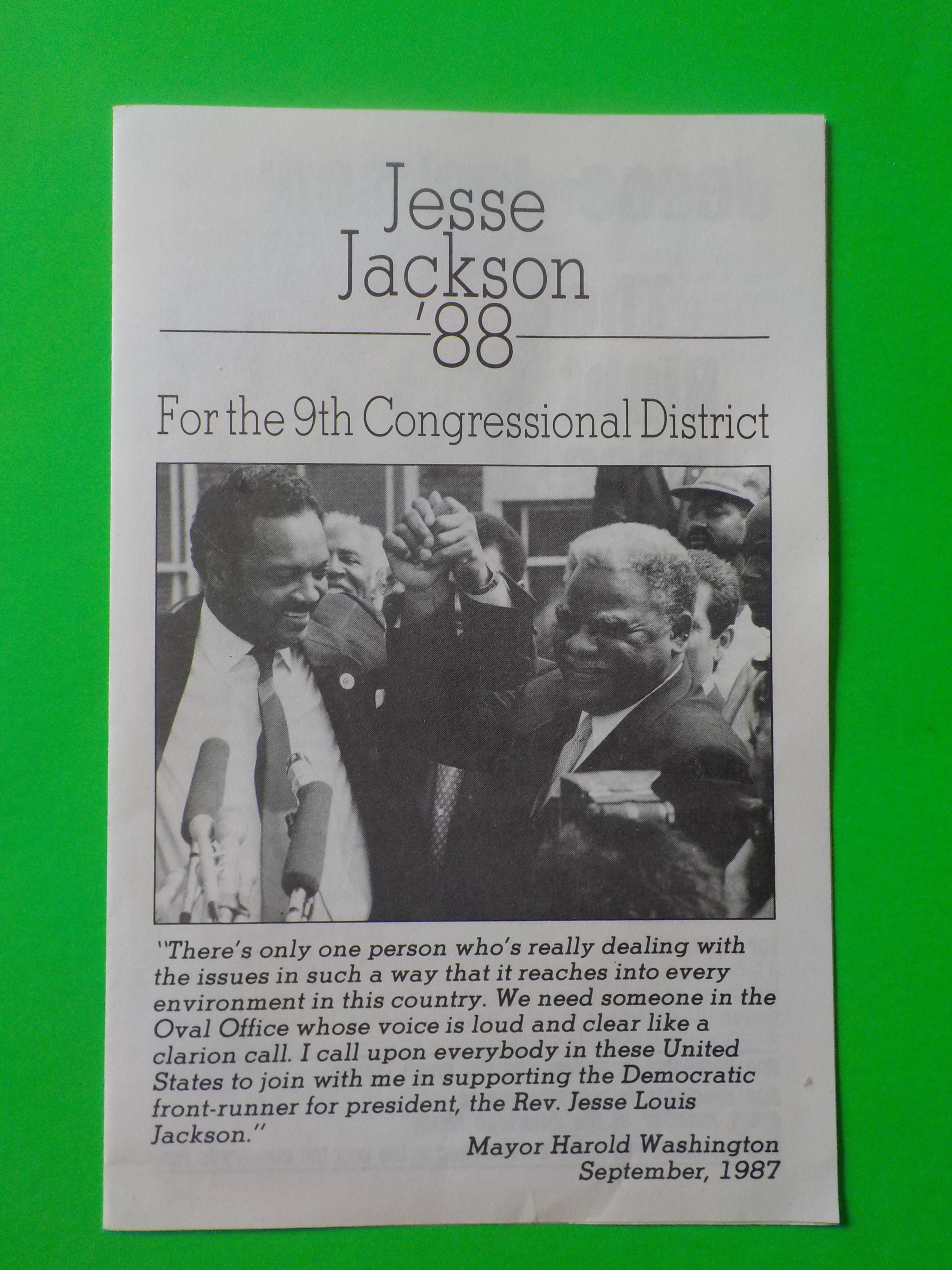 (PUSH, Jackson-Collins and Saviours' Day '84 courtesy of Busy Beaver Museum)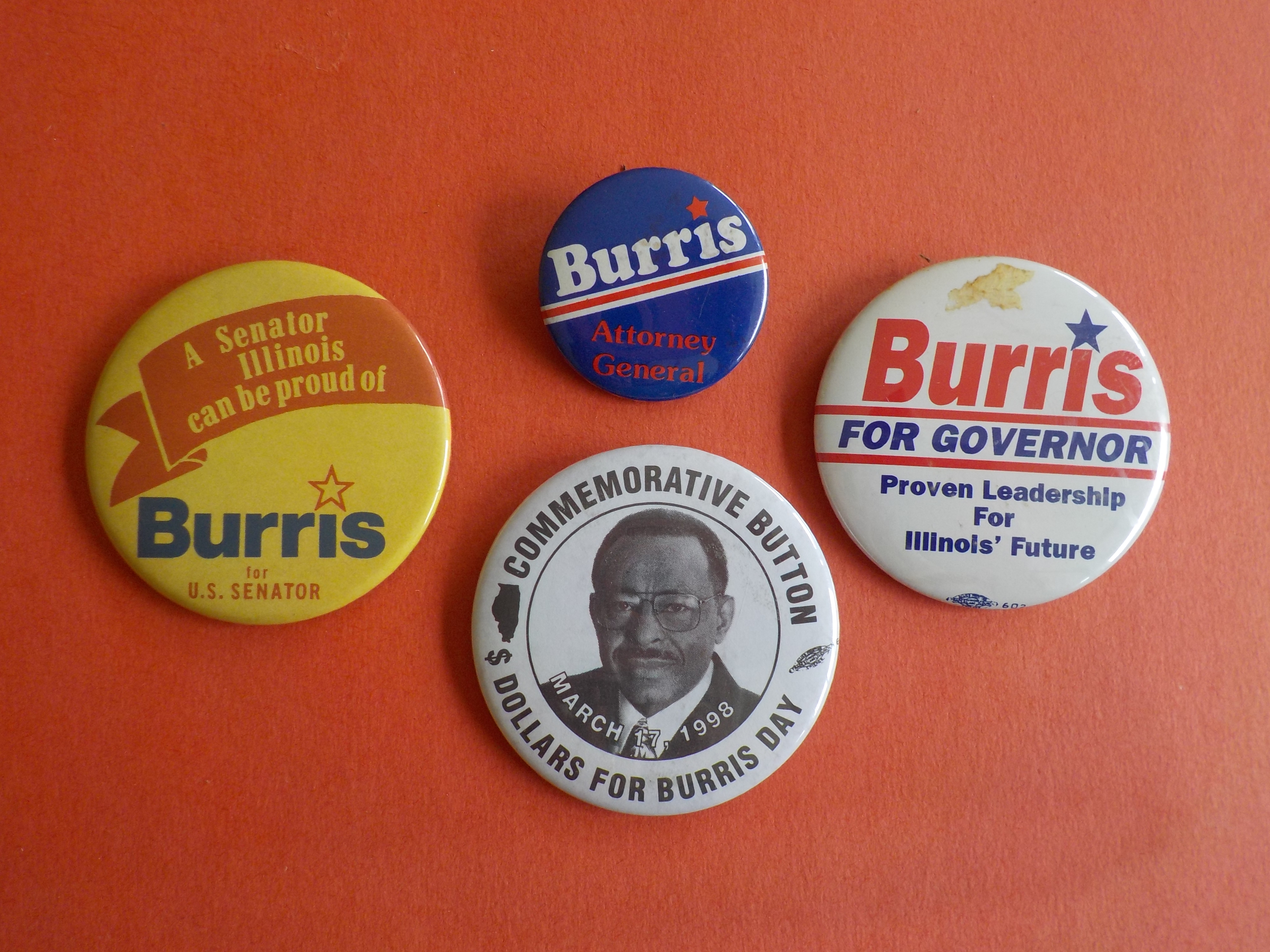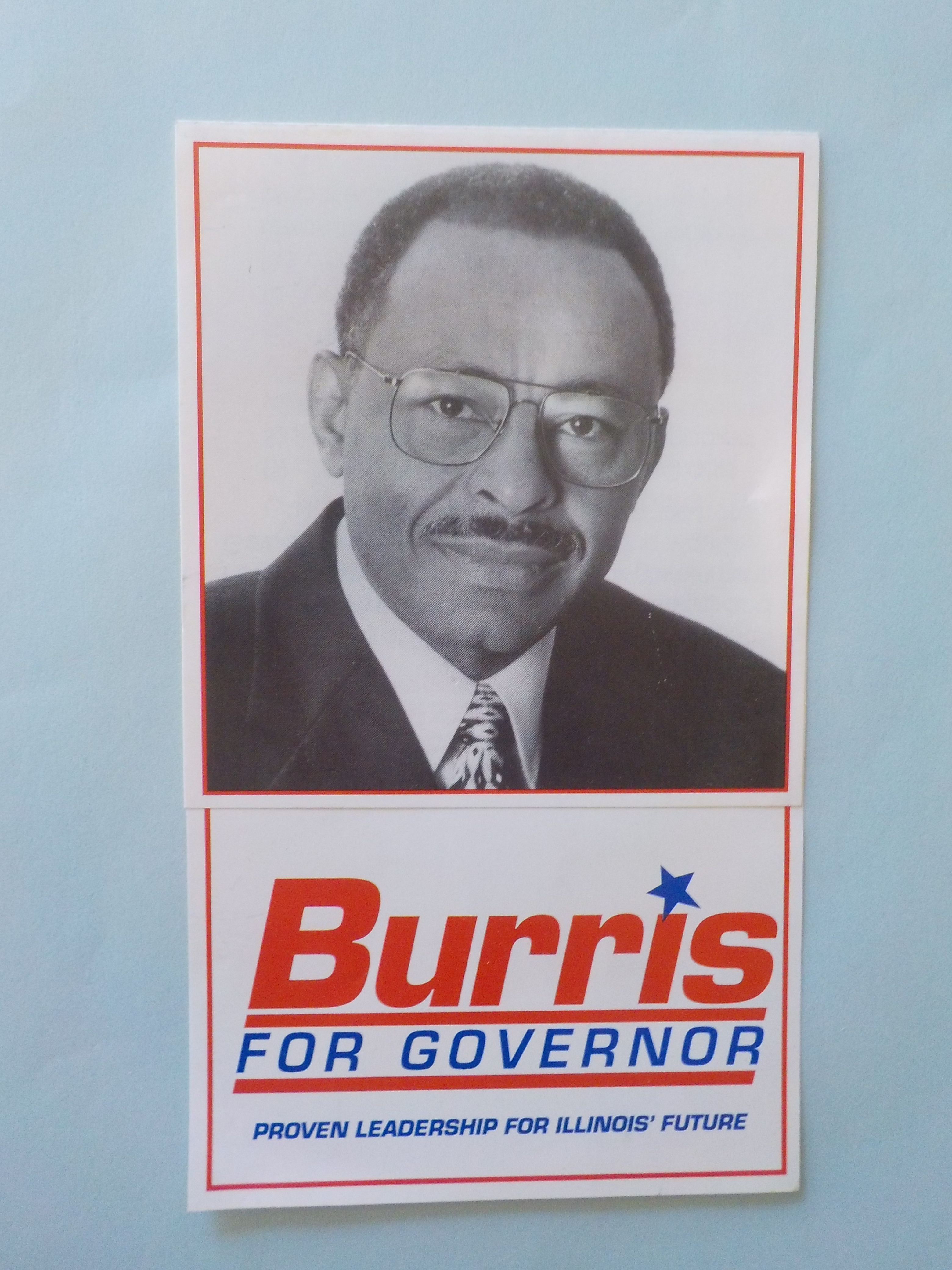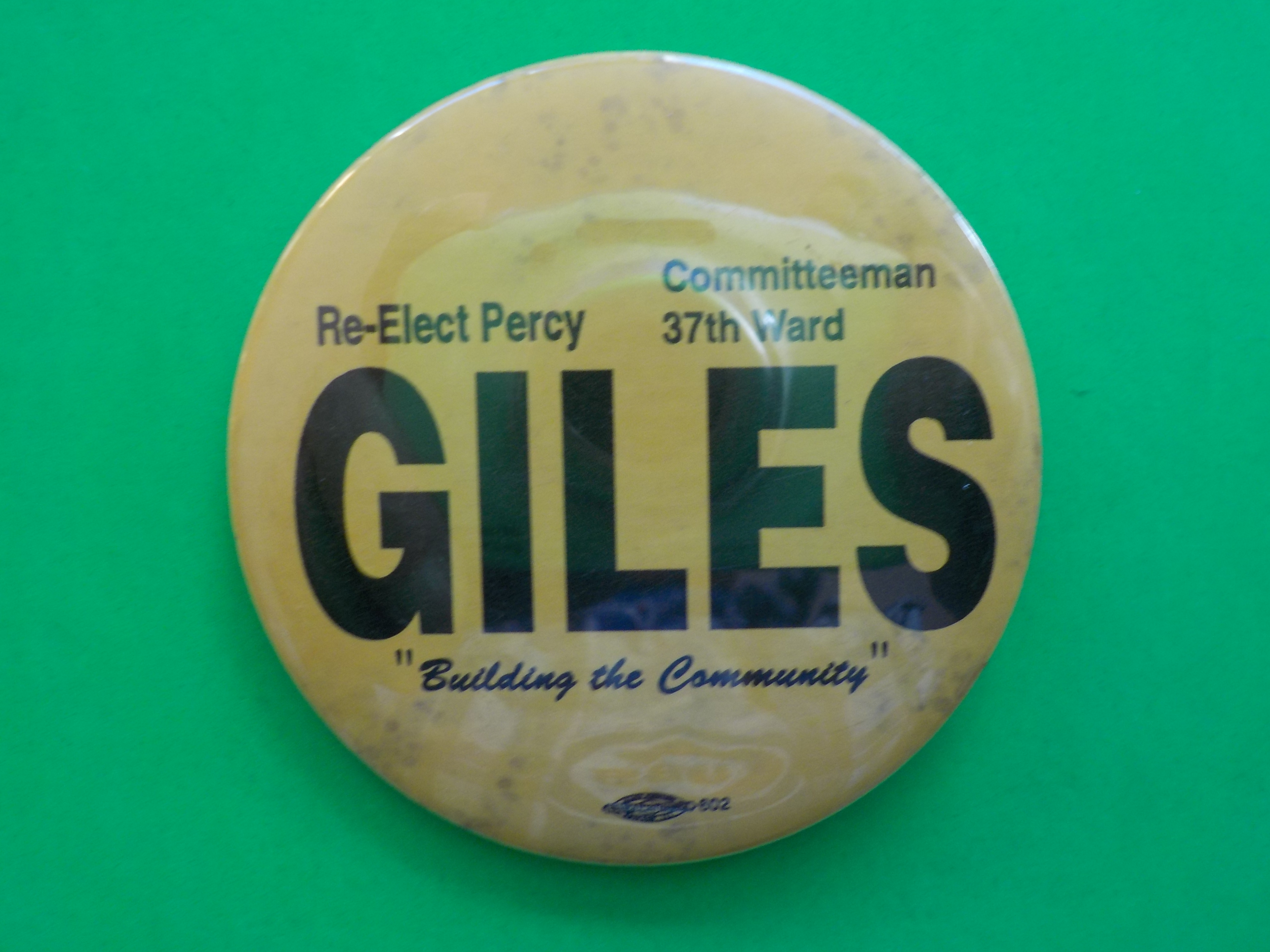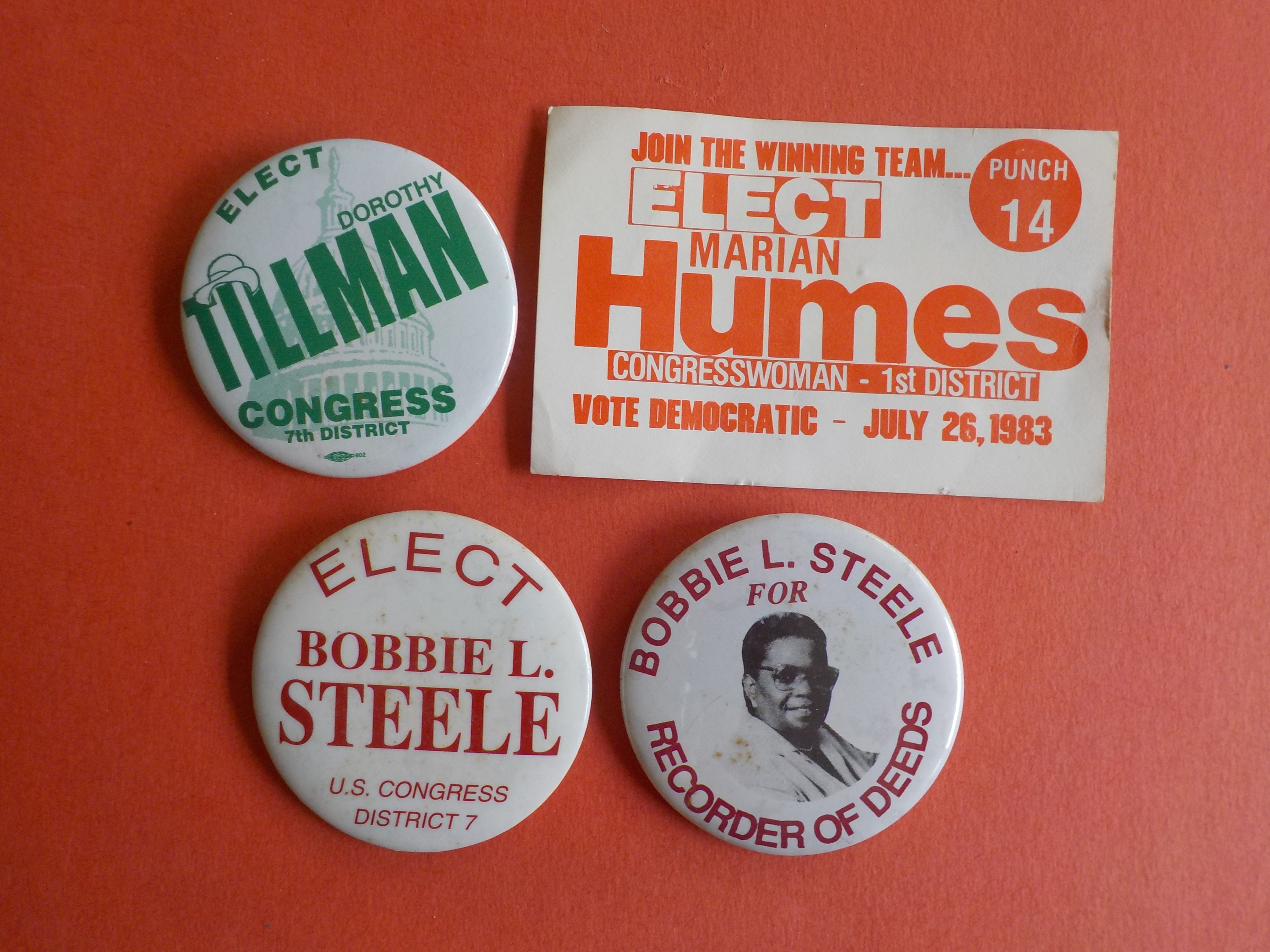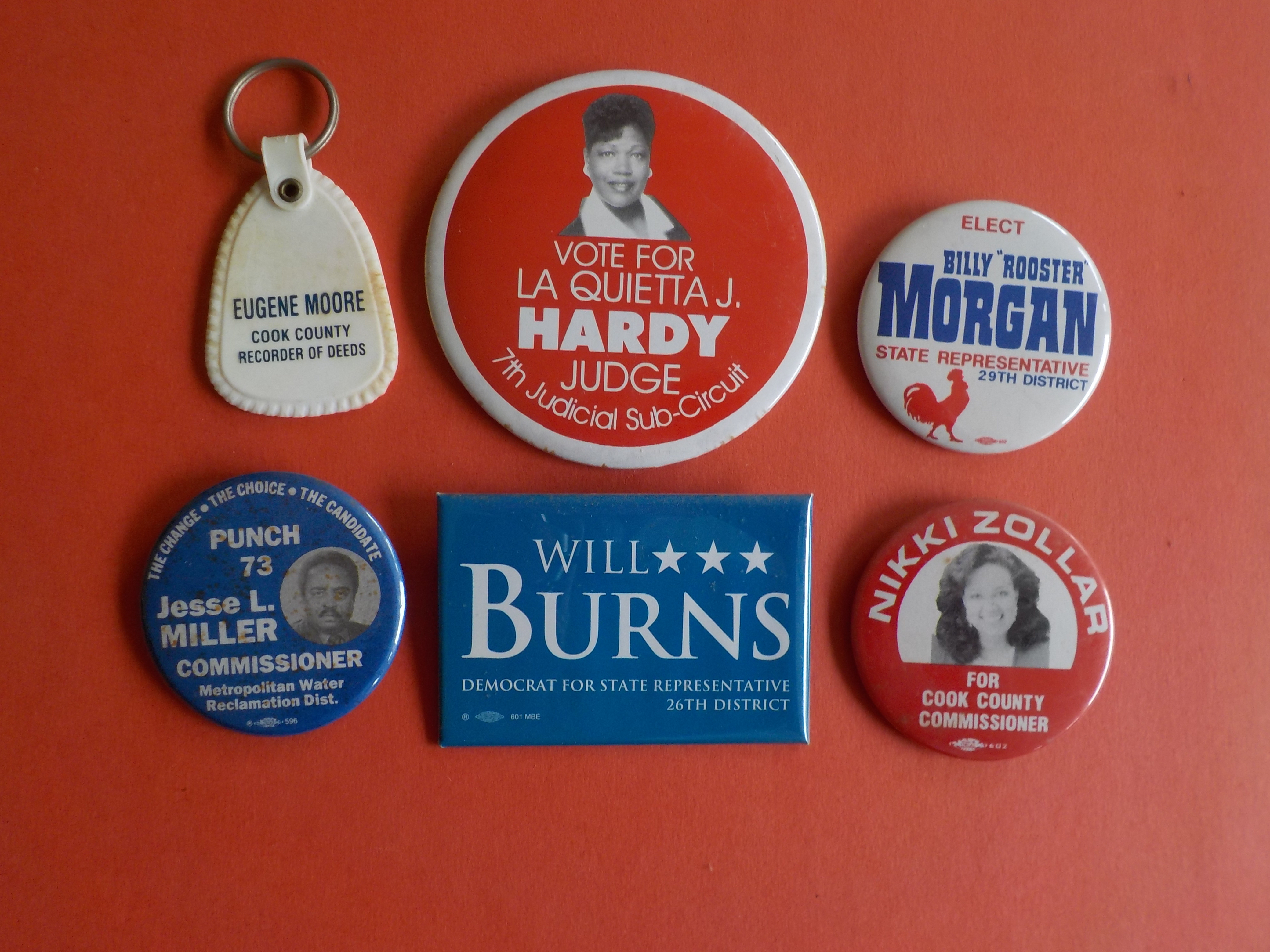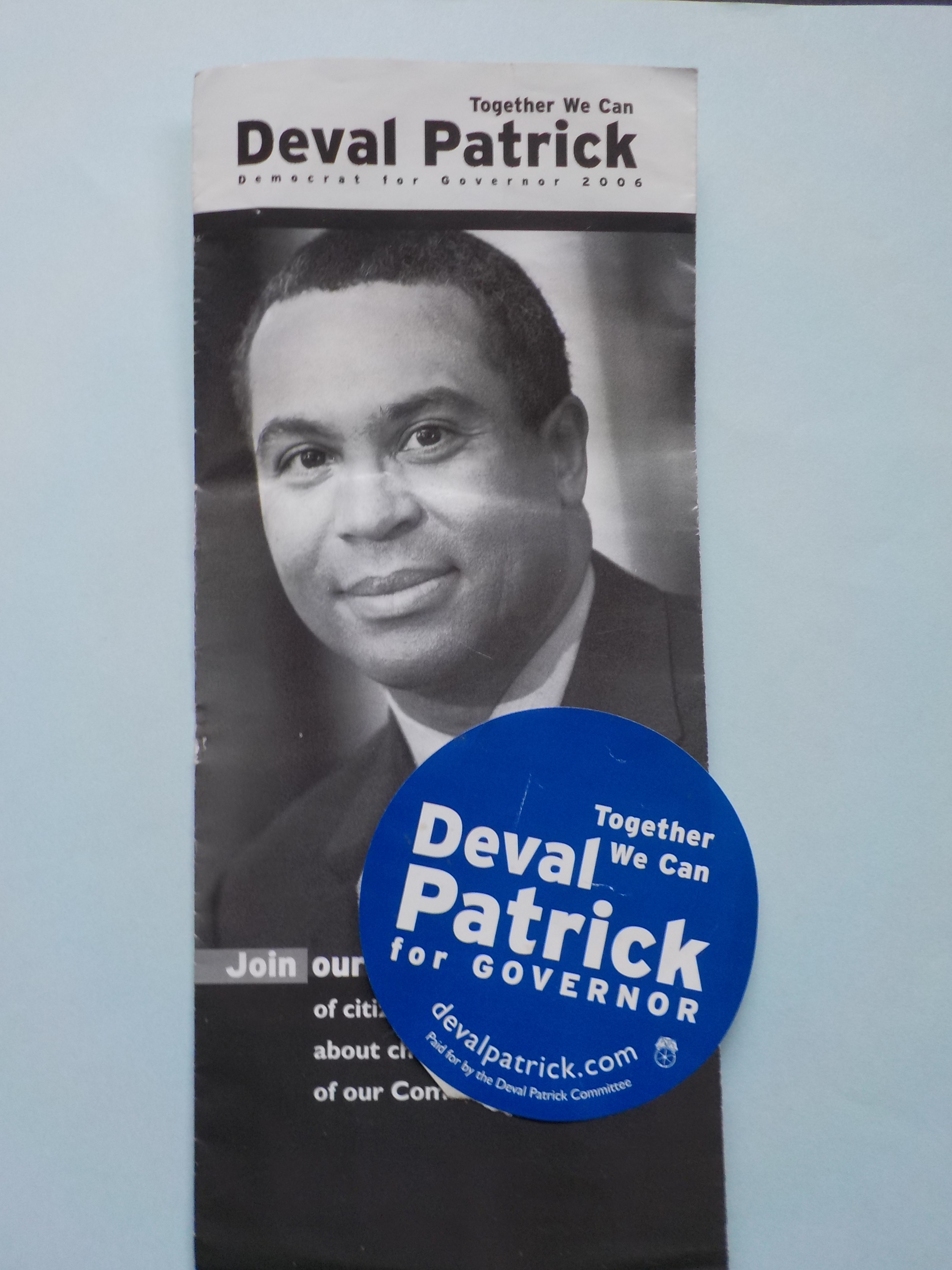 South Sider Deval Patrick ran for Massachusetts Governor in 2006 on the slogan: "Together We Can". Sounds familiar?
Freeman & "Hollywood" Hendon buttons courtesy Busy Beaver Museum.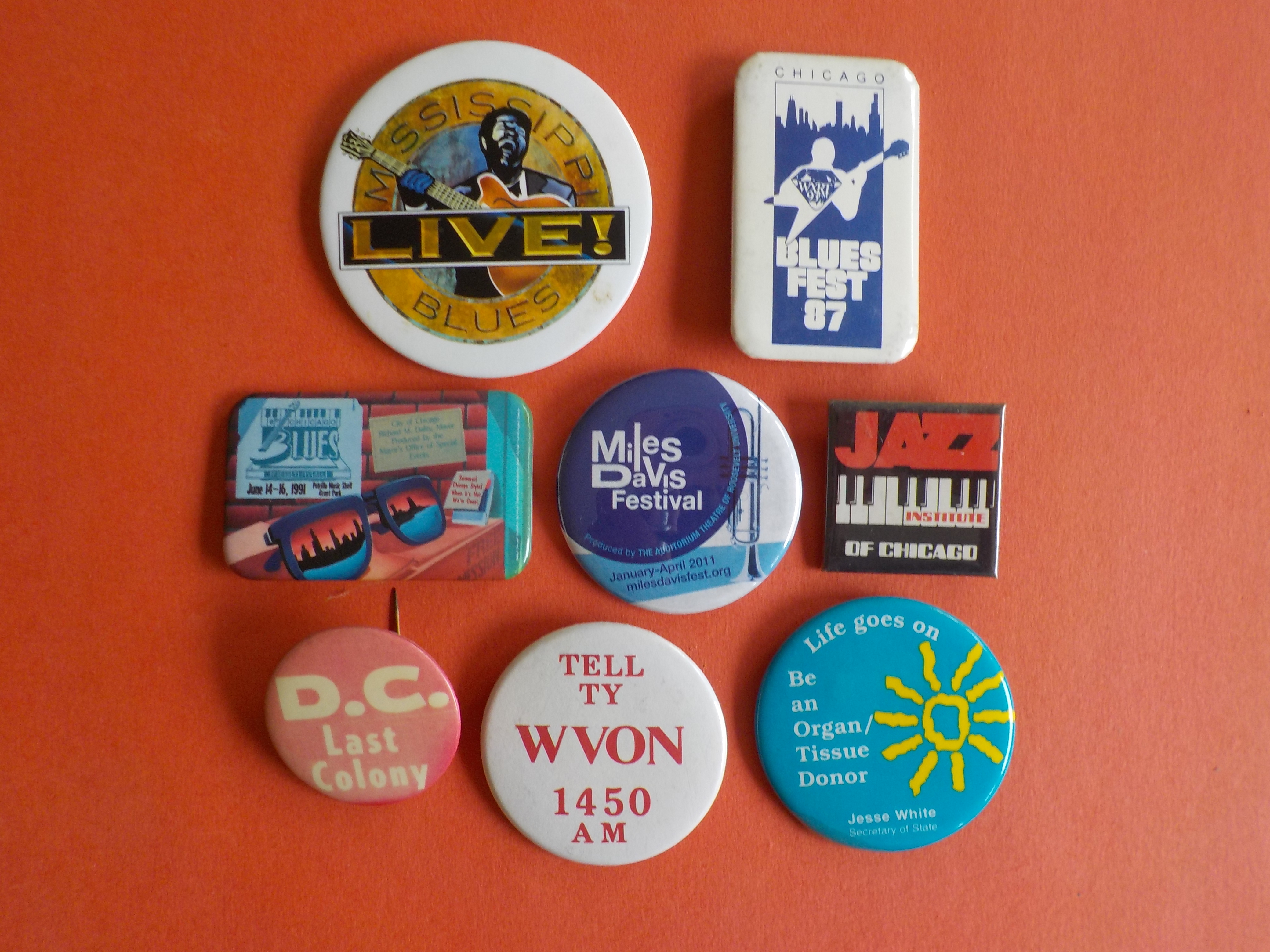 Potpourri
- Claude Walker. Bicentennial-by-Buttons: 200 Years of Trailblazers, Rascals and Felons