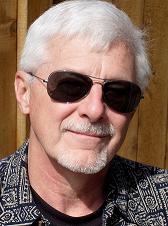 Writer/activist Claude Walker has spent a lifetime in Illinois politics, and written novels about drones, earthquakes, the Seminole Wars, 1915 Eastland tragedy, state politics, baseball's globalization and a subway disaster. He hosts Claudio's Museum of Political, Sports & Cultural Stuff, a 4,500-item memorabilia collection which served as the basis for "Illinois Bicentennial-by-Buttons", an online exhibit Walker curated to celebrate the State's 200th birthday.
Walker's 2015 novella - Drone Dogs - is a cautionary parable about technology in the hands of idiots and a call for public debate about new technologies. The book introduced such terms as "drone-peeping", "dronies", "swarm-bots" and the future catchphrase: "Drone ya later!"
In 2008, Walker "competed" in Nanowrimo (National Novel Writers' Month), in which writers 'round the world each try to pen a 50,000-word novel in 30 days. Walker nosed across the finish line with a pre-version of what became Seminole Smoke: An odyssey of power, love and blood in the Seminole Wars, the first novel to span the entire 50-year conflict. Walker successfully participated in the 2009, 2010, 2014 and 2016 Nanowrimos as part of Team Chicago, whose motto is "Write Early and Often!"
Walker made literary history twice with his 2001 epic, Currents of Power: A Modern Political Novel, the first political novel with a Latina protagonist and first novel about state politics ever e-published. The saga features a character inspired by then-State Senator Barack Obama. A revised edition was issued in 2009. Currents of Power has been used in college classrooms and by people considering a run for office. The New Madrid Quake Chronicles is a "seismic sci-fi" saga of two great families who survive the 1811-12 earthquakes which rocked Missouri and southern Illinois. The Earth Baseball Tourney: An Invitational to Disaster is a dark comedy about baseball, greed and killer apps. The Eastland Water Spirits tells the stories of the victims of Chicago's deadliest disaster. Set on the eve of Y2K, Walker's upcoming novel - Red Line Rumble - profiles 33 subway commuters whose lives are intertwined when all hell breaks loose.
In 2003, Walker was inducted into the Society of Midland Authors. Other published works include essays on Japanese baseball and Mexican travel, "9 Campuses in 12 Hours...by Subway", and countless press releases and letters-to-the-editor. He is a top contributor to TripAdvisor, with 210,000 "reads".
The grandson and son of GOP pols, Walker spent a lifetime in the rough-and-tumble of Illinois politics as a speechwriter, organizer, strategist, spin-doctor, Lincoln impersonator, logo designer, street-heat maestro, precinct captain, unsuccessful House candidate and oppo researcher. He's written and acted in TV and radio campaign ads, including three TV spots directed by David Axelrod.
A Chicago columnist dubbed Walker the "Stealth Fighter" for an ability to fly under the radar. A veteran of some 80 campaigns and causes, he has advised a Governor, U.S. Senator, State Treasurer, State Insurance Commissioner, Chicago Alderman, the first Asian American elected judge in Cook County and dozens of candidates.
Walker was Senior Writer for the Illinois Governor (2011-2015) and sired the popular "Squeezy the Pension Python", a controversial metaphor for the State's pension crisis. Walker helped organize the Illinois Sister Rivers/Lakes Initiative, earthquake drills and ethnic outreach activities. He represented Illinois at the Global Green Solutions conference in Mexico where he detailed the ground-breaking Mud-to-Parks initiative.
He served as spokesperson for the Illinois Lieutenant Governor (2003-06), and was active in the successful fight to protect the Illinois River's Plum Island from developers, and the creation and promotion of the Illinois Military Family Relief Fund. He served as liaison to the National Lieutenant Governors' Association.
Walker was twice-elected State Chairman of Common Cause-Illinois, where he helped modernize the state's Open Meetings, FOIA and lobbyist disclosure laws. He was spokesman and lobbyist for the Citizens Utility Board (CUB) and Illinois Student Assistance Commission (ISAC). An ex-Chicago cabbie, Walker worked at the Chicago Sun-Times and Art Institute, and was - briefly - a "Canoe Czar".
During the Boat People and Killing Fields crises, he addressed the GOP and Democratic National Convention Platform hearings, and helped lead a bipartisan effort to boost U.S. aid. He has testified on such issues as D.C. voting rights, student loans, campaign finance reform, refugee relief and winter heat-shutoffs. In 2015, Walker submitted his "Skies Are For Everyone (SAFE) Initiative" to the FAA Drone Registration Task Force and became a registered droner himself.
A graduate of Loyola University of Chicago, Walker also attended Northern Illinois University, the School of the Art Institute of Chicago and Driscoll High School in Addison, IL. In the '60s, he was keyboardist for "The Lost Generation", a garage band popular in Chicago's western suburbs.
An avid kayaker, Walker has competed in the DesPlaines River Marathon and others. He's paddled in the South China Sea, Gulf of Thailand, Sea of Cortez, Puerto Rico's Bioluminescent Bay, St. Martin's Ilet Pinel, Alaska's Mendenhall Glacier, Kailua Bay, Bahía de Mujeres, Exuma Sound (Eleuthera), La Bufadora, Islamorada, Santa Fe River, Tampa Bay, Sangamon River, Lake Michigan, Chicago River (before it was cool) and an ice-choked I&M Canal. Recently, Claude nearly drowned in Jamaica's Rio Bueno (no bueno) and took a scary-fun whitewater kayak class in Costa Rica.
A diehard Cubs fan, Walker is a snorkeler, musician, dog-lover, architecture fan, historic preservationist and Civil War buff.