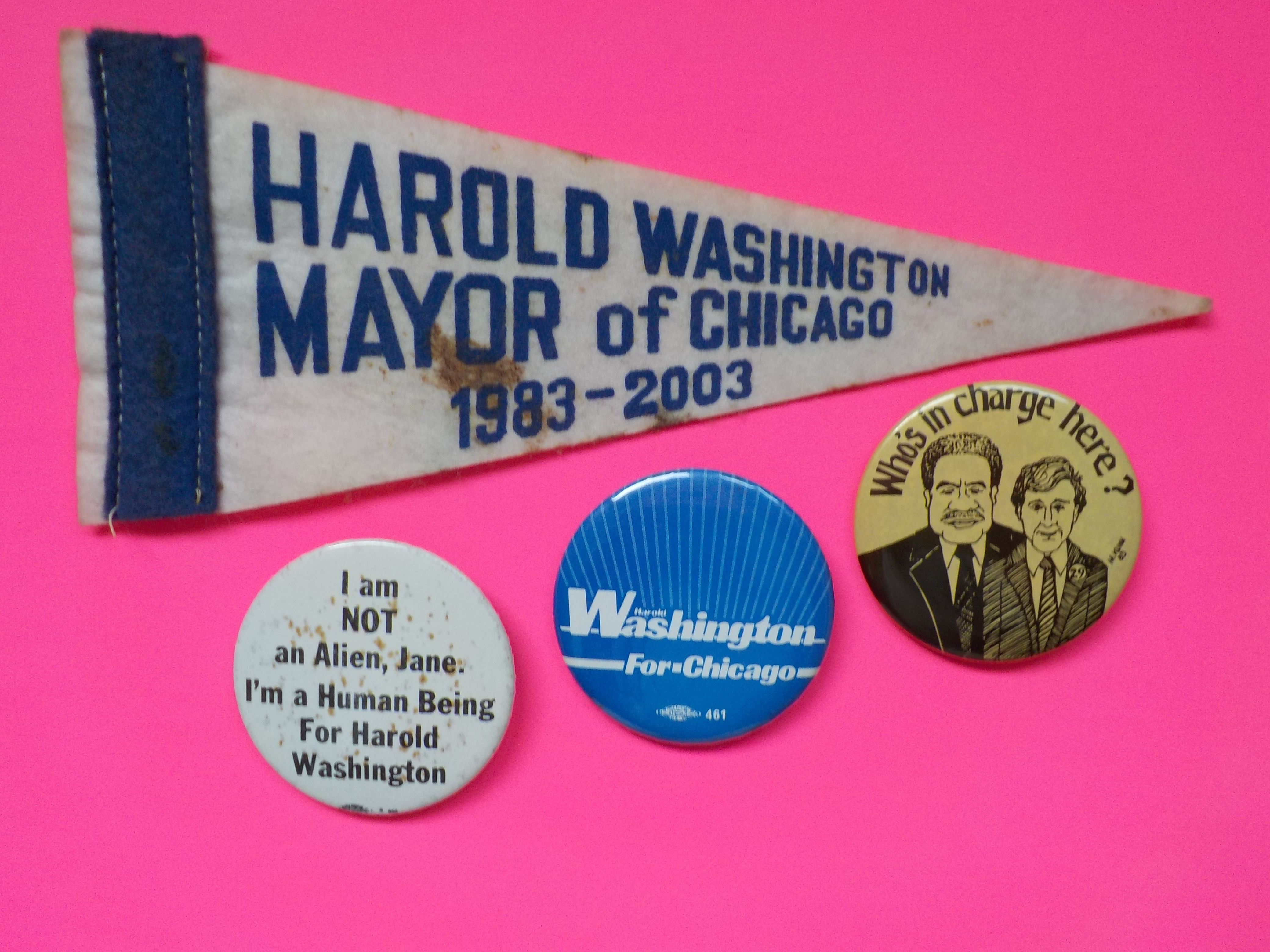 "If you go to Zimbabwe and say you're from Chicago, they're gonna ask you: 'Howww's Harold?'" (Instead of commentary, scroll down for this author's essay "When Harold Came to the Heartland".)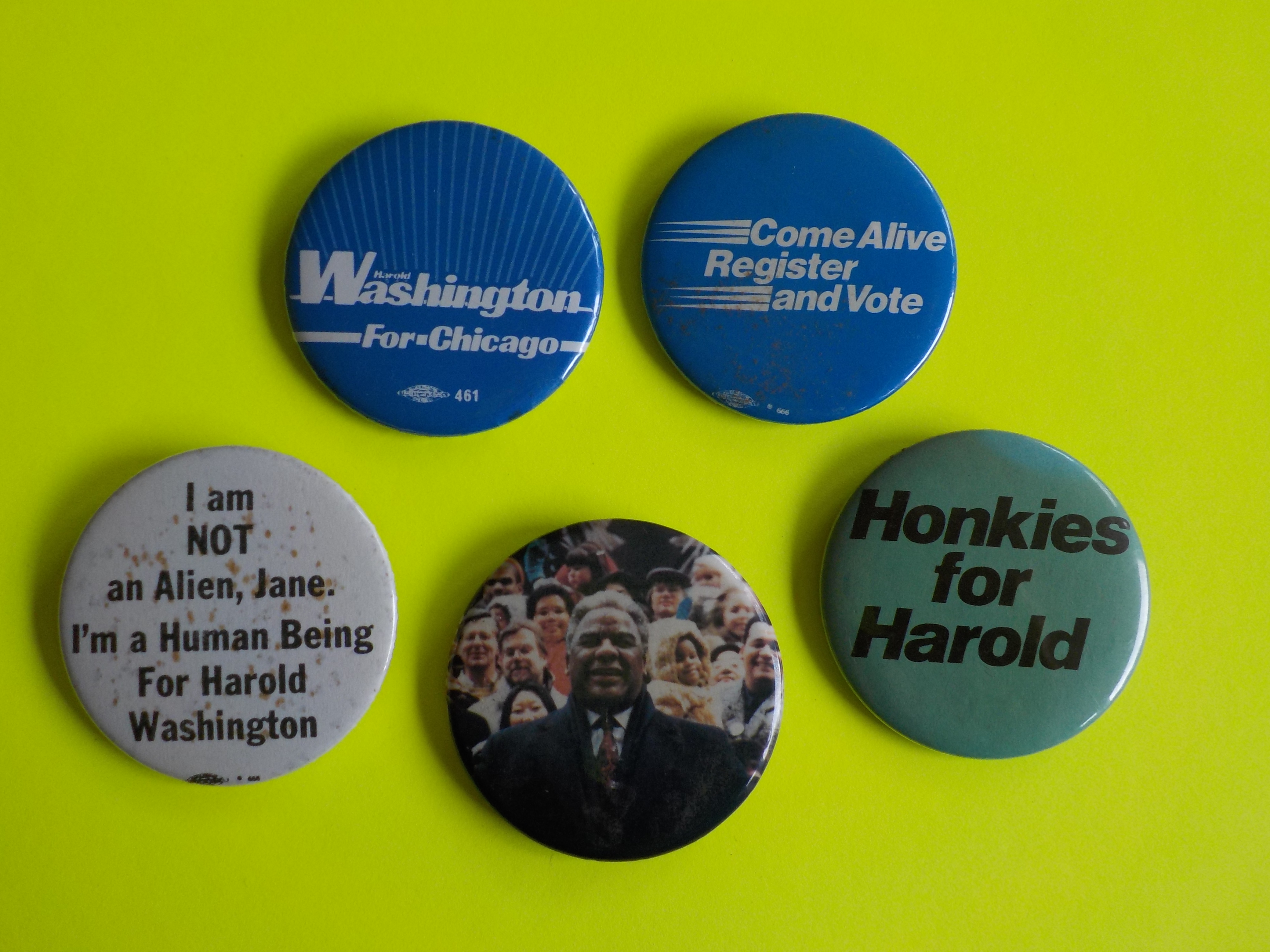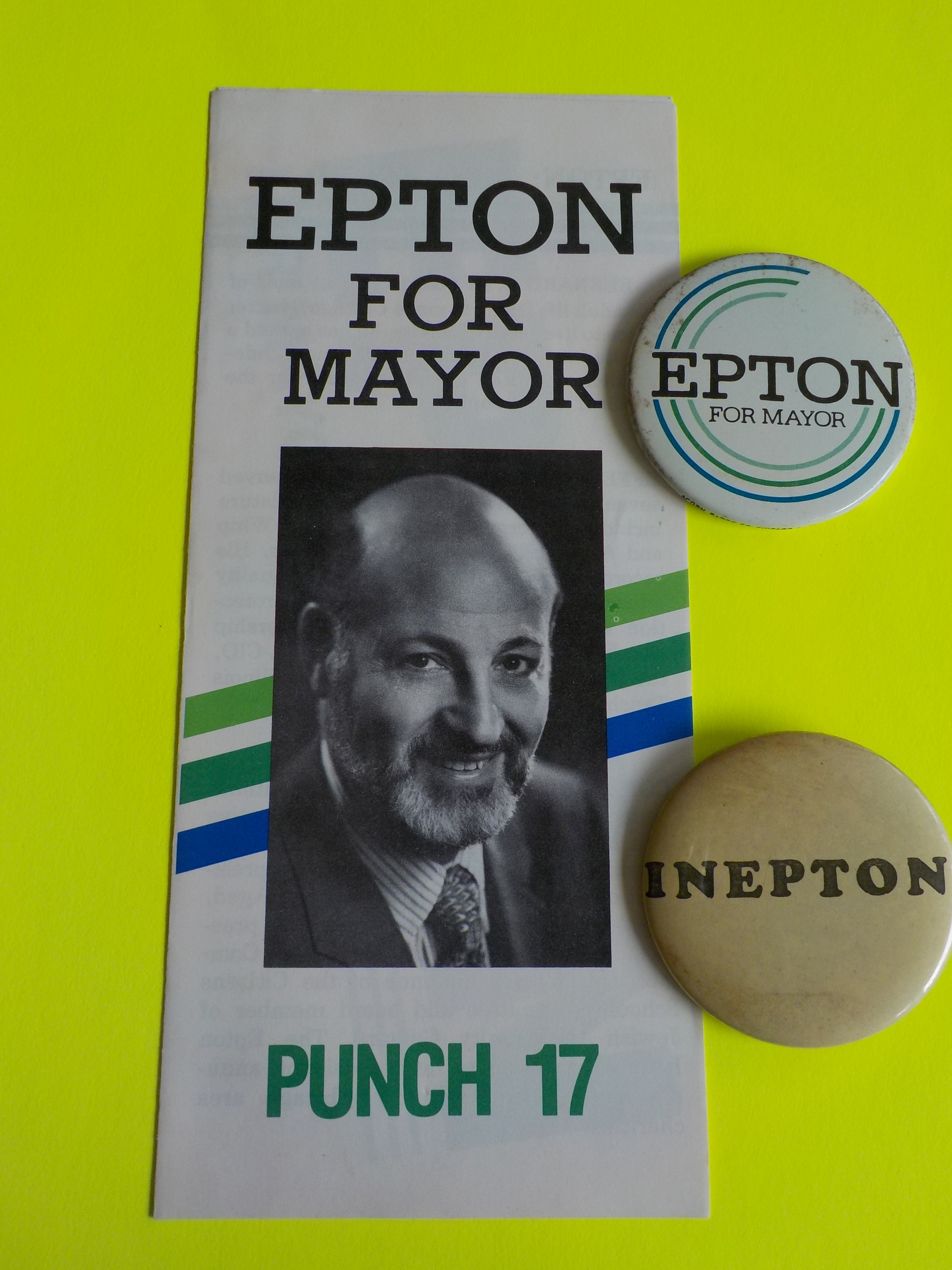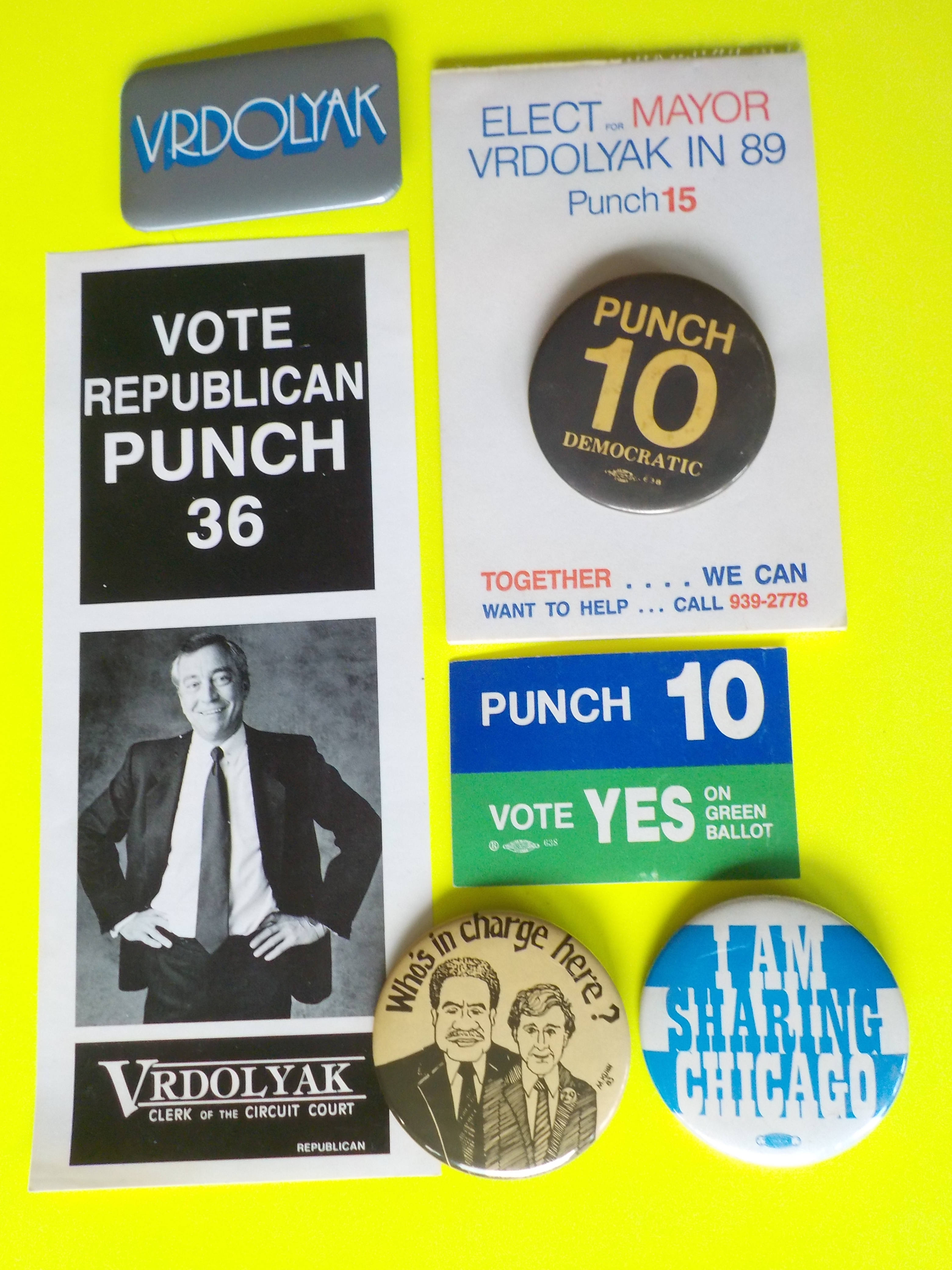 A decent guy in the House, Epton was adopted by the Forces of Darkness:
"Before It's Too Late."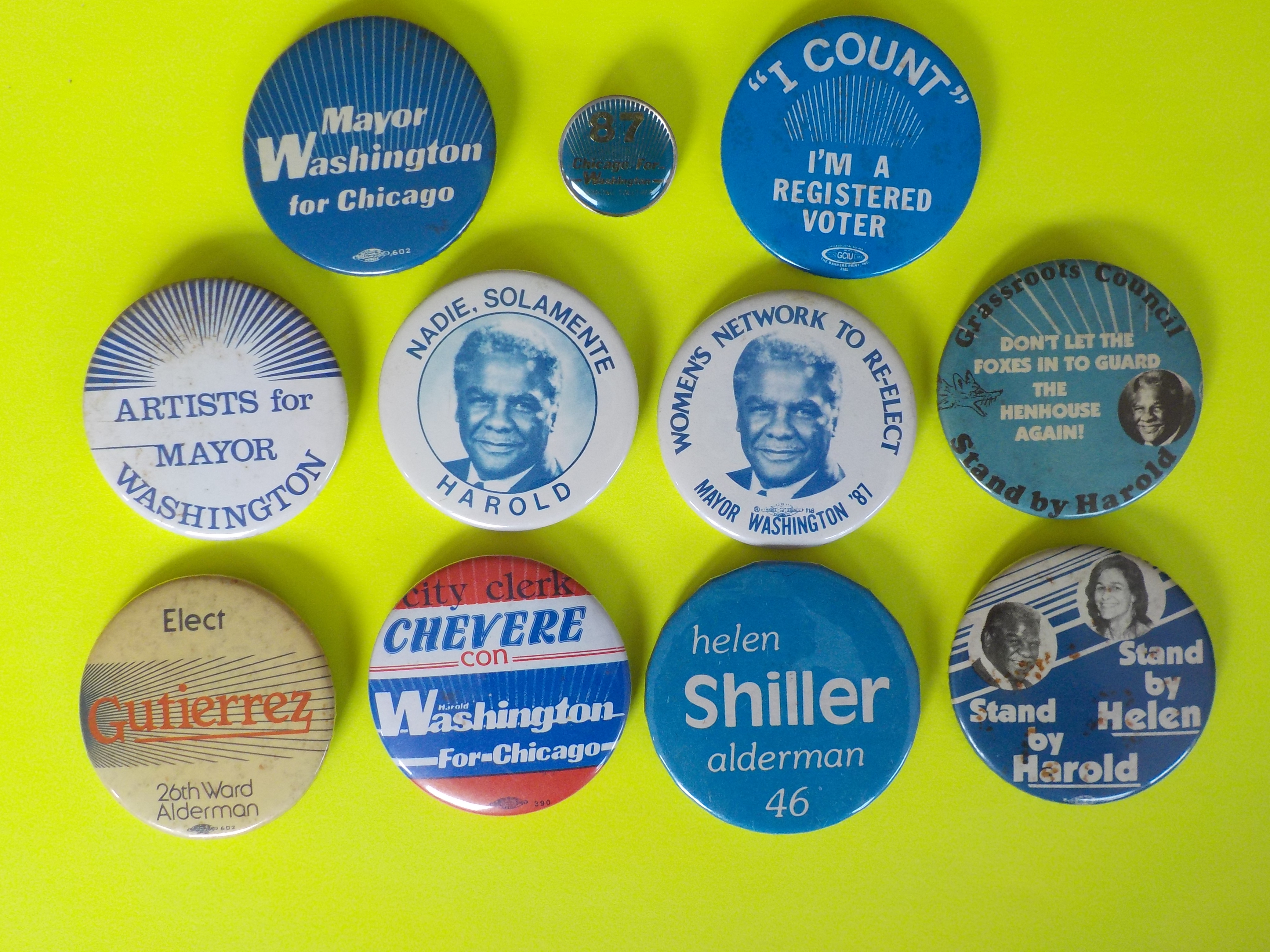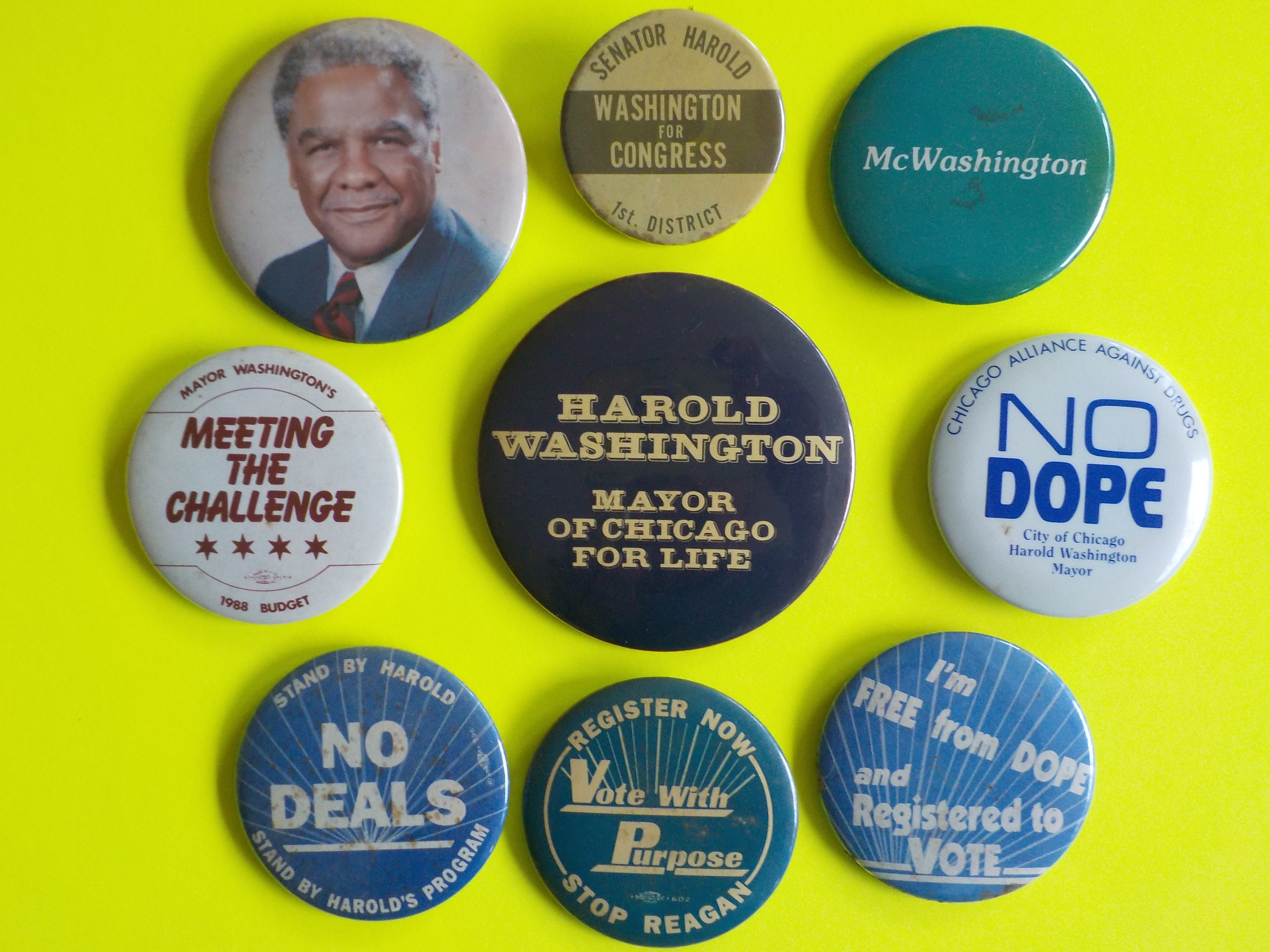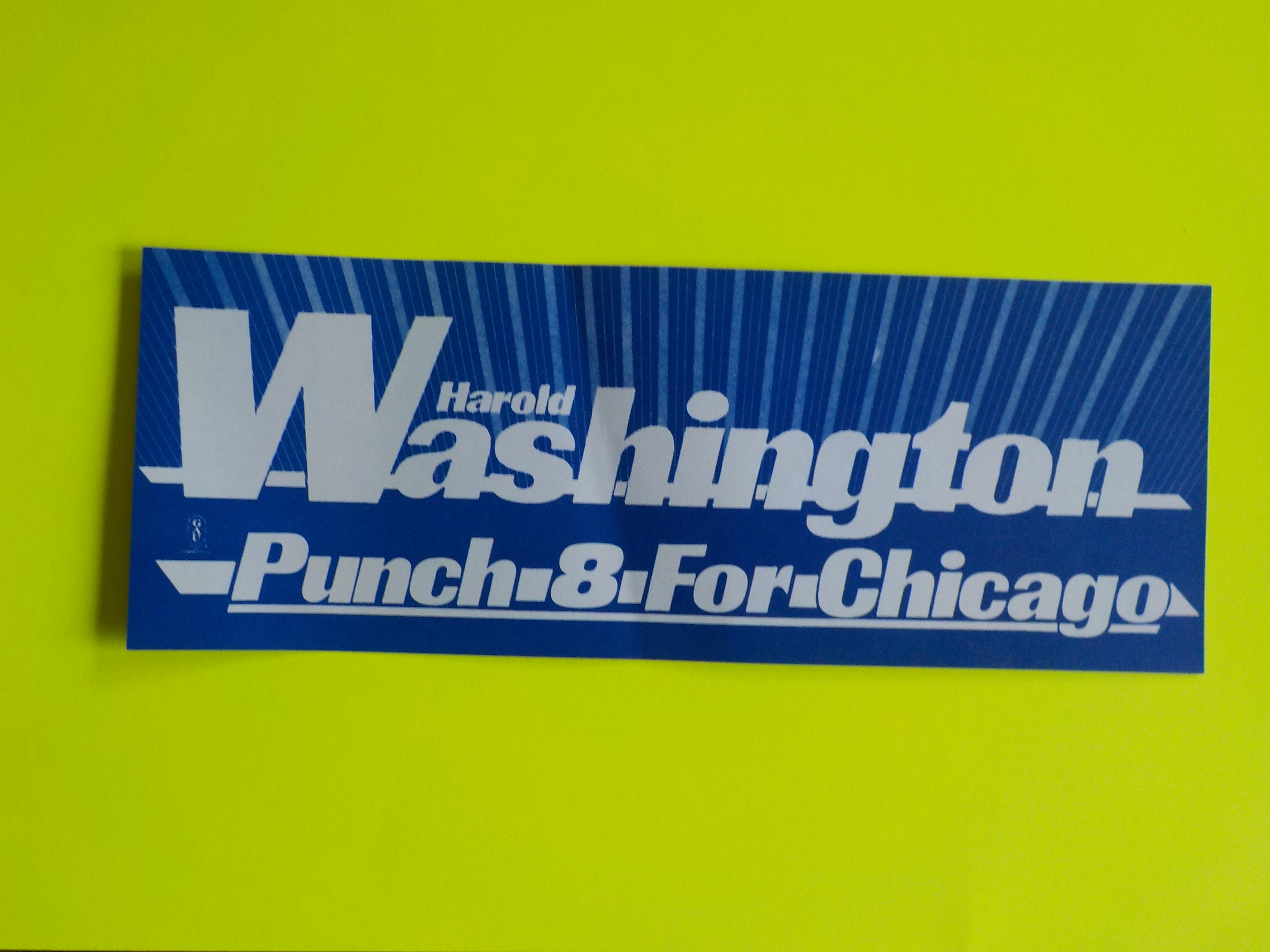 Got a lot of mileage from the blue rainbow motif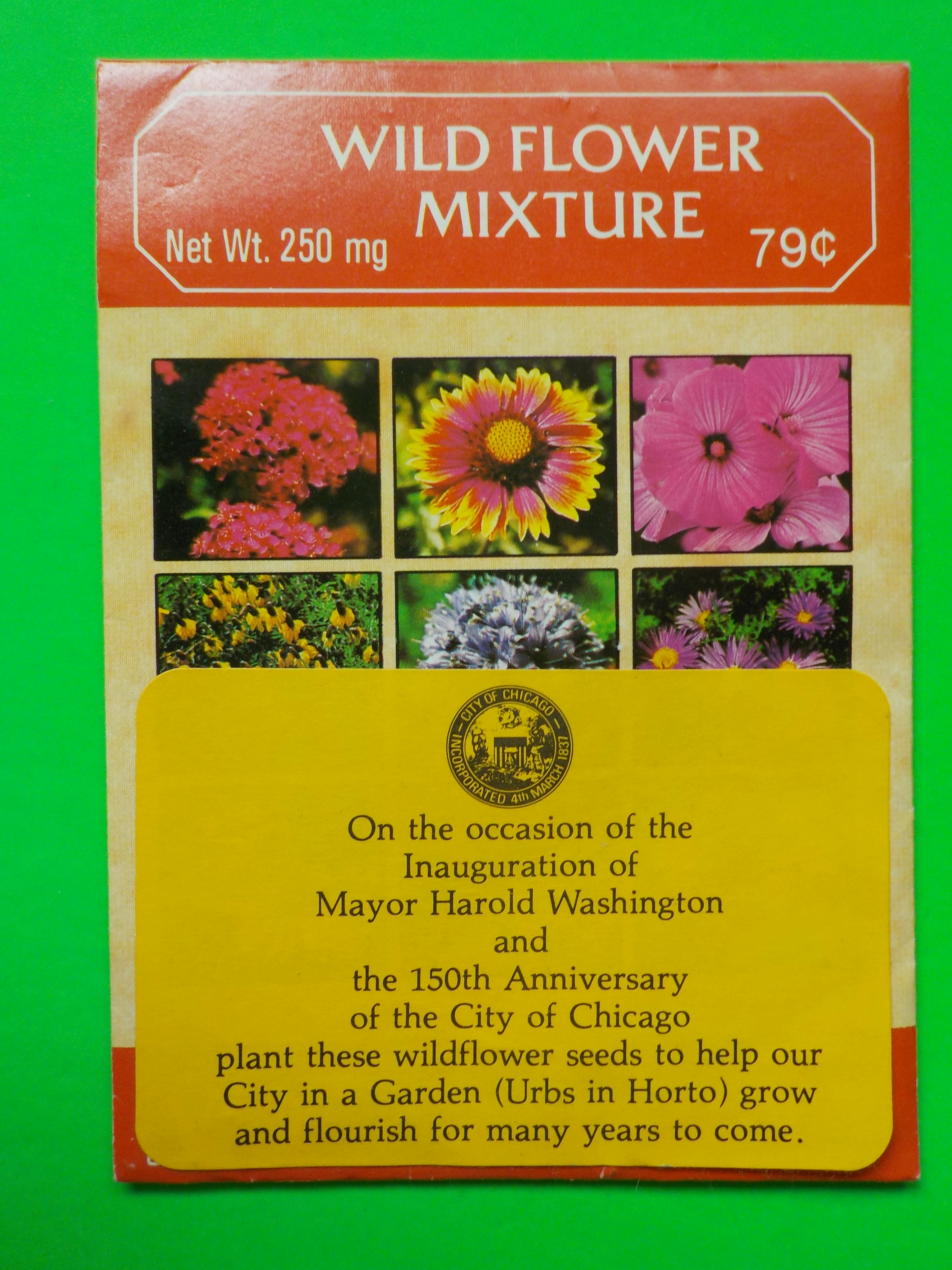 If you plant the seeds, your garden will grow. Harold's Inaugural and Chicago's 150th Birthday.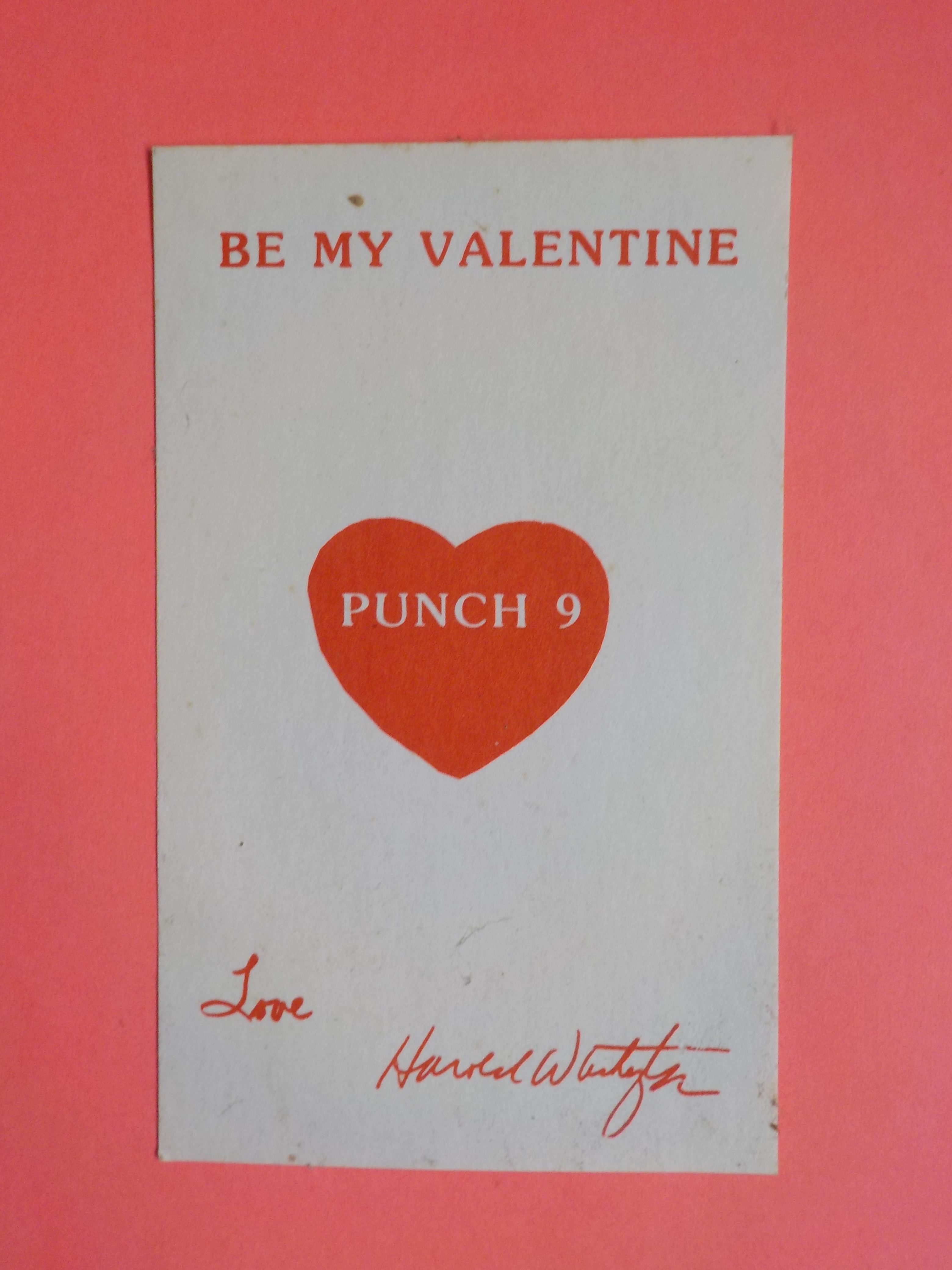 Be My Valentine. Who could resist the guy?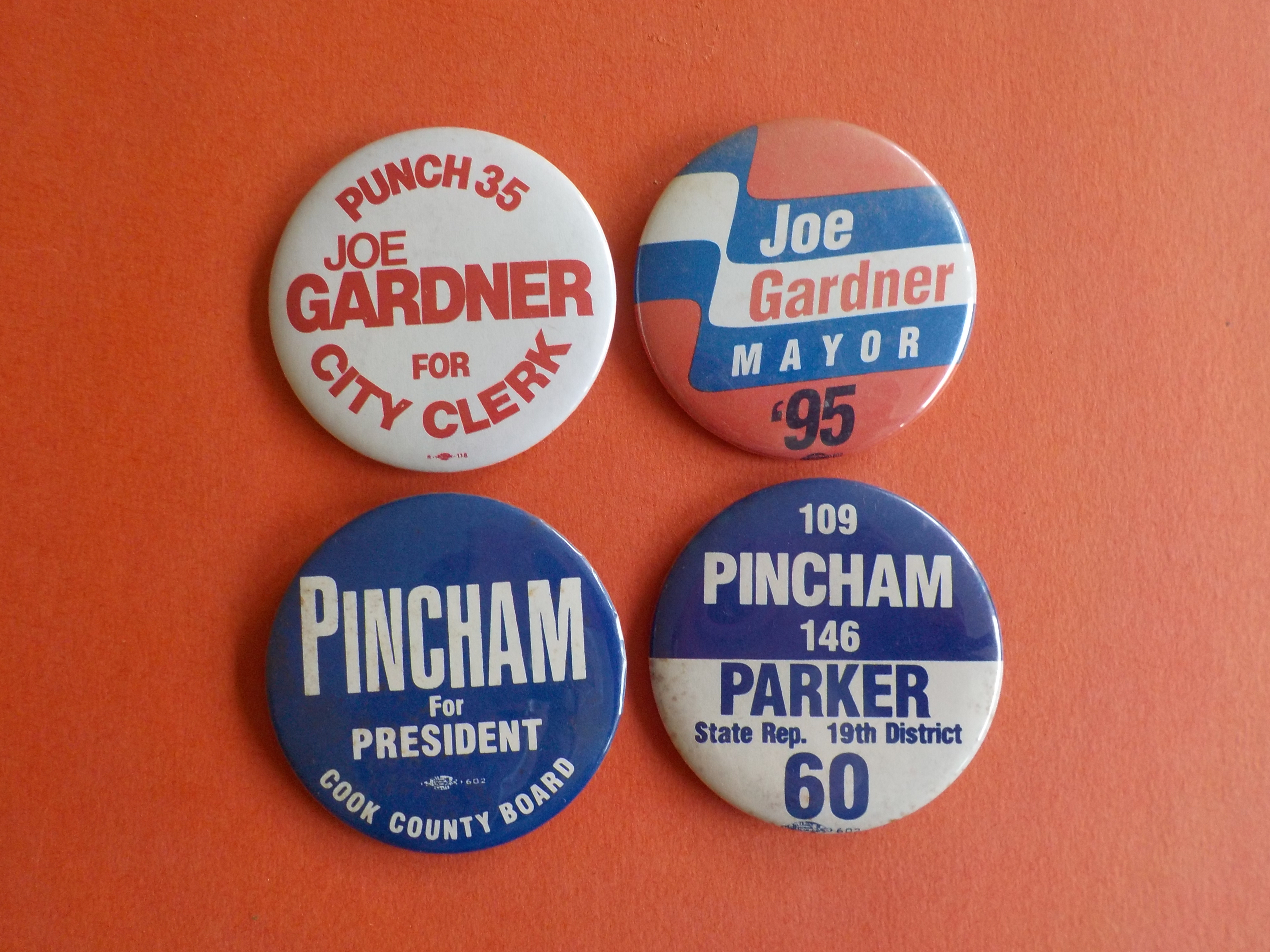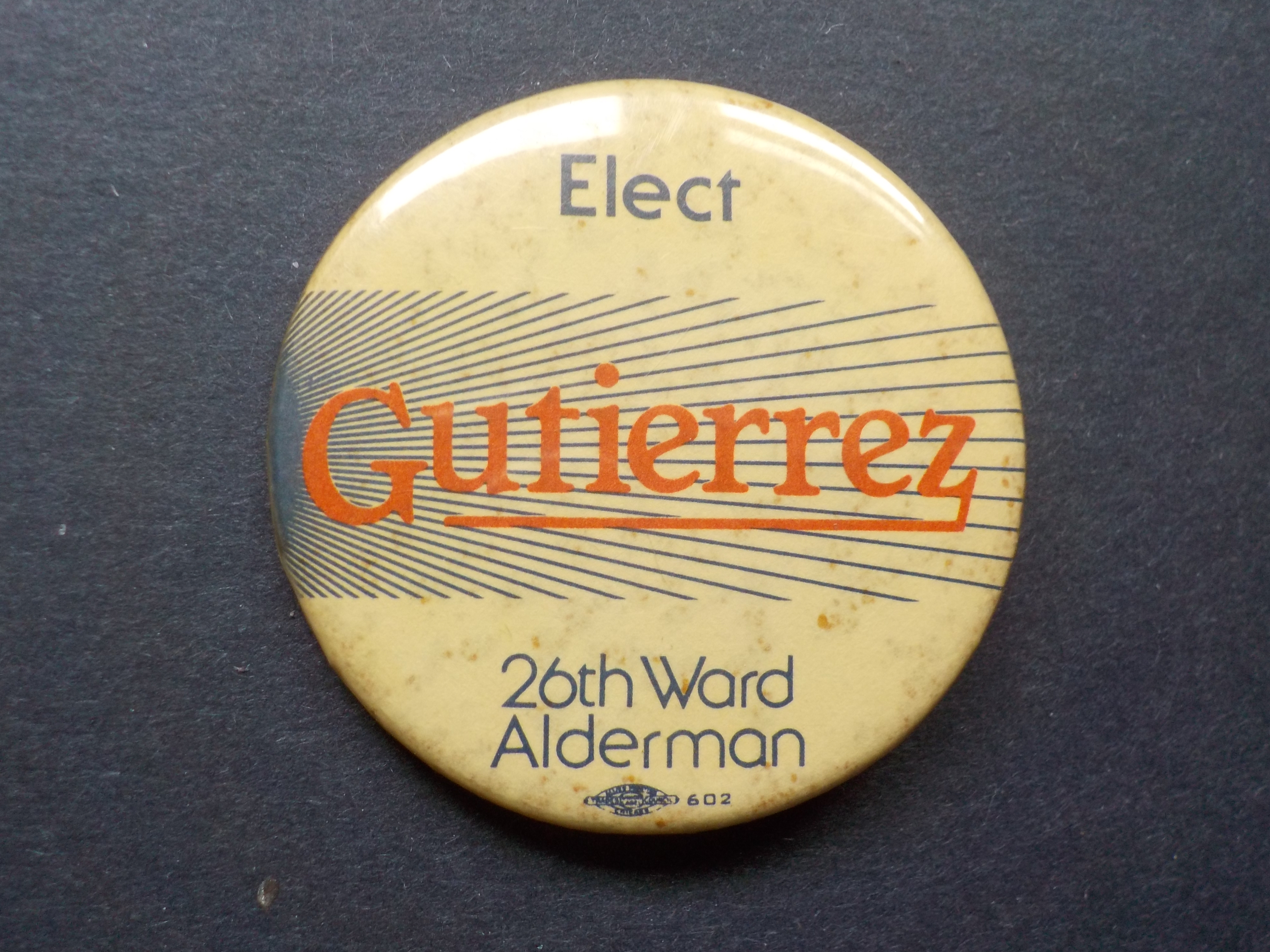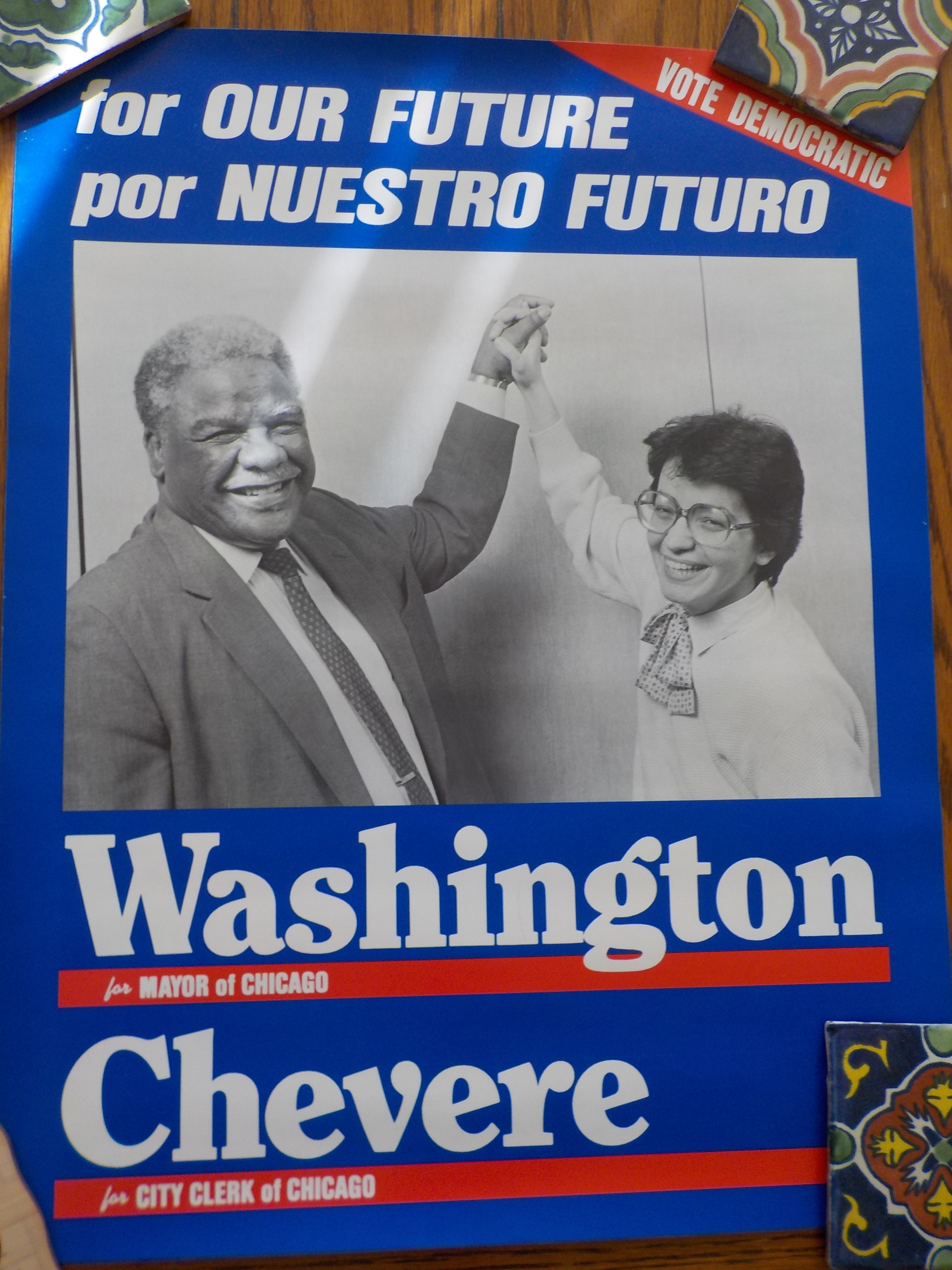 Orbits (Freeman for Supreme Court courtesy Busy Beaver Museum)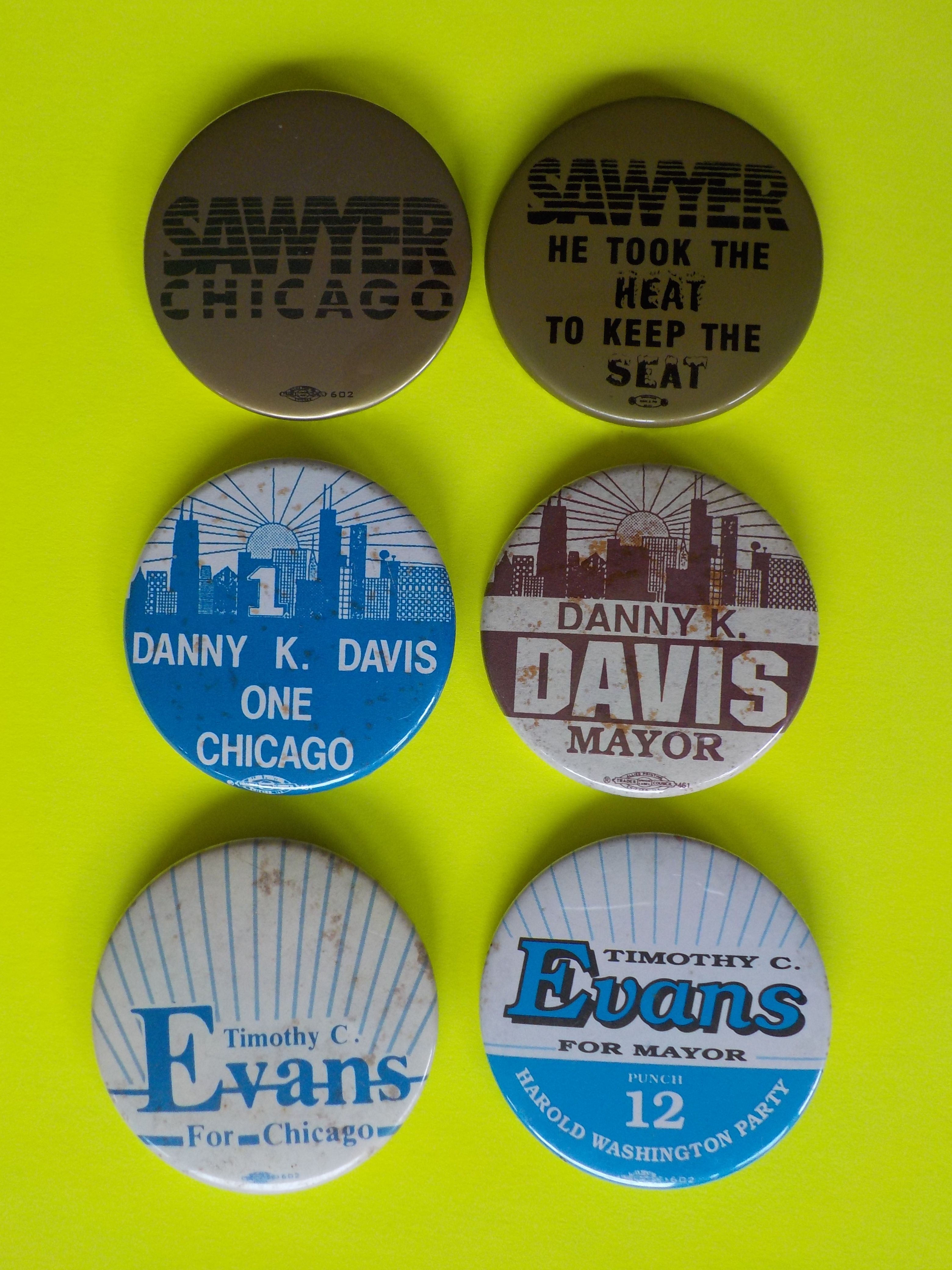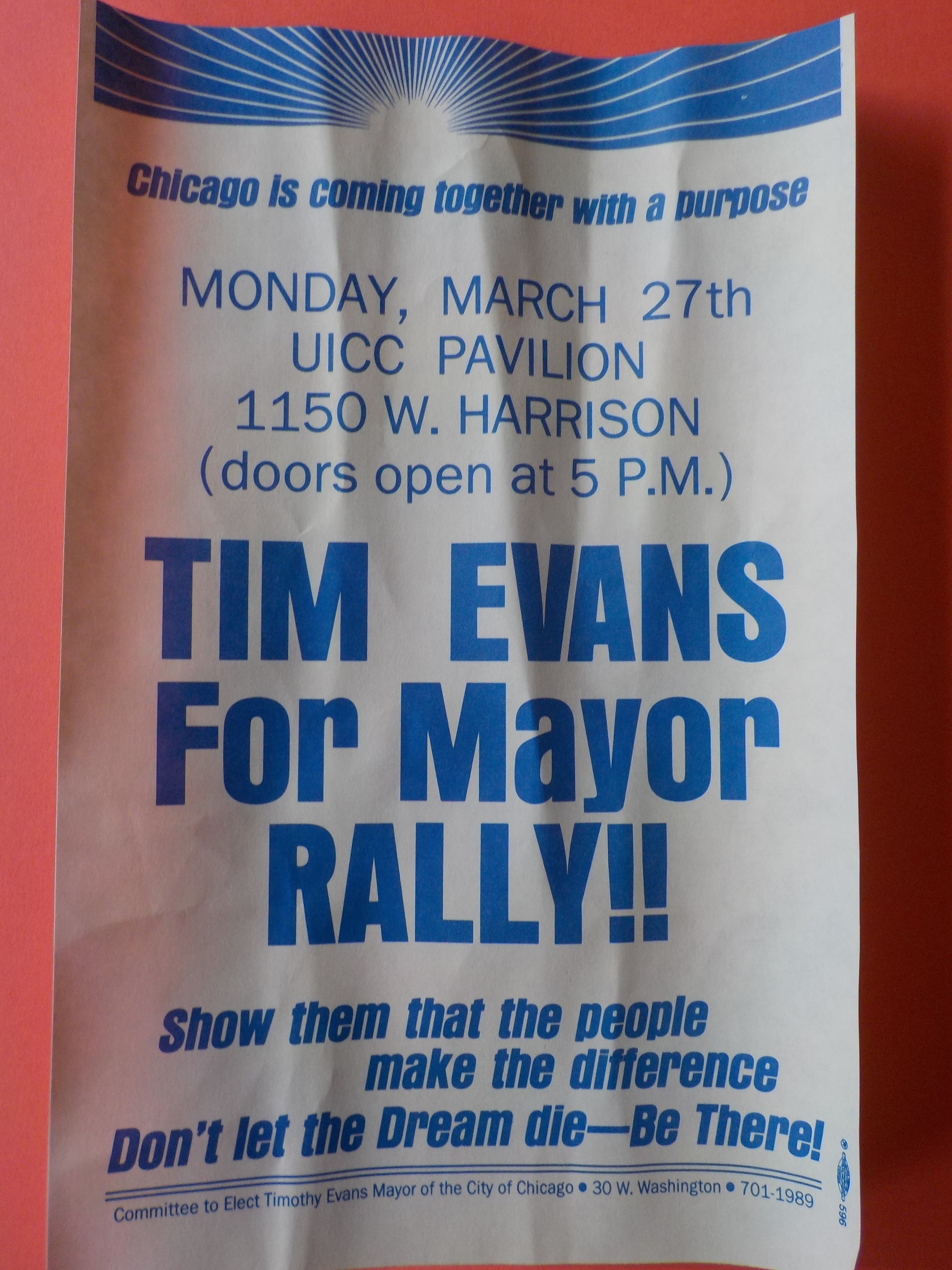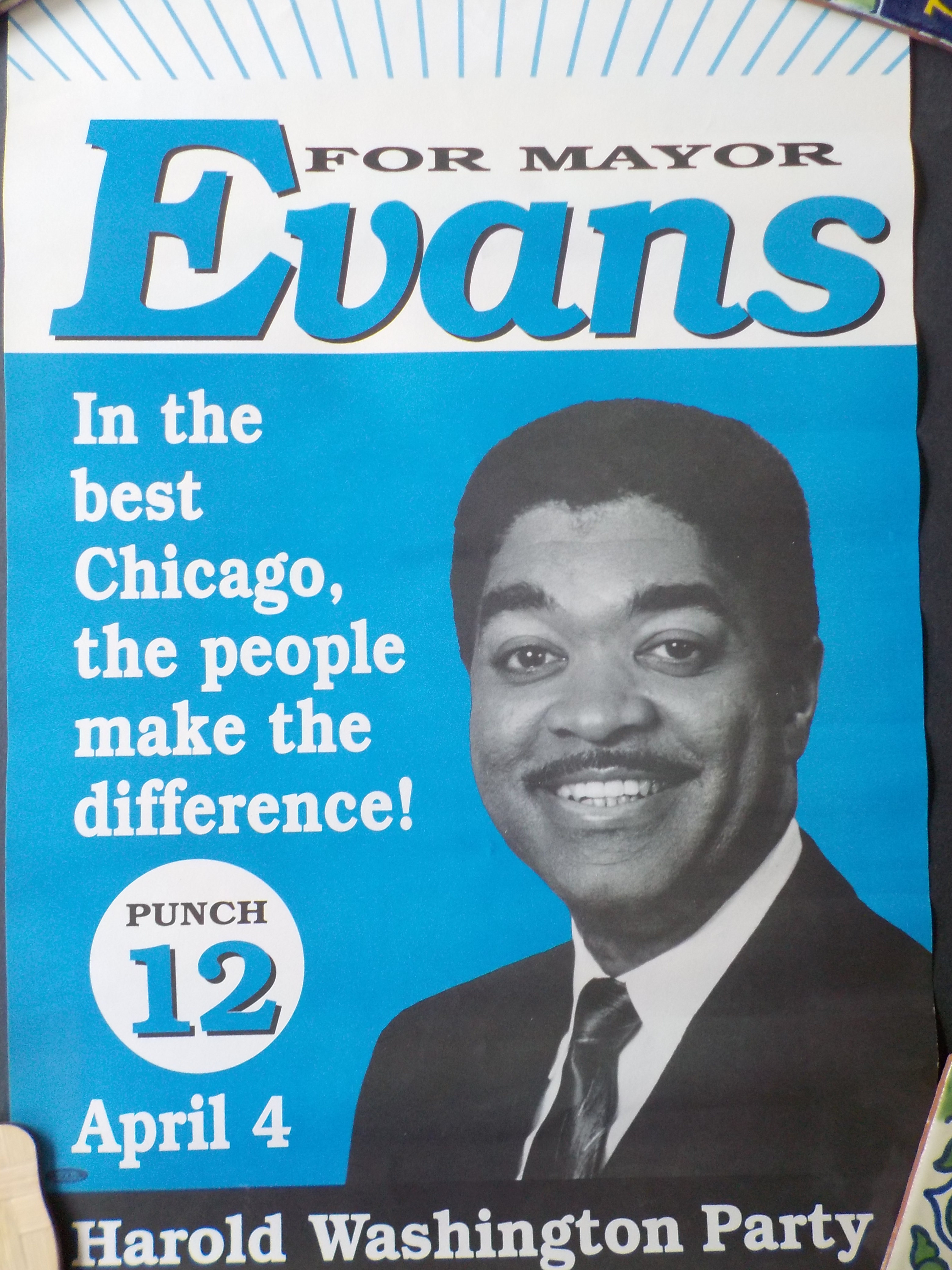 Eugene Sawyer, Danny Davis and Tim Evans all reached for the brass ring.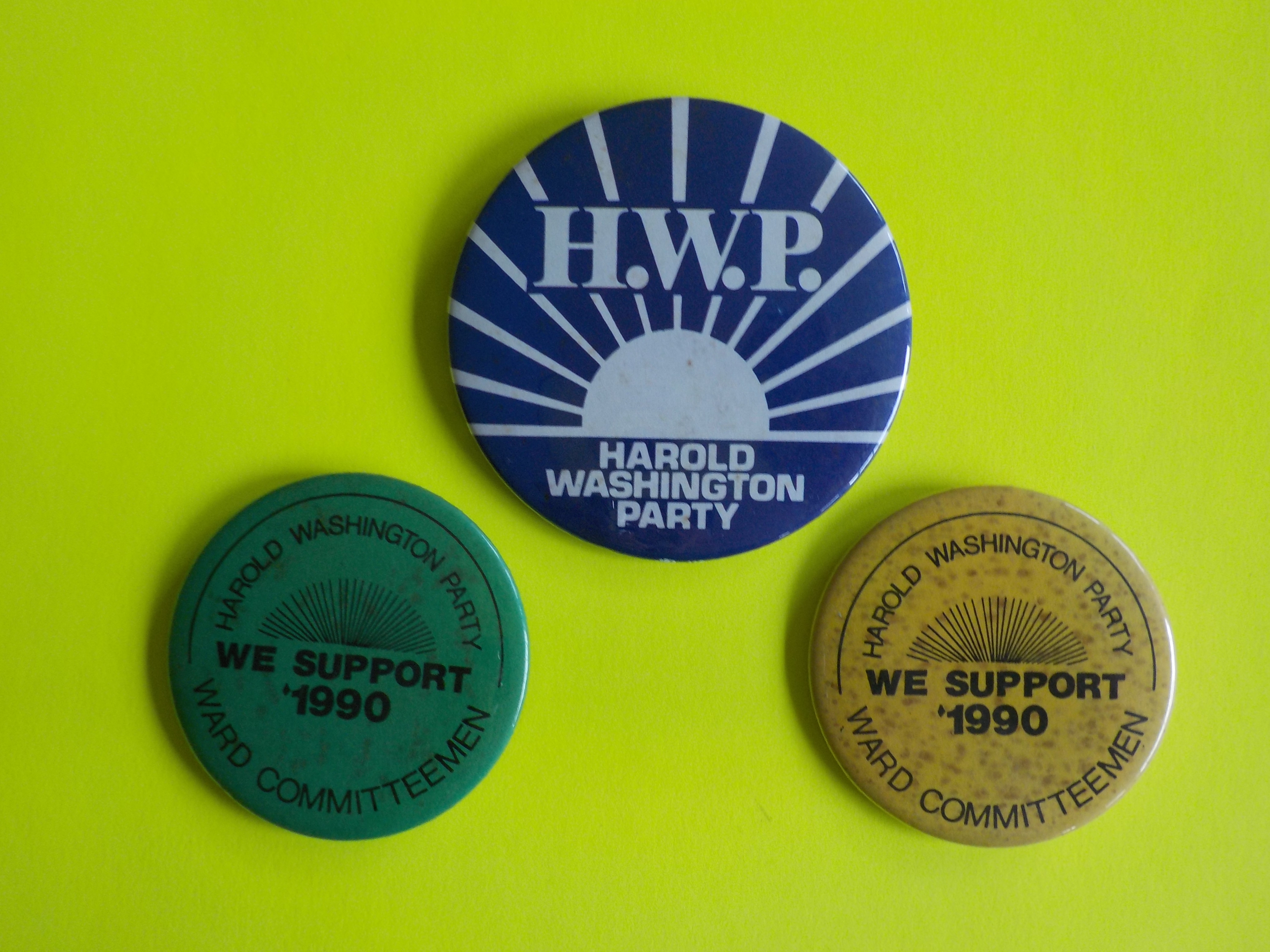 Many tried to assume Harold's mantle and even his name for a party he wouldn't have joined.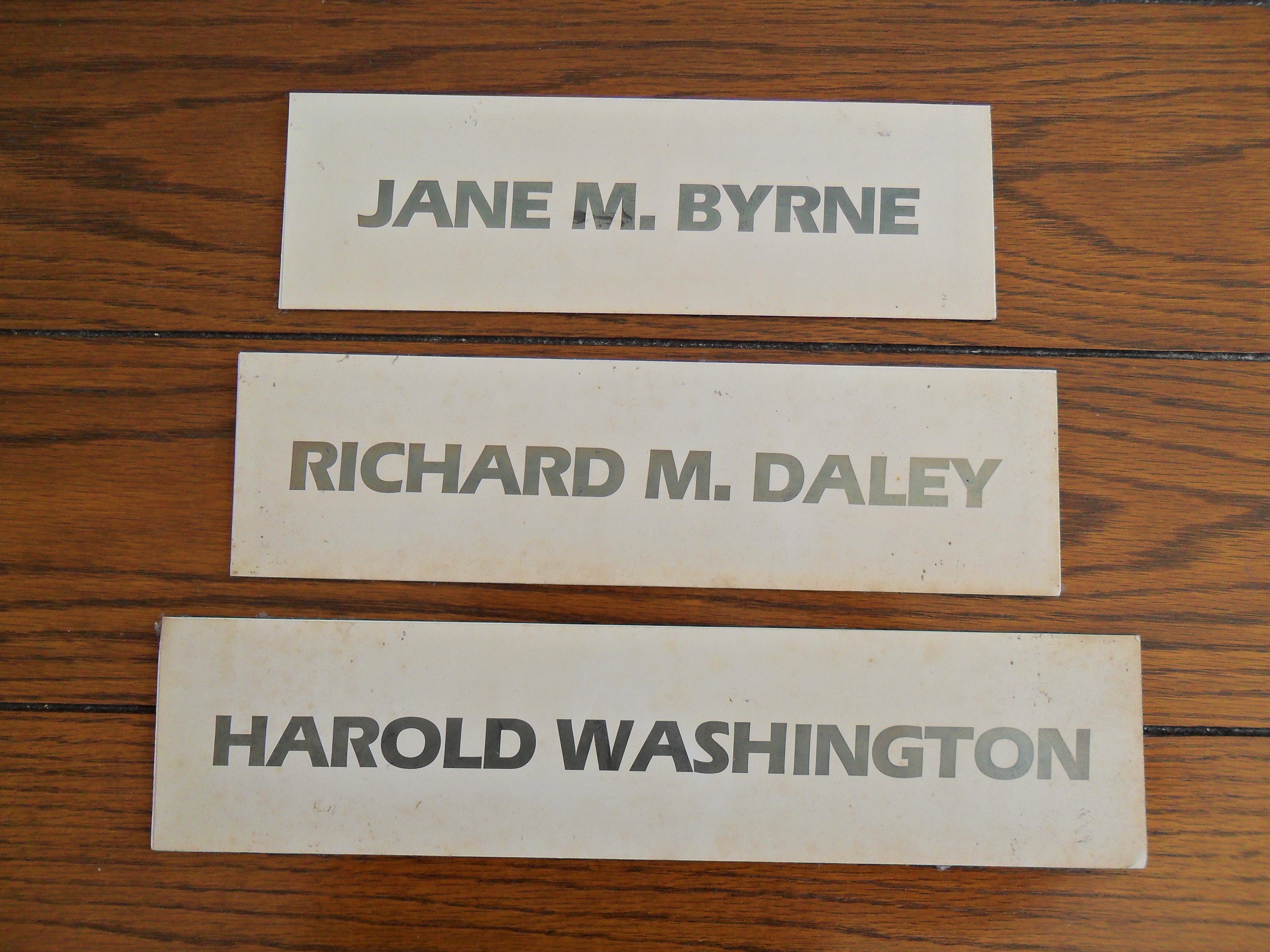 Nameplates from 1983 Mayoral Debate.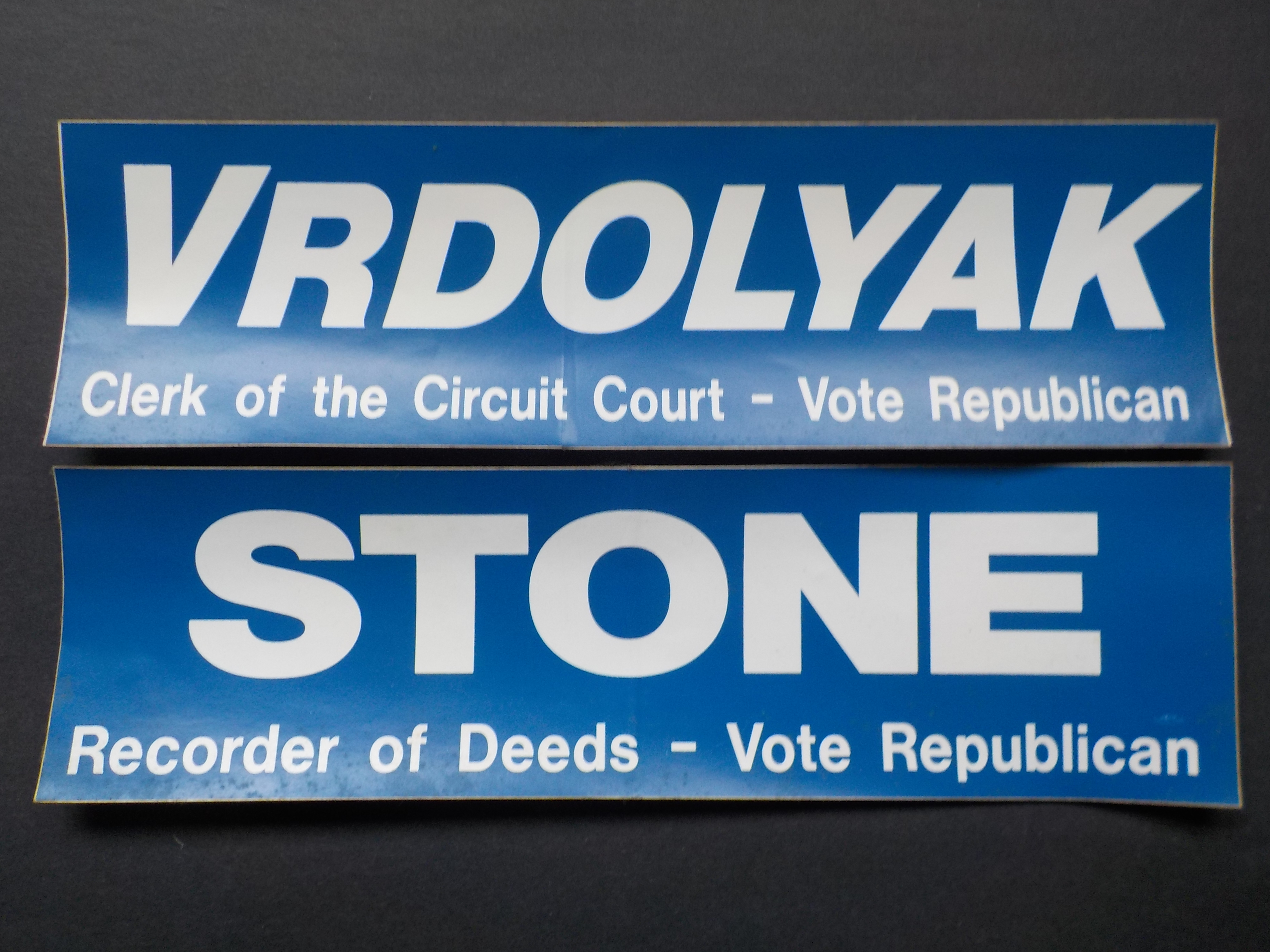 Two Dem Ward committeemen running Countywide as Republicans. During one tumultuous Council meeting, Ald. Berny Stone famously called Ald. Luis Gutierrez a "little pipsqueak". During another, Harold told Fast Eddie - whom he called an "antediluvian dodo-head" - he might "get a mouthful of something you don't want".
Harold Comes to the Heartland by Claude Walker
Many exuberant, poignant, meaningful memories of Harold Washington. When he was a state senator, I had a chance to work with him on a DC voting rights bill. As a sponsor, he was well-read, passionate, adroit. The bill died; Harold was optimistic. Harold's '77 mayoral was an insurgency with few insurgents. I rang doorbells for him in the Near Northwest Side, but Keane's and Rosty's machines were invincible. Despite a strong showing in a few African-American wards, Harold was swamped, a distant third. Yet he was optimistic.
But 1983 was a crusade, a damn firestorm.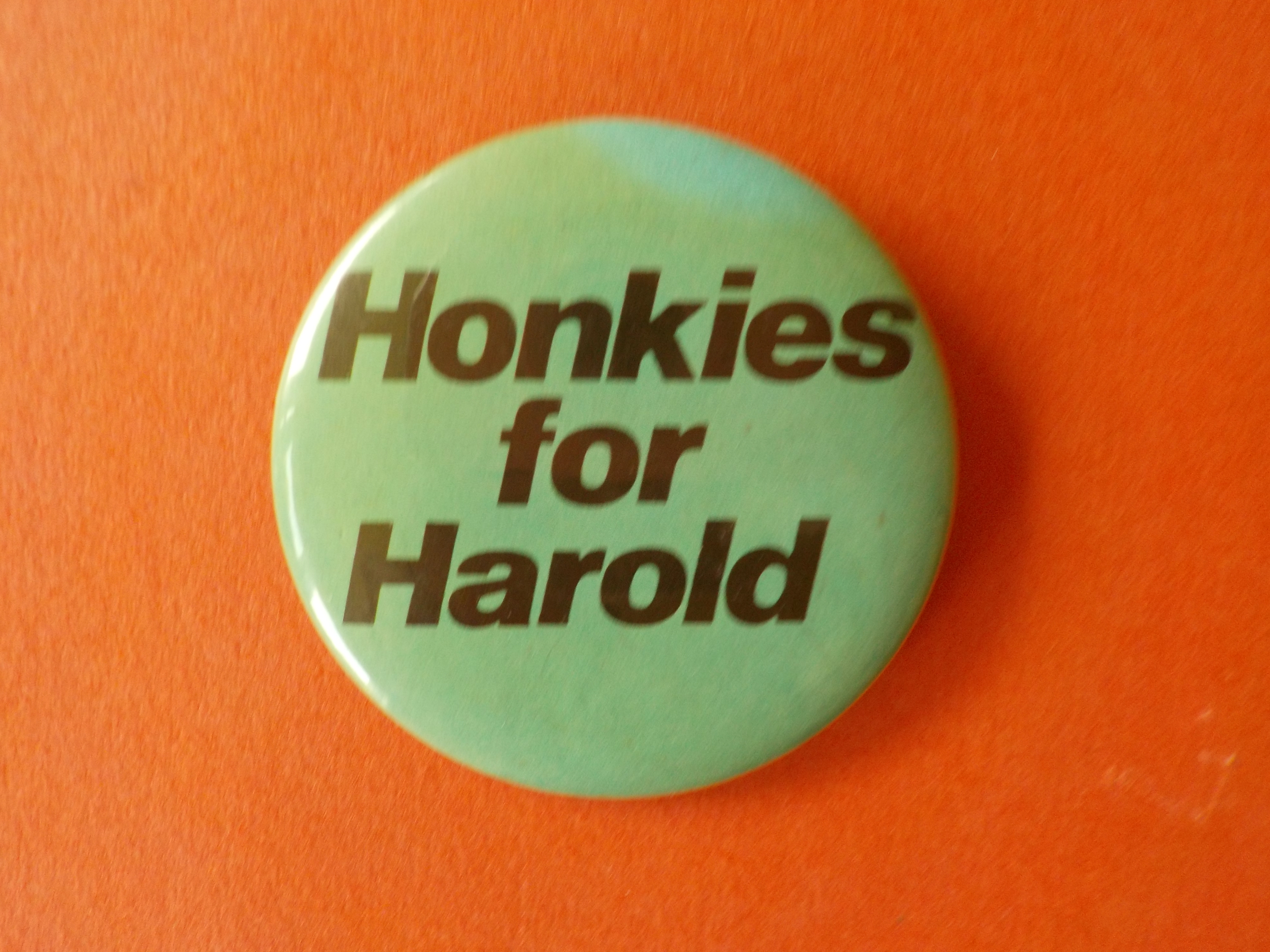 As a "Honky for Harold", I'd wear the famous "blue sunrise" Harold Washington button on the subway, drawing grins and sneers. That button was an expression of faith in a vision of open, multicultural government. That button was also an admission that his wit and twinkling eyes had put a spell on us.
My favorite moment of the watershed '83 primary was on a frigid Rogers Park night in the final days of the campaign, when polls had him third.
The Heartland Café was jam-packed for a Washington Get-Out-The-Vote rally organized by the 49th Ward progressive cadre (the "Peoples Republic of Rogers Park"), and Heartland proprietors Katy Hogan and Michael James. Music blasting, beer flowing, windows fogged-up, the El careening by overhead. People spilling out onto the brick alley. Electricity in the air as Harold's caravan pulls up in snow flurries. I spot my old pal Mike Evans hopping out with Harold; he's part of the growing entourage.
Harold enters the Heartland and is promptly engulfed in Rogers Park love. It's a multi-generational, multi-ethnic mob scene; all you can see through the hugs is his grin. The crowd is yelling "Harold! Harold!" He wades in and finally makes it to the makeshift stage. So, the plan is for Harold to be introduced by Tobey Prinz, a beloved Rogers Park organizer, activist and rabble-rouser. (The sculpture at Pratt Beach is today named for Tobey.)
The chants of "Harold!" are deafening. A beaming, perspiring Harold climbs up next to the tiny, white-haired Tobey. They both try in vain to quiet the shrieking crowd. Everybody's dripping. Tobey grabs the mike. "Ladies and gentlemen!" she yells over the din. "I give you...the next...President of the United States...Harold Washington!"
The place erupts, goes nuts. The whooping crowd presses forward. Grown men weep. The full-throated "Harold! Harold!" inspires foot-stomping. As the feedback screeches from the amps, we all nearly float. The Heartland starts shaking. Suddenly, the air duct hanging from the tin ceiling comes apart and dust starts blowing throughout the Heartland, a people's confetti drop. Harold's bent over in laughter. Hundreds of people have tears, sweat, dust and GOTV zeal in their eyes. A joyous frenzy. One of the best campaign moments ever.
Other lasting memories: the Election Night Victory parties with Feldman (and getting a kiss from a beautiful stranger at McCormick Inn), the Inaugurals, the wake. Seeing my wife speak at Harold's unforgettable Memorial at the UIC Pavilion. I smile every time I think of him saying stuff like, "You want Harold? Well, you sure got me now!" Or "If you go to Zimbabwe and say you're from Chicago, they're gonna ask you, 'Howww's Harold?'"
One of a kind. And for me, that ecstatic night when Harold came to the Heartland will always stir memories of his grin and message.
Chicago Public Library 2008 "Memories of Harold Washington Project"